Volkswagen PH is teaching children the importance of road safety at MIAS 2015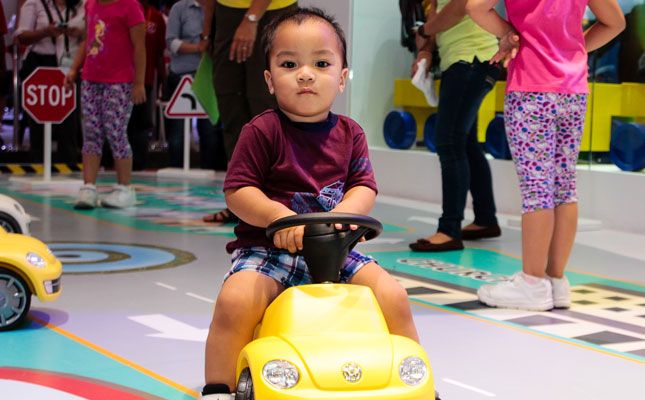 After giving us a heady taste of the excitement its Golf GTI can deliver during its last event, Volkswagen Philippines slows the pace a bit at the ongoing 2015 Manila International Auto Show. The German carmaker now reminds us that with great speed comes great responsibility when it comes to road safety. And when it comes to the latter, what better way to teach it than to start 'em young?
The World Health Organization states that about 1.24 million people globally die every year due to traffic accidents. Just the simple act of wearing a seatbelt can reduce fatalities by up to 50% (for rear-seat passengers, the percentage is higher at 75%). Child restraint systems, like child seats and booster seats, lower the risk of death in a crash by 70% for infants and 80% for small children.
With these alarming statistics in mind, Volkswagen Philippines launched its VW Child Safety Initiative (CSI) during its MIAS presentation to support this cause on our roads. The campaign is part of a broader global initiative from the Wolfsburg-based carmaker.
There are two pillars to this campaign. The first is preventing accidents by teaching and educating parents and kids about the possible dangers on the road. The second is promoting passive safety inside VW vehicles by using child seats together with factory standard systems like airbags, active collision systems and the Isofix attachment points.
To facilitate its CSI, VW Philippines created a child safety corner in its classy two-story booth. Five VW push cars were imported from Germany to be used on a kiddie driving course. A professional instructor is on hand to explain the importance of road safety visuals such as traffic lights and signs, including Stop, No Entry, School Zone, Pedestrian Crossing, No Right Turn and Left Turn Only. And once the child completes the driving course, a "junior driver's license" is issued right away (take that, LTO!).
How we wish this junior driving course would be drilled into some taxi drivers' heads.
In the child-seat corner, original VW Child Seat accessories are on display. The seats range in size from babies to eight-year-old children. These seats are crash-tested and come with official releases from the German Technical Inspection Association and various international safety organizations. And since all VW vehicles are equipped with Isofix, you can be sure the child seats will attach securely.
Volkswagen Philippines plans to roll out its CSI nationwide this year. So look out for workshops, tie-ins, books, crash simulations and mini driving courses in malls and schools.
Good job, VW!
Photos by Mark Jesalva