Most likely you've seen their fleet of supercars and somehow thought that choosing between our very own Manny Pacquiao's and Floyd Mayweather's equally impressive collection is an easier dilemma to solve than picking (or betting on) either for the aptly named Fight of the Century.

Video via Smart Communications, Inc.
With the world collectively holding it's bated breath in anticipation of the Fight of the Century, let's focus on other less pressing but equally important things.
The first is that on Sunday, May 3, the streets of Metro Manila will once again be spared of crime, traffic, and chaos. No raging jeeps or buses. No modus operandi from car thieves. No abusive traffic enforcers.
The second is, well, we're still not spared from all the shenanigans that usually take place during viewing parties, and it's all because of the folks you're about to meet below. These are the types of people who could potentially ruin the fight of the century for you:
The Boxing Insider
He claims to be Manny's distant relative/sparring partner/drinking buddy, and goes around blurting out insider stories to anyone who's willing to listen. You'll even catch him showing people 5x7 photos of him posing alongside the People's Champ. He's basically a celebrity for being friends with a celebrity.

The Clueless Girlfriend
She lets out an ear-splitting scream every time Manny gets hit or cornered, and she gives the most mediocre tips during the fight.
To keep her occupied, you can show her the exclusive #SugodManny stickers from Viber and Line. Pinoy Stickers are also available and can be downloaded FREE of charge by texting MANNY to 2600.
The Know-It-All
He talks like a sports analyst and loves sparking heated debates with casual boxing fans before and after a fight. And when things don't go well for Pac-Man, he's always the one to call dibs on what our Pambansang Kamao should have done instead – as if he holds the key to beating Manny's opponent.
ADVERTISEMENT - CONTINUE READING BELOW
To keep your sanity if you happen to sit next to this guy during the viewing party, you can tell him that he can show support for PacMan and at the same time show off his own ludicrous knockout moves by posting a photo or video on his social media account with a #SugodManny hashtag. Who knows, he might even win a signed Manny Pacquiao shirt and boxing glove.
The Foul-Mouthed Bastard
Cover your kids' ears – this fella promises to mouth off a dirty cuss word for every Pacquiao or Mayweather haymaker that connects. And, should the fight go down to a controversial split decision, expect a lot of fireworks from this man.

The Turncoat
As far as he's concerned, moolah is more important than Team Manny or Team Money combined. So he places a bet on both boxers. Let's put it this way – he'll go home a happy camper whether Pacquiao wins or not.

The Messiah
With no rhyme or reason, his boxing predictions are almost always the ones that take place. He correctly predicted that Marquez would eventually knock Pacquiao out. Or that Mayweather will make easy work of Maidana the second time around. He's the turncoat's biggest frenemy.

The Spoiler
You woke up early, paid for a ticket, and drove all the way to a venue only to come across the most inconsiderate man in the history of the boxing universe – the one who barks the result even before the telecast ends. He doesn't even have to be a boxing fan; all it takes is a Vegas connection.

The Food Hoarder
He couldn't care less about what happens in the fight; all he knows is that he's in a Pacquiao viewing party, and he's entitled to a free breakfast. While everyone else is enjoying the fight inside, you will find him "taking his money back" at the buffet area.

If you don't want to encounter any of these people, we suggest you watch the fight through Smart's Viewstream app instead.
ADVERTISEMENT - CONTINUE READING BELOW
For only P999, you can see the whole thing on your mobile device live and commercial-free. You don't even need to use a credit card – Smart, Sun, and Talk 'N Text subscribers can simply charge it on their postpaid bill or deduct it from their prepaid load.

Video via Smart Communications, Inc.
Here's the best part: The Viewstream package also offers a chance to watch exclusive footages and win exclusive Manny Pacquiao signed boxing gloves. Sounds like a plan, yes?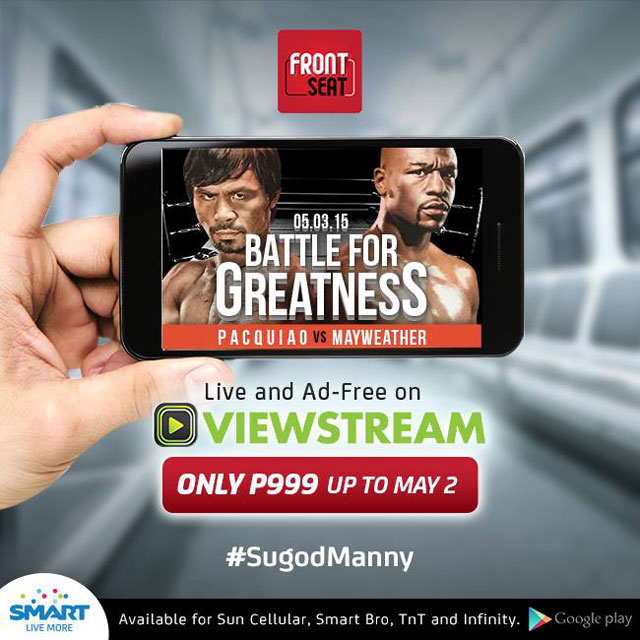 To know more about the Viewstream app, visit the Smart Communications Facebook page.