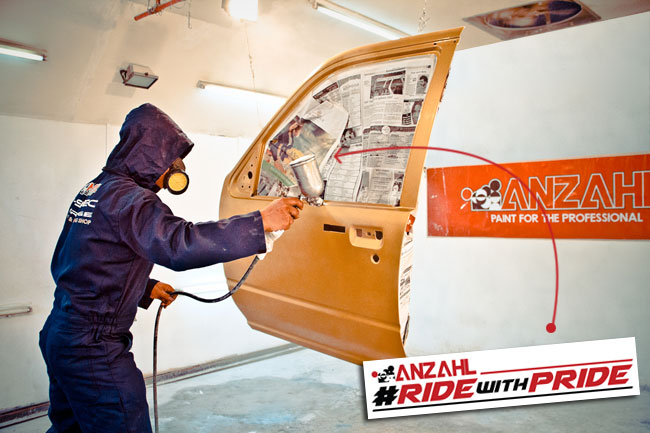 Anzahl Urethane Paint uses a two-component thermosetting synthetic coating system from primer to top coat. It is popular among professional car painters because it retains its gloss, and resists harsh weather, strong cleaning agents and abrasion. Its coating can be used for both air-dry and baked systems.
But there is more to Anzahl Urethane Paint than its solid reputation and stunning end product. The painting process system is very simple, and the result is extremely durable and long-lasting. Here are the steps that master painters follow when using this product that offers show-stopping shine.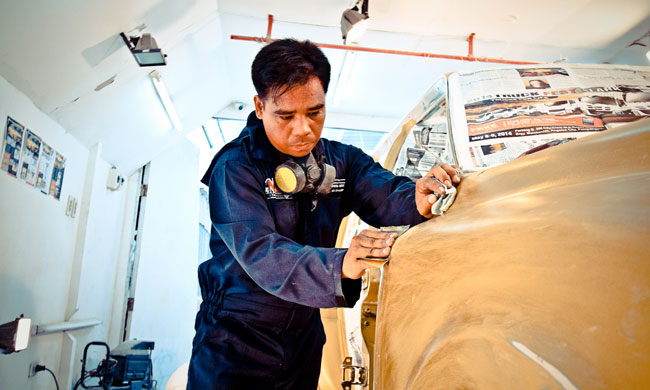 1. Use a solvent-type paint remover to remove all of the old paint. This will expose bare metal. If there is rust, use a rust converter chemical to stop the rust process. If the panels are too rusted through, proper repair should be in order.
2. Use lacquer thinner all over the body to remove any traces of oil or grease. Paint will not stick properly to an oiled or greased car. Once you are sure that all the impurities have been removed from all the bare metal surfaces, the wash primer and catalyst can be applied. Mix Anzahl Wash Primer with Catalyst (in 3:1 ratio), reduce with Anzahl Thinner (1:1), then spray a single thin even coat.
3. Mix Anzahl Anti-Corrosion Primer Green with Catalyst (3:1), reduce with Anzahl Thinner (1:1), and then spray two coats. Gradually apply thin layers of body filler to uneven surfaces, and wet-sand until a smooth and even surface is achieved.
4. Mix Anzahl Spray Filler with Primer Catalyst (3:1), reduce with Anzahl Thinner (1:1), and then spray two or more coats. In case there are still areas with uneven surfaces, apply body filler again and recoat with Anzahl Spray Filler. This needs to be used within 24 hours of mixing. Once dry, it is easy to sand down.
5. Mix Anzahl Basecoat Color with Topcoat Catalyst (3:1), reduce with Anzahl Thinner (1:1), and then spray two or more coats. For outstanding shine, finish off with a mixture of Anzahl Carshow Clear and Topcoat Catalyst (3:1), reduced with Anzahl Thinner (1:1), and apply two or more coats.
ADVERTISEMENT - CONTINUE READING BELOW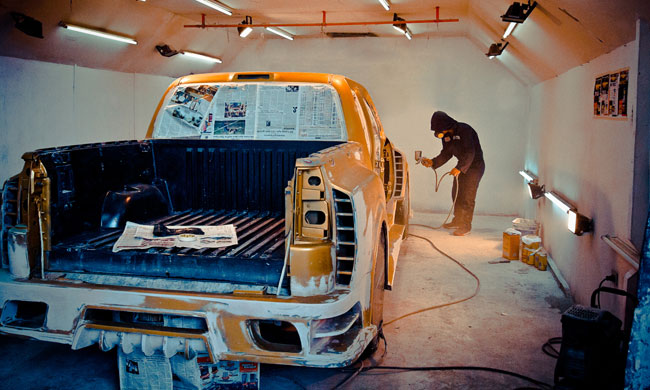 Century Chemical Corporation, manufacturer of Anzahl Urethane Paint, also has additional pointers:
* If your car is still new, it only needs a wash-over because the original paint primer is still in good condition.
* If your paint is already old, it's best to completely remove it to make sure that the rusty panels underneath can also be repaired.
* If the panels are rusted through, let an experienced metal worker do the repairs. It is a bad idea to just cover these areas with putty.
* One of the secrets to a good paint job is the proper mixing of the paints and chemicals. Immediately apply the mixed paints, too.
* Allow putty to dry for at least an hour before you sand it down.
* Green is the color of choice for the primer because it is the easiest to cover up. However, Anzahl Spray Filler Gray is also available if needed.
* The spray gun has to be clean to ensure a fine spray. Others even opt to use one with filter for extra measure. A good painter will make sure of this.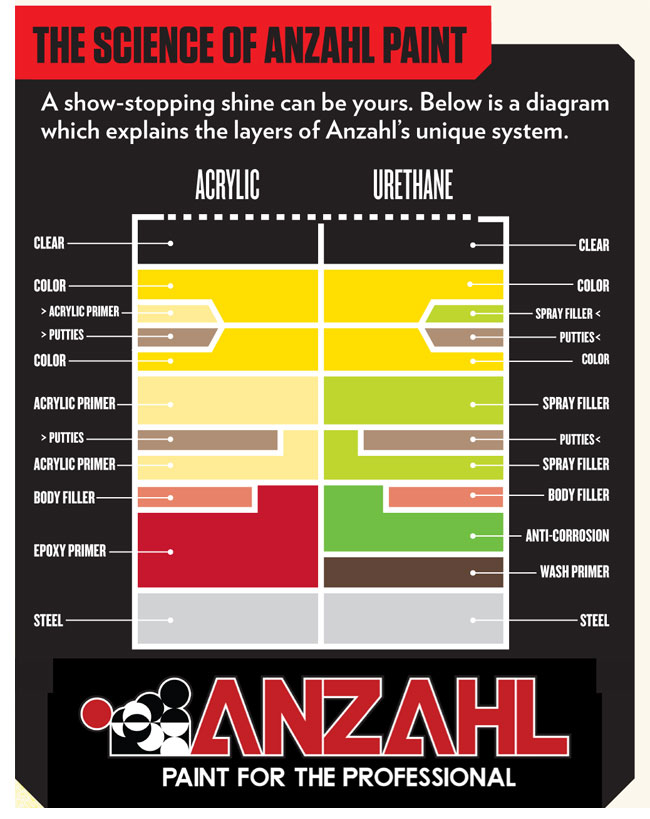 For more information on Anzahl Urethane Paint, visit www.anzahl.com.ph or www.facebook.com/TeamAnzahl.