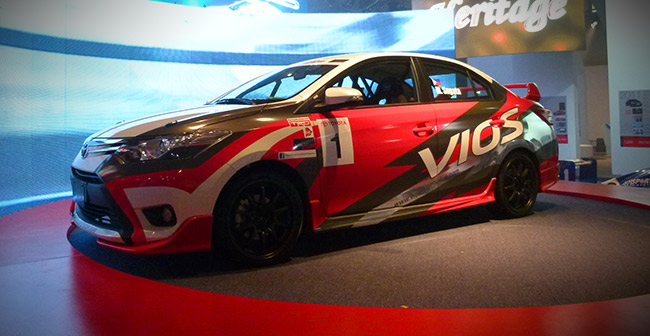 Late last year, Toyota announced that it would be holding the Vios Cup, a one-make race series that promised to bring (relatively) affordable racing back to the Philippines. As part of its marketing efforts to sustain the attention on its best-selling Vios, the series harks back to a time-honored tradition among manufacturers: "Race on Sunday, sell on Monday."
For automakers that want to be taken seriously among enthusiasts, motorsports participation can be a cost-effective tool to really drive home the message that it makes exciting cars. Never mind that, in reality, the giant of American-style racing--NASCAR--features race cars that haven't had anything in common with their production-model namesakes in decades except for a very general-looking silhouette.
With the Vios Cup, Toyota hopes to keep things as close to production-class as possible, and with many concessions to possible team concerns in order to keep a level playing field. To find out more, I made a list of questions that the typical enthusiast might want to ask before he takes out his checkbook. Toyota's marketing department was happy to oblige my queries. (Their replies are italicized).
ADVERTISEMENT - CONTINUE READING BELOW ↓
1. Who can join the Vios Cup?
Any hopeful non-professional race car driver must be able to purchase the "Vios Cup" package that already includes the vehicle, the race parts, and the race in itself which will commence mid-year of 2014. This package can be purchased in any of Toyota's Metro Manila and Luzon authorized dealer outlets beginning February 2014. We have currently tapped Tuason Racing School to conduct the schooling and training of race car drivers.
2. What is the schedule of races, and what is the format?
The schedule of races is yet to be finalized, but TMP is currently looking at May, July and September. The driver is guaranteed at least three races.
3. How much will a prospective racer shell out for a race-spec Vios? What does the cost include?
The Vios One Make Race (OMR) is a 1.5 G MT variant with several Toyota Racing Development modifications on the intake, exhaust, suspension and race-standard safety equipment inside. This will only be available for sale to those who will participate in the race and is not an additional variant to Toyota's current lineup. The following parts were installed/replaced:
ADVERTISEMENT - CONTINUE READING BELOW ↓
Recommended Videos
Racing add-ons
Clutch cover
Intake system
Hood lock pin
Clutch disk
TRD aero kits
Bucket seats
Limited slip differential

Alloy wheels

Seat bracket
Sport brake pad

Wheel nuts

6-point seatbelt
Muffler set

Pedal pads

Steering wheel + hub
Upper mount (front)

Circuit breaker mounting

Circuit breaker
Suspension set

Fire extinguisher

Modification labor



Roll cage

Heel plate/flooring

Consumption parts/items




Body decals

Tow hook (front and rear)



Vios OMR price: P1,195,000
4. Let's say I'd like to join, but I don't have enough money to buy a car for myself. So I get 2-3 friends to share the cost. Can I "time share" the car--such that I race one weekend and my friend races the next? Is that allowed?
TMP would like each Vios Cup applicant to fully appreciate the fun and perks of being part of the said motorsports competition. Therefore, only one participant per vehicle is allowed.
(Sorry, guys. No money, no honey!)
5. What are the sponsor considerations? Can I choose my own brand of tires, oil, brake pads, seats, fuel, etc.?
Brands that would like to be a major partner with the Vios Cup will enjoy a product lockout. This indicates that if one brand sponsors the tires in blanket, then no other tire brand will be used for the program. Same goes for other products.
As for individual sponsors, this will be allowed to a certain level only. However, if these sponsors are in conflict with the OMR sponsors, as mentioned earlier, this will not be accommodated.
ADVERTISEMENT - CONTINUE READING BELOW ↓
On the one hand, this could help prevent an escalation in costs as no two competing team sponsors can keep raising the bar with ever exotic and expensive equipment. On the other hand, you may not have a choice of particular tire, lubricant or brake pad.
6. So now I bought the car. Does that mean I can bring it home and test it on my secret racetrack? Or will it be strictly impounded at the Cup-certified racetracks?
Yes, the vehicle could be brought home by the participant. It is a street-legal car. However, modifications are not allowed. All vehicles will be subject to checking by officials before and after the race to ensure that all Vios OMR cars have not been modified or tampered with.
(This might be a bit of a stretch, but imagine going to work in a Vios OMR because it's your designated "coding" vehicle. Not that a race car is a pleasant place to be in outside of a racetrack...)
ADVERTISEMENT - CONTINUE READING BELOW ↓
7. What about paddock expenses? Is that a separate expense?
Crew, spare parts and other paddock expenses will be shouldered by the customer/team.
8. How will you ensure a level playing field? Will marshals check that the engines haven't been secretly modified, for example?
Our race managers, Tuason Racing School, will ensure that all our participants play fairly. Our Conversion and Accessories Department and TRD will also be present to verify that each vehicle is tamper-free before race day. Furthermore, dyno testing will also be conducted before and after each race.
(Most competitors will play by the rules, but I imagine some extremely competitive folks with an engineering background will try to work around the rules. Hey, if it happens in Formula 1...)
9. What if I crash the car (which I probably will)? Is it insured? Will you have spare parts easily replaceable, and at retail cost or subsidized racing cost?
As common to all race cars, insurance does not cover it. Spare parts will be readily available during race day and will be accessible to customers. Special prices for parts will still be finalized.
ADVERTISEMENT - CONTINUE READING BELOW ↓
(If you're not pushing the limits, then you're probably not going fast enough. Prepare for some carnage!)
10. After the Vios Cup series ends, can I bring home the car?
Yes, after the season, the car can be brought home. After all, it is a purchased vehicle by the owner.
(I imagine the used car market will be quite interesting with these cars. Assuming they're still in decent shape after the owners are done with them.)
11. Aside from the costs of the car and the race fees, what other foreseeable expenses should a rookie racer anticipate?
Aside from the race-related expenses (crew, mechanic, fuel, tires, etc.), if the owner is very protective with his car and chooses not to drive it off the track, he will be shouldering the vehicle's transit to and from the racetrack. Also, during race weekends, racers will be shouldering their lodging.
12. The cost of the car includes driving lessons with TRS, yes?
The Toyota Racing School courses by Tuason Racing School are subsidized by TMP. However, during the drivers training, TRS may require a fee to cover for the operational expenses (tires, oil, track, fuel, etc.).
ADVERTISEMENT - CONTINUE READING BELOW ↓
And there you have it. If you've got the cash and are raring to see how good a driver you are, Toyota has got a race series just for you. (If you want to visualize how it will all look like, click here.)
Photo by Andy Leuterio