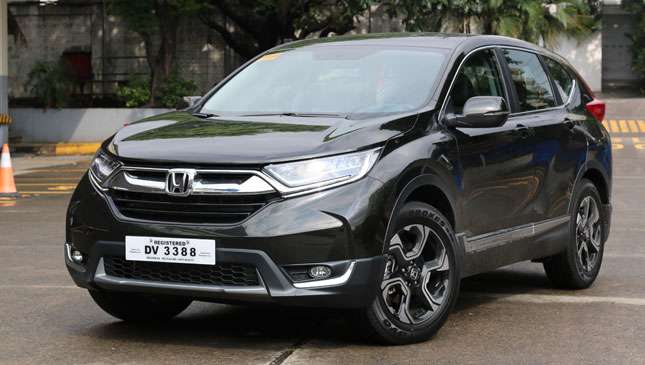 Several weeks ago, my daily driver was down for maintenance, so I had to borrow my mother-in-law's Honda CR-V for a few days. Around eight years old, this third-gen CR-V set the benchmark for comfort and drivability among car-based, compact SUVs during its time.
While her unit was showing some of its age with flaccid shocks and a little extra wobble in its shifter, not to mention lacking that new car smell, it was altogether a not unpleasant experience. It got me to where I needed to go in comfort as befits its name, with reasonable fuel efficiency, and in relative anonymity. The older I get, the less enamored I am with flashy rides. For daily driving, I think most people just want a reliable, comfortable ride that doesn't call undue attention to itself, so you can get on with whatever business you're involved in.
Continue reading below ↓
Recommended Videos
The latest generation of the CR-V continues to deliver on that front, a bland persona that's honestly tough to remember what it exactly looks like, but also one that does 90% of the things we expect a daily driver to do very well. That is, deliver a serene ride, with the highest possible level of comfort and efficiency you could reasonably expect for its P1.5M starting price.
Let's face it: You do not expect a CR-V to set hearts afire with its looks or how it drives. For that, you'd have to turn to Mazda to get the juices flowing, or maybe Hyundai or Kia for that faux Euro look and feel. Honda is and has always been about the pinnacle of Japanese efficiency and thoughtfulness. The latest CR-V continues that tradition, taking care to introduce the latest innovations so that customers keep coming back for more of that same good thing. Whattamitalkinbout??
Well, it was hard to put a finger on what exactly endeared me to the CR-V because it's not a very involving machine to drive in the first place, but perhaps that's the point. Strapping in and heading home after another long day at work, it took a while to notice how everything feels so light and smooth. Driving the CR-V is effortless, and I'd almost say pleasurable if not for the fact that driving in Metro Manila is a plain f****** chore these days.
Primary and secondary controls—steering, brake pedals, turn signals—move with a silken precision that few other manufacturers can match at its price point. Color tones and textures in the cabin have a gentle transition from one element to the next, with surfaces that always feel right. Honda has gone full-digital with the cockpit, but it avoids looking gimmicky by way of smoothly integrating the TFT panels into the overall design theme so it all looks organic.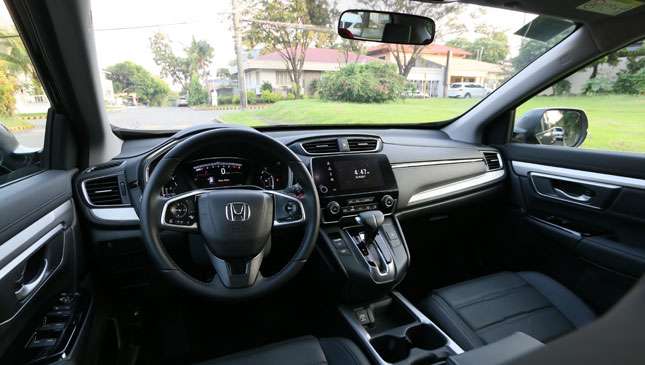 Most everything you need is just a few inches away from the steering wheel, and it only takes a few minutes to orient yourself with which button does exactly what. A traditional shift lever is gone, replaced by an electronic button on the console and paddle shifters, thus freeing up more space on the dash.
Probably the most complex item in the cockpit is the TFT instrument panel, which has multiple pages to shuffle through driving modes, playlists, fuel efficiency score and the like. Despite this, the clean-looking cockpit houses a multitude of driving aids like the multi-view reverse camera, lane keep assist system and lane departing warning, forward collision warning, and my favorite being the Lane Watch camera. Flick the turn signal to go right and the center panel shows your right-rear blind spot. Now, if only they'd make a left A-pillar camera, because the thick pillar can still hide pedestrians who just might be in the way when you turn left.
But my favorite part about the CR-V is the seats. Simply put, they are the best seats you can get for the money. They're wide but supportive, wrapped in plush leather, and perforated so they breathe very well in our tropical climate. You can spend long hours in them and never need to stretch, the thigh support is perfect for all but the extra-long legs (over six feet), and you risk the possibility of nodding off in them because they just might be too comfortable for your own good.
To be honest, I wished I had a driver when I had the CR-V, because I really preferred to just sit in the back and feel all successful and pampered without being showy about it. The ride is plush, the petrol drivetrain is whisper quiet, and the Honda's emphasis on comfort over traditional driving enjoyment means it's best enjoyed as a chauffeured vehicle. The backseat has plenty of head- and legroom so you can sprawl out, while the cargo area has gobs of room for luggage or groceries.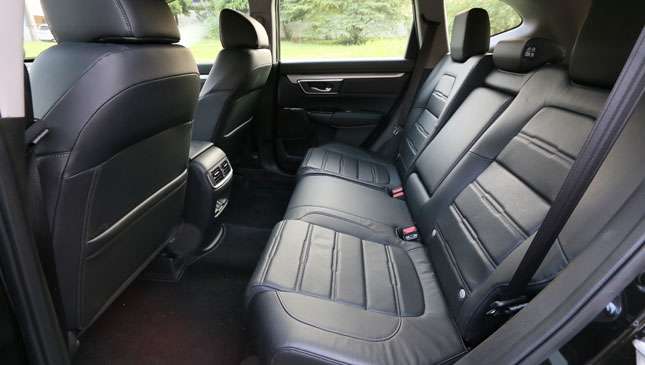 Unless you really need the seating, the five-seater should be all the CR-V you'll ever need. Just don't get too excited. While the Honda can run at a brisk pace, it's a bit like running a 5k in loafers. Especially in Eco mode, the drivetrain is biased toward smoothness and efficiency over outright acceleration, holding the highest gear whenever possible and dampening throttle response to eke out the best possible mileage.
Shift to Sport mode and the transmission livens up, but it's not really its mission in life. Like its predecessors, the CR-V is about dependable, comfortable transportation in a more upscale, more mature package than its lower-line siblings like the BR-V and the HR-V. It has all the goodies you'd expect for an SUV at its price point, but the way everything just works so well together is its appeal. It may never excite you, but it will never disappoint you either.