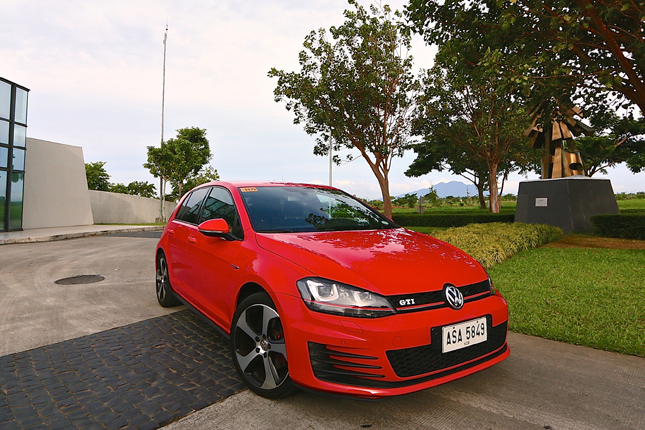 I must admit that I am smitten with this car. Back in the '90s, "Fahrvergnügen" was the slogan for Volkswagen, which meant "driving enjoyment." Wolfsburg's contemporary slogan is "Das Auto," which seems just a tad stiff and robotic for my tastes, or maybe I'm just a '90s guy at heart and can clearly recall visions of VW Sciroccos zipping past the pages of my car magazines back in the day.
It's easy to pigeonhole the Volkswagen Golf GTI into the performance compact category along with the Subaru WRX and WRX STI. And against those twin overachievers, it's hard to justify a car that gives up at least 50hp to the cheaper of the two, not to mention making do with front-wheel drive. Yet it would be a mistake to completely disregard the GTI when going performance-shopping, because unless your sole criterion involves big numbers and low 0-100kph times, then the VW makes a strong case for itself.
Why would someone pay P2.29 million for a car that (only) pumps out 217hp from a turbocharged, in-line-four with a six-speed DSG, and only through the front wheels? Well, the same reason well-heeled buyers pay more for signature clothes, bags and shoes. It's all about the packaging and how everything is put together, not about how much oomph a car will deliver (although the GTI does that job very well).
Continue reading below ↓
Recommended Videos
It starts with taking in the design aesthetic of the GTI: a clean five-door profile that will age well and is bereft of tacky aero add-ons. Clues that this is a rather special VW include the red accent stripes that run the length of the headlamp base and grille. The strakes on the foglamps are racy without being tacky, perfectly highlighting the honeycomb radiator grille. And gosh, but those five-spoke wheels are just the handsomest I've ever seen to grace a small car.
The interior is a sublime experience, possibly the best-looking cockpit I've seen yet--business black with just the right touches of satin silver and red accents, and white-on-black instrumentation. The plaid upholstery is a conversation starter, quite a change from the usual leather or Alcantara. You'll be assured no other car will have the same seats as yours. The sport bucket seats hold you perfectly with sufficient lumbar and lateral support without feeling confining.
The flat-bottom steering wheel is a work of art, sized just right for quick steering inputs. The tiller also has red stitching, a thick rim, and grips at 10 and 2 o'clock. The pistol-grip shifter is similarly a pleasure to hold, wrapped in leather and capped with a touch of stainless aluminum. It gets hot to the touch if you leave the car under the sun for a while, but that's the price of aesthetics. Sometimes it hurts to look so good.
You don't get a manual transmission option in Philippine-market GTIs, but you likely won't mind. Volkswagen probably uses the best dual-clutch transmissions on the planet, with shifts so quick and seamless you'd be hard pressed to match the performance with a traditional stick-and-clutch setup. As with most performance-oriented trannies, you can change gears yourself with the paddles or the shifter, and it's a lot of fun to do this when the road turns twisty.
While the boosted 2.0-liter motor "only" churns out 217hp, the other side of the coin is that it has a meaty torque profile of 350Nm from 1,500rpm all the way to 4,400rpm. Turbo lag is practically non-existent. At low speeds, this is a very tractable engine, and unless you knew it was a turbo you'd be forgiven for thinking it was a very smooth, non-aspirated, large-displacement four-banger.
So in low-speed driving like urban stop-and-go, or even highway cruising, the GTI accelerates with purpose and easily maintains a brisk pace, but open 'er up and the motor snarls out the sweetest soundtrack you'll ever hear from a four-cylinder: sonorous, orchestral, inspiring. Peak output kicks in from 4,500rpm all the way to 6,200rpm, which means you'll never really feel a lag in performance when the engine shifts from a high torque character to high horsepower. It revs quickly and cleanly, and makes every burned liter of premium fuel feel well-spent.
On my favorite set of curves south of Metro Manila--a set of switchbacks and esses that go up and down some steep hills--I drove the car as hard as I dared on a public road, and the car was just an absolute joy to drive. There's more than enough power to accelerate up the 15% gradients; the stopping power from the all-disc brakes gives confidence when approaching blind corners; and the chassis is so well sorted-out that it's easy to forget it's still a front-wheel-drive setup.
The GTI is nearly neutral approaching the limits of adhesion, with benign understeer at the very limit, which you can easily translate to mild oversteer with a tap of the brakes and a flick of the steering wheel. The suspension is taut but not rock-hard, and there's just enough body roll to remind you that you're nearing the car's limits. You can trail-brake with this car and the tail will gently rotate. Basically, this is a very friendly car to drive at the limits.
I get the seat-of-the-pants feeling that it has just enough power and handling to make every mountain road exciting, but it will never get you in too deep unless you really do something stupid. You can basically max out the car's potential and feel like a hero before the red mist sets in.
While the GTI has all the bells and whistles like bi-xenon headlamps, a ton of airbags, and all the usual electronic safety nannies, I particularly like the Driving Mode Selection menu. You can select from several combinations of steering and throttle responsiveness, as well as your front lighting and A/C setup. You can opt for a Normal setting, a Sport or Eco combo, or you can make your own combination. Silly me, I only discovered this nifty feature on the drive back to the VW dealership, but Sport is the way to go. The steering turns almost race-car sharp, and the engine response becomes 'Right Now' along with a noticeable change in exhaust note. Truly, burning premium gasoline has never been this much fun.
This car seats five, has enough power and grip to make any road exciting, yet has enough docility to make it function as well as a stylish daily driver. It doesn't have the raw, in-your-face stats of its peers, and it was never meant to go head-to-head with them. Instead, it presents a classy, everyday persona that quickly turns superhero-like with a prod of the accelerator and the press of a touchscreen.
Yes, it's pricey, but discerning enthusiasts will get a ride that will turn every mile into something special, whether it's at 5/10ths pace, 10/10ths, or balls-to-the-wall fackengettouttadaway.
Photos by Andy Leuterio (shot at Nuvali in Santa Rosa)