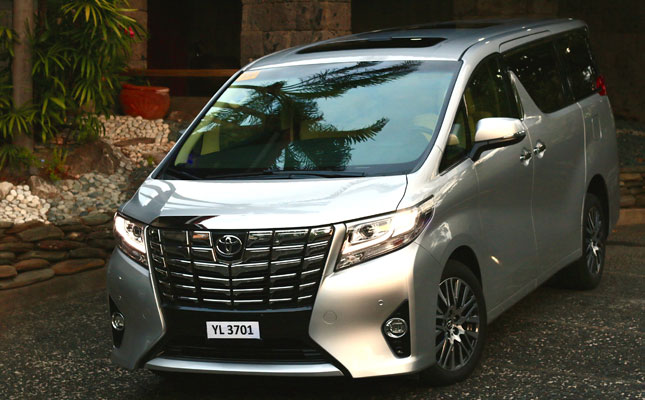 It has been said that discretion is the better part of valor. Well, in my dealings with successful (and classy) people, I have come across a common behavioral pattern when it comes to enjoying their wealth: they rarely flaunt it. Oh sure, there are some showboaters with some hints of DOM--the middle-aged guys who snap up flashy sports cars--but on the whole it can be said that discretion is the better part of true wealth. Mayweather can flaunt his gold jewelry until it leaks out of his bunghole, but then again he's hardly someone to look up to.
Why, just a few weeks ago the newspapers came out with the latest SALNs of some public servants. Wouldn't you know it, our ombudsman and a former chair of COA have enough wealth to comfortably retire on--all of it legit, aboveboard, and fruits of their labors.
Flaunting one's riches--especially the ill-gotten kind--is not only tacky, but it can also attract the attention of our friendly neighborhood taxwoman, and, therefore, trouble. Just ask the mother-daughter tandem of Janet and Jeane Napoles.
You see, true luxury is being able to enjoy life's rewards without nosy people poking in your closet for skeletons, or having to prove anything to anyone, or having to continually watch your back for possible kidnappers. Think about it: What good is having a seven- or eight-figure bank account if you can't live easily in your own damn country?
And this brings this long-winded intro to my subject: the Toyota Alphard. It's been around eight weeks since I had it, but I still pine for one. You see, this is the first van I would choose over any luxury compact it matches in price. I cannot think of any other vehicle within a million bucks of its price point that (A) seats six; (B) has enough power and smoothness to get me to my destination quickly; and (C) has a cabin that rivals an airline's first-class seats. I shit you not: This is the crème de la crème of locally available luxury vans, no aftermarket customization needed.
ADVERTISEMENT - CONTINUE READING BELOW ↓
Let's get the boring stuff done with first. The 3.5-liter V6 drivetrain, shared with the Camry but tuned a bit differently, checks all the textbook similes: "smooth as silk," "purrs like a sleeping tiger," "pulls like a locomotive," and, of course, "drinks like a fish." Well, have the equivalent displacement of one and three-fourth Coke 2000s, and of course you'll have to set aside a generous fuel budget. The upside is you'll rarely ever have to wait for a bus-sized opening to overtake; merging is a drama-free exercise; and, well, the truly wealthy don't quibble over a little thing like fuel cost. Unless, of course, you're using the Gulfstream too much.
A midlife upgrade's main "improvement" has to do with that gigantic spindle grille. It's mean to evoke a kinship with the Lexus brand and make you forget how it closely resembles a Hyundai Starex in profile, but to my eyes it's quite Jaeger-like. And we all know that Jaegers are 2500-tons-and-25 stories-of-awesome cool.
What I really want to talk about is that cabin. As (bad) luck would have it, the family driver went on emergency leave the week of the test drive, blowing my one chance to get chauffeured around like a captain of industry. Instead, I found myself chauffeuring my family around, which was actually more fun than I expected.
Climb into the cockpit and it's like being at the helm of a corporate jet. Well, at least how you'd imagine a plane cockpit would look like, except you have a wheel instead of a yoke. Nice, glossy faux wood here and there (not the cheap, tacky kind), soft-touch plastics, thick carpeting, and buttons, buttons, buttons! I wouldn't have been surprised if I saw a Lexus badge instead of the three-oval logo on the wheel hub.
ADVERTISEMENT - CONTINUE READING BELOW ↓
Recommended Videos
Then we were off. With my kid in the back showing my dear mother how the power captain's chairs worked, as they ooh'ed and aah'ed over the hypnotically pulsating mood lights, we proceeded to do a short, pleasant tour inside the subdivision. Those chairs, my friends, are the best you will ever find short of a Rolls-Royce, which of course breaks the rules for inconspicuous consumption.
By far the best seats in the house are those in the second row. They are power-adjustable every which way but laterally (that goes to the space-savvy Honda Odyssey), they have ottomans, and MAN(!), you can really lounge back and pass out on the Chardonnay back there. Only the sofa in an old gentleman's club cigar lounge could possibly be better, but then you'd have to deal with the stink of stale tobacco.
Excuse my bourgeoisie raving here, but if backseats are prime property in your automotive space, then the Alphard is top of the heap. The third row isn't too shabby either. You get two nice buckets back there, with good legroom and a nice seatback rake. For Sunday lunches with the clan, your Titas of Manila won't be offended in the least if they have to sit all the way back there. And if you're using that space for the nanny? Well, she will be a very sosy yaya. There's a middle headrest, but the central hump formed by the two bucket seats means this position is just to be used for very rare occasions. Shotgun rider also gets an ottoman. How cool is that? You could seat seven in a pinch, but the Alphard is a solid six-passenger luxury van.
ADVERTISEMENT - CONTINUE READING BELOW ↓
Other nice touches abound to ease the pain of dealing with gridlock. Power door and hatch openers, natch. A nifty, dual-hinged console box so both driver and shotgun rider can open it to their side. Auxiliary power adjustments on the side of the shotgun seat so the boss can get as much room as he wants. Heaps of sound and vibration insulating materials. And that big-ass moonroof! Honestly, it will be kept closed during the daytime, but open it up at night and you can gaze at all the galaxies your children's children will own someday.
Of course, it has standard kit like traction control and ABS and airbags everywhere, but you knew that already. About the only jarring detail is the stereo head unit, which looks out of place in that elegantly designed dashboard (at least the sound quality is top-notch).
At a little under P3.3 million, or around P1 million more than an Odyssey, it's an apples-and-oranges thing. The Odyssey is a very nice minivan, but it's Business Class. The Alphard is First Class. One should enjoy this van with a very competent chauffeur behind the wheel. You'll still have a good time driving everybody around if you don't have one, but the only time you can really enjoy the backseat would be at the carwash...which is what I did.
Life's little luxuries, you know.
Photos by Andy Leuterio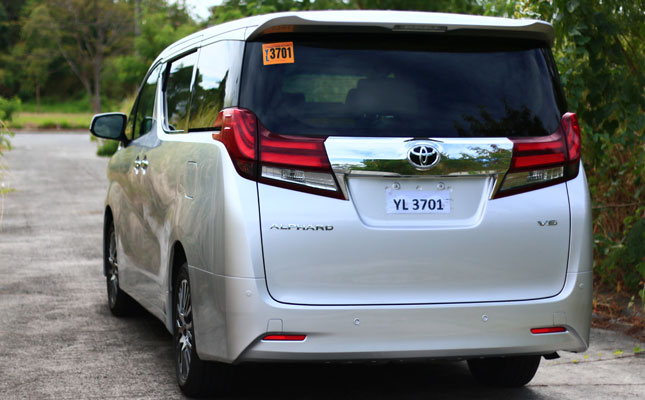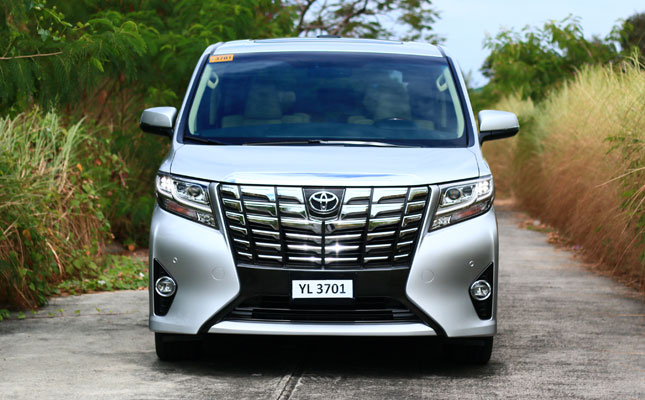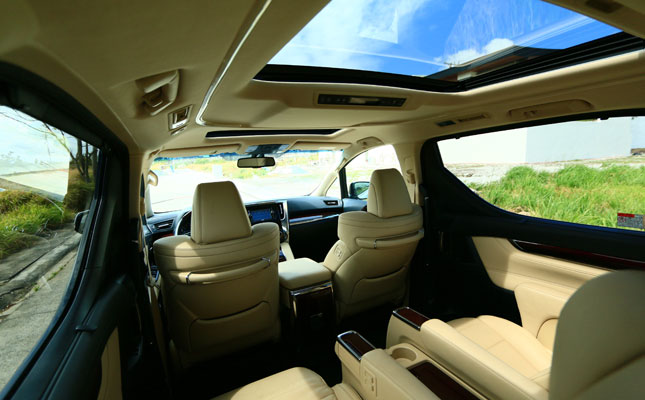 ADVERTISEMENT - CONTINUE READING BELOW ↓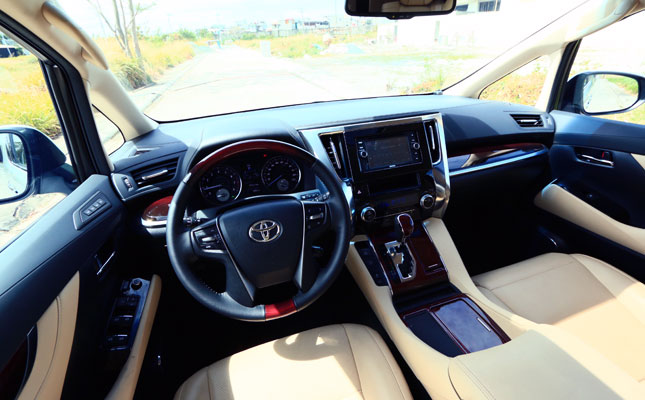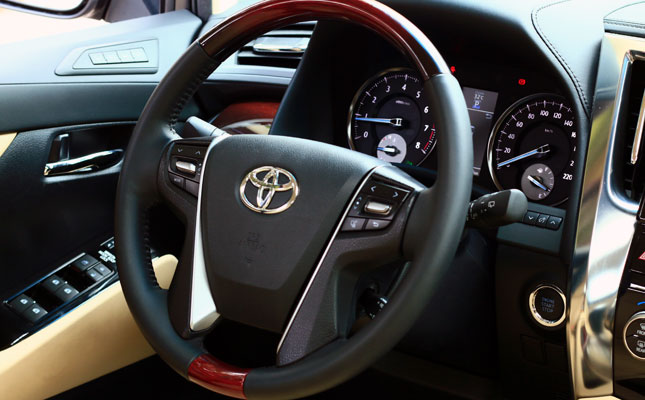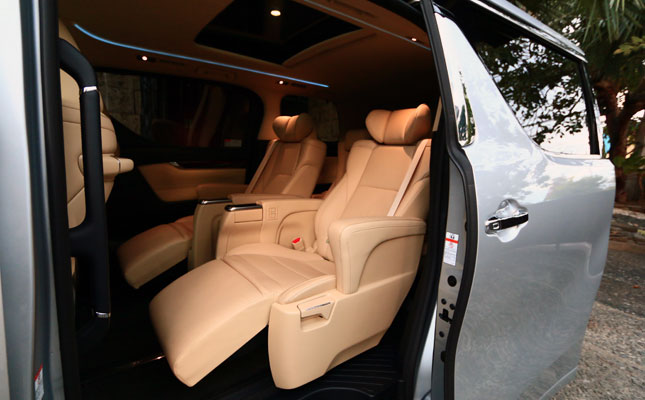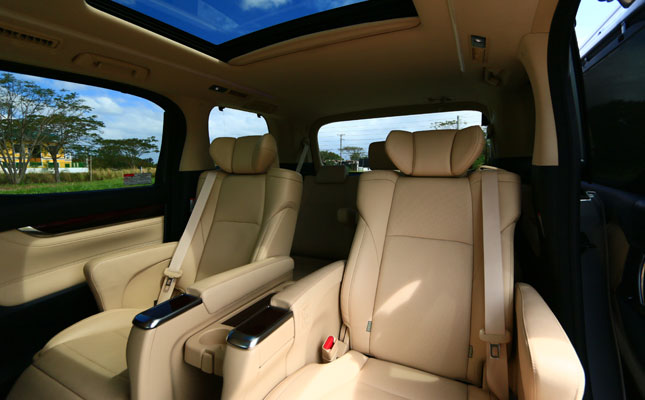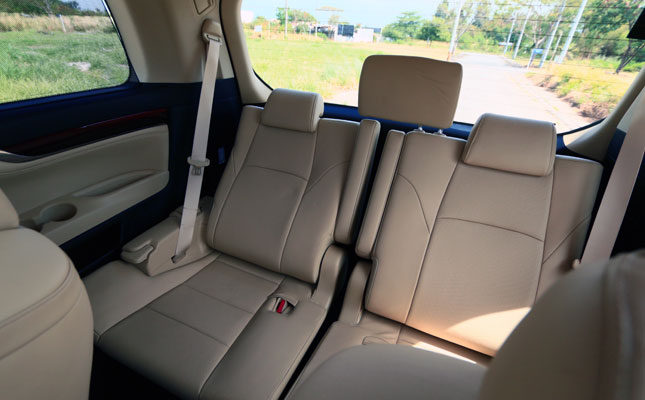 ADVERTISEMENT - CONTINUE READING BELOW ↓