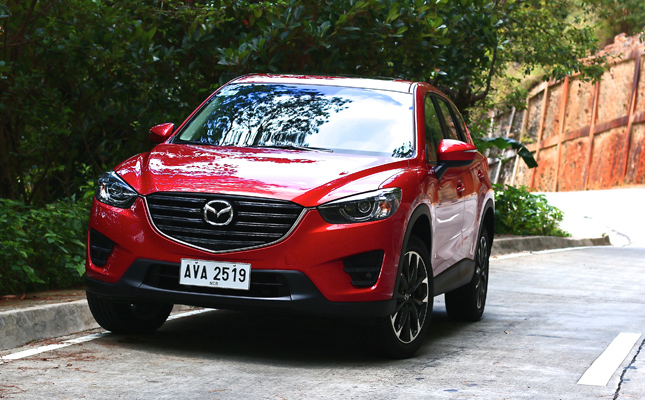 As a car guy and save-the-manuals advocate, I view crossovers as a necessary evil. They have flood-clearing ground clearance; they have arguably useful AWD for that very rare moment when you actually need it; and they look a lot better than your average minivan.
Now, there is only one Mazda I really want and that is the Miata, which at only two seats and a small trunk makes it a tough sell to the missus who always insists we bring a platoon's worth of baby stuff when we travel. My second choice would be the 6, which is now available in oh-so-Euro wagon version. But I'm not even 40 yet, so I don't feel like I qualify for the stereotypical executive sedan buyer. Then there's the 3, which is a really good compact, but since I already have a compact for my daily driver, I don't really need it...yet. Mazda 2? Really nice, but too small for this dad bod.
This brings me to the updated CX-5, which I first drove several years ago and lauded as a fun-to-drive crossover, possibly the most fun of the lot excepting the turbocharged Forester XT and the Escape. Unless you have no Internet (in which case, how are you able to read this?), then you probably already know about the CX-3, which looks so good in pictures I want to take a bite out of it. Mazda Philippines is being very coy about that little crossover, so what they've done is to make their only locally available CX-5 as sophisticated as possible for the price point.
Continue reading below ↓
Recommended Videos
It makes quite a compelling argument for itself. New for 2015 are some very nice goodies like adaptive LED headlamps and foglamps, a lane-keeping assist system, electronic parking brake, MZD Connect system, and power front seats. Price is P1,711,800 for the upgraded Sport variant with this sinful Soul Red paint.
So, how do these new toys all work? I had the Mazda for a weekend trip up to Baguio, including a nighttime run up Kennon Road, so I was able to stretch its legs within the boundaries of "reasonable and prudent." The new lights alone are worth the price of admission, with excellent range and field of view. Smart technology adjusts the high and low beams as your speed changes to enhance your field of vision without blinding vehicles ahead of you. At low speed, they're optimized for a wide FOV so you can see pedestrians and reduce the blind spots. At high speed, the lights adjust on the vertical axes to reach farther down the road, while reducing glare.
The lane-keeping function is useful for long drives of straight ahead where a driver might nod off. I'm not exactly familiar with the science (magic?) behind it, but stray just a few inches out of your lane lines and the steering wheel gently nudges the car back into line. The system is smart enough to follow gentle sweepers without insisting on a purely straight path, too. Now, it's also a bit of an annoyance on the "National Highway" when you need to quickly dart in and out of the two-lane road to overtake, so I turned the system off there. For long highways like the NLEX, the SCTEX and the TPLEX, the lane keeper is, oh, a keeper.
The new e-brake means you can't do crazy handbrake turns anymore (not that you were ever going to anyway), but mostly it frees up space on the console for additional storage and a couple other buttons and dials. The big news for the latter is the rotary dial for the MZD Connect system, which lets you scroll through the entertainment and navigation system.
To be honest, I didn't bother to read the brochure before driving off with the CX-5 from the dealer, so the first 15 minutes were spent swearing at the CX-5 and jabbing my fingers on the touchscreen. Then I finally spotted the command dial. Oops. At some point during your interface, the touchscreen will turn into just a regular screen, so then you need to navigate with the dial. Once you get the hang of it, it's actually very easy and quick, and then you'll really enjoy the sound system. It's just sooo good, especially if you don't want to be bothered setting up your own audio system with the aftermarket.
Finally, the Driver Selection Switch has a Sport Mode. Toggle that rocker and throttle response becomes more immediate, and the transmission holds gears longer and higher up the rev range.
All of these things make the CX-5 an even better crossover. Coupled with Skyactiv technology, it's economical when it has to be, yet is a surprisingly rewarding machine to drive hard. Steering effort and feedback ape a first-generation BMW X3 (moderately heavy but rich with feel), braking response is quick and linear, and the chassis likes to hustle on a twisty road pretty much like a higher Mazda 3.
While the 2.5-liter engine isn't overflowing with power or torque, it makes enough to make "going manual" worth the effort. Set the car to Sport Mode, slap the shifter up and down to row the gears, and the CX-5 becomes a willing dance partner. Body roll is modest in the turns, and suspension damping is excellent. Firm enough to keep the wheels planted most of the time, while allowing decent compliance to soak up the bigger ruts.
The in-line-four has a charming buzz at idle that turns into a muffled growl at high revs, and it likes to be revved. It will also happily cruise at 140kph while drinking unleaded gasoline at a rate of around 10-11km/L.
The seats have also been designed for support over comfort. While I wished for a softer cushion after a couple of hours, lateral and lumbar support are just perfect for vigorous driving without making you feel overly constricted.
Other nice luxuries like the power moonroof and the smart key system keep the CX-5 feeling thoroughly modern even though it's been a few years since it first launched. The cargo area is rated at 31.4 cubic feet with the backseat upright, or 64.8 with the seatback folded--quite generous considering the CX-5's slinky silhouette (thank the sexy yet high roofline). The all-black interior may not be to everyone's liking, though. It looks very sport and vintage BMW, but tends to feel claustrophobic, especially if you plan to use dark tint.
All of these things--coupled with better interior materials and a few subtle changes to the exterior--combine to give the CX-5 an upscale look and feel that should keep it high on any crossover buyer's short list. If your heart pines for the roadster but logic steers you to the CX-5, it's quite a reasonable (if not enjoyable) compromise.
Photos by Andy Leuterio