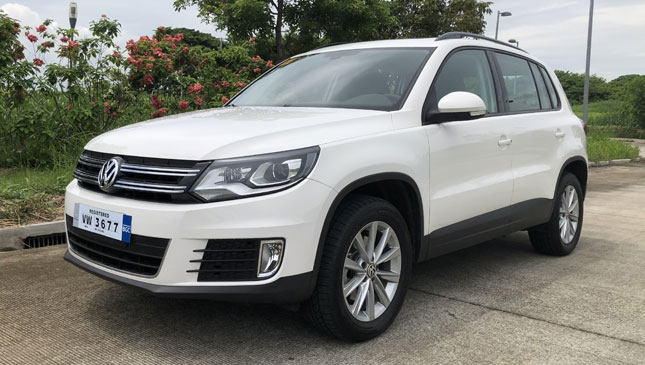 I've always liked Volkswagen's "little" SUV. Stellar highway ride, refined drivetrain, restrained Euro style. But early units breached the P2,000,000 mark, a consequence of unfavorable exchange rates and tariffs. In recent months, Volkswagen Philippines has been making waves with a slew of more affordable automobiles beginning with the Santana, the sporty Golf GTS wagon, and now this.
A Tiguan can now be had for a little over P1,650,000, not counting insurance and other accessories you may wish to install. Now, as unpleasant as our geopolitics may be with China—depending on which side of the fence you are on—you can't deny that sourcing VWs from China (Shanghai, to be specific) is a lot easier on the wallet. And hush now about inferior Chinese quality standards, because there can be both good and bad products from any country. Just check the innards of your Foxconn-manufactured iPhone; Taiwanese-operated, American-branded, made in China.
Continue reading below ↓
Recommended Videos
Anyway, this more affordable Tiguan checks all the right boxes and presents a more appealing option for crossover/SUV buyers. It gets by with a thrifty 1.4-liter gasoline engine with BlueMotion technology. What it lacks in power—let's face it, 148hp isn't much—it makes up for with parsimony, useful torque, and commendable smoothness. I regularly got 10km/L in urban stop-and-go without even trying to scrimp on fuel, although the start-stop engine feature can be annoying. The standard six-speed DSG transmission is a fine match for the little engine, maximizing all 250Nm to get you going with very rare excursions above 3,500rpm. I don't think I ever bothered to shift manually.
The Tiguan starts with the Comfortline package, and as such comes with expected luxuries like dual-zone climate control, leather upholstery, one touch up/down for all windows, and a swell panoramic moonroof. Naturally, it has ABS with front, side and head curtain airbags.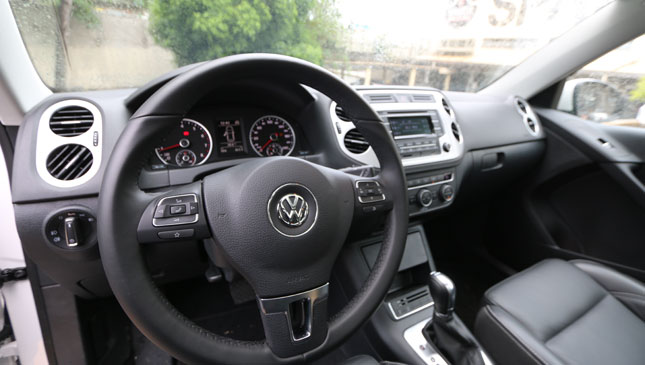 Driving the Tiguan is as pleasant as can be with a rock-solid chassis, silent powertrain, and enough modern conveniences to keep you comfortable and entertained for hours. Still, it's a bit hard to find a truly comfortable driving position unless you're six-feet tall as the steering column doesn't drop low enough for my tastes. I like to put the driver's seat down low and the wheel closer to my lap to mimic my daily driver (a sedan). With the Tiguan, hanging on to the wheel kind of feels like driving a van as the tiller is quite high. The only way to get the wheel closer is to raise the seat, but then I don't like the high and tippy feeling of a high seat height.
Other points of contention are the dated-looking dashboard with the plain black and gray panels, and the low-tech, dot matrix style LCD screens. It also has no less than eight air-con vents on the dashboard, which seems strange at first til you appreciate that now you can direct airflow any which way you want. The rain-sensing wipers with their intermittent function were a puzzle, too. Oftentimes, I'd set them to intermittent but the wipers wouldn't turn until there was sufficient water on the windshield to block the view. Just give me the usual 3-10-20 second interval options.
In order to get the price down, VW had to trim some luxuries, and the most obvious is the stereo. It's a rather basic unit that still features Bluetooth but no more navigation. It's a small compromise, because everybody uses Waze and links their smartphone library or music apps anyway. The VW also has rear park distance control but no backing-up display either on the stereo or rearview mirror; bit of an omission when you can get it in most Japanese and Korean SUVs these days.
While the Tiguan makes no apologies for being strictly a five-seater, there's lots of space at the back for passengers and cargo. Backseat passengers will appreciate the ample leg-, knee- and headroom, and the cargo area can be expanded by folding down the rear seatbacks.
Even with its friendlier sticker price, the Tig' still faces stiff competition from Japanese, Korean, and American brands. Those looking to get the most car for the buck will stick to the seven-seater models, but those who are okay with just five seats will be happy to know they now have a German-branded option.