Whenever I book a Grab ride, I've come to dread what vehicle is selected for me. When I see it's a third-gen Toyota Vios, the most popular car model in the ride-hailing platform, I sigh and hope the cabin temperature is cool. Sad to say, it's usually not.
I suspect the sweltering cabin is due to a combination of factors. For one, it seems some Grab drivers believe moving the thermostat beyond the halfway point will instantly double their fuel consumption. I also think the cabin of the previous-generation Vios, while indeed roomy, was just too big to be adequately cooled by its A/C system.
"Maybe your thick body is just too difficult to cool," some of you might ask. But I've also seen online comments confirming the Vios's lack of cooling capability, and I rarely feel hot inside Grab cars with Mitsubishi and Nissan badges.
When the fourth-gen Vios was released, I was glad to read that Toyota had improved the A/C to accommodate thick-skinned individuals like myself. And when the Vios's hatchback twin, the Yaris, was lent to me for a test drive, I can confirm that Toyota's subcompact offering has learned how to chill. Actually, Niky Tamayo was right in that Toyota seems to have overcompensated. Even in broad daylight, setting the automatic climate to 24 degrees is too cold. Hooray.
Continue reading below ↓
Recommended Videos
I also notice that the cabin has improved overall. For one thing, there's no more noticeable faux-leather stitching. I don't know if that was something the customers wanted, but it was tacky as hell. Good job, Toyota.
Compared to that of the previous-gen Yaris, the new interior feels classier and more polished. Slim silver accents contrast well against dark materials. It's also nice to see that the red fabric seats have been carried over; they lend a racy feel to the cabin and hold your body comfortably—not too soft, not too firm—even if you're stuck in traffic.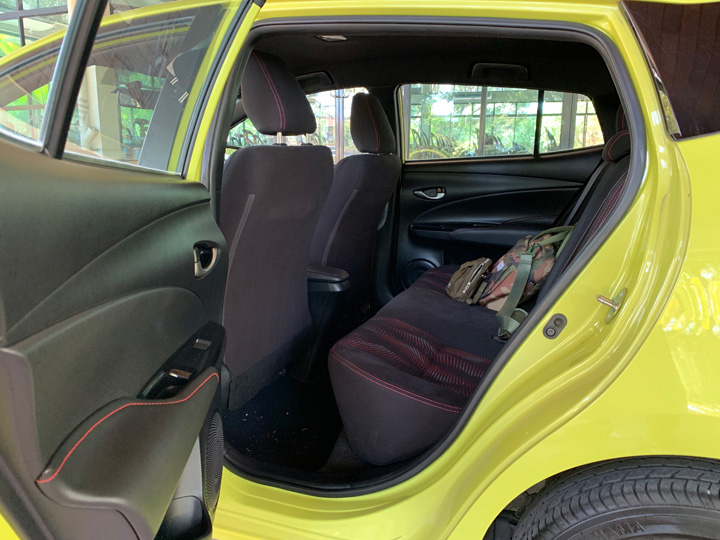 The comfy seats combined with the chunky leather steering wheel make the Yaris a pleasant drive in an unpleasant metropolis. The 106hp 1.5-liter engine does a good job of giving this hatchback a bit of pep, and the suspension soaks up uneven roads well. The Yaris doesn't move eagerly from a standstill, preferring to cruise along at a steady pace. In city driving, I logged an average of 8km/L, which isn't too bad.
This means that the Yaris doesn't quite live up to the refreshingly racy sheet metal. When I first saw the Citrus Mica Metallic during the launch, I thought it was a daring choice for Toyota Motor Philippines (TMP) to choose such a color. I still do. This model has the Vios's face, and no car on the road blends in more than the Vios (except maybe the Fortuner). But with this bright green hue, I noticed people doing a double take when I stopped at intersections. Plus, the red accents on the grille and side mirrors complement the bright body color nicely.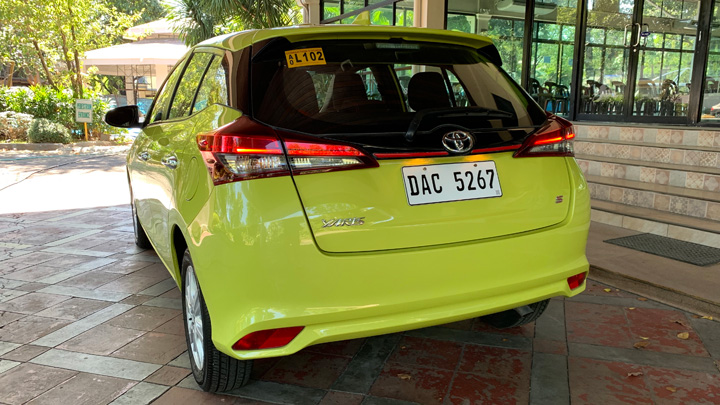 The design becomes a little flaccid when it comes to the rear, with only a red 'S' badge as a contrasting detail. But it's still a good look overall.
My time with the Yaris was a satisfying one. It may be larger than its predecessors, but it can still be maneuvered with ease on tight streets. I just wish it had parking sensors to make parallel parking easier, or even a reversing camera.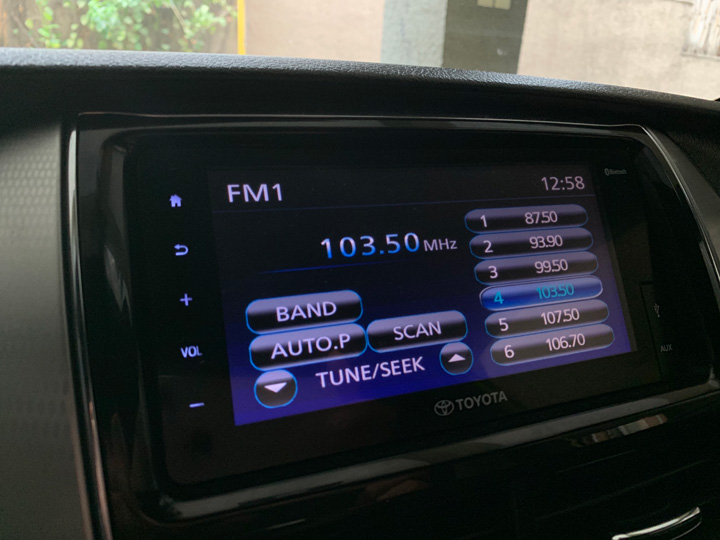 And speaking of omissions, the touchscreen infotainment system is impressive—for 2015. At a time when even budget offerings from Kia and Chevy offer Apple CarPlay and Android Auto support, the lack of these features in Toyota models is starting to become glaring. This might sound like the rant of a tech nerd, but usually, those who say CarPlay isn't a big deal have never tried it. The Yaris's audio system does sound beyond decent, however, thanks to six speakers. And it still connected to my iPhone and displayed my music (with proper album art) flawlessly.
In the end, the Yaris is a mixed bag. It doesn't have the best features in its segment, but its ride comfort, spacious cabin, strong A/C, and brand reliability make it a solid contender. If the Vios is too ubiquitous for you, this green hatchback is a viable choice.