When Lexus Philippines supervisor Jade Sison offered me the UX crossover for a test drive, I did an unusual thing: I asked what color the demo car was—something I rarely do in our line of work. You see, I'm going through a green/camo phase, and Lexus has this lovely shade for the UX called Terrane Khaki Mica Metallic. I was happy to know the unit they would be lending was in the color I wanted to see.
They say you never know how much a car's color means to you until you see exactly what you want. The Terrane Khaki paint is a deep, shimmering green that looks like the Emerald City of Oz. The shade is so deep and mesmerizing, I could almost see a brighter future. I know that tastes vary, but I can say that Lexus nailed this hue perfectly: If it were lighter, it would seem mossy; any brighter and it might look tacky.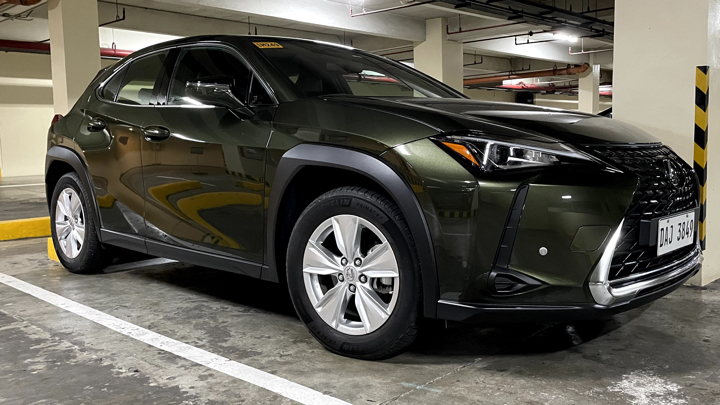 Continue reading below ↓
Recommended Videos
The UX is the premium Japanese carmaker's entry-level offering—the smallest and most 'affordable' model it offers. A price tag of P2,538,000 might not sound affordable, but this is a Lexus. You're getting an ownership experience that's one of the best in the industry—some might even say the best. You get a car that has the reliability of corporate parent Toyota, built with materials and a precision that rival—maybe even better—those of its German counterparts.
The design is certainly upscale. The good thing about being a premium brand is that you can play with your look a little because you're not targeting the mass market. The spindle grille is prominently on display here. The grille then leads to lines that flare boldly, creating a body shape that seems to shift as you look at it from different angles; this also highlights the beautiful paint job even more. In the evening, the taillights form one continuous strip of light—something I only recall seeing in Porsches. A perfect subject for the fancy new night-vision features in the latest iPhones and Samsungs.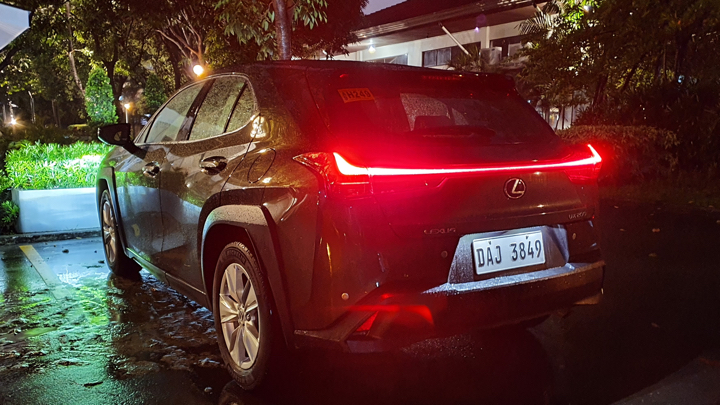 Sharp eyes will notice just a hint of downmarket spec in the wheels. They look fine, but they're a little chunky and not the sleek alloys we expect to see in cars of this class. You'll get used to them, though. Plus, the 17-inch tires help improve an already plush ride.
There is almost nothing downmarket in the cabin, however. It's quite beautiful in a classy, muted manner—like luxury normcore. The steering wheel is thick and grippy with thumb hooks framing the beautifully symmetrical Lexus logo. The cockpit is intimate, with the seven-inch infotainment system and dashboard angled toward the driver. The shift knob is stubby and within easy reach, adding to the driver-centric character. And the seats are upholstered in a velour-like material that's soft to touch, with bolstering that provides the right amount of support even on long drives.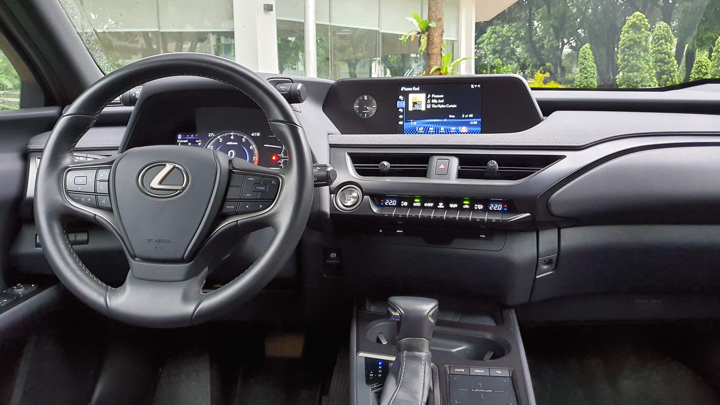 Ah, the seats. You have to manually adjust your own seats here, which reflects a cost-cutting measure that Lexus has employed. But you know what? I'm fine with this. If you were the owner and sole driver, anyway, the seating position would be consistent. If I had to choose which feature to remove to reach this price point, I'd probably cross out power-adjustable seats as well. And if it bothers you that much, get the F Sport version.
I do wish Apple CarPlay were available, though. That being said, Lexus graphics and fonts are so classy, it's almost a shame to hide them behind third-party software. Beside the lovely analog clock, the infotainment screen frames album art from Spotify or your music library beautifully, with elegant menus accessed from the pressure-sensitive controller on the center console.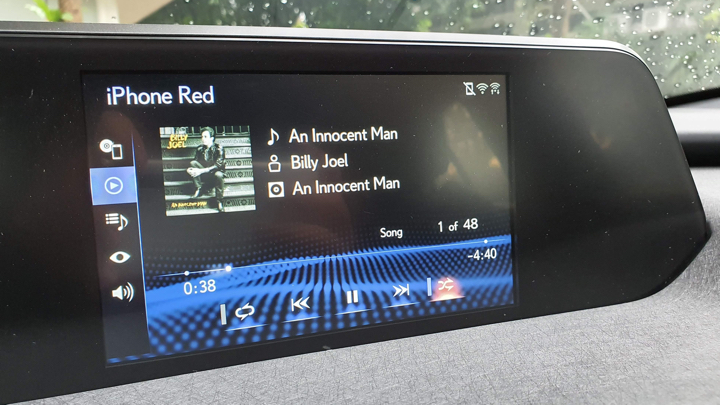 What also stands out about the cabin is the digital gauges and the control knobs on top of the gauge cluster. These were directly influenced by the LFA supercar. You can change the digital gauges from numerical to analog, and it's hard to decide which is more pleasing to look at.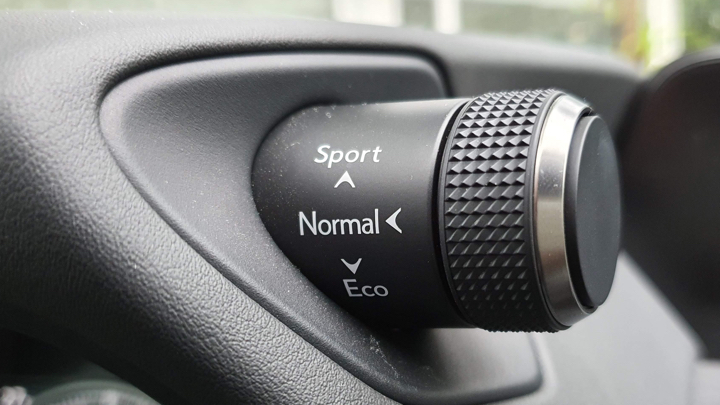 So, is the UX still driver-centric when it comes to handling and performance? I'd say just enough. It weighs about as much as a current RAV4 does, but it has to make do with half a liter less in displacement. The 168hp and 205Nm from the 2.0-liter four-cylinder mill sending power to the front wheels can be called upon to be lively when needed. Fuel economy suffers as a result, though—I averaged 6km/L in spirited driving. I believe that figure can be improved with a lighter right foot.
I was able to drive the UX for six hours, through expressways and winding roads. It was a relaxing getaway experience. The insulated cabin kept all noise away, the A/C cooled the interior perfectly, and I could see life pass me by on the other side of the insulated windows and the thick doors, but the outside world hardly intruded into my cosseted bubble made of Japanese craftsmanship.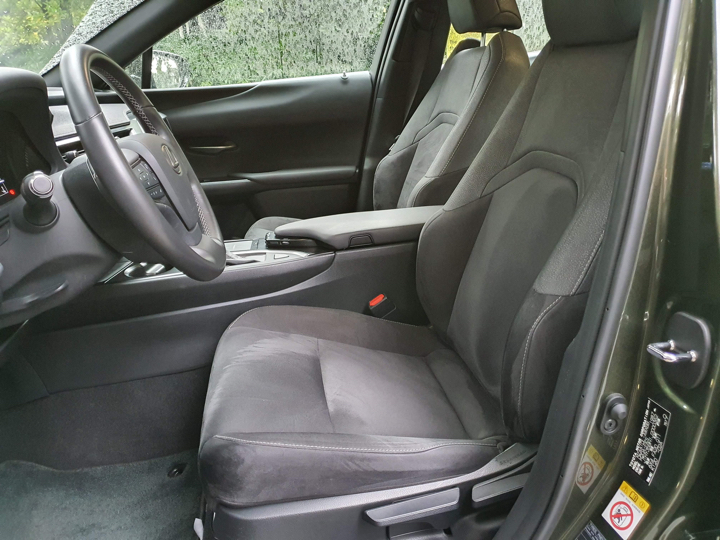 Who is the UX for? I imagine it will draw people who have a particular taste in aesthetics, design, and life. Young professionals who appreciate brutalist architecture, live in a house with Muji furniture, and will want to run you over if you serve them a frappuccino instead of the Panamanian Geisha they ordered. (I'm kidding. These people will not be found in any 'coffee' establishment with a blender.)
As with any 'budget' premium model, the UX SRP has entered the pricing sphere of mainstream Japanese brands. Should you get a roomier top-spec RAV4 instead and save a couple hundred thousand pesos? I love the RAV4, but it would provide a totally different experience to this plush subcompact crossover.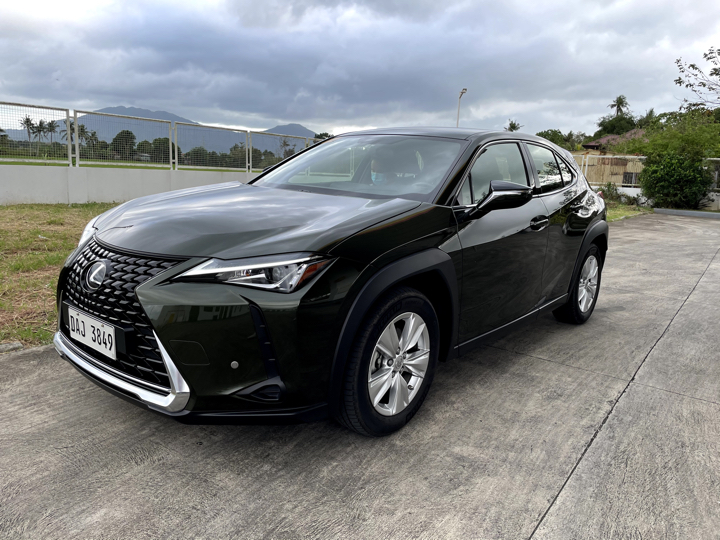 Because the UX is every bit a Lexus, in looks, composure, finish, and even scent. There is something in the way premium cars smell that mass-market brands can't match. Even the tactility of the switches feels upscale, like the buttons on Rimowa luggage or Tumi bags. Then there are the little touches like Lexus logos in the rear lights—something that can be considered frivolous in a mass-market vehicle.
The UX is one of Lexus' boldest designs yet, moving the brand further away from the safe looks of the previous generation. It will likely bring in new customers who would normally opt for the German marques, and are still a bit daunted by European prices. All I can say is, the grass can be greener—in a lovely Terrane Khaki metallic shade—if you're willing to try new things.
More photos of the Lexus UX: