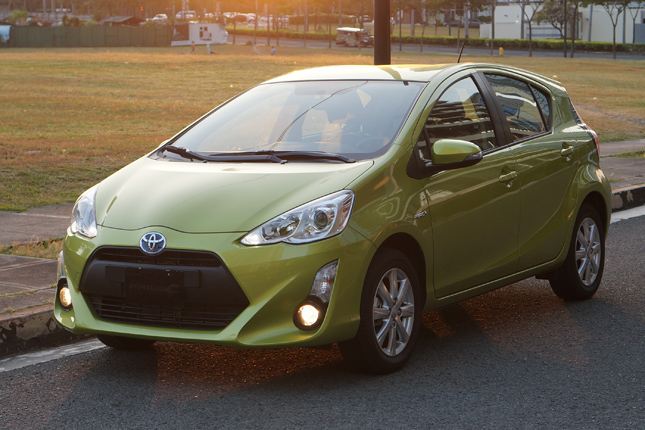 The alternative fuel bill, in its various iterations, has been dangled in front of us for so long it's not amusing anymore. This law is supposed to help hybrids, electric vehicles and other cars fueled by alternative sources become closer to affordable by providing incentives (usually in the form of tax breaks and maybe even subsidies).
Toyota Motor Philippines took the hybrid plunge when it introduced its popular Prius back in 2009. Are you wondering why you don't see a lot of Prii on the road? That's because the Prius costs more than a top-of-the-line Camry, and customers can't be blamed for choosing a stately V6-powered midsize sedan over a car some people still don't understand.
According to industry sources we spoke to, as much as 30% can be knocked off a hybrid's price if the alternative fuel law is passed. That means the Toyota Prius C, the Prius's subcompact and more affordable version, can be bought close to the P1-million mark instead of costing as much as the penultimate Fortuner model.
But that's just a dream now because we've lost all hope that we'll see hybrid incentives with this administration. Which is why as political hopefuls start crawling out of the woodwork to file their certificates of candidacy next month (including one hilariously ambitious agency chairman who oversees traffic), I'm hoping someone will have a concrete plan to give hybrids and EVs the chance they deserve.
That's why if a national candidate convinces me that he or she will do anything humanly possible to make hybrids much more affordable, I will shade his or her name in my ballot. Of course, that's assuming he/she doesn't have a whiff of corruption. Tall order, I know.
I don't even get why these legislators can't let go of potentially lost revenue from hybrids. It's not as if motorists will flock to them even at lower prices. Subcompacts and compacts will still be cheaper.
It's a shame because cars like the refreshed Prius C are still underperforming sales-wise. I've had a go with this subcompact hybrid, and it's as lovely as ever. Here are the reasons why it's one of my favorite cars on the market, and why I'll strongly consider voting its proponent.
1. Amazing technology. The tech that drives the Prius C is as cool as when I first drove it up to Baguio years ago. Two power sources--an elecric motor and a 1.5-liter gasoline engine--work in concert to optimize fuel efficiency. And this combo, called the Hybrid Synergy Drive, does its complex job while you simply enjoy the drive.
2. Effortless fuel economy. I managed to do 8.7km/L easily in a mix of bad traffic, weekend driving and some energetic bursts on the throttle.
3. Good looks. From any angle, the Prius C has the appearance of a fun little runabout. Its smooth shape, with a hood that seems to flow straight into the slanted windshield, looks modern and high-tech. Very Japanese, actually.
4. Enjoyable driving. Yes, hybrids are fun to drive. The instantaneous torque from the electric motor gives the Prius C wonderful low- to mid-range acceleration. Like I said before, it's almost like a green mini supercharger. The subcompact size also makes it responsive and easy to handle.
5. Comfortable ride. The suspension is Toyota-soft, tuned just right to absorb bad roads. But it's also firm enough not to lean and wallow when turning.
6. Fun toys. Audio and A/C functions can be controlled via the steering wheel. Especially fun to look at is the interface that "floats" in a transparent glass panel in front of the nifty multi-information display. Also, watching the Hybrid Synergy Drive work via said display never gets old.
7. Lovely cabin. There are details in the Prius C that elevate it above the regular Toyotas. The seats have a pleasing crisscross pattern. The shift knob has a blue element that matches the hybrid badge on the hood. And there are useful cubbyholes scattered around the cabin. This is an interior that is great to look at and to sit in for extended periods.
Now, if only a politician were reading this...
Photos by Dinzo Tabamo