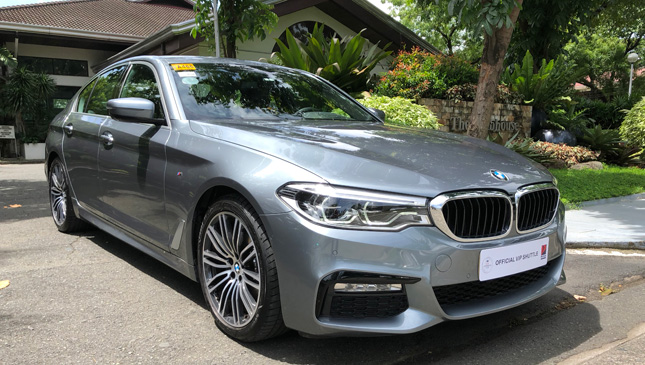 The message didn't come from a pair of Oakley sunglasses or a mini projector that self-destructed, but it was just as exciting. BMW Philippines contacted me about a test drive recently. The offer, should I choose to accept it, was a weekend with the new 520d M Sport sedan.
Faster than one could light a match, I immediately agreed to do the mission of evaluating Munich's latest executive coach. Incidentally, the latest 5-Series also stars in the latest Mission: Impossible installment—and in more than one generation.
I confess I'm more of a 3-Series guy. As far as 5-Series generations go, I think the E34 is beautifully boxy, I liked the E39, the E60 was…okay, and I think the F10 was too bland but it drove fine.
When I finally pick up the unit, the new 5-Series is love at first sight. BMW finally decided to create creases and folds that give the 5 a muscular yet refined look I didn't sense with previous generations.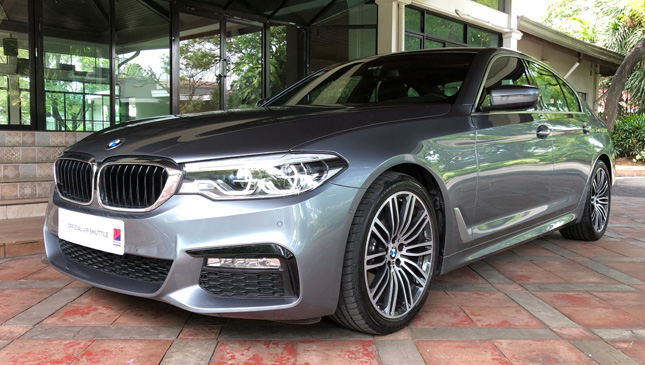 The M Sport kit gives this unit a significant aesthetic upgrade. There are 19-inch double spoke M alloys, an M aero package, and a few tasteful tri-color badges.
The variant I have is the 520d M Sport, which lists for P5,390,000. Yes, a 2.0-liter engine might seem a tad underpowered knowing that it's perfect for the 3-Series, but with 187hp and 400Nm, there's ample power on paper (PDF, actually) for the propeller badge to live up to its sporty rep.
True enough, the 520d never feels sluggish. A little 'hesitant' perhaps, lacking the pressed-against-the-seat shove I get when more powerful turbodiesels hit the powerband. But soon the gadgets and riding comfort distract me from looking for more power where there was none needed.
Sliding into the Dakota leather-lined cabin already makes me feel like a secret agent because of all the tech that greets me. The large infotainment screen to my right displays the pertinent information and music that I can access, controlled by the now familiar iDrive rotary knob.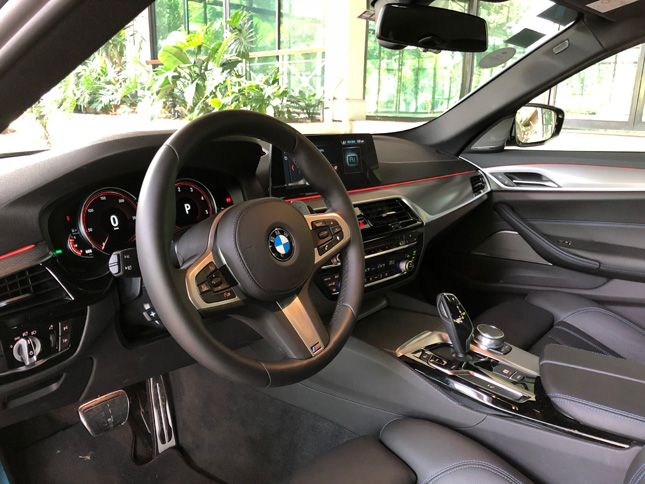 A truly Mission: Impossible touch are the tutorials. Because of all the newfangled features of the 520d, video instructions have been programmed into the system, just like an IMF mission brief.
In one of these videos I learn about the 520d's most high-tech cabin feature—gesture control. I first saw this in the all-new X3 introduced earlier this year. Using your fingers, you make a series of flicks, circles, or pinches to cancel incoming calls, increase the volume or look at your surroundings in realtime with the help of external cameras.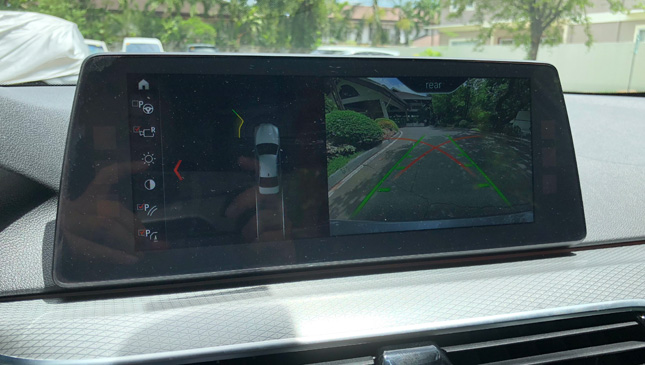 While I was able to make some of these gesture controls work, it took some practice and concentration at first. This kind of defeated the purpose of gesture controls, which is to let you make adjustments and responses without taking your eyes off the road. I always stole glances at the screen to see if my finger gestures were being registered. Maybe someone who adapted quickly to situations like Ethan Hunt would be able to master these gestures. In the end I just went back to the convenient steering wheel controls.
Nothing in my weekend drive would challenge the 520d's capabilities like what Hunt and his IMF team did in Mission: Impossible Fallout, where Cruise again demonstrated his vaunted driving skills using the great-great-grandfather of this seventh-gen 5-Series, a lovely E28 sedan.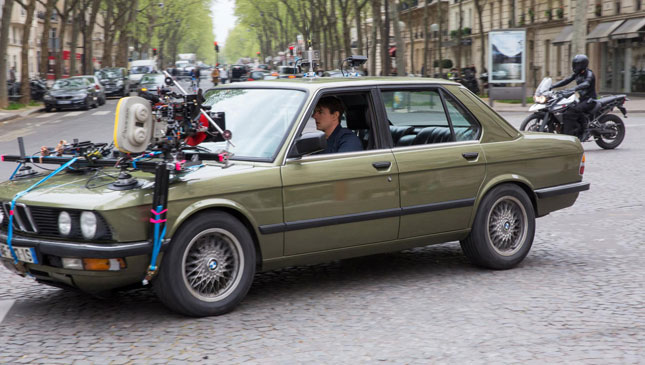 I just take a drive down South for some fresh air and a quick change of pace. On metro streets the 520d is easy to maneuver, its M Sport leather tiller and sport seats giving you such a commanding sense of control that you feel you can scale the Burj Khalifa or skydive from a plane. Almost. The 245/40 tires may not seem like they have a lot of padding, but few carmakers can balance performance and comfort like BMW. Even on uneven roads the ride never felt disconcerting.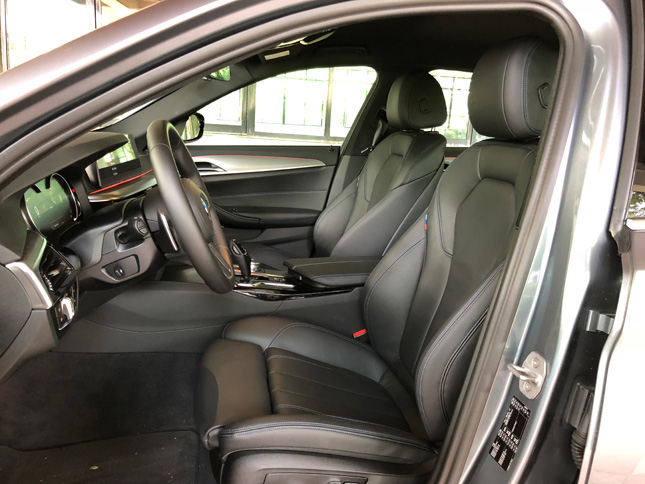 On the expressway the 520d shines. In the cabin my ears are pleasured by the Harman Kardon surround sound system, while the two-zone climate control insulates me from the humid weather.
Even at speeds in excess of 100kph, the 520d is like a cosseting cocoon. The outside world just whizzes by with nary a sound. To an extent this isolation seems unreconciled with BMW's Ultimate Driving Machine motto. But the Bimmer still gives enough feedback to make driving fun. When I want more excitement, I just flick the driving mode to Sport and the digital gauges turn angry red, and every response quickens.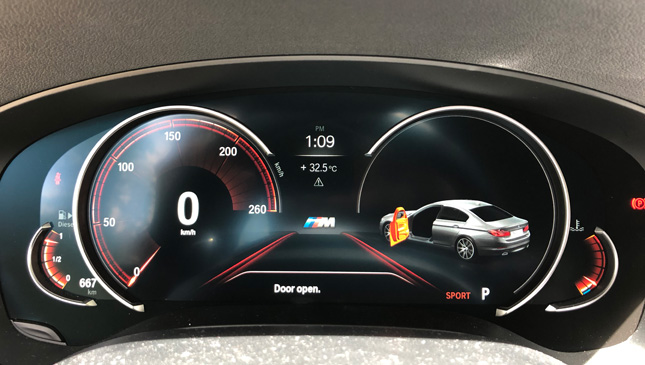 At the end of the drive, I felt sad that my mission came to an end. A new BMW has been added to my list of favorite cars, and I don't need a secret agent to show me how special the new 5-Series is.