Manual. Soft top. Ceramic white. Fabric seats. That's the exact Miata I will buy. Someday. The RF variants are fine, but I knew the moment I laid my eyes on this off-white color during the 2016 media launch that it's what I want.
In our line of work, we drive a lot of vehicles. For me, some cars fade from memory days after I return the keys. Other rides I remember the whole year, and I include them in my vote for our Car of the Year award. But there are a select few that never leave my thoughts even as years pass. These are the cars that remind me why I fell in love with automobiles in the first place, why I'm still in this job after a decade and a half.
The Miata is one of those cars. Two years after we were introduced, my pulse still quickens when I see one on the road.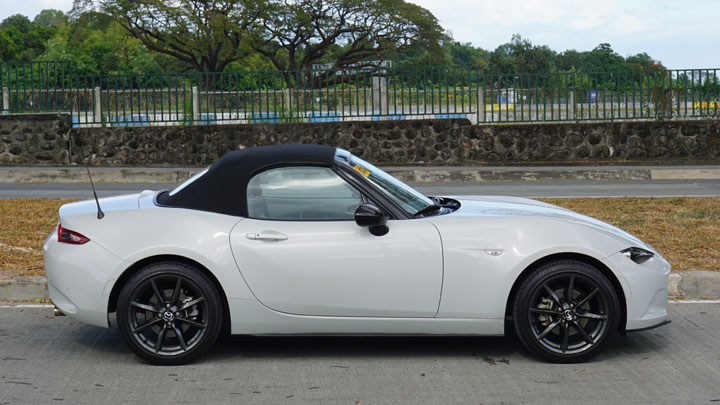 Continue reading below ↓
Recommended Videos
Months after that initial encounter, I was finally able to borrow an MX-5, in that exact same color and spec, for more than a week. It's not true that you should never meet your heroes. Every morning before I drove to work, I stared at its tiny, curvy form for a good minute as my retinas sent endorphins to my brain.
In theory, the MX-5 is absolutely the wrong automobile for me. The Mazda engineers said they worked painstakingly to balance the car, to carefully position the driver along the central 'spine' of the MX-5 to ensure that 'horse and rider' were as one. I'm sure the Japanese didn't envision a driver of sumo proportions sitting inside. But when I eased myself into the cockpit, it felt right. The audio and A/C controls were within reach, and the car enveloped me like a suit.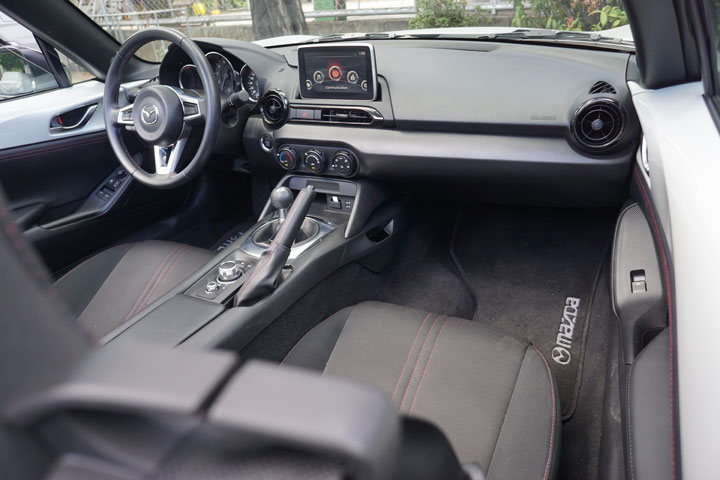 I liked how the door material is the same as the outside metal. It seemed as if the car was flowing into the cabin; it reinforced the connection that you're 'one' with the car and the world outside.
Common thinking is that a sports car is no fun in the real world of traffic and when jostling for road space. My route to the Top Gear PH office may not be long, but it passes through the choice parts of gridlock in the Mandaluyong and Pasig areas. There were times when I wished I were just in a leather-lined Mazda 3, listening to '90s music through a Bose sound system.
But every now and then, traffic would open up, I would see an opening, and I'd gun for the gap that (hopefully) exists. Movement is an act that comes swiftly and smoothly to the Miata. I'd downshift, my eyes would look at the precious tiny piece of open Metro Manila road, I'd vaguely remember my hands and feet moving, and instantly, I'd be where I wanted to be. It's exhilarating and organic, a pocket piece of motoring paradise amid a busy weekday morning.
I'd park the car in our office basement, and give it a long look again before heading up for the daily grind. Maybe it was the ephemeral ownership experience, but I'd find myself extra-eager to finish my tasks so I could get in the roadster waiting for me downstairs.
Still, I didn't want my time with the MX-5 to be made up of tiny traffic thrills, so I took it out of town that weekend.
I went to Clark for lunch, then Subic for the heck of it. I waited until late afternoon to leave the former American base. I parked by the side of the SCTEX, put the top down via a simple one-handed operation of releasing a latch and pushing back the canvas roof until it locks into place, and drove into a golden sunset.
One would think that something small and svelte like the MX-5 would slice through the air, creating a bubble that would prevent its passengers from being buffeted by the air. No, it was loud and turbulent. I know Mazda has a wind tunnel, but I imagine the engineers looked at the beautiful form, called it a day, patted themselves in the back, went to the bar, and bypassed the wind tunnel testing entirely. And I don't blame them one bit.
Was it unpleasant? No, it was glorious. It was gusty, but there was something calming about being in the center of the whirlwind. Do you remember the first time you stuck your head out of the car window as a child? This was a thousand times better. It blocked off everything else, and nothing mattered. On that afternoon, with the sun casting a warm glow on my face, all I could feel was that I was moving forward, and the world lay open before me. I felt the leather steering wheel and the ball-shaped shift knob, and I knew I was stepping on the gas, but these all felt like secondary body functions, like breathing.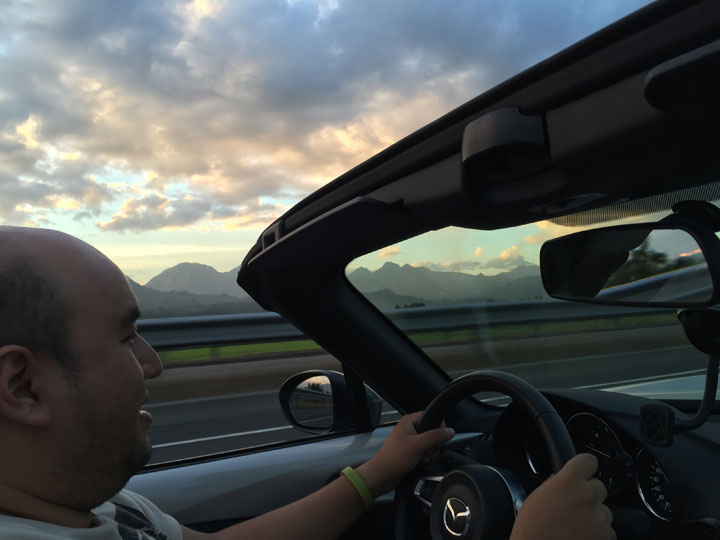 It was the most unnatural feeling after being in closed 'cages' all my life, but it felt naturally good. The sight, the sounds, the sensations recharged my soul. In my mind there were no deadlines, no bills, no politics, and no problems. In the center of that vortex, I found peace.
By the time night fell and a canopy of stars filled the provincial sky, I was a believer.
I returned the MX-5 a few days later with a tinge of sadness. As I walked away from the dealer's lot where it was parked, I gave it one last look.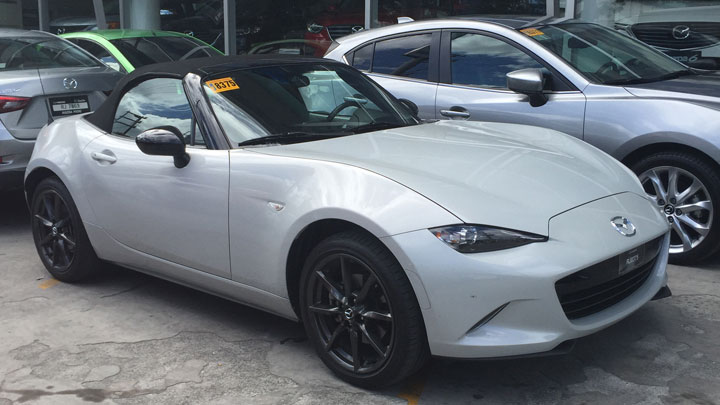 My eyes glanced up and saw some customers inside the dealership showroom, browsing and talking to sales reps. Maybe one of them was choosing which Miata to buy at that very moment.
In a moment of wistfulness and introspection, I wondered when I would be able to afford a Miata of my own. Maybe if I had stayed in my first course in college, I would've had a better job and would've been able to buy one. Some of my high school and college classmates are now doctors, airline pilots, country managers, and successful businessmen. Maybe if I had studied harder, pushed myself even more, aimed higher...
Nietzsche was right. When you look into the abyss, the abyss looks into you.
But there is no right and wrong with the Miata. It is what it is: a pure sports car designed to elicit joy behind the wheel.
If you think the MX-5 is overpriced, cramped, and impractical, you're right. There's no glove compartment, the trunk is tiny, the cupholders are behind your armpits, and the power windows don't even go up automatically. You can buy a fine Mazda 6 Wagon and have change left over, and you would know in your heart you made the right choice. Nothing we say can sway you from that.
But if you look at the Miata and you feel it calls to you, then you're just reading articles like this to reinforce what you already know: This roadster is destiny.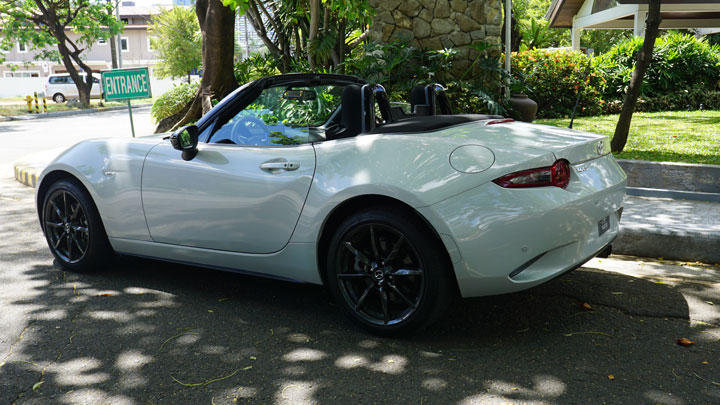 I'm grateful for the time I spent with the Miata, and, despite my introspection, I have no regrets. Thanks to my line of work, I was able to experience the MX-5 in Japan, see the factory where it was made, and even drive under the guidance of Mazda racing driver Edwin Rodriguez at the Batangas Racing Circuit.
That afternoon drive in the countryside will be forever framed in my wall of cherished memories, the ceramic white MX-5 incandescent as we both headed home—car and driver, as one.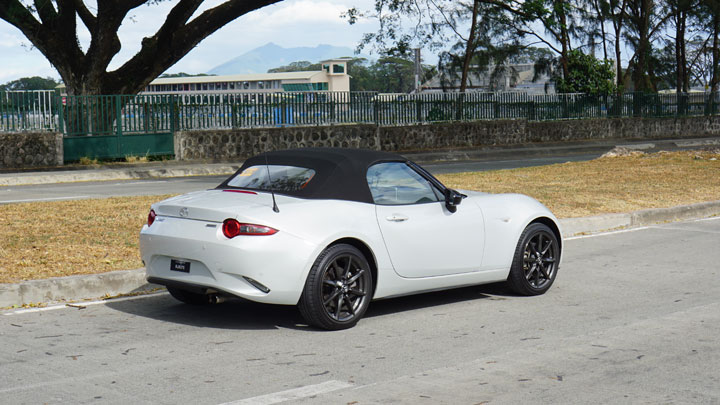 Epilogue
There are some nights when I wish I still had the Miata's keys. It usually happens after one of those long days in the office, when I don't know whether to go somewhere for a nice meal or just go home and rest.
I would step out of our office building to book a Grab ride home. Then I'd look at the evening sky. I'd imagine an empty, twisty road somewhere, bathed in moonlight, beckoning and inviting. And if the Miata were still in our office basement, I knew exactly where to take it: Find that stretch of empty road, follow the second star to the right, and straight on till morning.