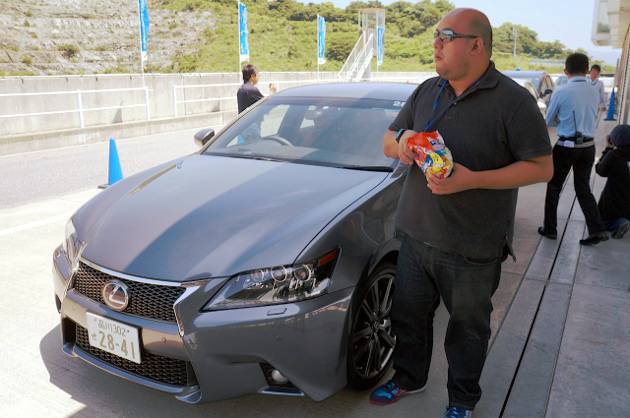 Top Gear Philippines has just marked its 9th anniversary with another unforgettable party. As we've said before, we wish we could invite all our readers to our celebration, but we just don't have the time and the resources to pull off an event of that scale.
For the first time since I joined the magazine nine years ago, I wasn't able to join the party. I am currently on personal leave to be with my family abroad. Seeing my teammates' posts on social media, I feel a twinge of sadness that I'm not in Manila right now. I saw that there's even a meet-and-greet for a few lucky readers, a first for an anniversary celebration. If only I had booked my return trip a few weeks earlier...
But one of the things I learned in this job is not to dwell too much on missed opportunities. More Top Gear parties will occur, and I know we will try to top ourselves next year (especially since it will be our 10th birthday).
As I look back on nine unforgettable years of my life, I recall all the things I have picked up in that span of time. Think of this as my own way of thanking you guys (and girls), whether you've been with us from the beginning or just picked up your first issue this year. Brace yourself: You're about to read a lot of self-help stuff.
Continue reading below ↓
Recommended Videos
1. Find out who you are. There's a reason Top Gear is the most watched motoring TV show on the planet. It's not just the cool cars; other TV shows and publications have access to most of the same metal. You might be surprised at the kind of media entities that get to drive Ferraris and Paganis. The British hosts are the reason we all anticipate the next season of Top Gear. Their personalities, antics and chemistry are combined in a way that makes motoring immensely watchable.
In our own way, I like to think it's the personalities at Top Gear Philippines that make readers happily consume the content we put out every month. Like a typical professional publication, we write fair, honest and entertaining material about the industry we cover. But unlike most motoring media, we present our topics through voices you can relate to. So my advice is, find your own voice. Follow the stuff you're interested in, be it cars (good choice), comic books, music, sports and hobbies. Follow anything you're interested in. This will pay off eventually. Never ride on the bandwagon if you don't want to. What most people want is boring stuff anyway, trust me. In doing this, you will be on the path to finding what you really want to do.
2. Hard work pays off. At first glance, it's easy to assume we're all pampered, overfed excuses for journalists, just looking for the newest cars to drive. From reading our stories, it seems like it's all a cycle of attending events and borrowing, testing and writing about the latest automobiles. But you're only seeing the equivalent of the car cover. What lies underneath is a lot of legwork and perseverance. I'm not ranting here--this is really what the job requires. First of all, those beautifully shot feature stories need picturesque settings that we have to find. Usually, permissions and permits have to be negotiated. And it just so happens that the best light for shooting is either near sunset or sundown, so we have to be up early or stay until evening to wrap up a shoot. Then once the writer submits the story, it has to be fact-checked and edited until what reaches your eyes is an informative, entertaining and flowing narrative. Then we have to make sure the colors are correct, and I won't bore you with any more details.
But the results are always worth it. When we see the first copies of the magazine, we're just as excited as you are when we unwrap the plastic. There's nothing like the reward of seeing your hard work pay off.
3. Wait for your turn. I have been very, very privileged in my line of work. I've driven all over the Philippines (mostly Luzon) in fine automobiles. I've traveled to places around the globe to cover motoring events. And I've evaluated some of the best cars released in our market.
That being said, there have been test drives that I wish had been mine. I was supposed to go to Japan next month for one the most coveted assignments a motoring journalist can have, to cover the Tokyo Motor Show. But that isn't pushing through. So while I've treated these occurrences with some disappointment, I don't dwell on them. Because something always comes along, and sometimes, the replacement is even better. And even if it's not, that's life. You win some...
4. Set an example. One of my favorite sayings states that you be the change you want to see in the world. It's very easy to rant and complain in this age of social media, and these are indeed frustrating times. But it's more important that your deeds reflect your words. Our role as responsible motorists is more vital than we realize. If everyone followed traffic rules, there would be no need for number-coding schemes and traffic enforcers. I've realized that in my own little way, I can help improve the system.
5. Invest in relationships. The motoring industry is full of fun and engaging individuals. It's easy to become friends with them--both media colleagues and PR people alike--because of the constant exposure to each other. I have never been a naturally outgoing person, but in my job I've learned to reach out more to people and be more personable. By sharing anecdotes and having conversations, it has made me more aware and plugged-in to the industry. And sometimes we all just have a good time laughing over shared inside jokes. Of course, I've also learned that there are people who are a waste of time. So choose your friends wisely, and avoid those who contribute nothing to your life. You'll know which is which.
6. Be curious. When I joined the magazine, I wasn't sure if I had what it takes to be part of the staff. My writing needed polish, I didn't have extensive driving experience, and I wasn't sure my car knowledge was enough. The only thing I had that I was sure of was an insatiable interest in the latest automobiles. During my job interview, I was also asked non-car-related questions. I remember the conversation drifted to iTunes playlists and the duality of Britney Spears' Madonna-whore persona. After I got the job, the left-field questions made sense because Top Gear isn't merely a buyer's guide--it's a lifestyle magazine. We use pop-culture references a lot in our writing, and this makes our prose easier for the readers to relate to. In the end, my interest and curiosity in matters outside motoring have served me as well as my passion for cars.
7. Have a moral code. There are many perks in our line of work in form of trips, raffle prizes and tokens. There's a temptation to be swayed by these things and let them affect one's objectivity. Some don't even bother with it and just write with the aim of pleasing their favored car brand. And that might be understandable given that they barely reach any readers anyway. But those of us with editorial responsibility have to remember who we're doing this for. We write and chronicle for readers, not for carmakers, not to win contests, and not to curry favor.
8. Take care of yourself. In a hectic work environment, it's easy to lose track of your health. Exercise is forgotten, meals are taken for convenience rather than nutrition, and sleep takes a backseat to late hours. I'm far from a poster boy for health, obviously, but I realize the value of putting more stake in better living. I try to be more careful with what I eat and the physical activity I engage in. It's a long road ahead, but there's a starting line for everything. The race against time is a competition no one can win.
9. Find balance. There are crunch times in our office when all of us are quietly hunkered down over our desks, poring over our layouts and articles. You would think you had stumbled into Summit Media's accounting department instead of the "fun" editorial section. Then when the tension is thick enough to be a crash barrier, someone will stand up and announce a snack break, and we will all cheer like fans seeing a college team win the UAAP championship. These sudden mood shifts aren't the onset of schizophrenia (hopefully), but the mark of a team that knows when to let off a little steam when the pressure builds up.
We all have our limits as human beings. And while it's important to push for perfection, deadlines and quality, it's equally important to not lose sight of the fun spirit at the heart of Top Gear. It can be a tricky balance: Leaning more toward work or more toward fun can result in either a dull or a sloppy product. But the equilibrium has to be there.