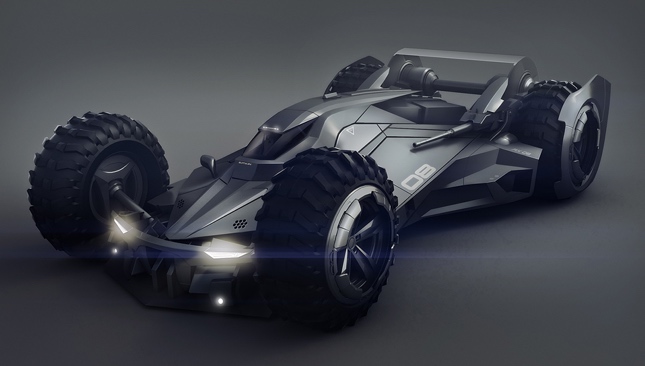 What you're looking at is the work of graphic artist Encho Enchev. He is employed by game developer Ubisoft, and has done work on the Assassin's Creed and Tom Clancy's Ghost Recon series of video games. According to his artist page, he watched Batman V Superman and was inspired by the vehicle designs, so he rendered his own take on the Batmobile.
Enchev's version of Batman's famous ride has a futuristic look, is set extremely low, and has a bit of a military touch. With its open-wheel design in front and semi-armored stance in the back, it looks stunning. It's the sort of thing we want to exist in real life and use to flip buses that try to ram us off the road. Too bad the movie that inspired it is so disappointing.
First off, let me say right now that when I stepped out of the movie theater, I didn't think DC's attempt to create its version of The Avengers--and of course funnel a lot of the superhero money out there into its coffers--was terrible. Having thoroughly detested director Zack Snyder's Man Of Steel, I lowered my expectations when it came to his sequel.
The movie may have been masterfully marketed like a Ford campaign or a Chevrolet launch, but I entered the cinema expecting a Chery. So on that level, I was actually able to have a measure of enjoyment in the two-and-a-half hours I watched Snyder try to channel Frank Miller's comic-book masterpiece, The Dark Knight Returns.
Yet when I began to reflect on the much-hyped flick, some questions lingered--queries that have no place in a well-written screenplay. If Lex Luthor wanted Batman to kill Superman, what was the point of creating Doomsday? What if Batman succeeded? Why did little Bruce Wayne float when he discovered the future Batcave? Why was everything so dark and bleak? Why did Batman kill people using the Batplane? Batman and Superman do not take lives. Even in The Dark Knight Returns, the Gotham crusader used rubber bullets.
I know some of you might have left the theater feeling that your time and money were well-spent. The movie had interesting action scenes, a lively Batmobile sequence, and the wonderful Wonder Woman. It's a popcorn movie, not a documentary, so why rant about inconsistencies?
Because I know the material well, and this could have been cinema gold. In trying to portray DC's heroes as gods the way he tackily envisioned them, Snyder missed depicting their humanity. I've read the best stories on Bruce Wayne's and Clark Kent's alter egos. I've felt Superman's loneliness as an orphan, billions of kilometers away from a home that doesn't exist. Here is an alien with the powers of a deity, who can rain fire from the heavens, but he would give it all up for a chance to be with his family again. Batman has a soul that's just as desolate, and he devoted his life and resources fighting the injustice that robbed him of his parents.
We got none of that in Batman V Superman, just more of the droll destruction and the clobbering that began in Man Of Steel. At least it inspired someone to create this beautiful fantasy Batmobile. We hope someday there will be a DC movie worthy of Mr. Enchev's creativity.