No one wants a base-variant car. Sales agents and taxi fleets will buy them out of necessity, sure, but no one will read reviews, do research, and ask around for the most affordable trim in a given model lineup. 
Gearheads, especially, prefer to opt for the top spec of a given automobile. Who wouldn't want all the bells and whistles, all the automatic headlights, climate control, wipers, and CarPlay connectivity? 
Lately, I got to drive the bottom variants of both the Honda CR-V and the Toyota RAV4. And you know what? They're not bad. After the units arrived in our office, I had to verify with their head offices and on the Internet if they were indeed entry-level compact SUVs. They sure didn't look like base-spec units.
They're also closely matched in price, with only P15,000 separating them. I'll save you a google and say that the RAV4 is easier on the bank account at P1,653,000.
So, which is better? The answer turned out to be harder than I thought. Let's dive in and see.
Driving experience
The Toyota RAV4 gets a massive 2.4-liter naturally aspirated four-cylinder gasoline engine, while Honda slots in a 2.0-liter gasoline mill in its CR-V. Not surprisingly, the RAV4 has a big power advantage, 203hp vs the CR-V's 152hp. The Toyota also has a lot more grunt—243Nm over the Honda's 189Nm. This advantage in engine displacement is palpable. It's effortless to move the RAV4 forward, whereas you have to prod the throttle harder to motivate the CR-V beyond an easy stroll. 
Continue reading below ↓
Recommended Videos
At first glance, it's easy to dismiss the RAV4's chunky 17-inch tires, and call out Toyota for cheapening the car's look and performance. And when you see the CR-V's bigger 18-inch alloys filling out the wheel wells nicely, you appreciate the value of a vehicle's stance. But remember, we don't drive on good roads; the RAV4's fat rubber is better at absorbing street imperfections. 
In day-to-day driving, both Japanese compact SUVs perform their duty of isolation well thanks to their MacPherson-strut front, rear-multilink suspension. But they behave differently on the road. I'd say the CR-V is more precise and handles better. Where the RAV4 shines is in its predictability and balanced chassis. Combined with the extra power and torque at its disposal, the Toyota has an agility that belies its size.  
Where the RAV4 surprised me was in fuel economy. Thanks to its big displacement, the engine didn't have to work so hard to move the Toyota's body. On NLEX, I easily averaged 17.5km/L, and in typical heavy gridlock, it only dropped to 9.7km/L. That's not bad for something of this size. Unfortunately, I can't compare the Honda because the CR-V had an odd fuel-gauge issue when it was with me, so I couldn't verify the accuracy of its fuel economy. But even with Honda's reputation for being fuel-efficient, I would still bet this Toyota is better. 
Winner: Toyota RAV4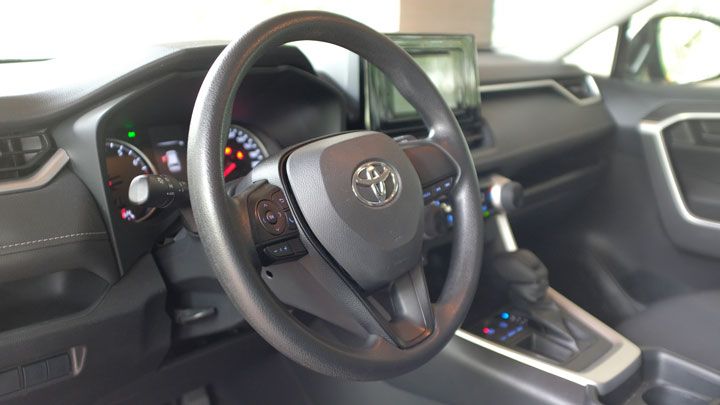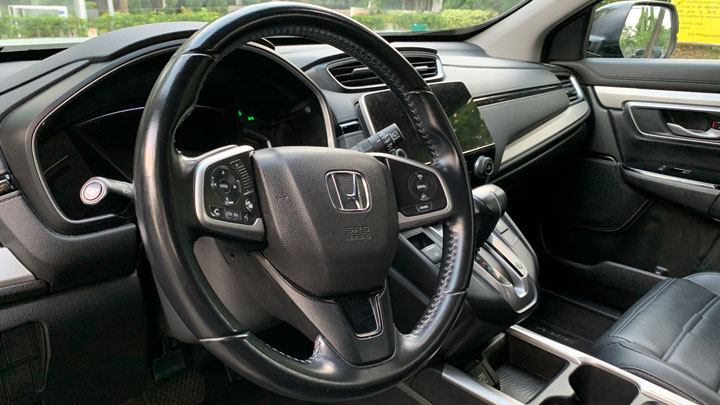 Looks
Design and taste will always be subjective, but I think we can give this one to the CR-V. Kudos to Honda Cars Philippines for being able to make its most affordable compact SUV not look like a base variant at all (I suspect the V Diesel AT variant is more bare, but its turbodiesel engine pushes its price above that of the 2.0 S CVT). Like I mentioned earlier, the 18-inch tires fill the wheel wells nicely, lending the CR-V a sleek appearance. The dark-green paint job has a deep, almost black hue that's pleasing to stare at. Years after it was launched, this Honda is aging well.
Toyota also deserves a pat on the back for being so bold with the current RAV4. It was hard to top the previous generation's handsome, sharp design, so Toyota didn't try. Instead we have an angular body that seems designed using Duplo blocks, because I've seen Lego cars that are more intricate. But it works. Even with the base-spec visual cues like dark side cladding and chunky tires, the RAV4 looks like it squarely belongs in 2020.
In the end, the CR-V wins for its aesthetic cohesiveness, but props to Toyota for not being afraid to take risks. 
Winner: Honda CR-V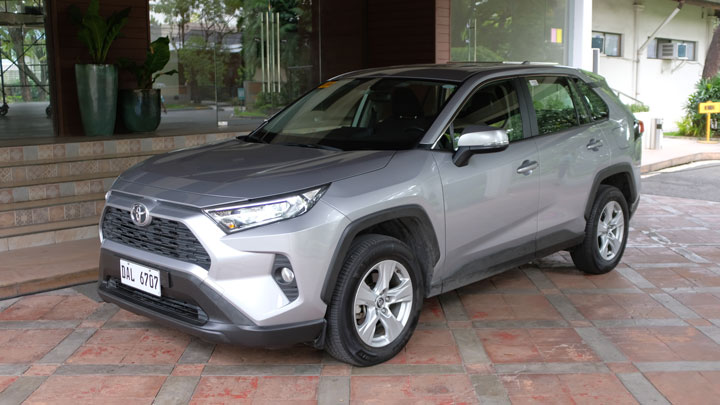 Features
It would be easy to hand this section over to the CR-V as well, and on many aspects, it trumps the RAV4. The Honda has a remote key fob that detects the driver's presence, and unlocks the doors as soon as you touch the inside of the handle. Once inside, automatic headlights come on when it gets dark, and CarPlay connectivity makes navigation and entertainment seamless. There's also automatic climate control to regulate cabin temperature without you lifting a finger after the initial activation. 
The RAV4 has...none of those wonderful toys. You adjust the temperature manually, just like in the old days. It has a basic double-DIN head unit with features that's downright impressive...if this were 2010. In a time when Kias that cost about a third of this RAV4 have CarPlay and Android Auto, you're just wondering why Toyota Motor Philippines has such a dismal OEM supplier. 
It's a shame because the rest of the RAV4's interior touts a build quality and attention to detail that offset the spartan features. For example, the front speakers have 'RAV4' etched into their housings. Fit and finish is also top-notch, not to mention the RAV4's modern cabin is a stark contrast to the CR-V's conservative interior. 
Winner: Honda CR-V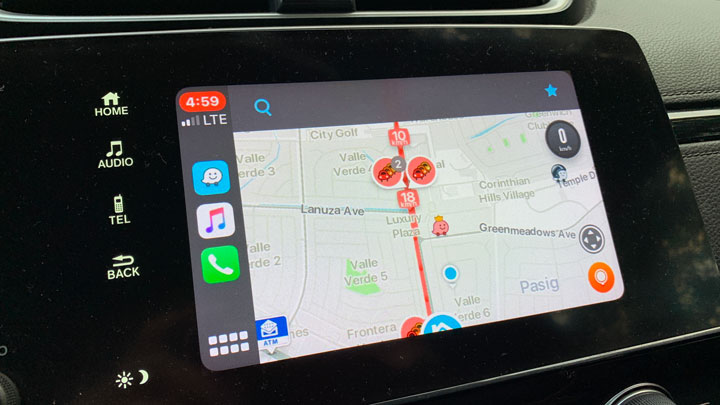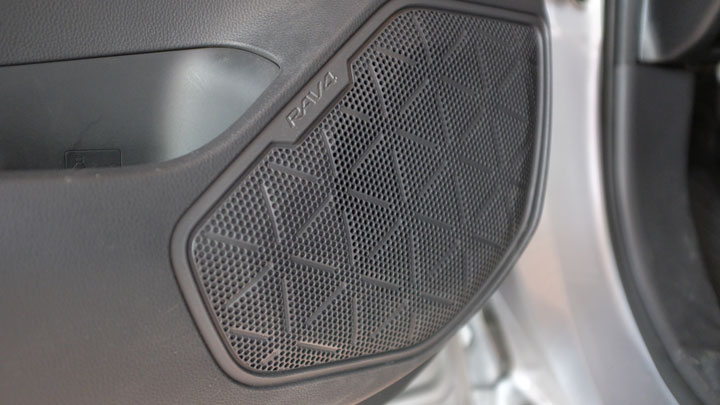 Conclusion
It's quite easy to award the win to the CR-V at this point, but this is a slim victory. If you're one of those people who don't trust navigation apps and have no need for modern infotainment features, then that negates the RAV4's disadvantage for you. Same goes with automatic climate control—some motorists don't mind manual A/C at all. 
You can also find aftermarket head units for the RAV4 that offer a smooth Apple CarPlay and Android Auto experience, with more features than what stock OEMs can offer. What you can't upgrade is the engine, and in this aspect, the Toyota clearly trumps the Honda. The RAV4 has a more powerful powerplant that makes moving around much easier, and it's as economical as the CR-V—if not more so. 
I will give this to the CR-V because it's the more complete package. But the Toyota isn't far behind. And in a very important way, in a manner that might be more important to other motorists, it also trumps the CR-V. 
Overall winner: Honda CR-V