We just experienced the first-ever Toyota Vios Cup race last weekend at Clark International Speedway, and we still have a figurative hangover from that fun event. The Vios Cup is part of the Japanese carmaker's ongoing initiative to have the words "fun" and "Toyota" be used more often in the same sentence, because prior to the introduction of the wonderful 86 sports coupe, the most exciting thing about Toyota cars had been their resale values.
Said to be a personal project of Toyota Motor Philippines president Michinobu Sugata, the Vios Cup was supposed to be held last October, but our country experienced Mother Nature at her worst via a devastating storm that battered Central Luzon. The nightmarish weather forced TMP to do the responsible thing and cancel the event along with its expensive and elaborate preparations.
This time, the Vios Cup finally pushed through, and it was pulled off in a manner that surpassed my expectation. You've surely read about the race details by now, about the celebrity and media drivers, the modified Vios race cars, and the overall major production. So I won't bore you with a rehash of information.
ADVERTISEMENT - CONTINUE READING BELOW ↓
What also impressed me was how fun the non-race activities were. There were car displays, accessories booths, food trucks, go-karts, reverse bungee jumps and a sublime concert in the evening by Ely Buendia.
But before the team and I tried out the side events, we wished the racers good luck first. More than half of the media drivers on the grid were either Top Gear staff or contributors. And when they weren't distracted by their umbrella girls, we cheered on Botchi Santos, Aris Ilagan, Brian Afuang and our team publisher Jeff Reyes. Jeff was one of the top contenders to win the race, and he wants to follow in the footsteps of Paul Newman.
Once the race started, we left the drivers alone so they could concentrate on their driving, only going to the track during the actual race heats. These guys may be friends outside the racetrack--and this was supposed to be just an exhibition race to promote the Vios Cup--but it was still a professionally run competition with winners and losers. The Tuason Racing School was hired to make sure race protocols were observed, and all safety measures were in place so that the drivers could push their personal limits in a Vios racing car.
ADVERTISEMENT - CONTINUE READING BELOW ↓
Recommended Videos
The weather was perfect that weekend, as if to make up for the horrid typhoon that forced Toyota to postpone the race last year. Our team enjoyed wandering around the breezy Clark International Speedway grounds. While munching on a hotdog, I watched the girls (print managing editor Stephanie, online managing editor Tracy and editorial assistant Elaine) try out the reverse bungee jump. Tracy displayed her Herculean core strength by not moving while bouncing on the elastic rope, while Elaine set a record for how many flips one could make. Stephanie just screamed loudly all throughout, in English for some reason.
The race was exciting, including a battle for the top spot in the second heat between AutoIndustriya's Vince Pornelos and our man Jeff. Our publisher was leading until his car ran wide. Vince saw an opening and gunned it, boxing Jeff out. For days after, we would watch videos of the race in the office and rib Jeff about losing to a competitor half his age and twice his weight.
ADVERTISEMENT - CONTINUE READING BELOW ↓
And that's what the Vios Cup is basically all about: fun. The exciting, heart-pounding kind of fun that you can only get when you're watching drivers box each other out on a crucial corner. And that's not even counting the collisions on the track, which this first Vios Cup race had its share of.
The event also had its share of niggles. The evening entertainment was almost marred by the boy band Sponge Cola, who has a lead singer that makes LBM seem comforting by comparison. It would have taken a miracle to salvage the mood after that, but it was a good thing Ely and his Eraserheads music were more than enough to create an evening we won't forget. And then there was the irritating host Issa Litton, who has to be told that yelling into the microphone doesn't equate to good hosting. Her manner of speaking and lack of wit made me tune out when she was talking, which kind of defeated the point of having a host.
ADVERTISEMENT - CONTINUE READING BELOW ↓
But those were minor incidents. I'm already forgetting them as I write this. TMP pulled off not just a major event (attended by almost 6,000 people, according to the Japanese carmaker), but also gave local motorsports a big boost. Hyundai is already planning its own Elantra Cup to be held this year. Like its tagline for the Vios says, Toyota has indeed started the fun with this one-make race.
Photos by Dinzo Tabamo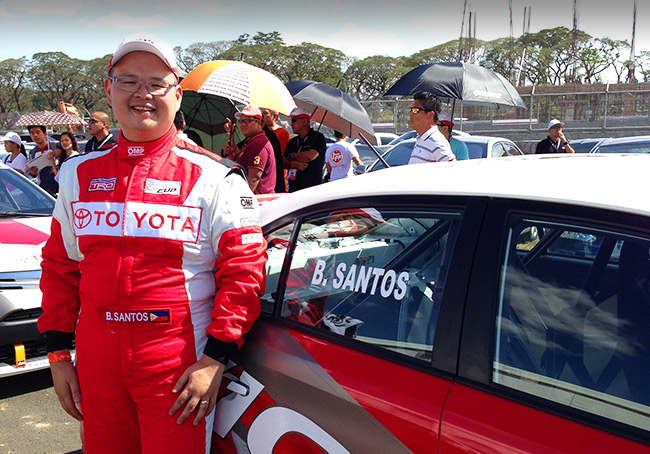 ADVERTISEMENT - CONTINUE READING BELOW ↓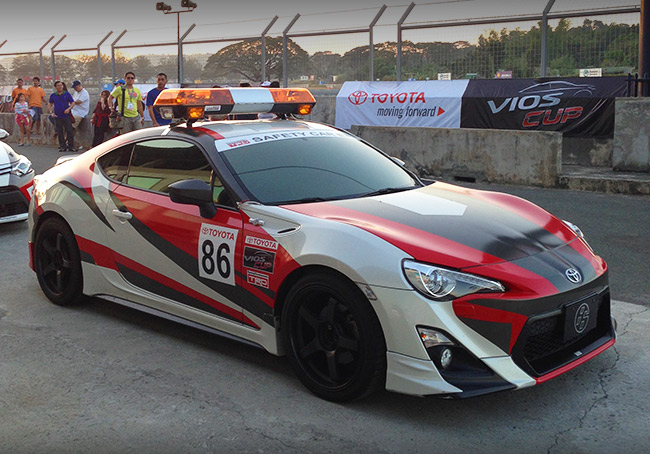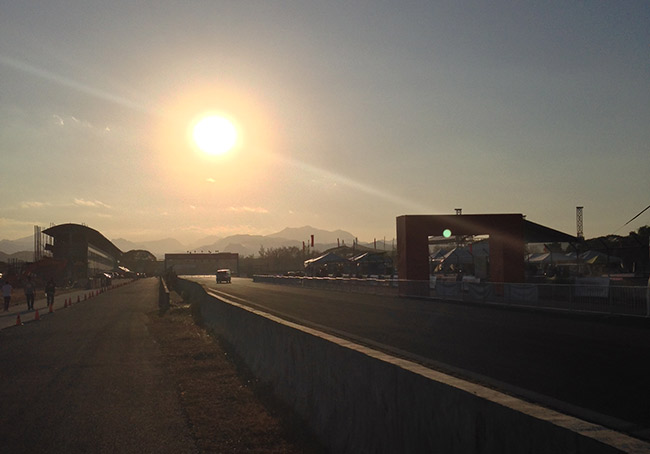 ADVERTISEMENT - CONTINUE READING BELOW ↓