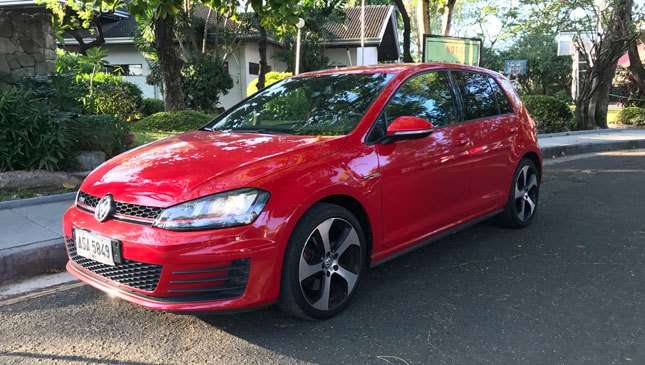 They say life begins at 40, and if that's true then I'm really beginning to mellow down. Like most of you, I was enamored by Honda's much, much-awaited Civic Type R at the recently concluded Manila International Auto Show.
But while it's certainly capable of inducing awe by its mere presence, I think it's a little too over the top. To me the perfect Type R is still the FD body. Save for the prominent wing, it looks just like a regular Civic with upgraded wheels and a bit of kit, and I like that kind of stealth.
Continue reading below ↓
Recommended Videos
And while Honda Cars Philippines hasn't made any announcement regarding the Type R's sale* in our country, rumors are already swirling; a price range of P2.7-2.8 million has been mentioned in Facebook comments.
If that's true, then I'd gladly pick the P2.3 million Volkswagen Golf GTI over Honda's hot hatch. I lose about 100hp, but I also (theoretically) save half a million pesos. But even without the price rationalization, the Golf's more sedate wolf-in-sheep's-clothing look is more my cup of tea.
I was able to borrow Volkswagen's lovely red hatchback for a week, and I admit I was rather hesitant to give it back. Like our writer Carlo Chungunco said, it will only draw stares from those who know what it is, and that's what makes it cool. To the unfamiliar eye, it's looks just like a typical German five-door, and I find comfort in the fact that strangers are not judging me when I'm behind the wheel.
The cabin is comfortable in a snug way. Yes it's not roomy, but you wouldn't really want a lot of space when you have 217hp in front that can throw you around—yes even me. Good thing the seats—done in trademark plaid—are well-bolstered. A little too grippy, actually, because they were constant reminders that I should lay off the pastries.
Speaking of healthy appetites, the Golf GTI knows how I feel about consumption because I averaged 5km/L driving around the city with it. That made me cringe at first, but eventually the VW makes driving so enjoyable that it made the cost worth it.
Power arrives early, and when you depress the accelerator it comes in waves. Bury the throttle and the GTI will surge forward with alacrity until your courage—or the road—runs out. Needless to say, this car is very fast. And I also wasn't able to find the limits of its grip. Body roll is minimal thanks to the firm suspension, but the GTI also does that magic trick of being both sharp and being able to absorb road imperfections well.
But sheer performance is only one aspect of the Golf GTI. In keeping with its wolf-sheep duality, it's also a comfortable daily driver. The driving position is great, the controls are laid out with perfect German logic, and the audio system is superb. My morning commute became more relaxing because I could hear Emma Stone's wonderfully throaty voice more clearly when playing the La La Land soundtrack.
Because the Golf GTI is neither a hard core track car nor a plush commuter, it straddles the best of both worlds. I looked forward to both weekend jaunts and daily drives. It's equally at home blasting up Tagaytay for a relaxing dinner, and navigating around the tiny streets of Binondo for late-night Chinese food cravings.
Since Volkswagen is a relatively new player in the country, and most of us know it as the company that built the Beetle, what we know of the Golf GTI comes from its reputation abroad. I can now say I understand what the hype is all about, and this VW certainly lives up to its legacy.
* UPDATE: Honda Cars Philippines announced on July 10, 2017, that it will bring in the Civic Type R.