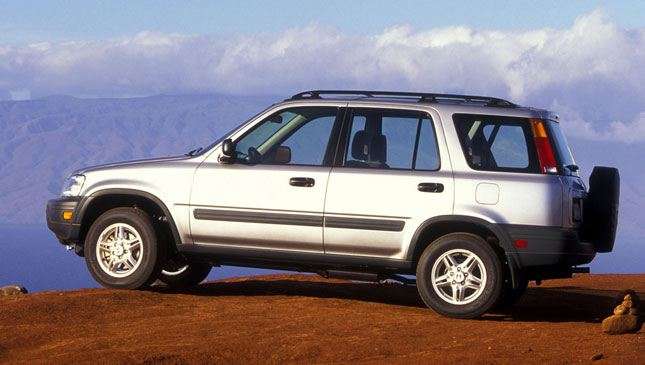 Hi Sir Ferman!
I hope you have time to read my message. I'm an old-car owner. We have a first-gen Honda CR-V with Real Time AWD and manual transmission, which we love. However, this sucker just eats up too much gas. We don't really have enough money to purchase a different car as we still have nine years on our home loan. I wonder if the CR-V is really like that. It's rated to have a 50L tank and I usually only get 265-280km on it in the city. By my computation, the fuel economy ranges from 4-4.4km/L. When I go to Baguio, a distance of about 260-270kms, I have an estimated 20 liters before the tank is empty.
Continue reading below ↓
Recommended Videos
I bought my CR-V pre-owned with around 75,000kms on it three years ago and it's at around 100,000 kms now. Two questions for you, sir:
1) If we decide to sell this vehicle, what can we get for the same value that is as versatile but not a guzzler?
2) What can we do to make this beater be more efficient? Convert to LPG? Or rechip and all that stuff?
Thanks and more power!
Michael Torres
Hi Michael,
If I recall correctly, a friend of mine who owned the same-generation Honda CR-V as you had a fuel consumption ratio of around 7.5km/L. This would've been around 16 or 17 years ago when he bought it new. His driving conditions were typically between 5-10kms and about three-eighths of that distance would've been with heavy traffic conditions for that time. The fuel economy he got was pretty good considering that the year 2000 CR-V has an EPA rating of around 9km/L city and approximately 11km/L elsewhere.
I suspect that you might be computing your fuel consumption incorrectly as the numbers don't quite match up. Consuming 30L (because you said you still had 20L left) for 265kms would come to about 8.3 km/L.
The formula is: distance traveled divided by amount of fuel refilled. This isn't going to be 100% dead on as there will always be a degree of error each time the tank is filled. Still, it is the most practical and consistent method of computing fuel economy for the everyday motorist. Going back to your concern, I would consider this kind of fuel consumption fair to good considering the traffic condition these days.
Now, to your questions: First off, I don't believe there are too many other vehicles that will give you better fuel consumption and still give you the same ground clearance, fun-to-drive factor, fit and finish, usability, and long-term reliability that you've come to appreciate with your first-gen CR-V. One vehicle that comes close would be the same-generation Subaru Forester, but those are hard to come by. Another option would be the first-gen Toyota RAV4 but that's got similar fuel consumption as well, with a bit less space.
The other options would be to give up your ground clearance and cargo capacity and go with a front-wheel drive compact sedan to get better fuel economy. Or, you could give up some refinement and quite a bit of ride quality by going with a diesel AUV. Both options would be from the same time period as well. Given that you got your CR-V three years ago only had 75,000kms on it, I wouldn't consider either of the two latter options unless your next car is in a similar condition to your CR-V plus with better fuel consumption.
As for your second question, there is quite a bit that can be done to make your CR-V a bit more efficient. The quick and easy way is to advance its ignition timing a few degrees. You'll need to experiment with the exact amount that your vehicle requires before you hit that wall of diminishing benefits. It can be as little as a degree or two, to as much as five or more. Before you start doing that, you will want to make sure that your ignition timing is correct to begin with. This means taking into account timing belt stretch when your mechanic sets your ignition timing during tune-ups. Often on older vehicles with a bit of mileage, it is going to be slightly off from factory specifications. This simple change in efficiency has netted me as much as an additional 1km/L on my SOHC Honda.
The next thing you can do is find a low-friction motor oil that works well with your engine. There's quite a few available in the market. In my car, I found that the engine oil from Liqui Moly with MoS2 gave me good results. You will want to experiment which brand and type works best for you.
Remember to always keep your tires inflated according to manufacturer specs, as well as your alignment and camber settings in line. An improperly aligned steering system can add an additional 1km/L—more if it's badly cambered. Low tire pressure, on the other hand, can cost at least 0.5km/L extra.
If you've done all of that and want to go the aftermarket route, there's also quite a bit you can do:
Free flow exhausts, air filters/intake, and optimizing your tune either via add-on piggyback engine control units or rechipping via Hondata or similar solutions will all work, provided that your tuner can optimize the tuning of all your mods on a load-bearing dynamometer to suit your end goal. Bear in mind when going with exhaust and intake mods that bigger isn't necessarily better. Both mods will increase intake and exhaust noise by a little to a lot should you go to the extreme end of the mod envelope.
Should you go the tuner route, you're going to discover that you'll be semi-consciously modifying your driving habits to take into account the improvements in efficiency that the modifications allow. This will help you net better gains than if you were to continue driving the same way you did pre-modification.
I had the opportunity to work with LPG conversions some years ago during the spike in fuel costs. They are a good option if you drive many more kilometers than the average motorist does, like you would if you were driving a taxi, to warrant the quick return in fuel savings to cover the cost of the LPG conversion. They're also good if you get a system that integrates well with your vehicle's engine control system. There were a few available before that had good computer-controlled systems, but not well enough for me to go that route myself.
Good luck!
Ferman Lao
Technical Editor