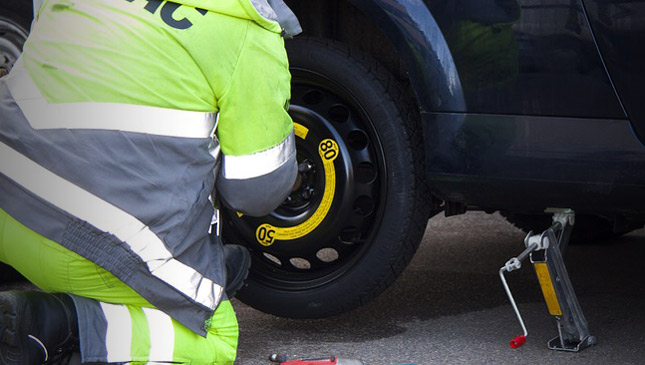 Hi, Top Gear Philippines!
Where can I find a replacement for my donut spare tire? My 10-year-old Mitsubishi Grandis, Mazda CX-9, Mazda 6, all of which I drive, all have donut spare tires.
I want to replace the tire on my Grandis, which I'm sure has hardened and cracked. But I can't seem to source the tire from any dealer or tire manufacturer. In the US, I believe the National Highway Traffic Administration (NHTSA) mandated car manufacturers that introduced this space-saver tire to ensure there is supply and stock of these types of tires.
My Grandis uses a 135/90 R16 and I can't source it. I am sure I will have the same problem sourcing the spare for my 2014 Mazda 6 and 2018 CX-9 when the time comes. There are also technical issues like PCD, and number of bolts to consider with the rims.
Emmanuel P.
Dear Emmanuel,
That's an interesting question. I know that in the US new car dealers sell the compact space-saver spare tires in their parts departments, but after your question I have learned that the same does not hold true here. Perhaps you can buy it there and lug it back home?
Enthusiasts do the same thing for spare parts for their beloved toys that aren't available here. If it bothers you that much, importing the tire might be an acceptable solution. Also, I'm almost certain our local LTO has no rule akin to the US-NHTSA mandate for the dealers to carry the spares.
You only mention that you're sure the rubber of your spare tire in your Grandis is cracked. You haven't mentioned that the rubber is positively cracked based on an ocular examination. I surmise that this is a hypothetical question. But, be that as it may, your question is, "Where can a compact spare tire be bought?"
For a local purchase, all I can recommend is to look in the surplus shops or in the used market. For a 2008 Mitsubishi Grandis you'll need a PCD 5x114.3 bolt pattern, your 2014 Mazda 6, and your 2018 CX-9 all share the same PCD bolt pattern. I think you'll be able to find some that are in nearly brand-new condition. But if you really want a brand new tire, we're going to have some difficulty there.
I can't help but think that you might be subjecting yourself to needless worry. Compact spare tires don't degrade like the tires you have on the car. First of all, they don't see much use. They don't go through innumerable heat cycles like the tires you're using on the streets. Thus, they don't encounter the normal wear and tear from contact with the road. Moreover, a compact spare tire is usually stored in a dark trunk where it's protected from UV light, which is a big part of what degrades rubber.
Considering all of this, for the very limited purpose for which you're going to use the tire, meaning the trip from where you get the flat to the nearest tire repair shop, your ageing spare tire should be good enough so long as it holds air and it's not worn down to the belts. Just be sure to follow the instructions, which usually give a warning not to go over 60kph and 60km.
If you're still worried, then you might want to consider buying and carrying a brand-new full-sized spare tire. But honestly, I think you're worrying about nothing. If all this is because you need to spend some money on your car (don't worry, I get it), I would recommend that you get yourself a nice set of forged wheels and some high performance tires. I guarantee it'll be much more fun!
Hope this satisfies your query.