My love for racing started when my father first opened the Subic Le Mans fun kart track around 1995. For as long as I can remember, my brother Mark and I would spend hours at the karting track and drive hundreds of laps a day. We would never get sick of it, and no one could keep us off the track.
The following year, my dad eventually started racing karts all over the Philippines. He would bring the entire family--my mother and us, four kids. Back then, there weren't that many permanent kart tracks to race on, so they improvised with creating temporary layouts on parking lots. It doesn't sound fancy at all, but we had a big group of people, including Mike Potenciano, Carlos and Mike Anton, and George Apacible, to name a few. We just traveled all over together, raced and had fun. We were one big, dysfunctional family, and I have lots of good memories.
After lots of begging and persuasion, my father finally gave me the go signal to race, and I had my very first kart racing year in 1998. I was rubbish and just not good during that first year. I wasn't fast either; everyone would lap me about two to three times on average, but I didn't care. It didn't stop me at all because all I wanted to do was drive and have fun.
Continue reading below ↓
Recommended Videos
I took racing more as a hobby than anything at that time. It quickly changed when I won my very first race at Kartzone in Cebu in 1999 in the Cadet 85cc class. That was when I thought that I could probably make a career out of it. And that was the end of Michele Bumgarner the driver, and the beginning of Michele Bumgarner the racer.
From there, I went up the ladder from Cadet 85cc to JR KT and to JR ICA. In 2002, I represented the Philippines for the very first race of the Asian Karting Open Championship (AKOC) in Malaysia. By 2003, I was Asian Intercontinental Junior Karting Overall Champion and Karter of the Year, and recipient of the Golden Wheel Award for overall Motorsports Driver of the Year.
The following year, I was the overall champion in the AKOC in the Open Class as well as recipient of the Philippines' Sports Citation for Karting, Automobile Association Philippines' Motorsports Award and again the Golden Wheel Award for overall Motorsports Driver of the Year.
Also in 2004, I got into formula cars for the first time. By this time, I had a lot of experience racing karts, but my karts had only two pedals; I had no clue on how to drive a manual car. But I was offered a great ride in the Formula Toyota Class that I just couldn't refuse, came in first runner-up, and also won several races throughout the year.
The year 2005 was a big one for me because that was my debut into the Professional World of Karting in Europe, the "Lion's Den" for short. While racing a full season in Europe, I was the overall champion for the AKOC in the Open Class for the second year in a row, overall champion in the Shell Super Karting Series and Karter of the Year, and Track Record Holder in the ICA Class at the Carmona Kart Track (42.36 seconds). I was also selected for the Red Bull Young Driver Search semifinal round for karting in Sonoma, California, finishing fourth after qualifying on pole out of 90 drivers. I was heat race winner in the Asia Pacific Championships in Suzuka, Japan, setting the fastest lap twice in the event to become the first female and Filipino driver to win an outside international kart race. I also won the Formula BMW Scholarship by Formula BMW Racing School in Bahrain at the Formula 1 track. That same year was my last one racing in the AKOC.
The following year marked my second year in European karting, as well as my first year in the Asian Formula 3 (AF3) Series. I was first runner-up in a heat race in the World Cup ICA Class Karting Championships in Suzuka, Japan. I also raced in the ICA Class in the World Karting Championships in Angerville, France, and the Macau World Karting Grand Prix in the Formula A Class, becoming the first Filipino to compete in both events. I also became the first-ever female winner in the AF3 Series after winning the season opener at Batangas Racing Circuit, eventually clinching third overall after winning more races but missing a few at the end of the year due to my karting schedule.
Between 2007 and 2009, I was in America to continue racing. In 2008, I raced a few Star Mazda races and was a factory driver for American kart manufacturer Margay. That same year, I became the first-ever female to win a race at the Rock Island Grand Prix in Rock Island, Illinois, and was back-to-back champion after winning the following year. I was also named EKartingNews Driver of the Month in America for September 2008.
After all that, I took a hiatus from racing between 2010 and 2012, and it wasn't by choice. Motorsports racing is not cheap, to say the least, and with the world economic problems, a racing budget was very difficult. I kept in shape by continuing my workouts and a few test sessions.
Backtracking to 1998 during my first year of racing, if anyone would have told me that in 10 years or so, I'd accomplish all that I have done, I would have probably said: "You're full of sh*t." Was it love at first sight? Of course, I was hooked on racing! But I never thought that I would ever take it this far. Formula racing was merely a dream of mine, and now it is my life. It is not an easy goal by any means, and I know I have a long way to go. But I am ready and prepared to go the distance, and become a world-class racer representing the Philippines.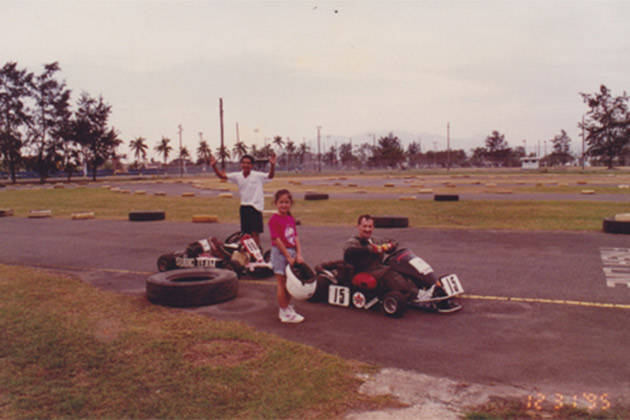 Subic Le Mans Kart Track (1995)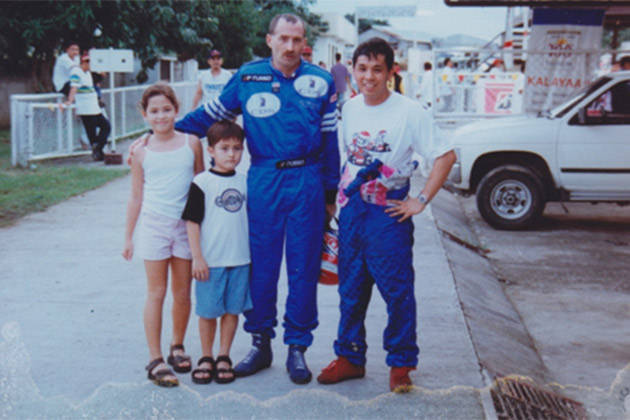 Supporting my dad in Carmona (1998)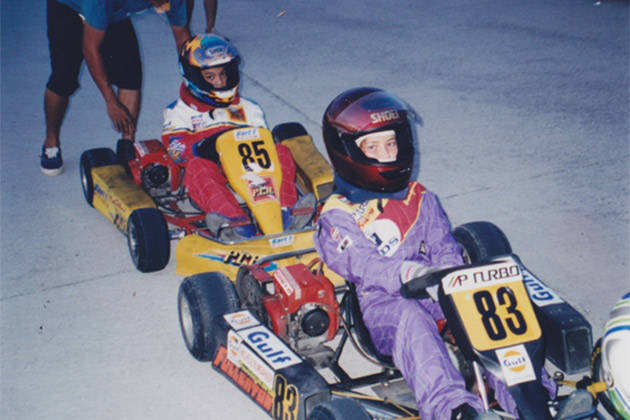 First year in karting (1998)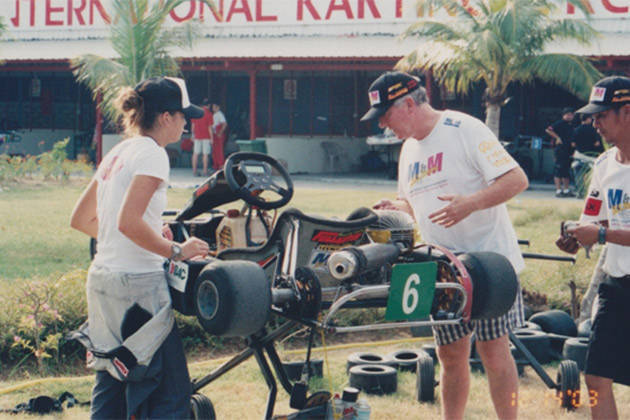 Prepping my kart in Langkawi, Malaysia (2003)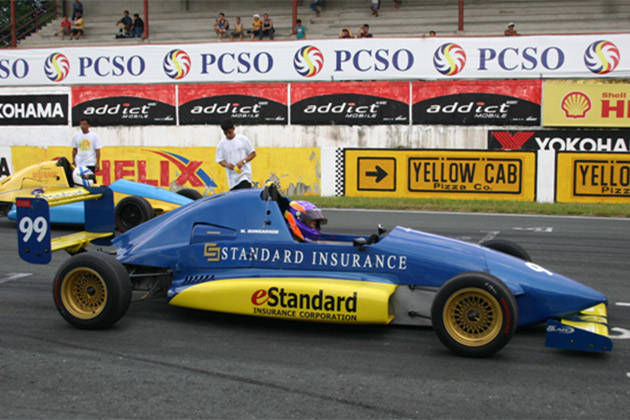 Formula Toyota at BRC (2004)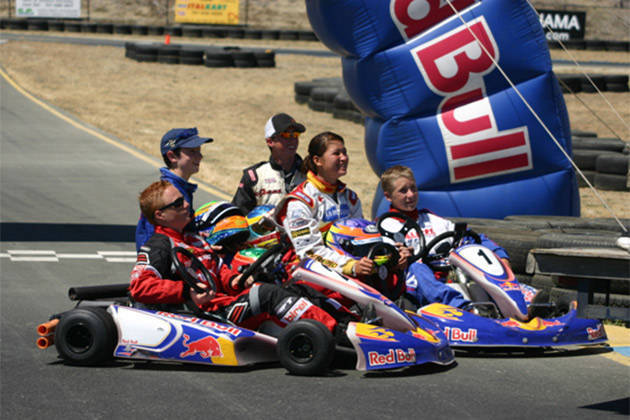 One of the five winners of the Red Bull Young Driver Search in Sonoma, California (2005)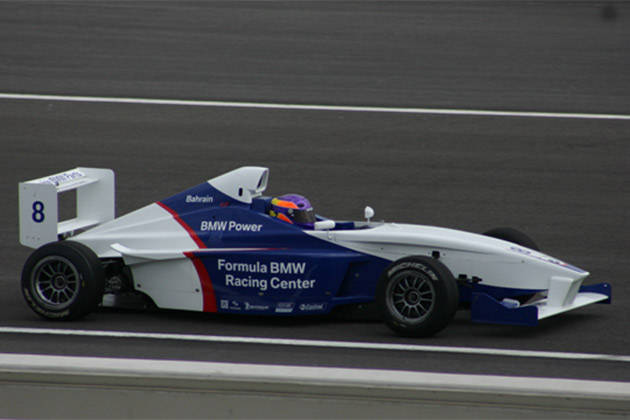 Winner of the Formula BMW Scholarship in Bahrain (2005)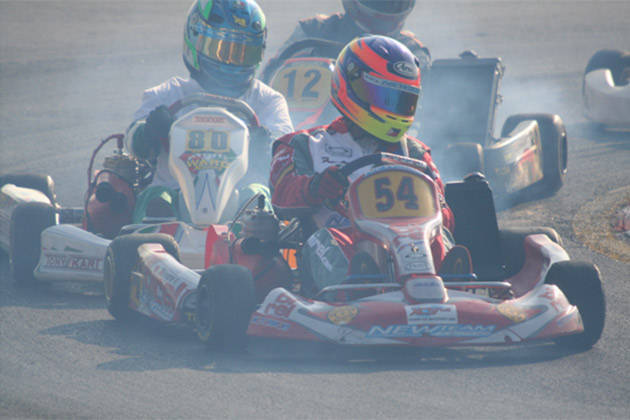 Italian Open Masters in South Garda, Italy (2006)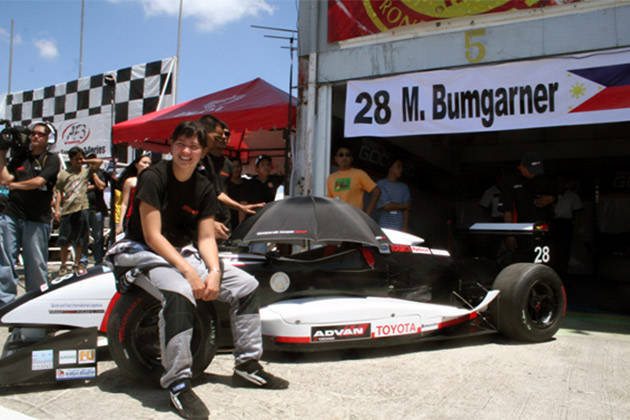 First Asian Formula 3 race at BRC (2006)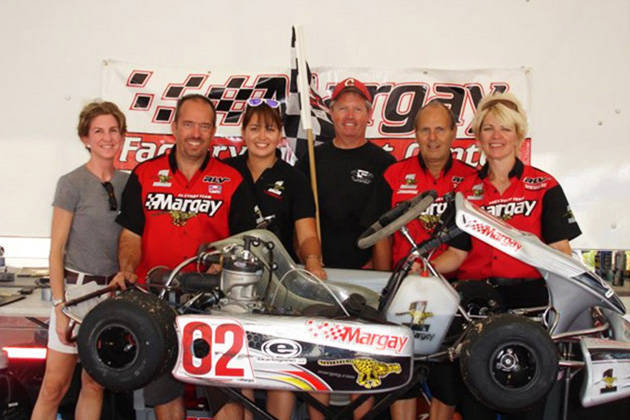 With my Margay team after winning the Rock Island Grand Prix in Illinois (2008)