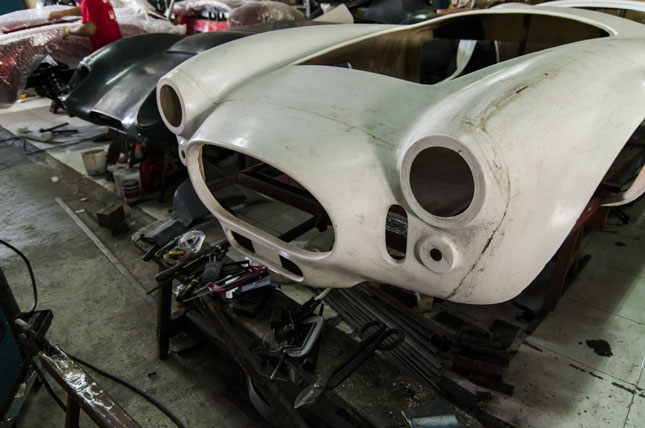 How you go about maintaining your car is a very personal thing. If your car is brand-new, you probably still go to the casa for periodic maintenance. But after the warranty-period service runs out, peso-pinchers will probably go elsewhere to save on cash.
Please don't get me wrong. Some dealerships do excellent work. In fact, I visit Mazda Pasig every so often to get expert opinions from its service manager who is a Miata expert. But the casa always charges a bit more for parts and service, and sometimes you aren't even allowed to be near your car while it is being worked on. That's a turn-off for me. So, for basic service and repairs, I go to my preferred repair shops or talyer.
I guess you can say I've been lucky that I can go to mechanics I can trust. It wasn't always smooth sailing, though. I've been victimized and burned by unscrupulous shop owners and so-called experts in the past. It all comes with the car-hobby territory, I suppose. And I've charged it all to experience.
Anyway, this was all just motivation for me to do my own car repairs. But when I do find myself in my favorite shops, the effect is always therapeutic and soothing. I also never leave my car alone if possible. I schedule my day around my shop visit to make sure I don't have to leave my car's side. Cheesy? I just want to be there every step of the way and learn from the expert mechanics. That's how involved I am with my cars.
Continue reading below ↓
Recommended Videos
Do note that I'm not talking about high-end speed shops here. I don't have any firsthand experience with car modification and the like. Some of our writers are more knowledgeable in that field than I will ever be. But based on my personal experience restoring a 1976 Mitsubishi Galant Wagon, maintaining a daily-driven 1997 Mitsubishi Lancer, laying the groundwork for a 1967 Mercedes-Benz 200D Fintail rat-rod, and enjoying a 1996 Mazda Miata, here are signs that indicate you've found a great talyer.
1. The mechanics have focus. I enjoy watching my guy who overhauls carburetors in Kamuning at work, because he's always focused on the task at hand. I'd hear him talking to himself, too, reminding himself to "focus" and "stay neat." This might seem a bit eccentric, but his every movement is slow and deliberate, and he doesn't rush. If you see a frazzled mechanic haphazardly throwing parts and tools on the ground, you know what kind of service to expect.
2. The craftsmen are the same during every visit. You know that a shop owner is doing something right if he has the same people working under him. This means that they are most likely happy with their place of employment, and this translates to a better work attitude. Another one of my favorite restoration shops in Kamuning has had the same team for decades. You see, there are some revolving-door talyers where the mechanics, the painters and the metal workers are never the same people. Yes, some places hire on a per-project basis, but when the entire workforce is like this, it's hard to gauge how consistent the service and project outcome will be.
3. The shop has to be clean, or at least organized. I'm all for character, but if parts are strewn all over the place without any thought to organization, then that means that there is no ownership or pride in the workplace. When a shop looks like a dump, it's probably teeming with roaches and rodents under the mounds of car parts, mystery garbage, and whatever. However, I've been to name-brand shops that are super-clean, but the mechanics are inexperienced. You may have to use the Force to guide you on this one.
4. The mechanics have their own tools. Another shop that I go to on Banawe has a very skilled team. These are the guys I go to for major mechanical work. Each skilled mechanic has a metal ammo box with his name on it. These guys even personalized them, and inside are their own tools. The owner of the shop tells me that this way, none of the shop tools get misplaced or damaged. But this also reveals a different story: These mechanics take pride in their work and respect the tools that they use. And some of these tools are from an older time and are very expensive. These guys are real mechanics, and not just wannabes who are out to make a quick buck. They will never release a car with loose lug nuts onto the street. They have attention to even the smallest details.
5. You drop in unannounced and everyone is busy at work. They probably don't even notice you've arrived because they are busy with a task at hand. You know you are in trouble when you show up and everyone jumps to attention from lounging around, then runs around pretending to be busy. Even worse is if the shop proprietor is in on this pathetic charade. This exact thing happened to me at a shop owned by a so-called Mitsubishi specialist named Mr. S. He and his team were shocked to see me walking up the driveway, and immediately started to look busy. What an insult, right? Needless to say, I pulled my Galant out of there as soon as I got the engine running. I still feel kind of stupid for trusting that guy in the first place.
6. If you need a part, they will direct you to the nearest auto supply where you can get the best prices. I try to save money whenever I can. Experience has shown me that with a little bit of legwork, a good deal for parts is never too far away. Never settle for the first price that you come across. There might be an auto supply or surplus shop out there that sells cheaper. So, if the talyer makes you buy overpriced parts from them, you might want to bring your business elsewhere. You must never be made to feel obligated. This is exactly why we stopped going to the casa, right?
7. You ask questions and they share the knowledge. I'm sure that there are trade secrets, but if you want to know what exactly goes on when your mechanic is cleaning the contact points of your old-school car's ignition system, he should at least tell you. And it's great when mechanics share tips on what to look out for when it comes to regular wear and tear of parts. This means that they do care about your safety on the road.
8. The shop owner never badmouths other shops. Back when I was still restoring my Galant Wagon and looking for a place to do the work, I encountered shop owners who--without any prompting from me--would talk sh*t about other shop owners, particularly a certain Mr. A. Fast-forward to a few months later, I would eventually bring my car to Mr. A and you know what? He was easy to talk to, and the quality of work at his shop was excellent. Mr. A and I became fast friends, and we still hang out today. Not once did I ever hear him talk badly about any other shop. What does that tell you? Those people who were so quick to knock Mr. A down were just jealous of the guy and his success. Go figure.
9. Talks are straight to the point. It isn't a requirement for mechanics and shop owners to be nice and friendly, by the way. I have met folks who were amicable and personable up front, but the service ended up being crap. In other words, I have no time for people who like to talk a lot. Building a relationship based on trust is what's important. Be wary of smooth talkers who just want to separate you from your hard-earned money. It's a good idea to keep your guard up when you encounter these snake-oil salesmen.
10. They trust you, too. There's a shop on Banawe that I go to for big repairs and parts for my Lancer. Because I've been a client since 2004, needless to say, I had already spent a small fortune there. One day after receiving the bill for a major underchassis and suspension job, the shop owner pulled me aside. "Just give us a post-dated check," he said. "You can pay later." I was flattered, of course. Being afforded that kind of leeway is a courtesy that I will never forget. It's a surefire way to keep customers happy and coming back.
So, there you have it. Do you have talyer stories to share?
Photo by Ian Magbanua