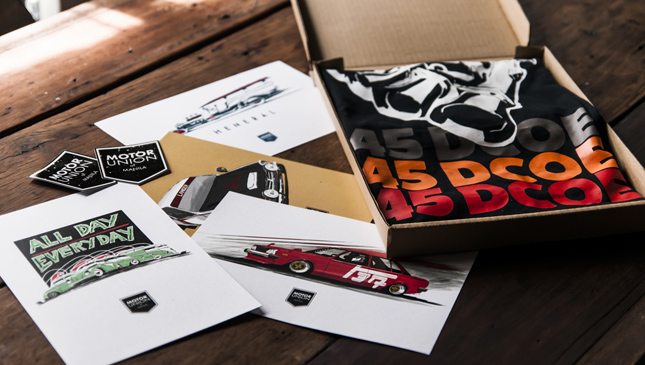 I'm a huge fan of automotive-themed clothing, but throw in a retro vibe and I just have to have it. These things are hard to come by, you know. So, when Top Gear Philippines photographer Ian Magbanua told me about his latest project, I just had to share it with you guys.
Ian is a true gearhead with a sense for the aesthetic. His pride and joy is Lucille, a Volkswagen Type 3 fastback that is a bit of a celebrity in the local automotive community. He's pretty handy when it comes to illustration, too. Check out his website.
He's also one of the founders of Motor Union of Manila. "It is a brand I put up with Alex Lao and Charles Ty, both awesome motorheads in their own right," Ian shares. He tells us that the brand is a celebration of the old Manila car culture they grew up in, from the late '60s to the early '90s Greenhills Saturday-night car meets, motorsports events at Folk Arts and Philcite, and the like. "When car culture as I remember it was more about being creative than being moneyed," he adds. "It's a bit nostalgic and a bit dreamy, really."
Established in December 2014, Motor Union of Manila is described by its founders as "an independent brand based out of Manila that offers quality automotive apparel and motoring accessories in limited quantities."
Continue reading below ↓
Recommended Videos
Ian says that he wants to celebrate the cars he grew up with, so the cars Motor Union of Manila features are ones that really plied (or prowled) the streets.

"The first design that's come out of our 'garage' is the 45 DCOE shirt pack, a nod to the Weber 45 I'd see a lot of in the open engine bays of cars parked in Greenhills on a Saturday night," narrates Ian.

As a brand, he believes that part of the experience of owning a Motor Union of Manila product are excitement and nostalgia, thus the included art prints, the weather-proof sticker and the custom box. "We deliberately wanted the unboxing to feel like you're opening a box for a car part. Future plans will probably dictate an evolution of the box design, but what we have is a start."

Do note that every shirt design and art print is an original illustrated piece, not a copy from the Internet or some existing printed material. "I've been sketching cars since I was little, and I've always loved car art. I believe that adds value to the products we come up with. It really is borne out of a passion for cars, the memories of owning them and the beauty of it all."
I dig it. And I'm sure you guys will, too. Look up Motor Union Manila on Facebook and Instagram.
Photos from Motor Union of Manila