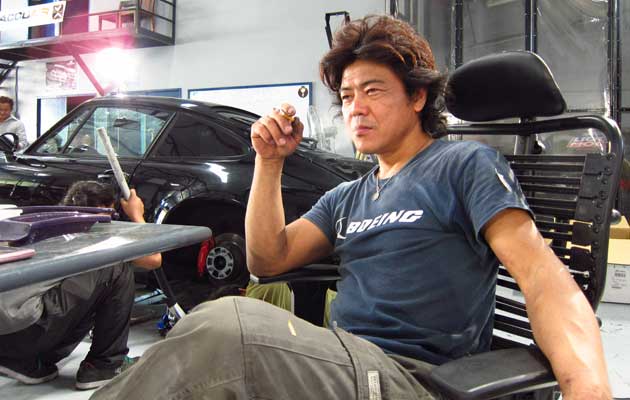 If you have access to the Internet and love cars, then chances are you've seen Akira Nakai's creations. If not, Google "RWB Porsche" right now and get yourself up to speed.
For some time now, Akira Nakai has been a bit of a legend in the Japanese tuning world, but he only began to gain worldwide acclaim shortly after photos of his wide-body-conversion Porsches had spread like wildfire throughout car-centric websites on the Internet. We could only drool over the pictures and envy the owners of those lucky machines.
Every RWB (or RAUH-Welt Begriff, which can be translated into "Rough World Perception") Porsche creation is made by Akira Nakai himself. He is part of every step of the process--from the design, execution, and installation of the RWB bodykit. And because there is a personal touch to every project, no two RWB Porsches are alike.
Ian King of Car Porn Racing is responsible for bringing the man to the Philippines. Nakai-san is currently in Manila right now as you read this. Ian first met Nakai-san a few months ago in the US, and the two got talking about a potential project. And now it's a reality. "It's here," says Ian. "It's real."
Once the deal with RWB is made, a hefty full payment is sent to Japan. Ian tells us that he had to wait for all of the parts to be shipped here and for the project to actually begin, but it was obviously worth it.
The car you see here is Ian's 1994 Porsche Carrera 2, and it is the first of two projects that Nakai-san will complete while he is in the country. By the way, Nakai-san only works on older, air-cooled Porsches, and it takes approximately 40 hours to complete the project. And because every RWB build gets a lot of attention, Ian decided to create a "stage" for it. Car enthusiasts are welcome to visit the Car Porn Racing garage and see Akira Nakai working on the car. It's actually pretty cool to see him do his thing. Ian and his staff are amazed at how the master takes measurements and massages the bodykit to create a flawless fit.
"I like the Philippines," says Nakai-san. "We have the same mind throughout the world," is his response when we ask him about why he likes the Philippines. "The Philippines is car-crazy, and RWB is growing."
Hardcore car enthusiast Edwin Lee shows up. He drives a Porsche GT3 no less, and yet he lusts after an RWB Porsche of his own. "RWB is known all around the world," he says. "To see Akira Nakai here in the Philippines and for him to build a car here is a big deal. Hats off to Ian King for bringing him here. This is only the beginning. Iba ang RWB quality. This guy is sought-after, and you have to line up to get a car built by him."
"If I had an RWB Porsche, it would be the prized jewel in my garage," Edwin adds. "Iba talaga 'yung dating, eh. It is on a different level."
It's not such a rough-looking Third World when we finally see these cars cruising down our streets. "Nakai-san is like the Michelangelo of cars," says Ian. We can't help but agree.
This is just a teaser. A full feature is coming up in Top Gear Philippines. Look out for it.
Photos by Paulo Rafael Subido