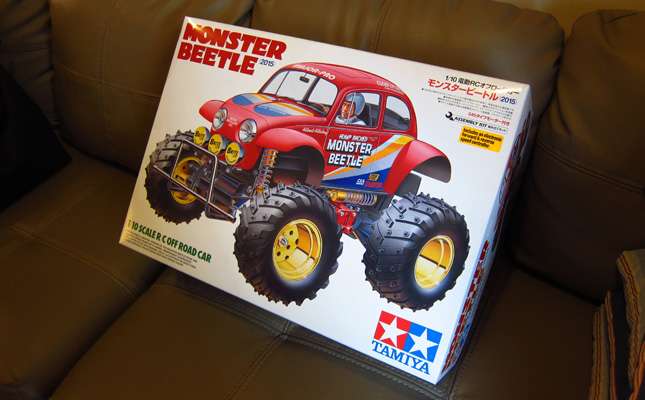 I'm a sucker for 1/10th scale radio-controlled (RC) cars. I got a Clod Buster RC truck way back in 1987, and it's a toy that's very close to my heart. My older brother Raul and I loved that thing, and I did get around to finally getting it running again. But I will save that story for another post.
Now, the Clod Buster was my one and only RC because I had more vital things to spend my money on when I hit high school and college (gasoline, car maintenance, dates, and real life in general), but I never forgot how cool and fun driving an RC was. And then 2015 rolls along, and the Monster Beetle, another iconic RC from the '80s, was rereleased by Tamiya. I have a kinship with this scale model brand, and this was amplified by our video of the Tamiya factory in Cebu.
Continue reading below ↓
Recommended Videos
I've always wanted a Monster Beetle because my childhood friend JB, who was into RCs with me at the same time, had one. It's amazing that Tamiya is rereleasing its most awesome kits from the past. RC addicts like me can now relive their childhood, and for those who didn't get a chance to own the RC model that they wanted—The Hornet, The Boomerang, The Frog, The Blackfoot, you name it—now is the best time to head to your local hobby shop and order one. I monitor RC blogs so that I'm up to date with what will be reissued next—so that I can daydream about them.
A 're-re' use the same molds, technology, and design from 30 years ago, with only a few upgrades to make them a bit sturdier. The plastic is also fresh and tough, unlike the brittle plastic of precious, aging vintage RCs. This is the main reason why older cars have been relegated to being shelf queens; one bump and suspension and chassis components can snap like twigs. With a re-re, you can bash it around and not worry too much about breaking anything.
The building and driving experience is exactly the same, too! Damn fun. If you are after the nostalgia factor, you should afford yourself the luxury of an RC. When I was a 10 year old back in the '80s, the P7,000 price tag seemed like the end of the world. You will be surprised to find out that an RC kit costs the same today. It's not a cheap unit by any means, but I would rather save up for one RC than spend on many smaller toys. That's just me. Don't forget to put some money aside for the transmitter, batteries, and a charger, though.
Let's get to building the Monster Beetle, then!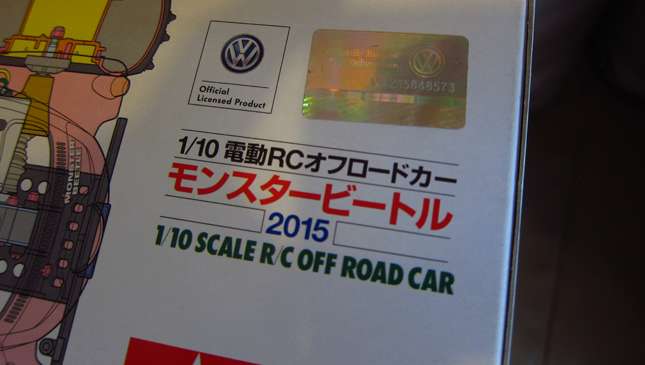 As you can see, the Monster Beetle is an official licensed product. The box art looks so good, you can't go wrong if you follow the color scheme. As this will be my first RC build (my Clod Buster came assembled from Fil-Indian, the local Baguio hobby shop), I will be doing it justice by painting it right. I will be going with TS49 Bright Red instead of the TS8 Italian Red indicated in the instructions.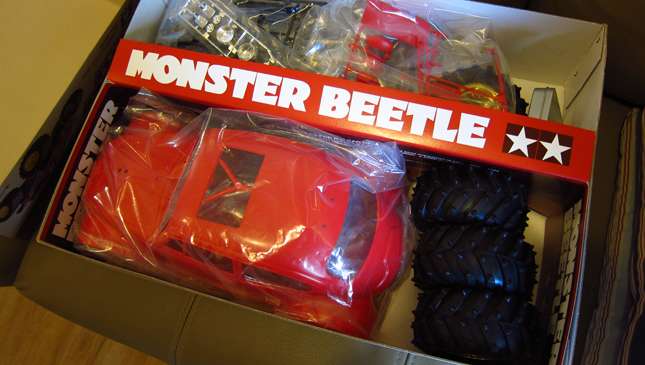 This is what inside the box looks like. Many times I've gazed into it, just waiting for the chance to finally dive in and build it. Finding time to do this was tough, but I had to give it the time that it deserves. I wanted to savor every step and not rush anything at all.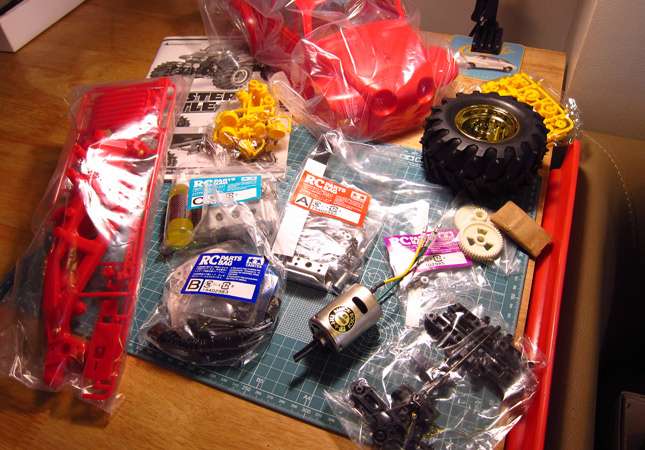 I love how each bag is labeled. As you go through the instructions you will see that Tamiya engineers took time to make the building experience as enjoyable and hassle-free as possible.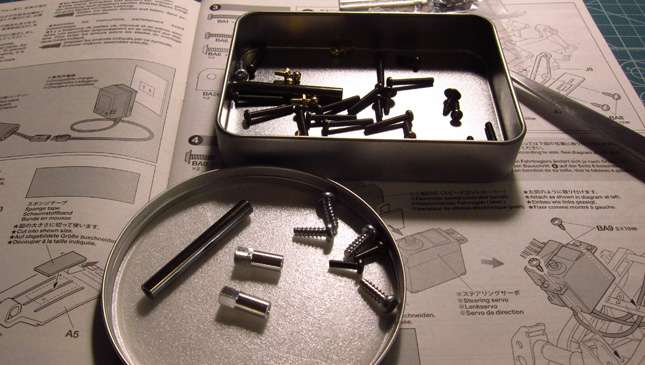 I like to place what I need in a small container, just to be organized.
Here's a closeup of the instruction booklet. The printing of the components is done in actual size. You will never use the wrong screw, nut, or bolt, when you have this kind of reference. Thanks, Tamiya!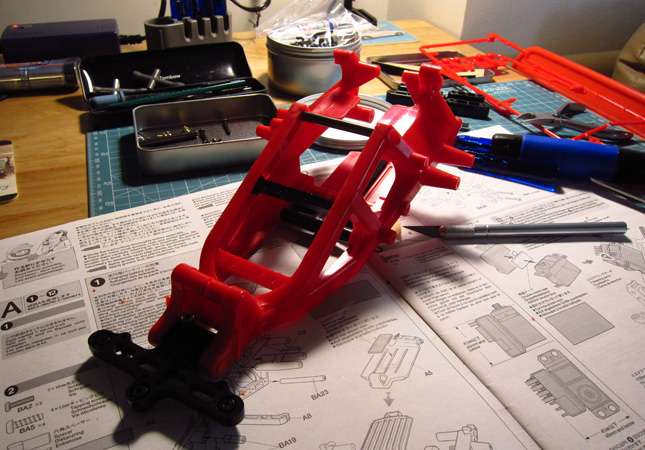 Here's the bare frame. This chassis design is shared with some other models, most notably The Frog and The Blackfoot. There's no four-wheel drive here, though.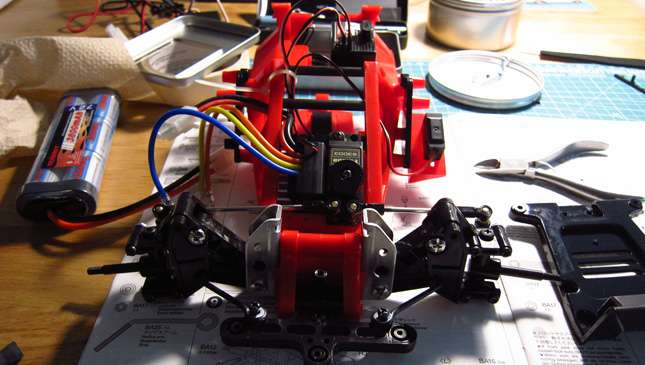 This is the NiMH battery I scored from Amazon, while the steering servo came with the entry-level Futaba radio that I bought. The box with the colorful wires sticking out of it is the speed controller that is supplied with the kit. Back in the day these were mechanical and required a separate servo to operate.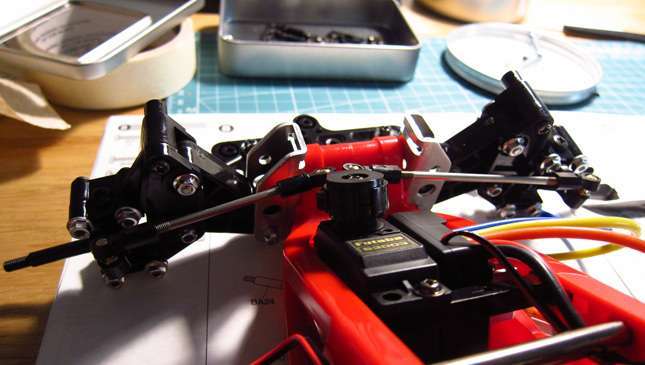 Take a look at the detail that goes into kit. So cool, right? Another reason why I love RC is because I feel like I am building a real car.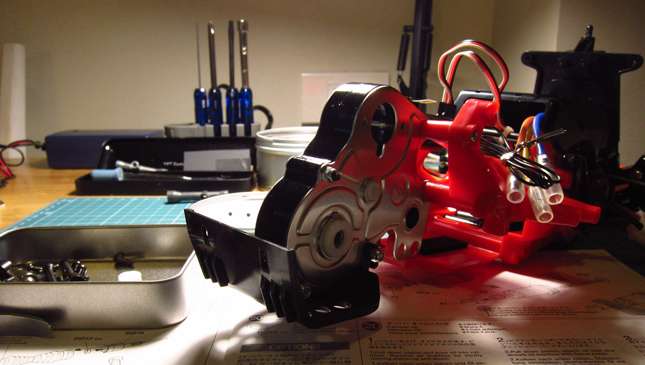 It's a very simple gearbox. Super-powerful motors are not recommended.
Here's the completed chassis. So simple, yet so fun to build. A modern RC will kick the Monster Beetle's ass, but I don't care one bit.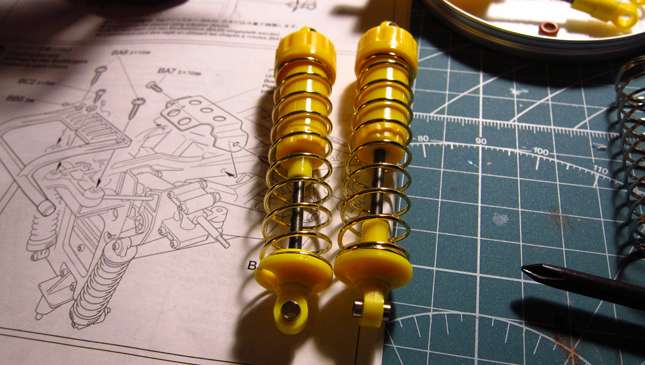 These are oil-filled units that need to be assembled carefully. You get realistic damping characteristics with these, which is another reason why I enjoy watching RC buggies in action.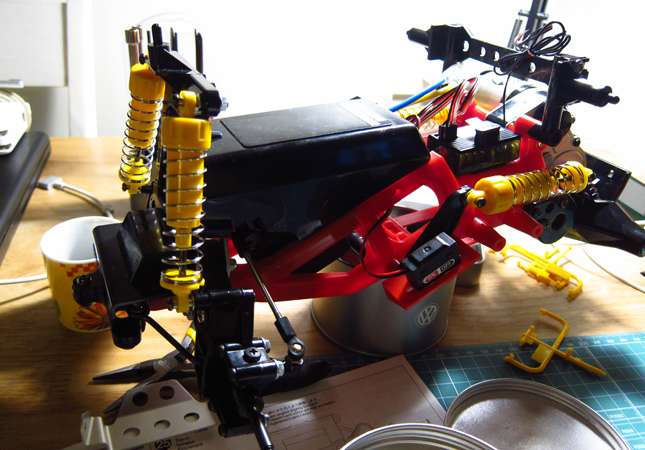 Now things are getting exciting. I'm glad I took these photos, because the chassis will never be this clean ever again. It's nice to look back on the build and to appreciate the thinking that went into the design.
Here we are with the gold wheels and pin-spike tires attached. I can't wait to get this thing dirty.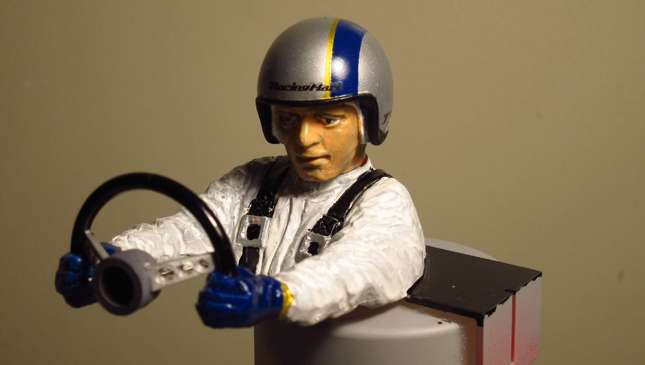 Painting the driver is the first thing I did before I even started building the chassis. It will become a habit for future builds, because it's nice to get this important detail out of the way first. Tamiya actually gave these dudes names. This here is Albert Attaboy. I tried my best to emulate the Rothmans Racing blue-and-gold livery. Do you like the blue and gold stripe?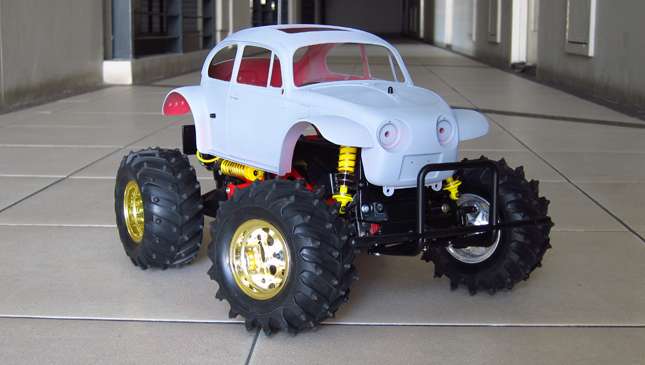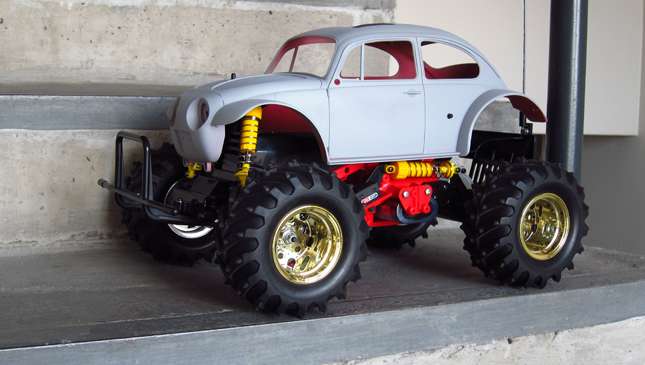 The Monster Beetle is looking really good to me right now. I've already let her rip. Again, I'm taking my sweet time painting the body because I want to get everything right. Painting was done on and off over the course of six weeks.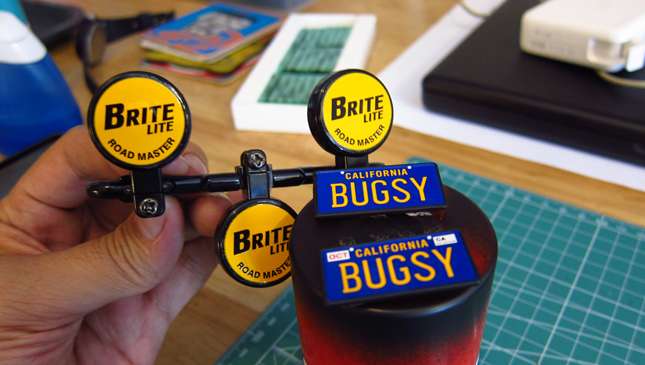 Some of the small details that add to the realism that Tamiya is known for.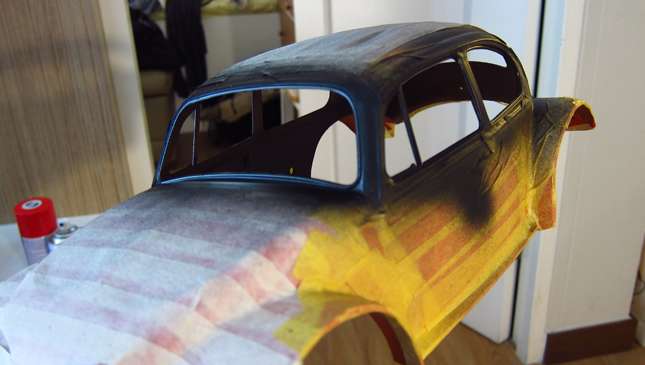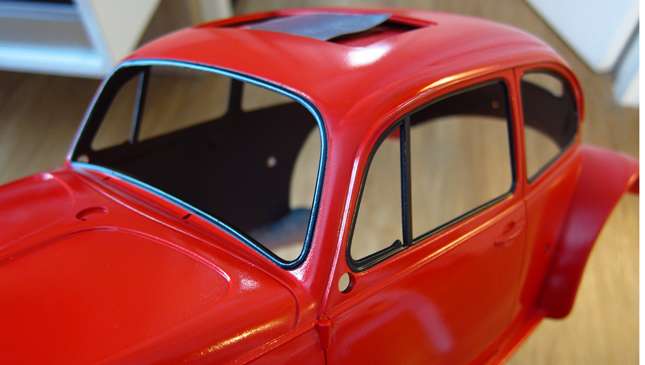 After laying down multiple the coats of Bright Red, It was time to mask the body to paint the window trim. Some scale modelers don't bother with this detail, but I think that the effort is worth it. I'm happy with the result!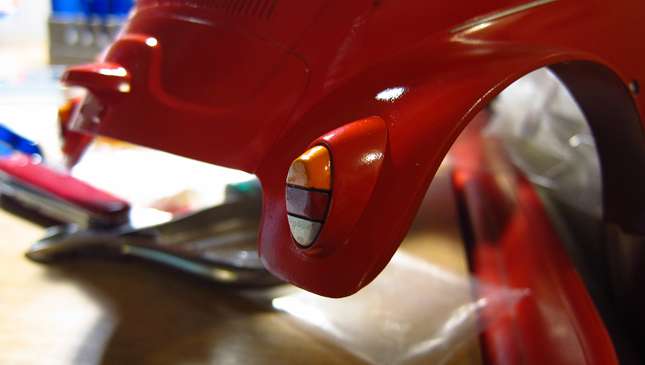 Some effort was required to get these taillights looking right. I wouldn't have been able to forgive myself if I botched the job. I had to make sure that I was satisfied with the outcome.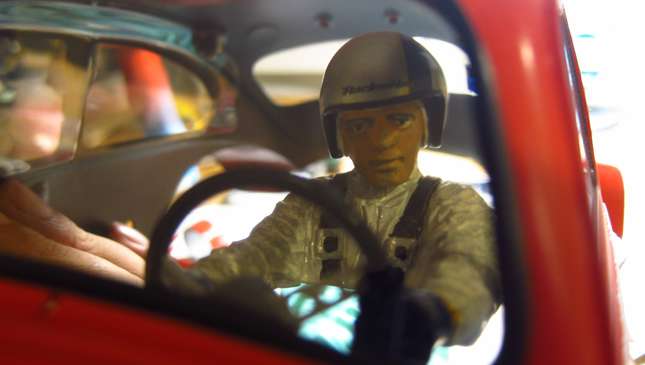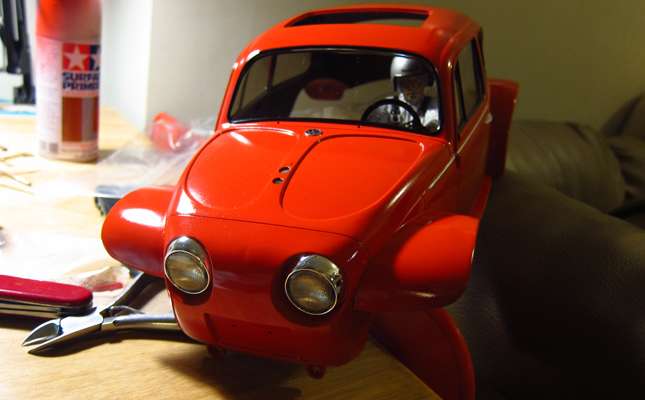 Here's Albert Attaboy sitting pretty in the cockpit at last.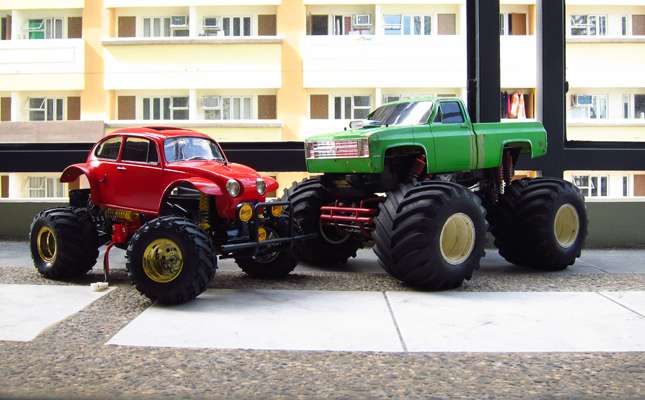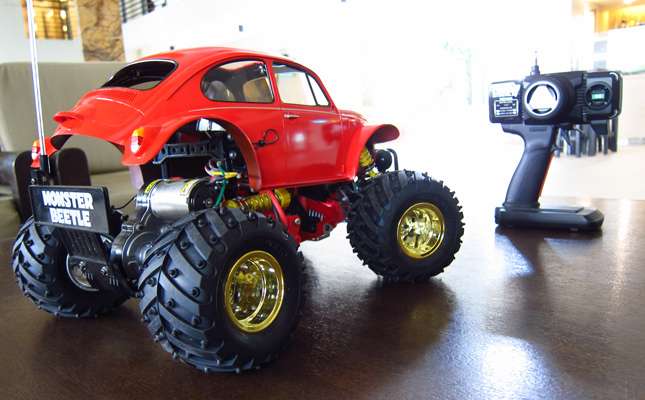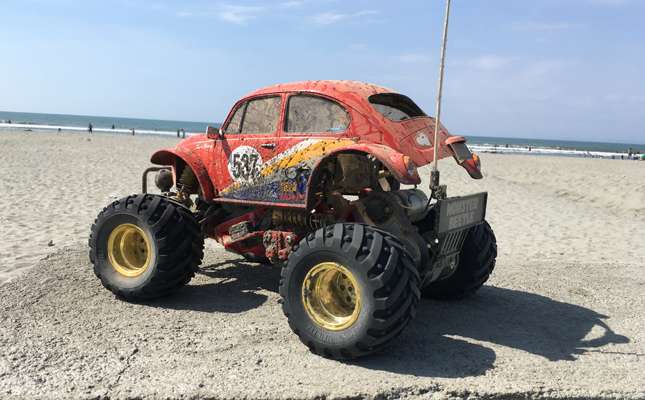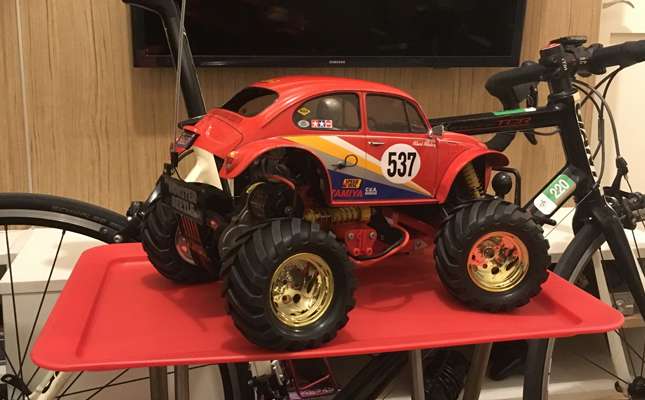 That's the evolution of my Monster Beetle through one year of ownership. As you can see, I've taken it everywhere. I wrapped the vital electronics in balloons to make them waterproof because I already fried a speed controller because of dust and water. I've changed the wheels and tires to suit my mood; did a semi-custom decal job on it to make it look like my own; and swapped to a faster motor after the original began to slow down. The final photo is how my first RC build sits on the shelf right now. I can't wait to take it to the beach again.
This concludes my ode to the Tamiya Monster Beetle. I can't wait to document my next RC build for you guys. Catch you soon.