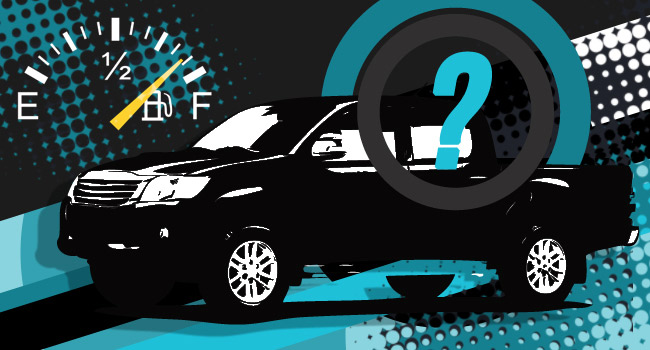 Hello, Botchi. I'll grab this opportunity to ask you regarding the fuel efficiency in standard driving conditions of the following pickup trucks:
* Isuzu D-Max LX 4x2
* Mitsubishi Strada GLX 4x2
* Toyota Hilux 4x2 E
This could be my second vehicle after I sell my Toyota Avanza. Thank you in advance for sharing with us your experience with these motor vehicles. God bless you always.
Eddie
Hi, Eddie! Thanks for your message on the Top Gear website forum board! The truth is I've only really tested the all-new Isuzu D-Max in 4x2 AT guise. It gave me an amazing 12km/L in the city, and as much as 17km/L on the highway.
My own Mitsubishi Strada gets a rather disappointing 9.5-10km/L even when driven more gently in the city. I exert a conscious effort to do eco-driving during the workweek partly to save fuel, but mostly to be more eco-friendly. On the highway, it improves to about 14km/L but does require a lot of concentration.
My Strada, however, is a 4x4 AT variant. A 4x2 variant will be at least 50-70kg lighter. Hence, the latter would be more fuel-efficient because the difference is the weight of an average person already!
As for the Toyota Hilux 4x2, again, I only got to try the AT version. The drive was in Clark, around the track, and through some of Clark's roads where there was no traffic. I believe the readout showed 11km/L, but the engine was new. A more conclusive, more extensive test is needed indeed for this variant.
Continue reading below ↓
Recommended Videos
Based on official fuel-efficiency ratings from manufacturers and with proper driving technique, driving a manual generally improves the fuel-efficiency equation by an easy 10%, and potentially even more.
I apologize if my reply is inconclusive and not very helpful to your needs. Your best bet is to scour the Internet forums, particularly car clubs, and ask around how their vehicles perform.
From a driving perspective, all three pickups are great! The Hilux has roomy front seats, and probably has the best balance of comfort and support. The Strada has roomy rear seats, but the fronts are a tad tight compared to the Hilux. I've owned both trucks, so trust me on this one. The D-Max is now far more comfortable, even for larger-framed people (like myself), especially when compared to the previous model.
Good luck!
Botchi Santos
Consumer Editor
Do you want Botchi to help you pick the right car? Send your inquiry to topgear@summitmedia.com.ph.
Artwork by Trixie Ison
[poll]596[poll]