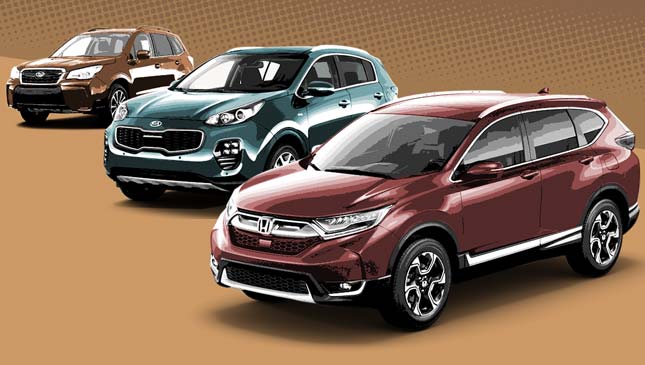 Dear Top Gear,
My parents—due to age and health—now have a harder time getting in and out of a vehicle. Our sedan requires more lifting (from the knees) when alighting, while our SUV requires more climbing (with the arms) when entering.
Attempting to have the refinement of a sedan and the utility and economy of a diesel SUV, we're now back in the market for a crossover.
Our 2005 Honda CR-V was a happy compromise of utility, comfort, looks, and some prestige but not fuel economy. We're now looking at the diesel variants of the CR-V, the Hyundai Tucson, and, just recently, the SsangYong Tivoli.
Can you help us decide or suggest alternatives which are PWD-friendly, comfortable, fuel-efficient and offer utility and prestige?
Thank you!
M
M,
Now is a great time to be looking at crossovers. Here are my top picks:
1) Mazda CX-5
Arguably the real hidden gem, the left field but intelligent choice. It is really fuel-efficient in gas or diesel form, is really roomy, loaded with safety features, and feels rock solid. It drives really well, is very responsive but also very refined and comfortable. If you have the budget, go for the top-of-the-line diesel variant, but it is mighty pricey!
2) Honda CR-V
The CR-V is probably the safest choice in this segment. It has it all: A highly efficient diesel engine, a roomy seven-seat option (I fit fine in the third-row seats for short trips), lots of safety features in the top-of-the-line SX variant, and is equally as refined as the CX-5.
It does offer slightly more comfort for some dynamic responsiveness and feel, but if ferrying your folks is the top priority, they will appreciate the CR-V more than the CX-5. It also feels roomier because the beltline of the CR-V seems lower, giving it larger side windows which makes it feel more airy compared to the CX-5, which is sleeker and somewhat sportier in feel. The diesel engine surprisingly feels adequate on the highway. It's not amazing like the CX-5's SkyActiv-D diesel engine, which is due to the CR-V's smaller 1.6-liter displacement versus the Mazda's 2.2 liters.
3) Subaru Forester
Well, the all-new one is due in a few months, so I'd wait for that. But there are very good deals right now for the current Forester as the local distributor is clearing inventory to make way for the next-gen model. The Forester is a great car, especially in XT turbocharged trim. It is very sporty, and it feels like it with a firm, responsive driving feel. It lacks some of the refinement that the Honda and Mazda have, but then again, the current Forester is almost six years old already, which is a lifetime for cars.
I'd also recommend you look at the smaller XV, but it might not have the space your parents will want if they need to get in and out of the car easily.
4) Kia Sportage
The last vehicle I'd recommend is Kia's Sportage GT in diesel trim. Had it, drove it for a week, and I loved it! It has great space inside, impressive driving dynamics, as well as a smooth and refined diesel engine. The interior, however, is still a notch below the Japanese models, and it feels a tad stiff, lacking the absolute polish again of the Japanese. It's priced fine, though, which has always been one of Kia's strengths. You should look at this just to sate your curiosity, because believe me, it should be on everyone's crossover shopping list!
With AC Industrials (formerly called the Ayala Automotive Group that distributes Volkswagen, KTM Motorcycles and owns several Isuzu and Honda dealerships) planning to take over distributorship of the brand from the Columbian Autocar Corporation, things can only improve for Kia in terms of after-sales service, parts availability and dealership network.
Ultimately, my top pick is the Mazda CX-5 because it ticks all the right boxes, drives the best, and feels so different compared to the other crossover SUVs.
But don't take my word for it. Test drive all of them and see what you prefer, and more crucially, what your parents really like!