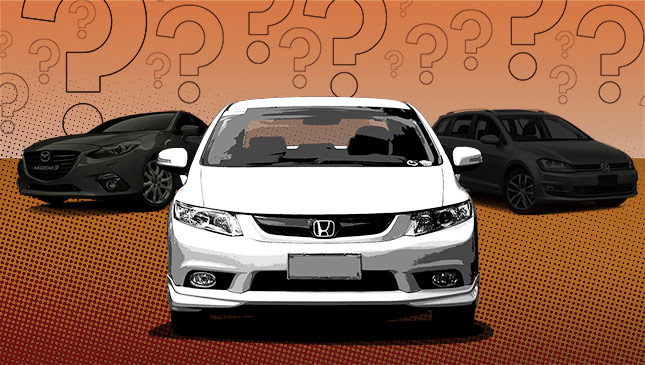 Hi, Botchi. I'm looking for a new car to replace my old Honda Civic. I work for one of the country's largest financial institutions, so I am constantly whizzing about Makati, Ortigas, and my home down south.
I'm considering the following vehicles: the Honda Civic RS Turbo, the Mazda 3 Speed, and the Volkswagen Golf GTS wagon, which piqued my curiosity. What do you think?
I drive mostly in central business district (CBD) areas, and I don't plan on using my next new car for out-of-town trips. I like the compact car's convenience in parking, which is a precious real estate in CBDs, and in gridlock traffic, as it swiftly moves. I don't find SUVs appealing, too.
Continue reading below ↓
Recommended Videos
Carlo M.
Hi, Carlo. Thanks for the email. You have a very nice selection there.
Between the Honda Civic RS and the Mazda 3 Speed, the Civic is a really good junior executive express: It's fast, refined, roomy, and very comfortable. Space inside is excellent, offering the same legroom but with a taller headroom as a '90s Honda Accord. It delivers impressive fuel efficiency and power, thanks to the 1.5-liter turbo engine. If you are going to be driving long distances, the Civic is a most excellent choice. Plus, Honda still has the best after-sales service around for the mass-market brands.
The Mazda 3 on the other hand, delivers slightly less on the rational requirements. Its interior is slightly cramped, its engine is slightly less peppy despite being endowed with Skyactiv tech), but my goodness, you can feel Mazda's sporty DNA in it! Steering is very good, brakes are very good, and suspension is very good. The car itself is very good, if it had just slightly more space (particularly in the back), and a little more power and torque (okay, maybe a lot more). Mazda's Yojin 3 program also offers free PMS for three years, so that factors away servicing cost for the short term.
But the Volkswagen GTS wagon is perhaps the best value for money. Firstly, the price is very competitive and cheaper than the Civic. The spec sheet is truly drool-worthy too, and the wagon body style adds an element of added versatility and rarity, which makes it sexy. And lastly, that gem of a diesel engine coupled with a six-speed dual-clutch transmission means you can have your cake (impressive fuel efficiency) and eat it too (overwhelming torque)! The interior is a far nicer place to be in for long distances, and German engineering is truly the best in the world.
So, my vote goes to the Golf, if you can scoop up a unit as they sell very fast.
Take care, good luck car shopping, and drive safely always!
Botchi Santos
Consumer Editor