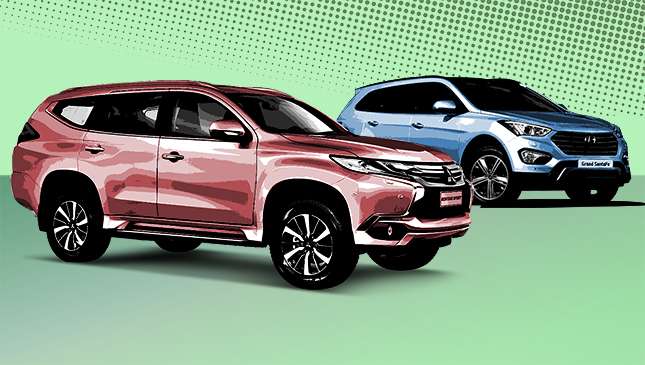 Hi Botchi,
I hope this e-mail finds you. I don't know which car to purchase. My wife is convinced of the Montero Sport GLS 2017 AT, while my choice is the Hyundai Santa Fe 2017 AT 4x2.
My criteria are of course power and efficiency, which is why I am leaning toward the Santa Fe. I am a satisfied owner of a Hyundai Accent CRDI. I've heard it has good fuel consumption both in city and long drives.
My wife's criteria are the looks of the Montero and flood-wading capability. Based on some reviews it is not as efficient as the Santa Fe.
Continue reading below ↓
Recommended Videos
I'm not quite sure about all this. I know they both come from a different leagues: one is a CUV (crossover utility vehicle) and the other is an SUV.
Can you please enlighten us regarding our next purchase? It will be this month. Can you enlighten us on which is better as it will be our first SUV/CUV?
Sincerely,
J. Soledad
Hi J. Soledad!
Hope all is well with you down south!
You are correct in saying that the Montero Sport and Santa Fe are not quite the same: one is a ladder-frame based vehicle built like a traditional truck, while the other one is a crossover, i.e. a sedan-based vehicle that has been lifted. Both types have their pros and cons.
The ladder-frame based SUV, the Montero Sport, typically has a sturdier construction, can handle more abuse off-road, and has a higher towing /pulling capacity versus crossovers. The downside is that these types of vehicles have noticeably less refinement and smoothness on the road, and don't perform as well dynamically as crossovers. They also have slightly more cramped interiors versus crossovers because the body is attached to the chassis, yet both need to be structurally stiff and solid.
In the Montero Sport's case, it is impressive out of the box off-road as I got to try pre-production versions of it in a specialized course in Japan. Even with modest all-terrain tires, the Montero Sport feels very sure-footed on rough, uneven terrain. On paved roads, it actually drives as the most car-like versus the Toyota Fortuner, Ford Everest and Isuzu MU-X.
Additionally, the Montero Sport has an impressive 800mm of flood fording depth in constant motion, and crucially, standing still. Other brands only test flood fording depth in constant motion, but rarely at a standstill where pressure begins to build up around the car and seep into the interior.
The Hyundai Santa Fe is essentially a raised /lifted sedan; it is the most car-like to drive if you added it in a field with the Montero Sport, Fortuner and Everest. It's also quite roomy inside, more so versus the Montero Sport, and is easier to get in and out of. But as with sedans, the suspension won't be as rugged and sturdy as the Montero Sport and its ilk. The upside is that it will be more refined and noticeably smoother to drive versus the Montero Sport.
However, I would recommend the Montero Sport because:
1. It is newer, and newer, from a technical point of view means it is safer as R&D was built with a higher level of safety requirement in mind.
2. It is priced better than the Santa Fe when you consider the huge discounts Mitsubishi is giving.
3. The looks are newer and thus, more fresh, versus the Santa Fe, which, while just as pretty, looks old.
4. I also feel that the Hyundai's interior looks old and dated, whereas the Montero Sport's newer and simpler interior looks classier.
As for fuel efficiency, from experience both vehicles deliver comparable fuel consumption values: Around 7km/L at worst to about 9km/L in the city, and as much as 13-14km/L on the highway or on long drives traveling at more or less 100kph speeds.
In theory, the Montero Sport has greater potential to deliver even better fuel efficiency because it is the lightest seven-seat SUV with the best power-to-weight ratio, matched to the best (in my opinion) eight-speed automatic transmission in this segment. The transmission shifts so smoothly, so seamlessly, you'd be forgiven for thinking the Montero Sport was equipped with a CVT instead of a conventional torque-converter automatic.
In this case, my choice would fall on the Montero Sport because of its better off-road ability, that excellent 2.4 liter MIVEC equipped 4N15 diesel engine and 8-speed automatic, plus the amazing price after discount.
Hope this helps! Good luck, be safe on the road, and God bless!