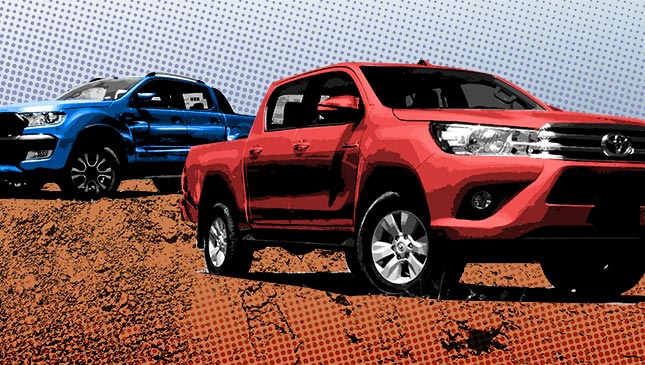 Hello!
Which pickup truck should we get?
We are looking into getting a pickup truck, and your insights would definitely be of great value. I read an article you did sometime in 2014 talking about the different brands namely:
2) Ford Ranger
3) Isuzu D-Max

5) Toyota Hilux
Would there be any difference from the points you gave then to what these trucks are now? With Nissan now in the fray with the new Navara, how does this work out?
Looking forward to hearing from you.
Best regards,
Malcolm
Hi, Malcolm,
Continue reading below ↓
Recommended Videos
Thanks for the e-mail, and I'm very sorry for the late reply. Here's what I can say about the pickup trucks:
It's a really good pickup with great power, but the interior isn't as nice as the others. I haven't had much experience with the Colorado, save for a test-drive in Cebu for a day. It seems pretty capable off-road, and the engine is amazing, if a bit noisy. It has good room, but I just dislike the interior versus the other trucks.
2) Ford Ranger
In 4x4 guise and 3.2-liter five-cylinder trim, the Ranger is the most capable off-roader in the pickup class. The terrain management software really makes off-roading as easy as A-B-C, with Ford licensing the technology from Jaguar Land Rover. Ford didn't even bother changing the rotary dial for surface/mode selection, and it works brilliantly!
On the highway and paved roads, the suspension is awful as it's too soft, squats, and nose-dives at highway speeds. And then there's the concern of Ford after-sales servicing, which is sub-par compared to the Japanese brands. Unless you are an adventurous off-roader frequenting harsh, rocky and steep terrain and will modify the Ranger extensively, I wouldn't recommend this.
3) Isuzu D-Max
Though the D-Max and Colorado are twins, their powerplants are different. The new Blue Power-equipped Isuzu D-Max is fast, fun, and crucially--very smooth, refined, and quiet. They are great under stress, which ensures they will last a very long time. They're also very fuel-efficient--perhaps the most efficient of the pickups. Interior is roomy, but not as roomy as the Hilux or Navara.
It's great value for money, and an excellent all-arounder. It looks good (for me at least), and great power can be had from the 4D56 and newer 4N15 engines. But off-road ability and individual wheel articulation/suspension drop isn't as good as the other pickups. If you plan to do a lot of off-roading through extreme rocky and steep terrain, the Strada isn't the best choice unless you modify the suspension. It's best suited for highway, overlanding and long-distance driving because it is very fuel-efficient.
5) Toyota Hilux
This is perhaps the single most desirable pickup in the segment. It looks good, and has an excellent engine and transmission. It touts great features, a differential lock at the back, and extensive aftermarket support. The main problem of the Hilux is that it's expensive and has a crushingly harsh ride on the highway and paved roads. We own one, and while it's fast, fun and decently capable off-road (only the Ranger beats it convincingly here), I want to modify ours with a better suspension (Tough Dog, Dobinsons Suspensions, or Old Man Emu) and tires, plus extra power to make it more capable and comfortable. It's a great base to modify, but crucially for a lot of people, it has the best, most well-made interior of all the pick-ups-- this makes it a great place to be in during long drives.
Here's a wildcard entry. This is perhaps the smart choice: well-priced, well-equipped, capable on and off-road, and has the best ride in the group, thanks to a proper multi-link rear suspension instead of the traditional live-axle rear design.
Despite the multi-link rear suspension, the Navara retains its over one-ton cargo bed capacity and over one-ton towing capability. I've driven it in fine sand in Paoay in Ilocos, and through the Sahara Desert in Northern Africa. The Navara was simply mind-blowing!
This is the most bang for your buck choice, especially if you want to keep it stock. The seven-speed transmission also gives it amazing flexibility, a relaxed highway cruise, and aggressive acceleration.
Of course, you might be asking now why I didn't pick the Navara when we got the Hilux. The Hilux was a family car, and my very conservative folks opted to get a Toyota because of their perception that the brand (not the product) was better than Nissan. That's how it is. But remember, perception is not reality. Try them all out and get feedback from owners before making your decision.
Good luck!