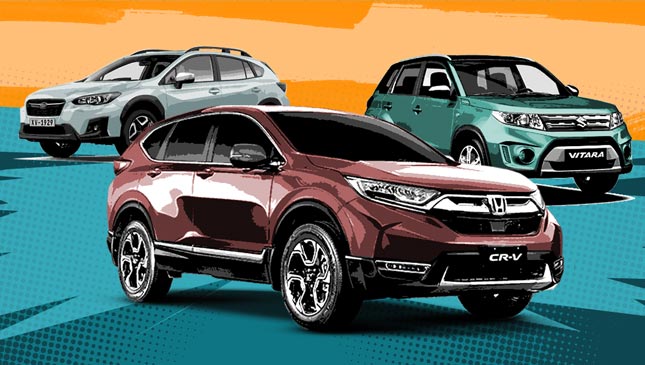 Hello, Botchi! I need your advice. My family and I will buy a car in a year or two from now, but I'm already doing some research. We are just a family of three, and I stand at six feet. I do most of the driving, mostly city driving.
We have at least decided that we want an SUV (compact or subcompact) because of the higher ground clearance. We really don't need a seven-seater. My three choices so far are the Suzuki Vitara GLX, the Subaru XV (without Eyesight), and the Honda CR-V. These are the criteria that I look for: value for money, safety, fuel efficiency, after-sales service, and cost of parts.
I feel that the Vitara has the most value for money but it's kind of small for my frame. I really want the XV but I've heard that it's not fuel-efficient, and that its parts and service are really expensive. We've been a Honda user, but the CR-V is the most expensive among the three. Should we wait more and save some more to get the best car and not just settle for the Vitara? I'm really confused. Your thoughts, please. This is much appreciated.
ADVERTISEMENT - CONTINUE READING BELOW ↓
Cheers,
Stevie
Stevie, thanks for sending us an e-mail. A crossover SUV is definitely the way to go nowadays given how versatile they are. They're roomy and has tall ground clearance, yet they drive like a normal sedan without that heavy cumbersome feel of a traditional ladder-frame SUV. I haven't tried the Suzuki Vitara yet, but given that you already find it small, I suggest going one size larger.
The Subaru XV would have made for a great choice, but I agree that major body, air-con, electrical and suspension parts can be expensive when bought from the dealer. The PMS and other wear and tear parts can easily be sourced outside of the dealer network, though, so no worries there if you are keen on getting the XV, which I also like very much.
I like the Honda CR-V a lot, but I've only tried the SX variant with the 1.6-liter diesel and the nine-speed DCT transmission. I love that a lot. Not very powerful or punchy, but very smooth, refined and roomy inside. Interior and driving feel-wise, I would think the gasoline variant would drive the same.
Now, I suggest you look at two vehicles to add to your list. Both come from Mazda's stable: the CX-3 and the CX-5.
My wife drives a base model CX-3 with a front-wheel drive six-speed automatic. Power is more than adequate at 148hp and 192Nm of torque. The front seats are okay, roomier than a Suzuki Vitara's, but it's the rear seats that can feel a tad cramped if you sit in the back, given your height. I'm at 5'10" and I find sitting at the back a bit claustrophobic on long drives. But up front, I'm more than okay.
ADVERTISEMENT - CONTINUE READING BELOW ↓
Recommended Videos
My only gripe with the CX-3 is that even for a crossover, it rides a bit low. I'd have wanted at least another inch of ground clearance, but it's very fuel-efficient and affordable to own. My wife gets about 9km/L in the city, and we go on regular out-of-town trips to Tagaytay, where we get anywhere from 15-17 km/L on the highway. The Yojin 3 package means free three years of PMS, save for wear and tear parts like brakes, battery and tires. The CX-3 2.0 FWD AT retails for P1,290,000, which is a good price considering the technology and efficiency it packs.
My brother and sister-in-law got the larger CX-5, but with the same 2.0-liter SkyActiv G gasoline engine and they love it, too. Everything is like our CX-3's, except for more room inside, and less fuel efficiency in the city. According to them, they get about 6.5-7km/L in the city, but on their regular out of town trips, they can get as high as 16.5km/L on the highway driving at the speed limit, which is very good, rivaling even diesel-engined SUVs.
Mazda's SkyActiv technology really works, and we are believers of it. The CX-5 Pro 2.0 FWD AT retails for P1,650,000, which is slightly more expensive than the CR-V, but in my honest opinion, unless you are getting the diesel CR-V, the slight price increase is worth it.
The Honda CR-V and the Mazda CX-5 are quite big, but a bigger car will always be more comfortable due to the longer wheelbase, a more refined ride on the highway, and better NVH insulation because it is more upmarket.
ADVERTISEMENT - CONTINUE READING BELOW ↓
I hope this helps. Good luck!
P.S. Subaru is unveiling the all-new Forester in a few months, so check that out, too!