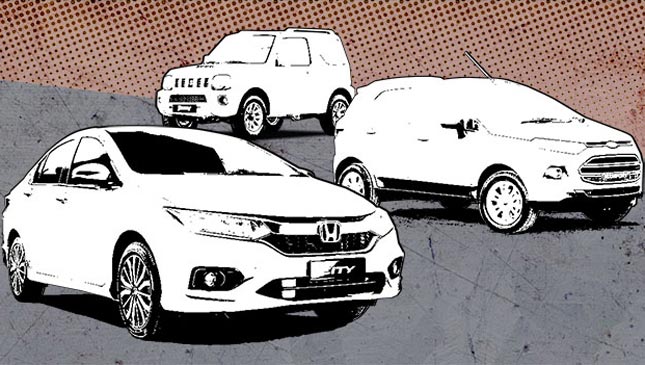 Hello!
I am about to buy my first brand-new car, but I feel that I am bound by our current market offerings in terms of cost and the features that I'm looking for.
Here are the features that I am considering:
1) Fun to drive.
This is the reason why I prefer a manual transmission in a world filled with automatics. It's also why the Mazda 2 made my list despite being an automatic hatch.
2) With high ground clearance.
No to MPVs, please. This is the reason why I am considering the Ford EcoSport Trend MT despite the problems I've heard in terms of the aftersales service. Does it have the same problems as other owners encountered with the DCT variant?
3) Price should be 1M and below.
4) Easy to maintain and with good aftersales.
I am quite surprised that there are very few options in my chosen segments that offer a manual transmission these days. When I searched the Internet, I only saw the only Ford EcoSport, Hyundai Tucson and Suzuki Jimny (all in the base or mid variant).
The Honda HR-V could have made my list, despite being a little higher than P1 million, but I dislike the CVT. The Jimny is quite small and off-roading is not my priority. I just want a higher ground profile for driving comfort and a little versatility for our imperfect roads.
With that, I feel that I'm left to the EcoSport Trend MT (does the MT variant lack power, too?) and the Hyundai Tucson MT (is it easy to maintain?). I'm not confident with what I'm hearing about Ford aftersales as well as the Korean brand.
Is it okay to pick the Ford EcoSport Trend MT? Or is it worth it to sacrifice the SUV-like profile and just settle with the Mazda 2 hatchback? Is there something else that you can recommend that I missed on my list?
I drove a Mitsubishi Lancer 'Egg Type' during my college days, and this will be the only time I will own a car again out of my own hard-earned money. Picking the right one is really important to me. I would really appreciate your advice. Thanks in advance!
Regards,
KC
Hi KC,
Thank you for the e-mail, and apologies for the late reply.
To be honest, I can't think of a single car that fits your requirements of being fun to drive, having a manual, and costing below P1 million.
There are a ton of manual transmission-equipped cars in the market, especially below P1 million. There are a ton of fun to drive vehicles below P1 Million, too. But honestly, the only vehicle I can think of that fits your requirements is the Honda City E which comes with a 1.5-liter engine and a manual transmission. Unfortunately, it's the fleet-spec variant, so it doesn't have a lot of the fancy interior gadgets found in the higher-end City variants.
But why did I pick the City? For starters, the engine is a real gem. The 1.5-liter engine delivers a very good 120hp and 145Nm of torque—this is probably one of the best, if not the best, in the segment (bested only by the Ford Fiesta's 1.0-liter EcoBoost engine).
Coupled with a slick-shifting five-speed manual, the City brings back memories of Honda Civics from the golden years of the late '80s through the early '90s–only this time in a smaller, lighter, more fuel-efficient, and safer package. And just to let you know, you can get as much as an additional 20hp with a good intake, exhaust and a custom tune session by reflashing the OEM ECU. I've done it myself on my wife's car and it really wakes up the performance!
There's also the suspension: It rides very well, and handles surprisingly nicely out of the box. It obviously won't corner flat like a go-kart through the turns (at this price, nothing will), but it manages its weight and transfers them through all four corners very well. The electric power steering is light, but offers very good feel, accuracy, and feedback. It's easy when you're not in the mood, but game when you're looking for some fun.
Lastly, there's the space inside. The folding seating system gives it amazing flexibility and versatility. By folding/dropping the seats and opening up the trunk, you can carry surprisingly large objects inside.
Aftermarket support is extensive: engine bolt-on parts, suspension, wheels, tires, lighting, even bodykits. Many of the unseen parts are shared with the Jazz, and ASEAN countries like Thailand and Malaysia have extensive aftermarket parts for it.
The Ford EcoSport is slow. Pitifully slow. I wouldn't consider it being anywhere near fun. So it's definitely a no for me. It's practical, capable, and can carry a surprisingly large amount of stuff in its boot and has a high ground clearance. But it's really slow. Getting up to speed on the highway, or going up inclines is a real challenge in the EcoSport.
The Jimny, surprisingly, is not a very fuel efficient car if you do a lot of highway driving. This is because of its barn-door aerodynamics and low gearing. That's what every Jimny owner I met has told me. It's best suited for off-road trails, more than anything else. And it's also slow. Plus it's really tight inside (I'm 5'10" and weigh 210lbs with a 38-inch waistline, so pardon me if I find it tight).
So for me, given your criteria, the Honda City is the only car I can wholeheartedly recommend.
Good luck! Don't just take my word for it and test drive all the cars you are considering. What might be okay for me might not be good enough for you!