No law prohibits a homeowner from putting a No Parking sign at the gate to his property facing a public road. You may put such a sign on your gate, but that does not necessarily mean that the driver of the parked car will be issued a traffic ticket for illegal parking.
A No Parking sign is not required and no driver shall park a vehicle, or permit it to stand, whether attended or unattended, in any of the following:
Places where parking is not permitted at all times:
In front of any private or authorized driveway
All national roads in Metro Manila
Within six meters of any intersection
Within four meters of driveways or entrances to any fire station, hospital, or clinic
Within four meters of a fire hydrant
On the roadside of any legally parked vehicle (double parking)
On a pedestrian crosswalk
On the sidewalk, path or alley not intended for vehicular traffic or parking
At the foot or near bridges.
It is important to know that for all other areas to be declared a No Parking Zone, there must be a law, an MMDA regulation, or local government ordinance declaring it a No Parking Zone. In addition, a No Parking sign is required to be posted. For private property such as private residential subdivisions, condominiums, industrial estates, or shopping malls, a No Parking sign must be posted for other places not in the list above.
Continue reading below ↓
Recommended Videos
The Land Transportation and Traffic Code, Republic Act No. 4136 (1964), assumes that all licensed drivers passed their driving test and know the nine items listed above. As such, there is no requirement for No Parking signage to be erected in the nine places listed above. In case there is a No Parking sign in any of the nine places listed above, it is a superfluous recitation of a statutory prohibition.
MORE ON CAR AND MOTORING LAWS:
PH lemon car buyer wins case, local dealership ordered to replace defective unit at no cost
How do vehicle lemon laws work in the Philippines?
If the gate to your property is not "in front of any private or authorized driveway" such as a gate only for pedestrians, then the area facing the road may be a parking zone. In which case, putting such a sign on the gate will not necessarily mean that the driver of the vehicle will be issued a traffic ticket for illegal parking.
In short, the Code assumes that the licensed driver knows the parking prohibition in the nine places listed above. Furthermore, the licensed driver is assumed to be proficient in reading and interpreting traffic signs, signals and road markings. 
In crafting a No Parking sign, keep in mind that road signs are an essential part of the road traffic system; their message should be concise, meaningful, and consistent, and their design and placement must be coordinated with the road geometric design.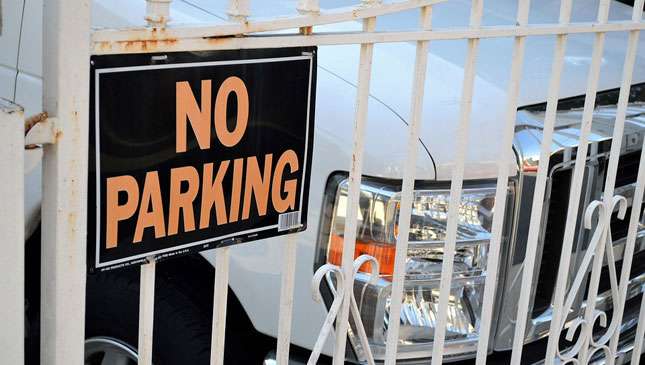 We need to stop the verbose fine print on tarpaulin materials hoisted up to serve as regulatory signs, warning signs, and informative signs. Plus, traffic signs shall not bear any advertising or commercial message, or any other message that is not essential to traffic control.
The Department of Public Works and Highways (DPWH) has issued the Road Signs and Pavement Markings Manual (the 'Manual') to establish and maintain a standardized system of signs and pavement markings on all roads in the Philippines by incorporating internationally accepted standards and practices.
According to the Manual, the use of symbols on signs to convey all or part of a message may reduce reading time and extend legibility distance. The Manual contains common standard symbols, including arrows, symbolic representation of legends, and location destinations. 
OTHER STORIES YOU MIGHT HAVE MISSED:
People in Singapore are now paying upwards of P3.85-M for the right to buy a vehicle
Fatima Avenue in Valenzuela City has been pedestrianized, and it looks awesome
In the interest of uniformity, local government units, traffic management and enforcing authorities, project managers, and homeowners must apply the requirements of the Manual on signs and pavement markings.
In case a car still parks in front of the homeowner's driveway despite the No Parking sign facing a public road, the homeowner can demand that a traffic enforcer remove the illegally parked car. In addition, the traffic enforcer must issue a traffic ticket to the driver for illegal parking.
As a last resort, the homeowner can file a criminal case against the driver of the illegally parked car for the crime of "unjust vexation" under the Revised Penal Code. Such a crime involves any human conduct which, although not productive of some physical or material harm, would unjustly annoy or irritate an innocent person. It is unjust vexation when the car driver's act of illegal parking causes annoyance, irritation, torment, distress or disturbance to the mind of the homeowner.