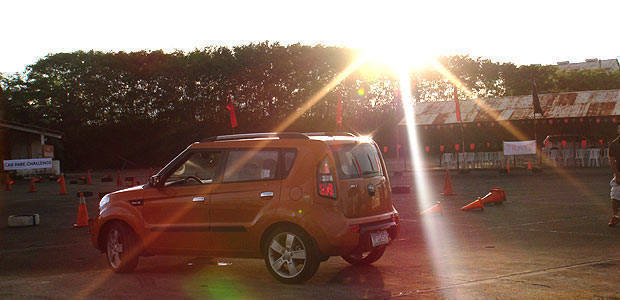 Among the many challenges in building a car, I believe the hardest is infusing character into it. The Koreans have already addressed the issue of quality, with the Chinese providing a boost in perception by way of comparison. The only thing missing was for them to add that element that would elevate their vehicles from ho-hum to hell yeah. Then
they unleashed the Kia Soul
.
By naming their new car Soul, Kia was already taking a risk. It would have been ironic if the new car had a name like that and had the personality of a toaster. But the Soul isn't bland, not even a little, not even at all.
At first sight it's visually arresting. An aggressive front end instantly breaks away from any previous design language Kia had--if they had any. The front leads to a compact square body with big wheel arches and a rear that looks like a space ship.
And it gets wilder. Higher variants get features that aren't normally available as showroom options, or even as aftermarket add-ons. A wing spoiler juts out of the rear deck, the fuel lid cap gets a metallic finish, roof rails lie on top of the car waiting for gear to be strapped down, vicious-looking alloy wheels hunkers down under the wheel wells, and one of the most surprising options I've ever seen in a car sprouts on its metal skin-body graphics that resemble tattoos.
The pitfall of most avantgarde exterior designs is the interior that doesn't live up to the hype. The Kia Soul doesn't suffer from this pitfall, far from it. Have you ever seen a red dashboard offered as stock equipment? Ever seen speakers light up in synch with the music? An iPod integration so intuitive you can figure it out in minutes?
In terms of exterior and interior design, the Soul is already hitting a home run. What about how it drives? Kia's confidence in their product showed in the driving conditions they subjected their car to during its media introduction. A pleasant drive to Subic via the SCTEX and a day at the Subic International Raceway gave us a thorough feel of the Soul's driving capabilities. Sadly it is here that the Kia disappoints.
While stability felt good at up to 140kph on the expressway, the 2.0-liter engine grunts (and not in a macho way) when you try and coax more out of it. Although I have to say we were fully loaded at that time, five people and overnight luggage. And a surprise greeted us when we saw the gas tank after driving from Manila to Subic: half the fuel tank's contents were gone. This is one thirsty Soul.
The price of the Soul isn't cheap (wordplay is too easy with this car). It starts at P1.17 million for the LX manual model, to P1.22 million for the LX automatic model, and finally P1.32 million for the EX automatic variant. But for what you pay, you also get a lot of automobile. The design is eye-catching without being ugly, and the interior is loads of fun and relatively roomy. The driving experience and fuel economy can use some improvement, but it's not enough to be a deal breaker.
There's a larger significance to this car. By coming out with the Soul, along with its very ambitious media introduction, Kia heralds a new chapter in its history. They now build cars that you want, not cars you feel compelled to buy. The bar on fun cars has been raised, now it's the Japanese who have to catch up.
ADVERTISEMENT - CONTINUE READING BELOW ↓