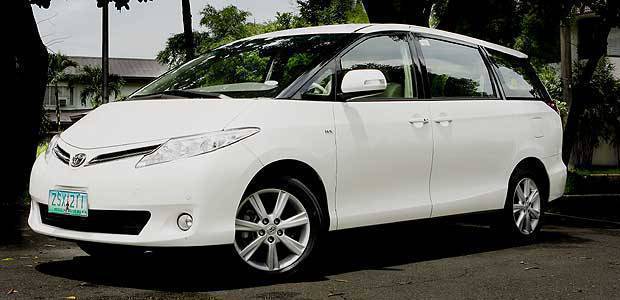 If pride had let me before to say I'd prefer walking to driving a two-million-peso, soccer-mom minivan, I must now eat my words. I was young and idealistic, and haven't yet driven the Toyota Previa-an excuse you'd likely buy should you get to try it, too.
I was in possession of the recently facelifted Toyota Previa 2.4 Q variant the weekend of a planned trip with some pals, and so decided to take over transportation duties. My friends circled our shiny weekend toy and proclaimed it awesome, by virtue of the fully automatic side and back doors, proximity-sensing power door locks, and engine start button. Also well-received was the car's appearance; the Toyota Previa, especially its front end, has benefited much from the design refresh. It now looks like a more credible rocketship than before. The new rims, in particular, are better matched to the general look compared to the previous snowflake design.
ADVERTISEMENT - CONTINUE READING BELOW ↓
More than the improved exterior, however, it's still in the drive experience that you'll get half your money's worth. The 2.4-liter, 170hp engine with VVT-i paired with a four-speed auto tranny, is very willing and responsive. True, watching the fuel gauge needle drop to empty made for a short program when I was driving in the city, but the highway mileage figure I got was definitely over 10km/L based on what I spent on fuel.
And it wasn't like the car had it easy. I heartily abused the Sport mode, manually toggling between gears during uphill overtaking. And even in the slower-moving traffic of busy provincial towns, I was relentless in dodging tricycles and pedestrians. The car-like maneuverability and all-around sensors made bumper-to-bumper driving almost idiot-proof.
Now, for the rest of your two million: If the Toyota Previa works hard, it's the opposite for its passengers. The nifty conversation mirror would've been handy if there were conscious people I could actually talk to. At least that proved how comfortable the seats were. Those in the middle row were extra-lucky, with the extending leg rests of their captain seats. The comfort-biased suspension of MacPherson struts and torsion beam fore and aft lulled them to a deeper slumber.
ADVERTISEMENT - CONTINUE READING BELOW ↓
Recommended Videos
Meanwhile, I was struggling for consciousness. The sci-fi-inspired cockpit-with its center-mounted gearshift and high-tech (therefore confusing) temperature controls-is still missing one crucial thing: an auxiliary input jack. This car being a Toyota, faux wood also expectedly adorned most surfaces-including half of the steering wheel, making it hard to grip with sweaty palms. So there I was with a Good Morning towel slung around my neck, looking like a jeepney driver behind the wheel of a luxury minivan. So not classy.
For what you get, though, the Previa is a good investment. And it's not because of age or a fall into anarchy that I reverse my judgment on it. A fun-to-drive factor combined with luxurious appointments make this car recommendable to road-trip enthusiasts who can afford it.