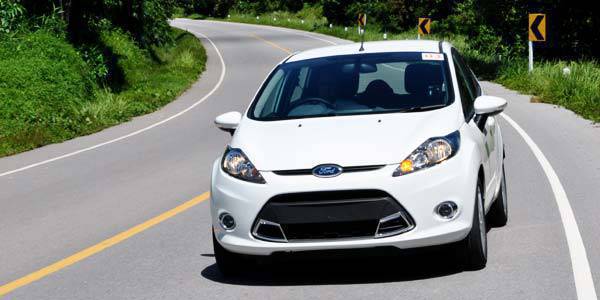 If you give Ford's current baby a try, it will engage all of your senses and jolt some enthusiasm into you. This observation was made as my photographer Mikko David and I were cruising the highways of Phuket, Thailand well above the legal speed limit. Now, before scolding us for being reckless motoring journalists out to do a remake of Cannonball Run, do note that we were merely keeping pace with our police escort. There were moments that the daredevil cop hit 180kph, and being the obedient lads we are, we just put the pedal to floor and kept up. Does that mean we broke the law? From inside the cabin of the Fiesta it sure didn't feel like we were. Legalities aside, at that kind of speed cars in this segment often behave in a manner detached from the road. Sometimes, engines struggle at full throttle while pushing against a dense wall of air, and the sensation of speed is amplified because of weird noises and vibrations. That, I'm afraid, is not a good thing in a subcompact car. But with the Fiesta S that we were driving there was no need to worry at all.
ADVERTISEMENT - CONTINUE READING BELOW ↓
Planted and secure, the Fiesta inspires confidence despite its size. What Stefan Muenzinger (who is responsible for how Ford's B-cars drive) said during the briefing earlier in the day was true--the folks at Ford engineered the Fiesta to deliver the best ride possible. Naturally there will be differences in tuning depending on where you are in the word, but what remains certain is that all across the globe, Fiesta owners are grinning in delight.
The six-speed Powershift dual-clutch gearbox is more playful and aggressive than that found on the larger Focus. Combined with the 1.6-liter engine and lithe body, the Fiesta will remind you that driving is supposed to be fun. Not many cars in this segment can boast that.
One time, big time
Internet sensation and gymkhana ambassador Ken Block drives one. In numerous rally series in Europe the car is quickly gaining popularity as the competition vehicle of choice. In ESPN's X Games, it even makes appearances. Is this little car a global superstar or what? You bet it is, and aren't we glad that the Ford Fiesta is finally available locally.
ADVERTISEMENT - CONTINUE READING BELOW ↓
Recommended Videos
Being the first product created under the One Ford program, it is proof that it is possible to manufacture a car that has global appeal. The thought was unheard of. After the iconic Volkswagen Beetle, it was foolish to think that a single car can cater to the tastes and needs of a worldwide audience. But the world has changed. With the advent of the Internet, we have all become connected. Information can be downloaded in a flash. Tastes are converging. Everybody is in the know. Given our global environment, it only makes sense that the vehicles we chose should be inspired by that concept of interconnectivity.
Let's connect, then
Like a fashionable mobile phone, the Fiesta's interior not only looks like a gadget geek's dream, but its interface will make occupants want to get involved. The sculpted (yet organic) dashboard not only looks good, but is easy to use. The Sport version takes it up another level because it is equipped with Voice Control technology. You can talk to the Fiesta to control your mobile phone (which pairs up to the car via Bluetooth), or change the radio stations or music tracks. Effortless, and pretty cool.
ADVERTISEMENT - CONTINUE READING BELOW ↓
A reason to celebrate
None of the Fiesta's features mean a thing if owning one will be a pain. Good thing that the Fiesta's maintenance costs are 32-percent lower than its closest rival. There is also a 24-hour Parts Guarantee for 54 selected parts (that include vital engine, driveline, brake, and suspension components) so should your Fiesta go in for repair, work in the garage will be quick.
The best part is the Fiesta's price. It starts at P670,000 for the 1.4L sedan with a manual transmission and tops off at P816,000 for the Sport version with all of the bells and whistles.
The attention this car is getting isn't because of the hype. It's because Ford has created a very unique car that can please even the most discerning customer. It doesn't matter where you are because a car that is a hoot to drive will be recognized the world over. But please, future Ford Fiesta owners, do be mindful of the local speed limits.
ADVERTISEMENT - CONTINUE READING BELOW ↓