Considering how little love hatchbacks get here in our market, it's definitely a relief that there are still a few five-doors being sold here.
Two good examples are the Honda Brio and the Toyota Wigo, arguably among the most dominant offerings in the segment right now. While they're not exactly exhilarating hot hatches, their measly size and relatively small price tags have enabled these pint-sized city cars to thrive in a pickup- and crossover-heavy market like ours over the years.
OTHER STORIES YOU MIGHT HAVE MISSED:
Fortuner GR-S vs. Everest Titanium+: Which top-spec SUV is better off-road?
Report: Toyota Rush might shift to a front-drive platform soon
Now, we know what most of you might be wondering about: Which of these is the better hatch? Well, in order to find out, we took the top-spec variants of these two sensible hatchbacks to pit them against each other in a proper test. On the one hand, we have the Honda Brio 1.2 RS priced at P735,0000 for the Black Top spec, while on the other, we have the Toyota Wigo 1.0 TRD S AT stickering for P700,000. Which of these do you think will come out on top?
Styling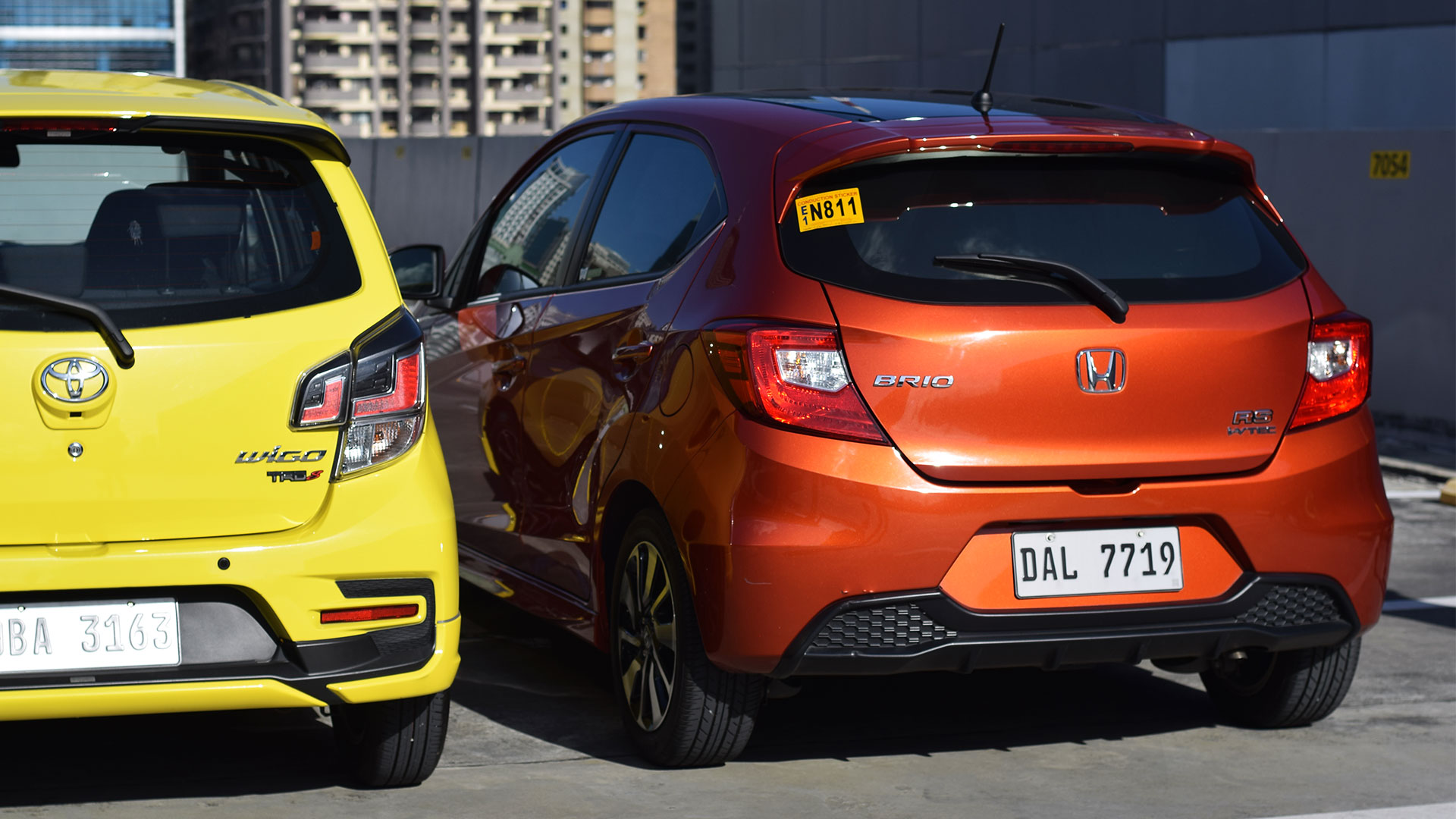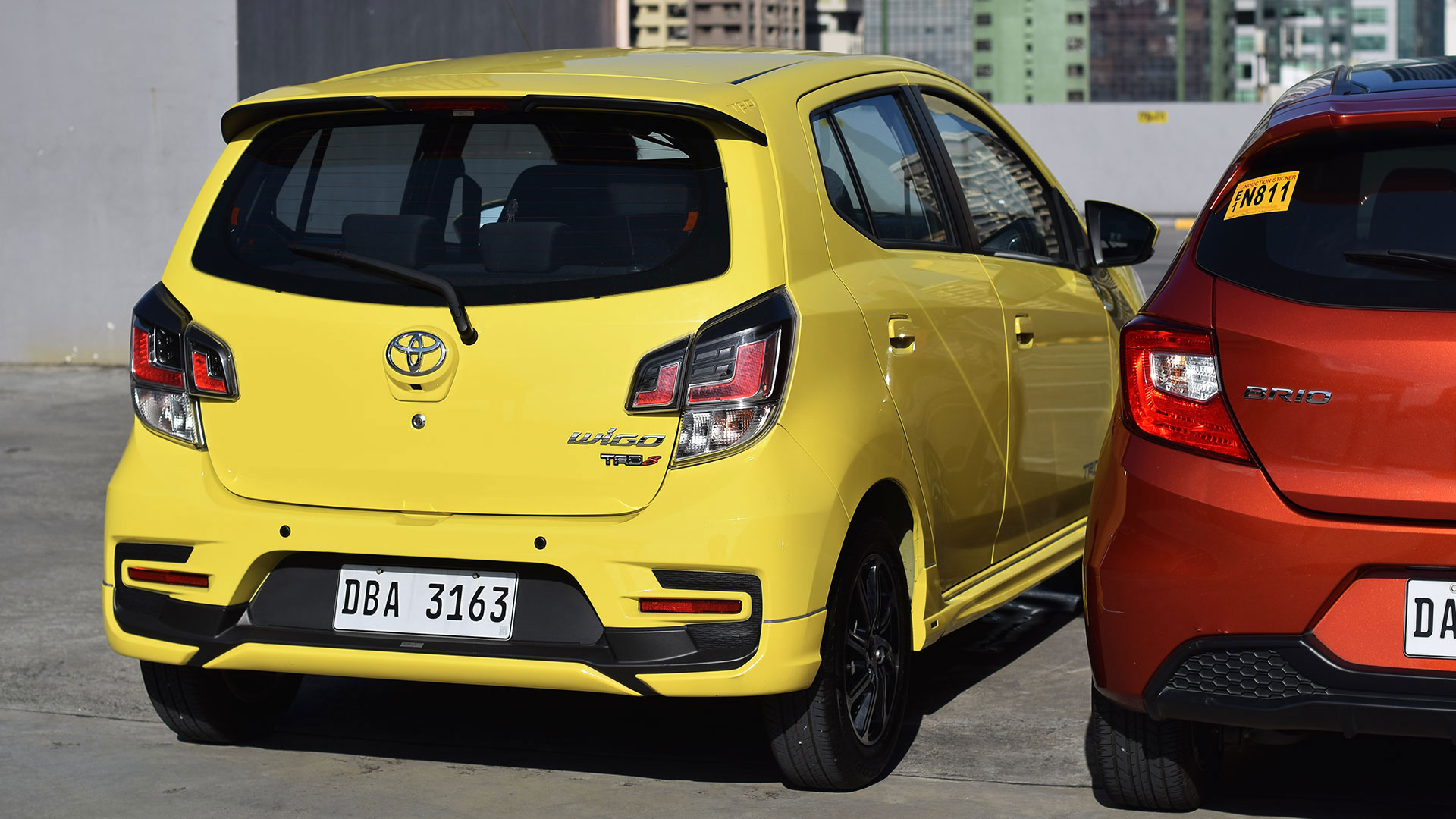 Leandre: Frankly, the Wigo has the more aggressive-looking design, but I prefer the Brio's smoother and simpler look. I find the overall shape of the Honda much more appealing, and I think its front end plus that blacktop give this little hatch a lot of character. Besides, when put beside this all-new Brio, the current Wigo—essentially a facelift of a facelift—feels a bit dated in terms of looks.
Drei: RS or TRD? This is really a matter of personal preference. Between these two hatchbacks, though, I'm going to have to give the point to the Honda.
While both offerings look noticeably more energetic than their 'standard' counterparts, I much prefer the Brio's more subdued styling. That, and...well, even the non-RS units convey a vibe that's larger than the car's actual dimensions suggest.
I won't fault someone for choosing the Wigo TRD, though, especially if what you're after is a louder presence. Again, this is really a matter of taste.
| | | |
| --- | --- | --- |
| STYLING | Honda Brio | Toyota Wigo |
| Leandre | 5 | 4 |
| Drei | 5 | 4 |
| Total | 10 | 8 |
Interior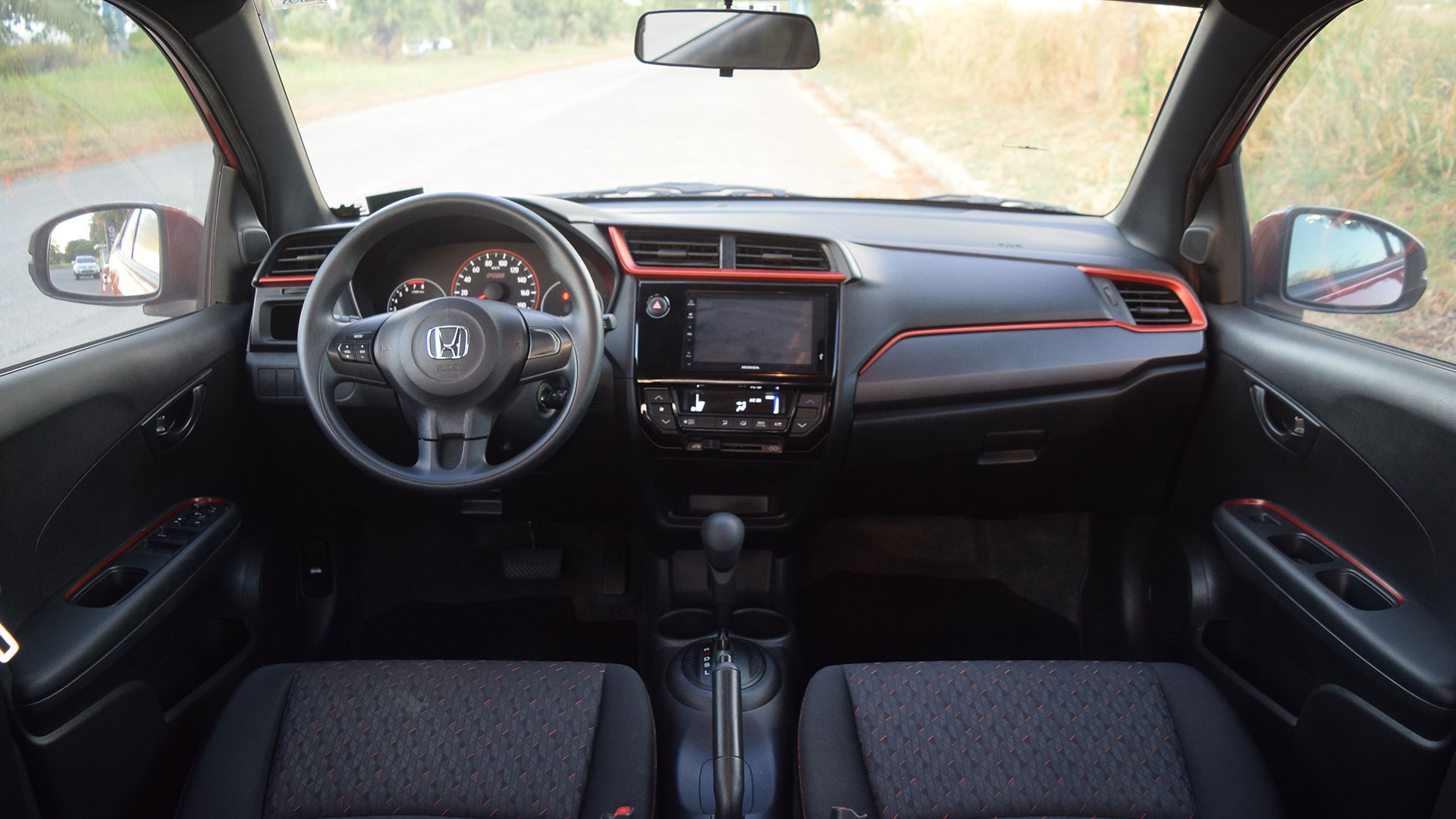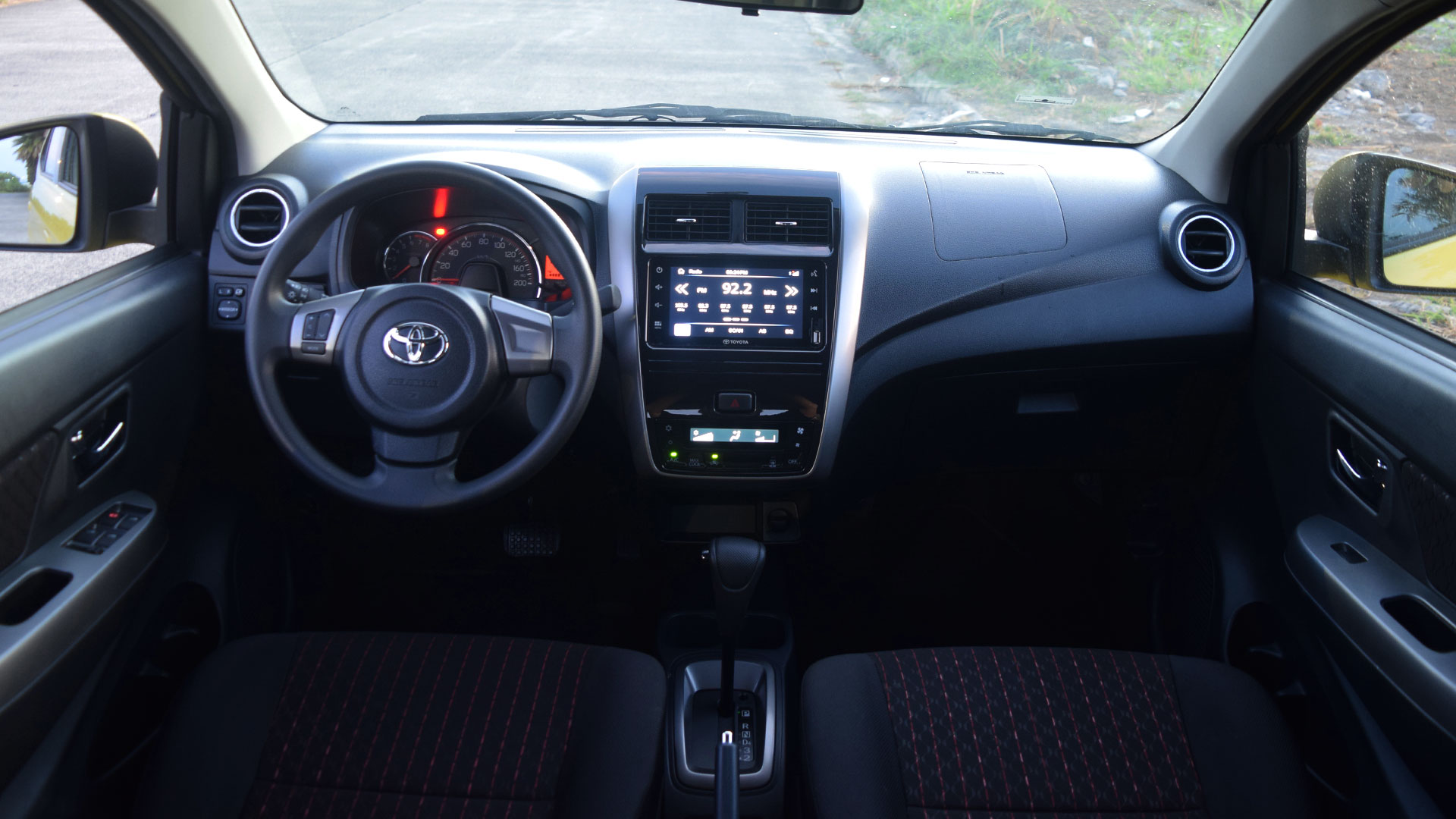 Leandre: These two may be top-spec variants in their respective lineups, but they're still entry-level hatchbacks in our market, so I probably wouldn't call either of these interiors impressive. Plastic dashboards and side panels, fabric seats—you know the drill. That being said, despite the lack of premium bits in either cabin, I still find the inside of the Brio a bit more pleasing versus the Wigo.
The orange interior accents, including those on the instrument cluster, add some style to the hatch. Plus, the seats of the Brio feel slightly comfier than that of the Wigo, so I really have to give the win in this department to the Honda.
Drei: The Brio is the winner here. Hands down.
The Honda's cabin just feels much more modern than what's found inside the Wigo. The dashboard and the instrument cluster are much nicer, and the minimalist appearance helps convey a clean vibe without making things seem bare. The seats also feel more supportive. Toyota's cabin is perfectly serviceable, but it's much more apparent that you're driving an entry-level hatch in the Wigo.
Again, what's in the Wigo is fine given the price point, but Honda does a much better job at covering up the fact that you're in the brand's most affordable offering.

| | | |
| --- | --- | --- |
| INTERIOR | Honda Brio | Toyota Wigo |
| Leandre | 5 | 4 |
| Drei | 5 | 3 |
| Total | 10 | 7 |
Engine performance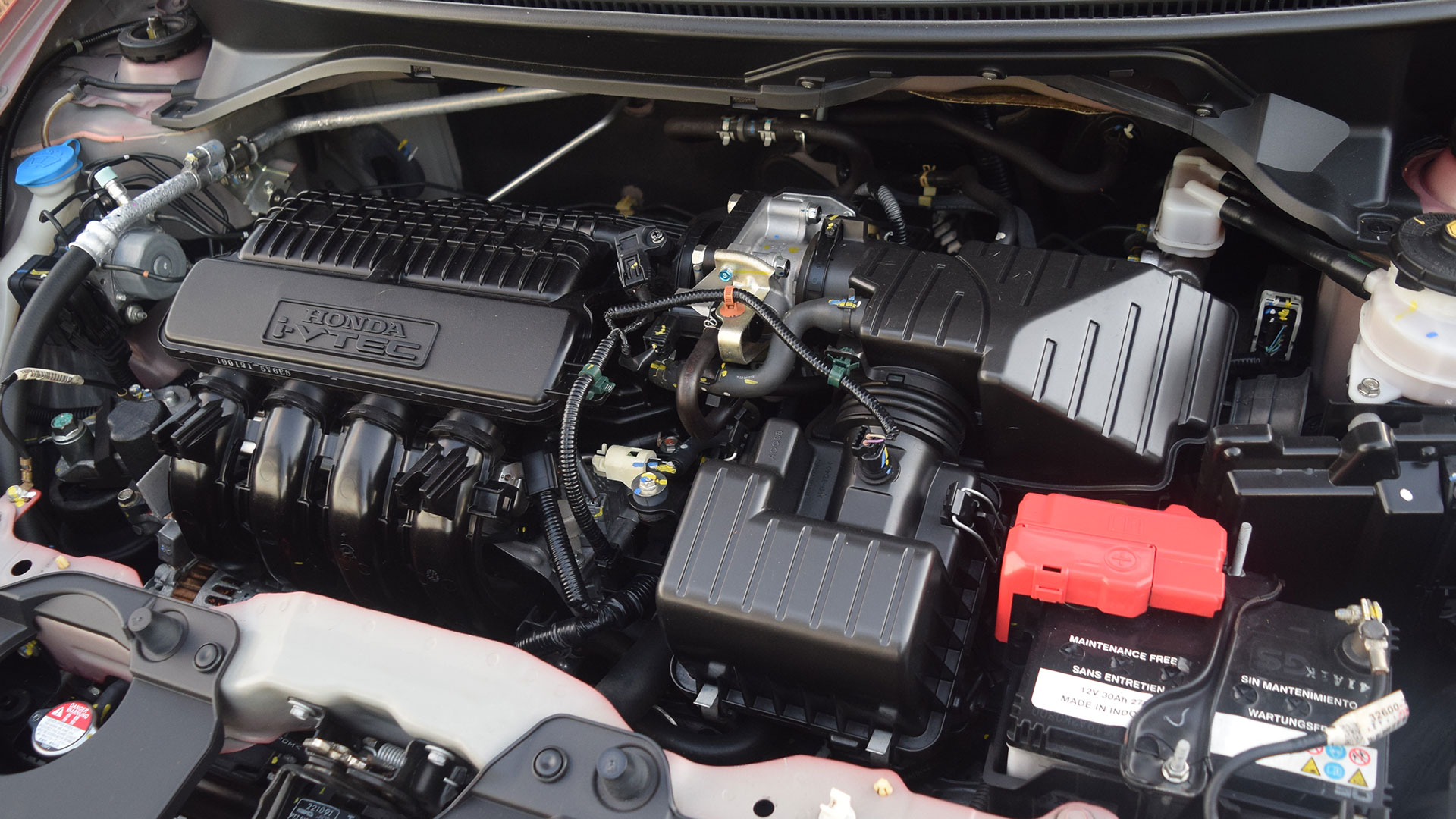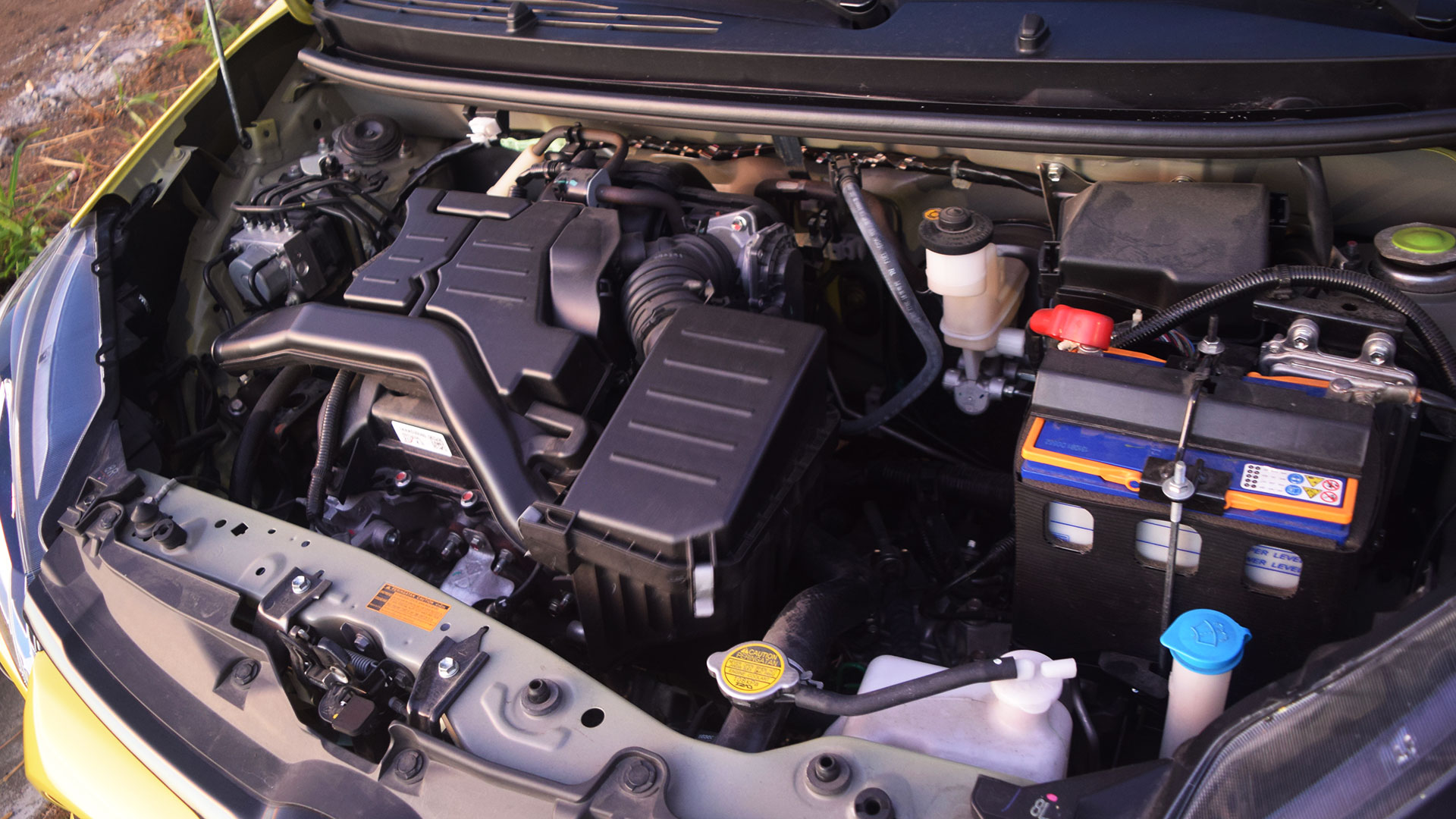 Leandre: This one almost feels like a no-brainer. The 1.2-liter four-banger on the Brio feels much more potent and engaging to drive than the Wigo's 1.0-liter three-cylinder engine. You could say the latter is the more practical option between the two so it should be the better pick, but I would beg to differ.
I got about 19-20km/L on the Brio driving through the South Luzon Expressway, while the best I got with the Wigo along the same tollway was about 23km/L. For me, that difference in fuel savings isn't enough to go with Toyota's slightly more fuel-efficient powertrain. Granted, the gap may be more significant in pure city driving, but I'd rather have the Brio's engine here just so I'm sure my hatch has more than enough oomph even when loaded with passengers and cargo.
Drei: Don't expect much from either car in terms of outright speed, as both come with small (albeit respectable given the segment) engine options. We won't recommend filling either vehicle to capacity, either, as you're definitely going to feel the constraints of your budget if you do so.
The Brio edges the Wigo, however, thanks to its larger 1.2-liter gasoline engine. It puts out 24hp and 21Nm more than the Wigo's 1.0-liter three-cylinder, and this is especially noticeable when ascending the steep parking garage we shot the vehicles in. It also feels like it has more pull carrying a load than the Toyota, and it's quieter, too.
| | | |
| --- | --- | --- |
| ENGINE PERFORMANCE | Honda Brio | Toyota Wigo |
| Leandre | 5 | 3 |
| Drei | 4 | 3 |
| Total | 9 | 6 |
Ride and handling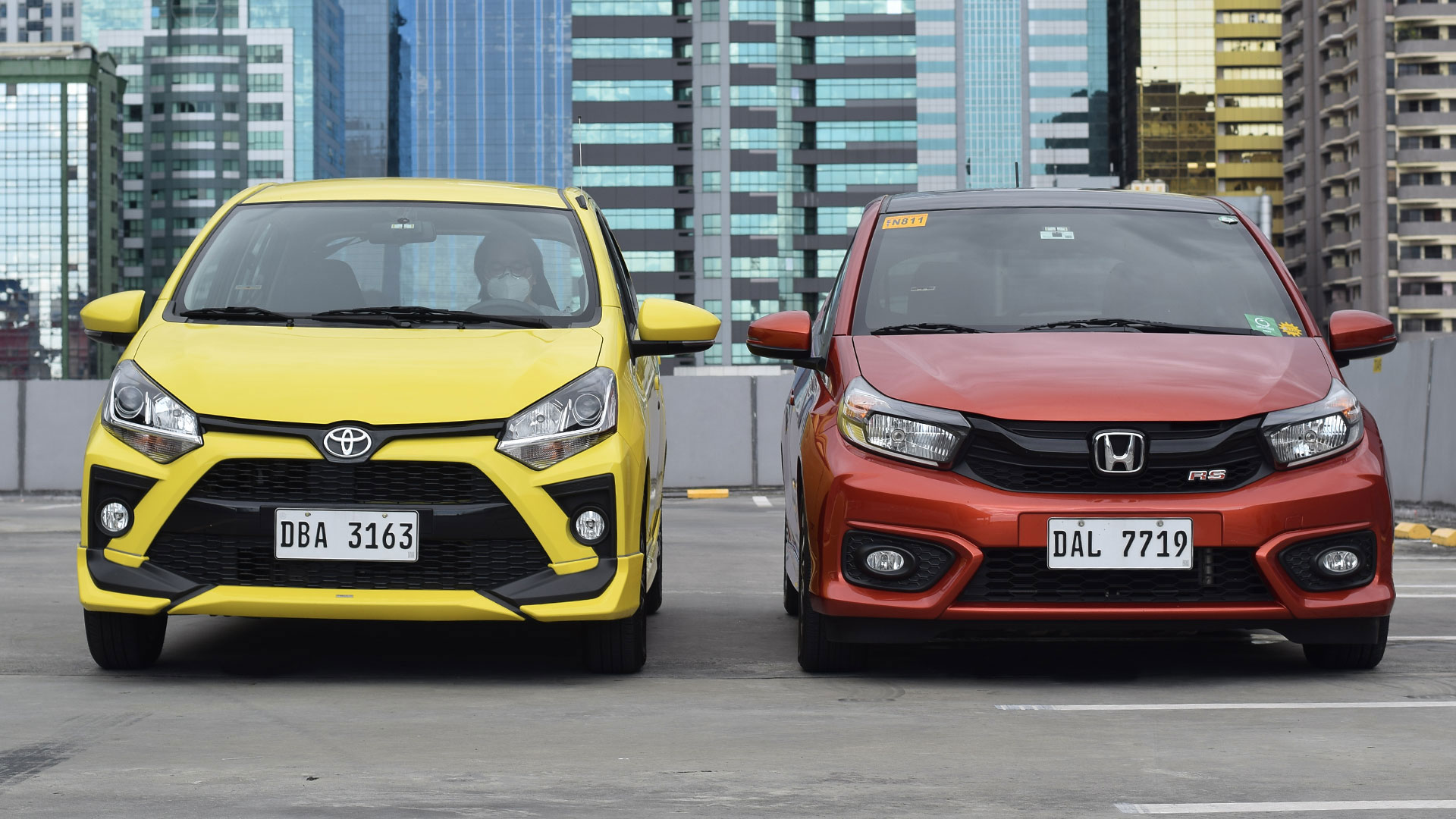 Leandre: A longer wheelbase, a wider body, and a lower stance—in theory, this would equate to better handling, and in the case of the Brio, it shows. Pair that with the more powerful engine and you've got something that's easily more fun to drive than the Wigo. Plus, the Brio absorbs bumps on the road more proficiently and boasts better sound insulation, which are things I look for in small city cars like these two.
Drei: I'm kind of torn here. In terms of handling, the point goes to the Wigo. Both cars have a minuscule turning radius and are very maneuverable given their compact footprints, but the Toyota's steering wheel just has a better feel to it and is more responsive. It makes the car's performance feel zippy at times—something I didn't experience behind the wheel of the Brio on account of its handling leaning more toward ease of use than anything else.
While you won't want to run over anything other than small bumps and holes in either car, the Brio is more comfortable to be in. Not because of the suspension, mind you, but because of the NVH suppression, which is simply much better than inside the Wigo where engine noise and rattle are much more apparent. It's so noticeable in the Wigo, in fact, that the rearview mirror can be difficult to look at as it's constantly shaking as you drive.
| | | |
| --- | --- | --- |
| RIDE AND HANDLING | Honda Brio | Toyota Wigo |
| Leandre | 4 | 3 |
| Drei | 4 | 3 |
| Total | 8 | 6 |
Extra features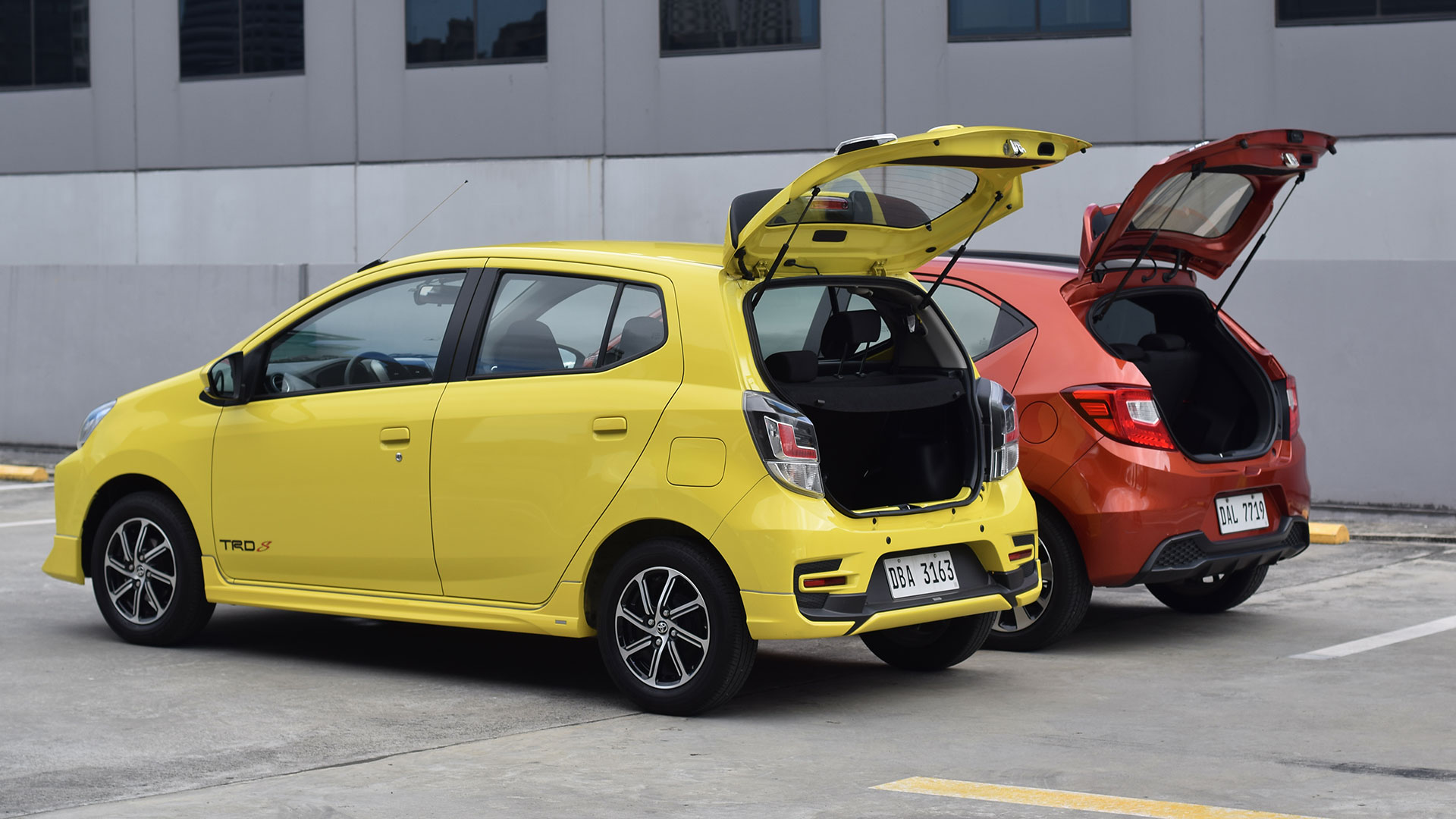 Leandre: In other segments, Hondas are usually more tech-loaded than Toyotas. This time around, that doesn't seem to be the case. The Wigo clearly has more added toys, with push-to-start ignition, an Apple CarPlay- and Android Auto-compatible infotainment system, and a reversing camera with rear parking sensors, none of which you'll find in the Brio. For this one, the Wigo gets the points.
Drei: Aesthetically, I like the Brio's head unit more. The plastic and the screen are nicer, and the infotainment system is interface is easier to get a feel for. Ultimately, though, I'm giving the win to Toyota here on account of the Wigo coming equipped with Android Auto and Apple CarPlay compatibility. That, and the Toyota comes with push-to-start ignition whereas the Honda doesn't.
| | | |
| --- | --- | --- |
| EXTRA FEATURES | Honda Brio | Toyota Wigo |
| Leandre | 4 | 5 |
| Drei | 3 | 5 |
| Total | 7 | 10 |
Verdict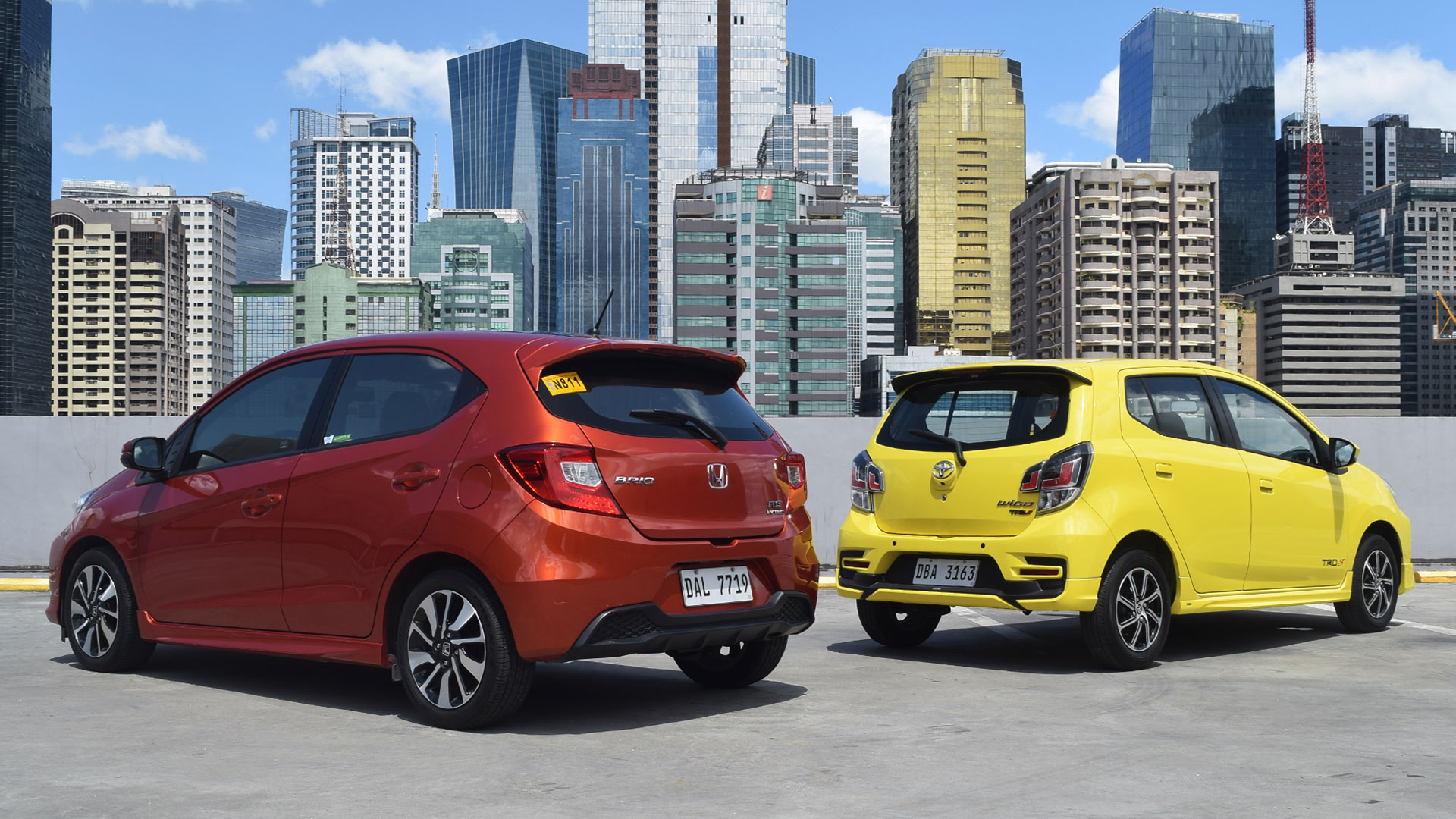 It's a pretty close one, but in the end, the Brio emerges as the better top-of-the-line hatch here. It has a better design, packs a more powerful engine, and offers a more exciting experience from behind the wheel. Yes, the Wigo does get some nifty added tech, but the Brio is just simply the more enticing package overall.
Of course, this package is also the more expensive one. It's P35,000 pricier than its competitor, and that's a very significant amount when we're talking about cars at this price point, so those on a budget will surely be more inclined to opt for the Wigo.
Either way, you'll still be getting a decent hatch that has everything you'll ever need in an everyday city car, so there's no straight-up right or wrong choice here. Anyway, what do you think, folks? Share your two cents about this comparo in the comments, and tell us what cars you'd like to see in our next Big Test, too.
| | | |
| --- | --- | --- |
| VERDICT | Honda Brio | Toyota Wigo |
| Styling | 10 | 8 |
| Interior | 10 | 7 |
| Engine performance | 9 | 6 |
| Ride and handling | 8 | 6 |
| Extra features | 7 | 10 |
| Total | 44 | 37 |
SPECS: Honda Brio 1.2 RS Black Top
Price: P735,000
Engine: 1.2-liter gasoline I4
Power: 89hp @ 6,000rpm
Torque: 110Nm @ 4,800rpm
Transmission: continuously variable
Drive layout: FWD
Seating: 5
SPECS: Toyota Wigo 1.0 TRD S AT
Price: P700,000
Engine: 1.0-liter gasoline I3
Power: 65hp @6,000rpm
Torque: 89Nm @4,400rpm
Transmission: 4-speed automatic
Drive layout: FWD
Seating: 5