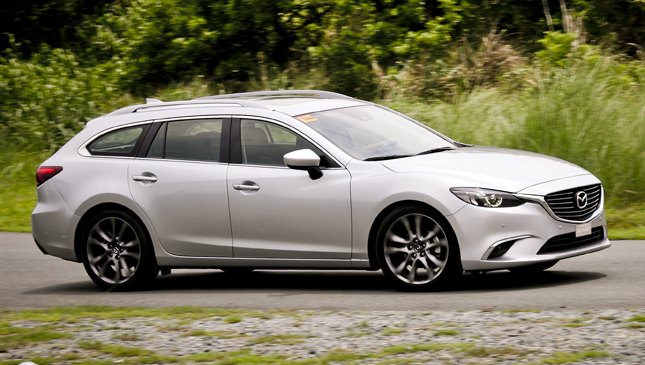 The Mazda 6 has won so many awards and citations over the past few years that it enters this comparo as a favorite. And yet this isn't exactly the Mazda 6 that we all know. That distinctively slinky sedan has been chopped down into a five-door body that sits somewhere between an 'estate' and a 'fastback.' It sounds strange, but it works, and the Sport Wagon loses none of the curb appeal of its sedan brethren in the process. Unfortunately, the swoopy roofline and integrated sunroof limit headroom compared with the Levorg, and a wheelbase 80mm shorter than the sedan's makes for legroom a few fingers short of the Subaru.
ADVERTISEMENT - CONTINUE READING BELOW ↓
Yes, the Mazda is a full size wider than the Subaru, and you can feel it when navigating through traffic. The low seating position also makes judging the corners of the car trickier. Thankfully, the 6 has four-corner parking sensors that stay active at low speeds--great for navigating tight parking lots. And that low seating position makes you feel more connected to the car.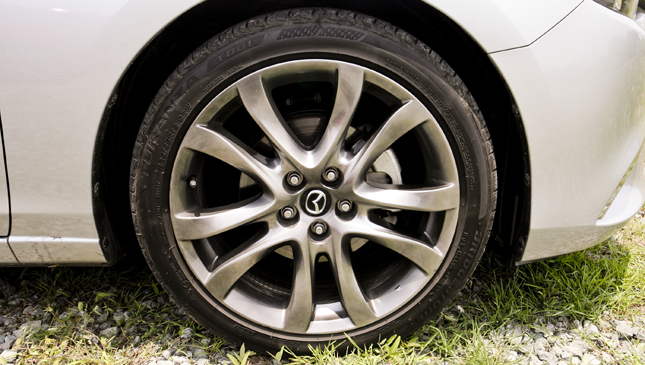 ADVERTISEMENT - CONTINUE READING BELOW ↓
Recommended Videos
The electric steering is much more tactile than the Levorg's, tipping into corners with a deft touch. It's not as communicative as the sizzling hydraulic steering of 6 models of old, but it's still a cut above the competition. And despite a stiff setup, the suspension handles potholes and bumps with aplomb. Proper damping and pliant suspension bushes mean that rough roads don't rattle backseat passengers at all. Handling is delightfully spry, though tight hairpins do expose a lack of outright grip compared to the Subaru. Still, the Mazda is more entertaining than you would ever expect a large wagon to be.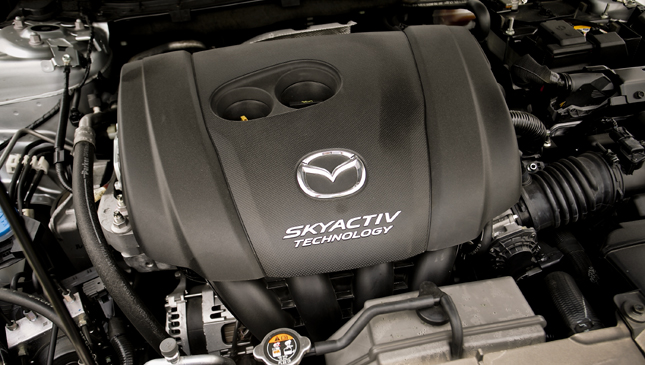 ADVERTISEMENT - CONTINUE READING BELOW ↓
The 185hp high-compression, direct-injection 2.5-liter SkyActiv mill is a bit clattery at startup. While it quiets down once warmed up, it growls every time you give it some stick. It's more responsive than the turbocharged 1.6-liter in the Levorg, despite needing a few more revs to really pull. But once it gets going, it's much quicker than the Subaru wagon.
In Sport mode, the perfectly weighted gas pedal and the six-speed automatic respond to prods of the pedal with snappy downshifts and near-instant acceleration. In Normal mode, the pedal is heavier, actively pushing back against your foot to encourage you to slow down and save fuel.
The 6 features the same touchscreen and control dial as on the Mazda 3, and a kick-ass sound system with excellent bass reproduction and clarity. There's an electronic parking brake, too, to save space, though given how much fun the 6 is, it's a shame it doesn't have a traditional handbrake.
ADVERTISEMENT - CONTINUE READING BELOW ↓
Yes, it's that kind of car. It's a shame we don't get a potent turbocharged all-wheel-drive variant.
SPECS: MAZDA 6 SPORT WAGON
Engine: 2.5-liter DOHC I4
Transmission: 6-speed automatic
Power: 185hp @ 5,700rpm
Torque: 250Nm @ 3,250rpm
Seating: 5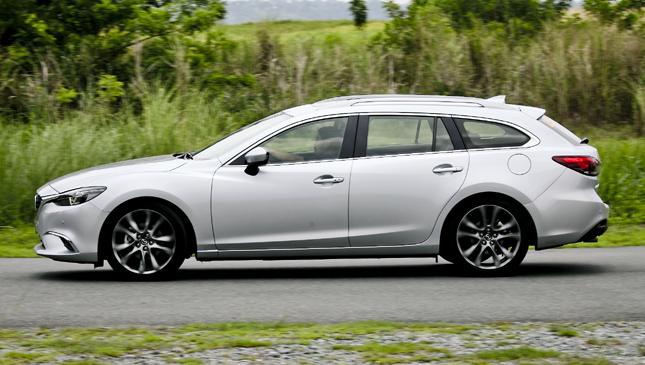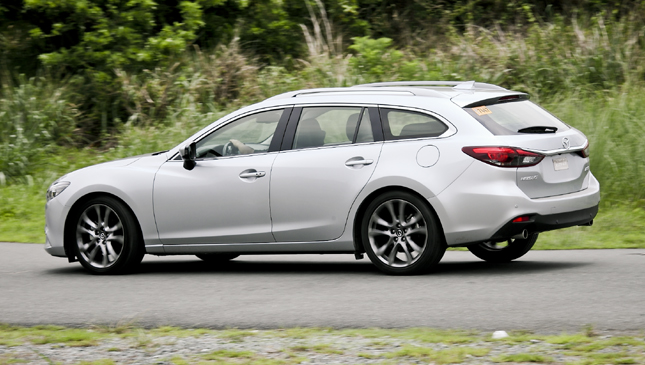 ADVERTISEMENT - CONTINUE READING BELOW ↓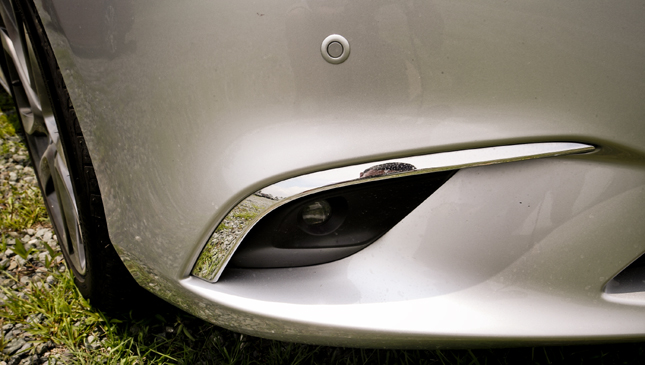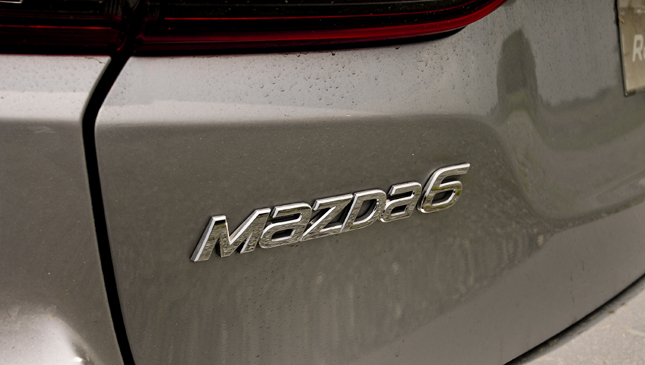 ADVERTISEMENT - CONTINUE READING BELOW ↓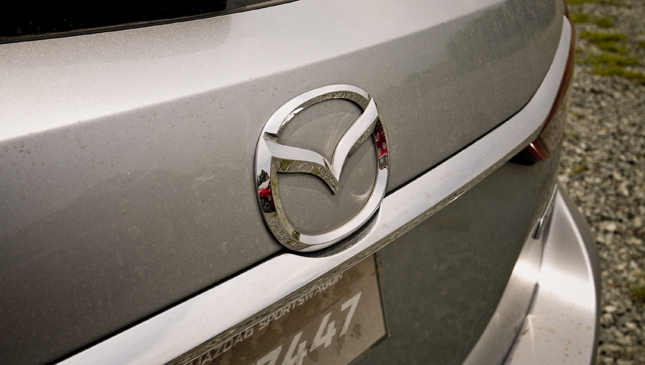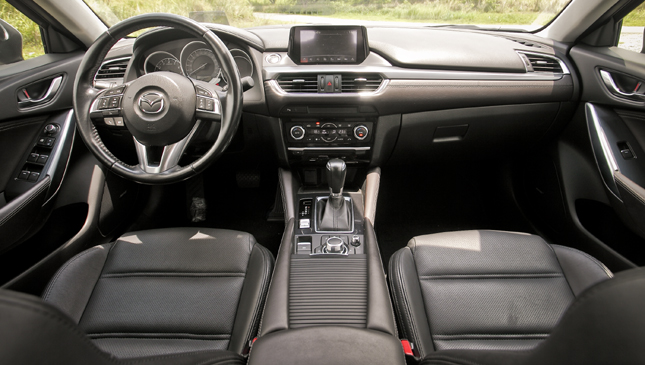 ADVERTISEMENT - CONTINUE READING BELOW ↓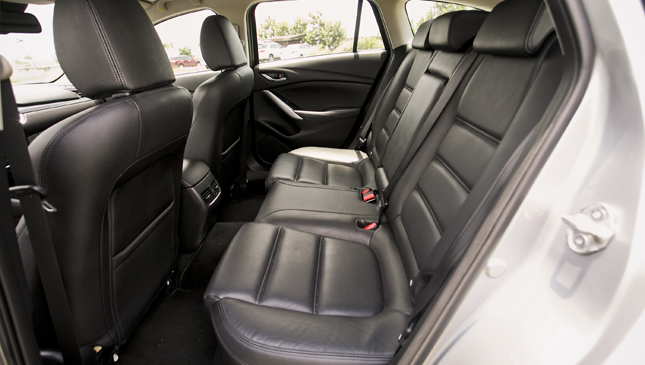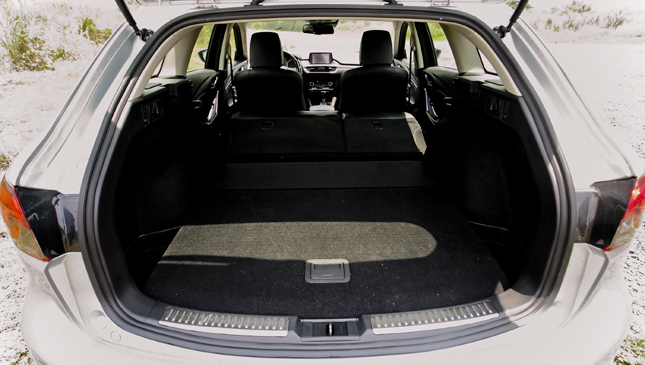 ADVERTISEMENT - CONTINUE READING BELOW ↓
UP NEXT: Subaru Levorg
[previous|page|next]
Levorg. It rolls off the tongue like an exotic nugget of Japanese technophilia. Yet the shiny red Subaru featured here is really is a throwback to the fourth-generation Legacy. While not as low or as wide as the current Legacy or the Mazda 6, the Levorg is a pert, attractive shape.
ADVERTISEMENT - CONTINUE READING BELOW ↓
The interior is all Subaru: symmetrical details, a multiplicity of data screens, and gadget bins galore, with six (yes, six!) USB ports to boot. There's more soft-touch material than in the WRX, mated to lovely polished woven-silver accents. Blue-stitched leather and blue-lit gauges are more subtle than the Rex's in-your-face red accents, whereas the compact flat-bottomed steering wheel still hints at excitement lurking around the next bend.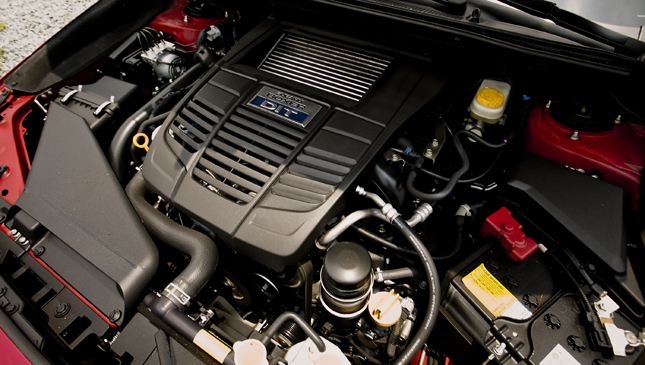 ADVERTISEMENT - CONTINUE READING BELOW ↓
Off the line, the turbocharged 1.6-liter can feel a bit tepid. It takes a few moments for the tiny turbo to transition from no boost to mo' boost. Once in motion, however, there's a lovely lump of torque from 2,000rpm to 5,000rpm. In Intelligent mode, the continuously variable transmission slurs smoothly up to speed. Sport mode gives you virtual gears for your virtual pleasure, but even at full attack, acceleration is eerily silent and undramatic.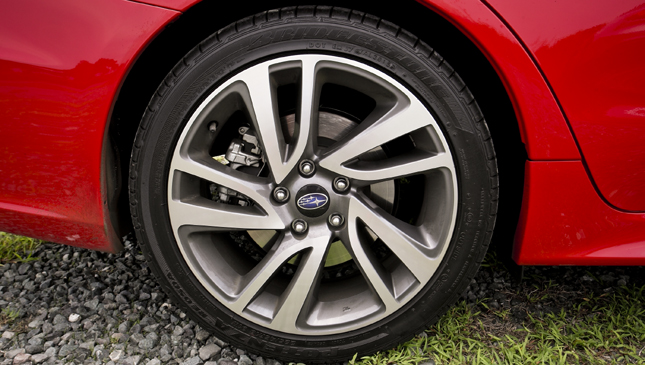 ADVERTISEMENT - CONTINUE READING BELOW ↓
Though the powertrain may be muted, the handling speaks volumes. WRX-spec front-end suspension geometry and symmetrical all-wheel drive make the 1,563kg car feel lighter on its feet than the lighter Mazda 6.
On the downside, the Levorg's bespoke rear suspension feels a bit compromised. Stiff springs matched to comfort-tuned rear dampers make for a rocking-horse motion over undulations uncharacteristic of a long-wheelbase car. Impacts with potholes can feel a bit harsh versus the Mazda.
Then again, as a rapid, premium-level estate, the Levorg is a fine effort. The ride is more composed and comfortable than the WRX's. Tall glass and a low beltline result in exceptional sightlines. The rear seats feature several levels of recline, and the rear squab is higher and longer than in the Mazda (they're still both a bit short), while providing much more knee room. And with the deep and tall cargo bay, you won't find yourself straining to see out back, even with a trunk full of kitchen appliances.
ADVERTISEMENT - CONTINUE READING BELOW ↓
Also impressive is the suite of electronics included in the package. The new blind-spot and cross-traffic alert system prove useful in chaotic EDSA traffic, the blinking light and a buzzer helping us avoid collisions with lane-splitting scooters. The neatest accessory here, however, is the Auto-stop system. While not as sophisticated as Mazda's, it helps the Levorg achieve 8-10km/L in traffic, depending on conditions.
But are economy, technology and practicality enough to earn the Levorg the win here?
SPECS: SUBARU LEVORG GT-S
Engine: 1.6-liter DOHC H4
Transmission: CVT
Power: 168hp @4,800-5,600rpm
Torque: 250Nm @ 1,800-4,800rpm
Seating: 5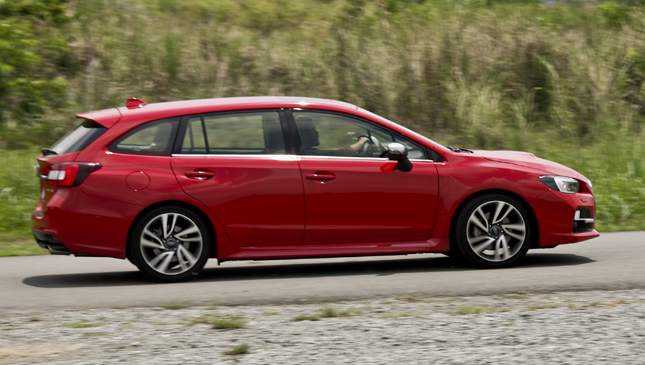 ADVERTISEMENT - CONTINUE READING BELOW ↓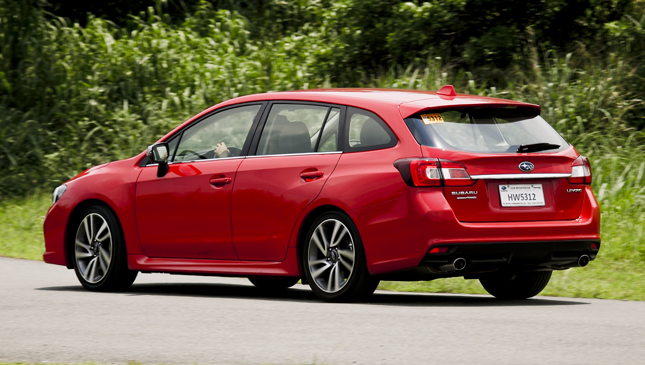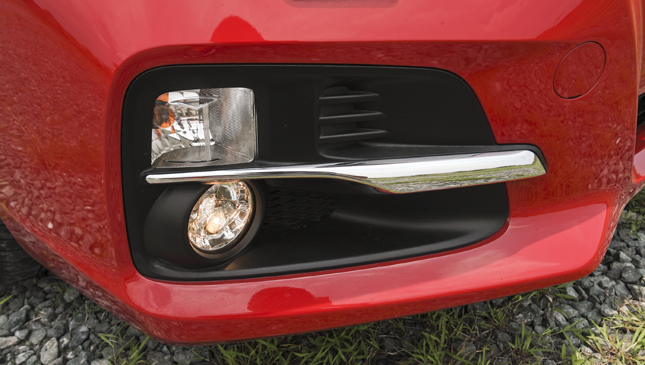 ADVERTISEMENT - CONTINUE READING BELOW ↓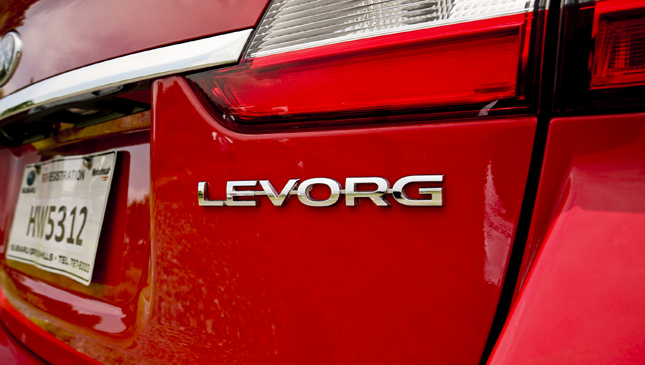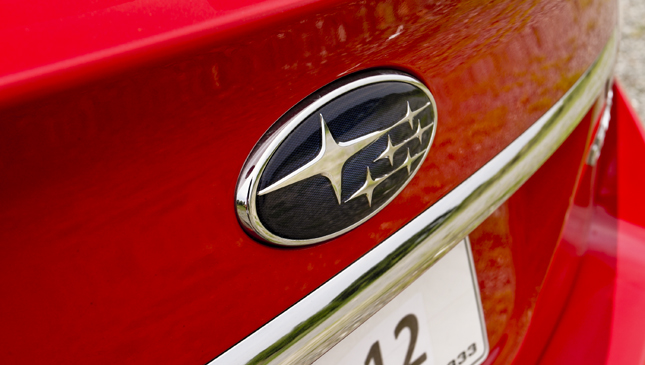 ADVERTISEMENT - CONTINUE READING BELOW ↓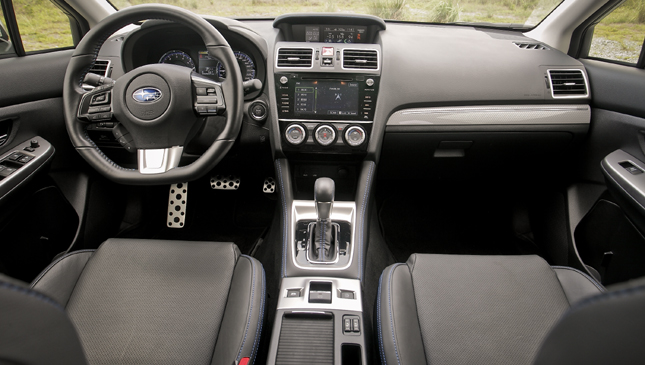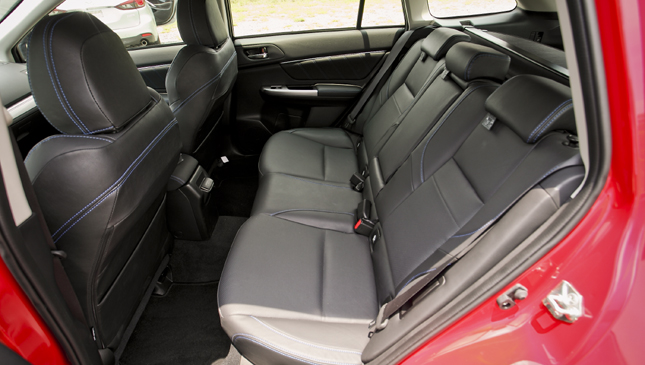 ADVERTISEMENT - CONTINUE READING BELOW ↓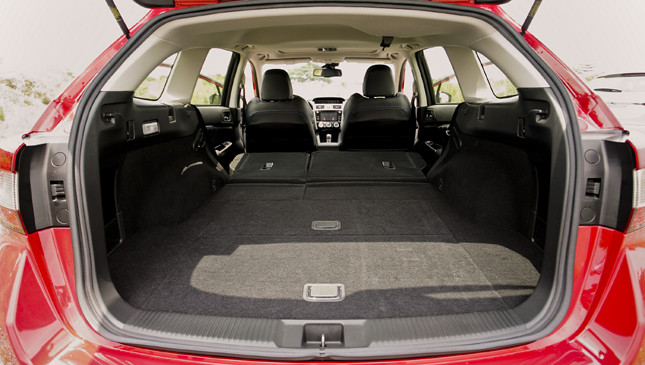 UP NEXT: The Verdict
[previous|page|next]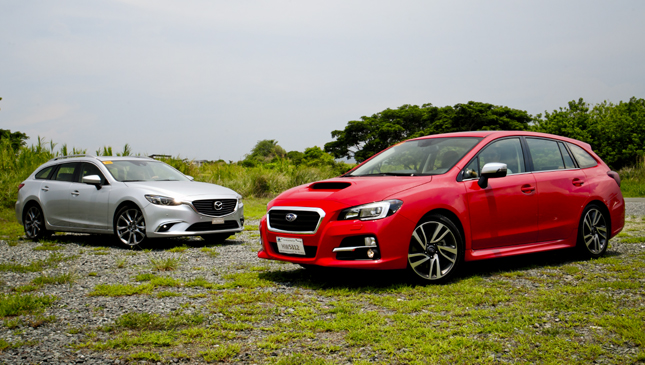 ADVERTISEMENT - CONTINUE READING BELOW ↓
The Levorg is yet another hit for Subaru. It boasts incredible space and utility for its footprint. And for those who want WRX-level styling and dynamics without the attendant harshness, it comes pretty damn close. All that's missing is a little more power.
But while the Levorg is arguably the superior package in this comparison, there's just something about the Mazda 6. Both cars wow you with their fuel-saving and driver-assist technology, but the Mazda goes the extra mile when it comes to driver involvement. The Levorg is fantastically sharp, and also makes no bones about its digital origins. The Mazda 6, on the other hand, does its best to simulate the analog driving experience. There's an organic feel to your every interaction with the car, and while it ultimately finds itself more traction-limited on a challenging piece of road, it revels in that challenge in a way the Levorg can't.
ADVERTISEMENT - CONTINUE READING BELOW ↓
And once the road opens up, the 2.5-liter SkyActiv engine sings its praises of the petrol gods, with an appetite for revs and speed that the dinky 1.6-liter DIT can't match, either. Beyond that, the Mazda pips the Levorg in terms of material quality, sound insulation, and bump isolation, feeling more like the luxury car both aspire to be.
In the end, these cars are extremely niche propositions, chosen by those who desire wagon style over SUV practicality. Yet both provide crossover-level space in lower, more agile packages. I'm sorely tempted to give the win to Subaru for making more concessions to family use, and Subaristas will undoubtedly lap it up, whatever the result here. But in the end, 'six' stands for 'sex,' and that's an equation almost anybody can understand.
Whether they like wagons or not.
NOTE: This article first appeared in Top Gear Philippines' July 2016 issue.