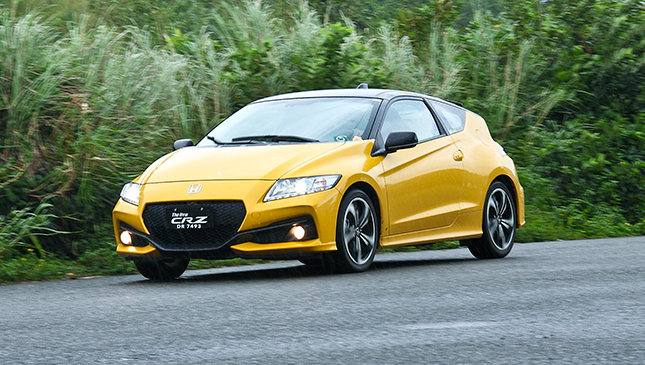 Gran Turismo is used loosely to refer to just about anything designed to cover distances rapidly. Modern GTs are lighter, more fuel-efficient, and more innovative, but nowhere near as stylish as their predecessors. Still, with smaller engines providing double the efficiency, it's not all bad.
Our Big Test contenders are modern interpretations of the GT, using different formulas to achieve the desired result. First up, the Honda CR-Z, meant to be a reset button for the affordable daily-driver-cum-weekend-warrior. Originally, the plan was to power it with Honda's high-revving naturally aspirated K20 engine instead of the hybridized L15 mill from the Jazz/City, but there wasn't enough crumple zone in the front end as per current crash regulations. The K20 does fit, however, as many modifiers in Japan and the USA have proven.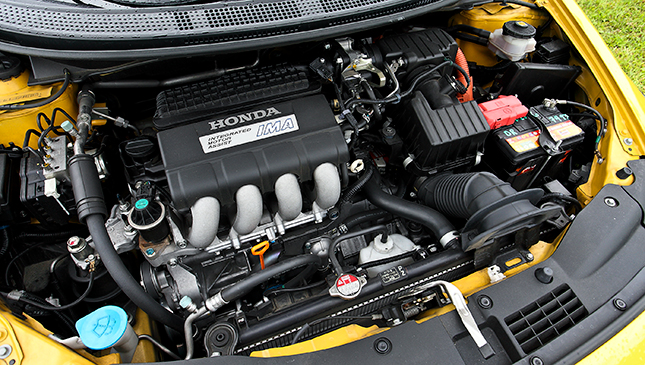 ADVERTISEMENT - CONTINUE READING BELOW ↓
That said, the reset part is due to the CR-Z's ability to use a small engine (even in this segment) mated to an electric motor that provides the added oomph when needed. It makes a paltry 135hp and 170Nm, but thanks to the e-motor, almost instantaneous maximum torque is accessed very low down the rev range. It feels like there's an extra 50Nm, plus another 20hp or so. The experience is akin to that provided by a lightly boosted engine with a small turbo hanging by the exhaust manifold.
And this is what Honda means to provide: a new way of balancing the 'small engine, big power, high volumetric efficiency' equation. Alas, today's generation wants larger doses of instant power, not engineering geekery.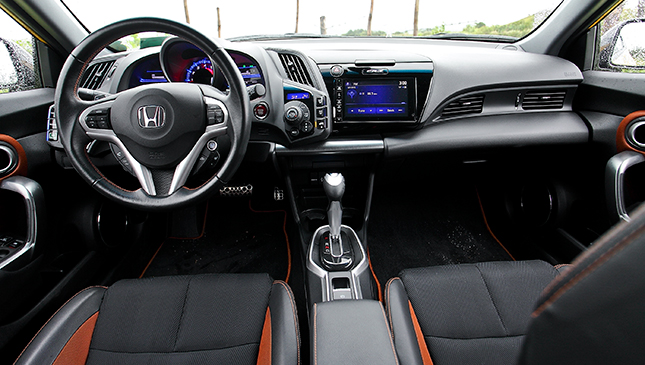 Inside, the CR-Z has the better overall interior: simpler and less gimmicky, with superior materials. The seats aren't as supportive as the Veloster's, but they're just as comfortable. My two complaints? First, the roofline is really low to provide a more aerodynamic shape. Second, the pedals are oddly angled, which can make long drives very tiring.
ADVERTISEMENT - CONTINUE READING BELOW ↓
Recommended Videos
On the highway, the CR-Z feels decently fast. The Active Noise Control and Active Sound Control either cancel out or magnify engine noise to enhance the aural experience. In Econ and Normal modes, engine noise is dialed down; in Sport, it's enhanced by the system. Too gimmicky for you? More impressive is the car's precision and accuracy on winding roads. The suspension is firm, but there's no torque steer, and the tires and dampers have all the compliance you need to soak up small, high-frequency bumps.
Body control is excellent, too, when cornering hard. Instead of using more power to slingshot you out of corners (something the Veloster relies on heavily), the CR-Z allows far more cornering speed through the twisty bits, thus delivering quicker and faster travel or lap times.
SPECS: Honda CR-Z 1.5 CVT
Price: P1,560,000
Engine: 1.5-liter SOHC I4 + 20hp electric motor
Power: 133hp @ 6,600rpm
Torque: 171Nm (combined)
Transmission: continuously variable
Layout: FWD
Seating: 2+2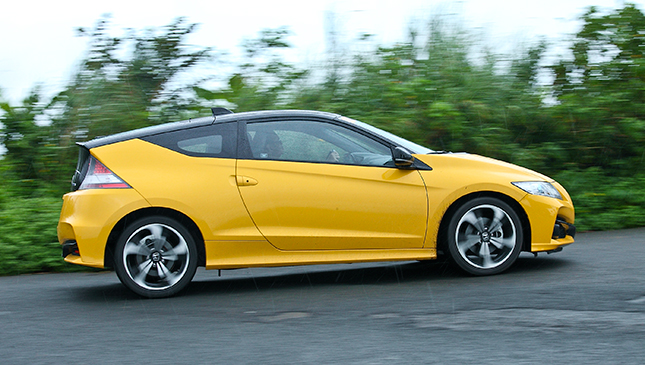 ADVERTISEMENT - CONTINUE READING BELOW ↓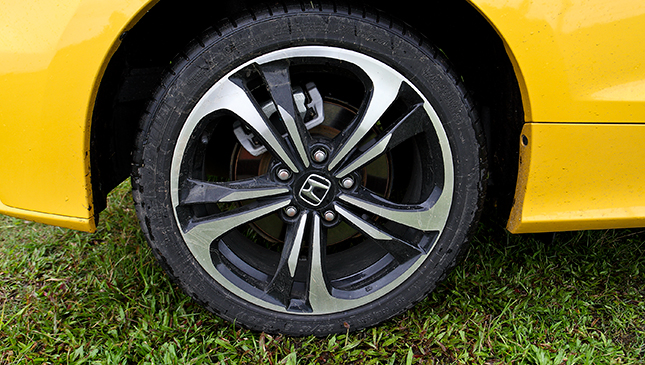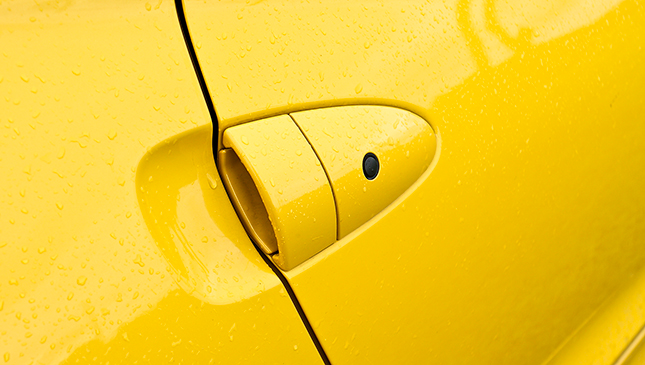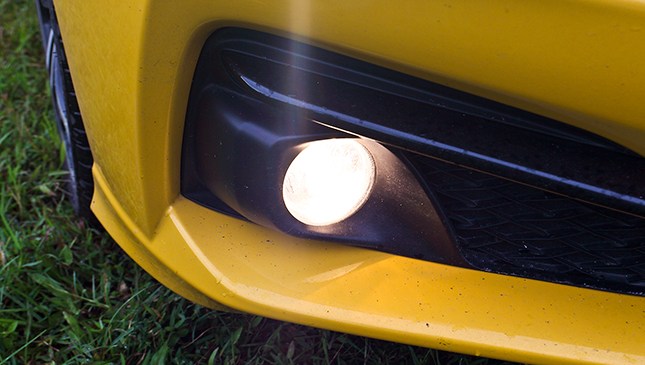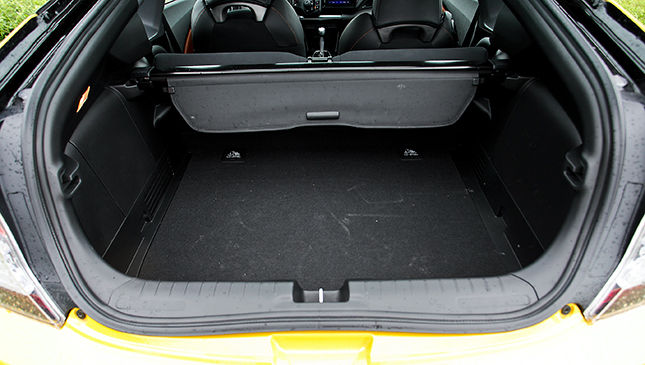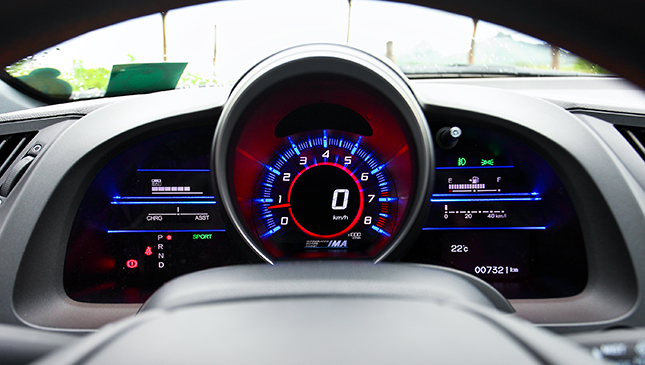 ADVERTISEMENT - CONTINUE READING BELOW ↓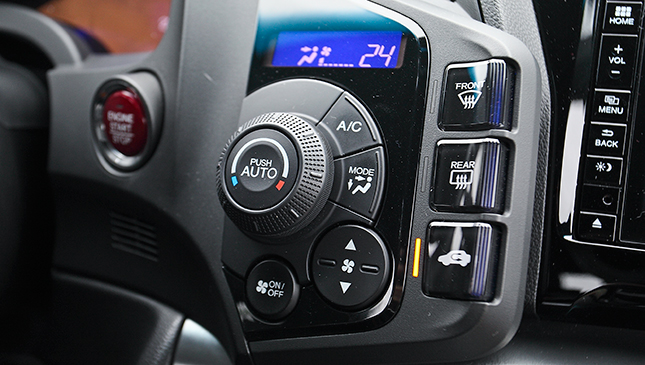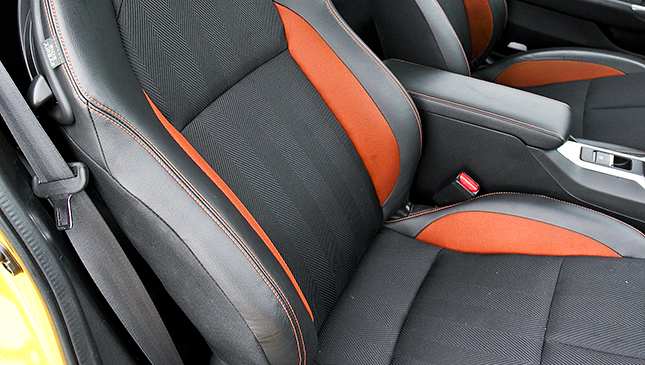 UP NEXT: Hyundai Veloster
[previous|page|next]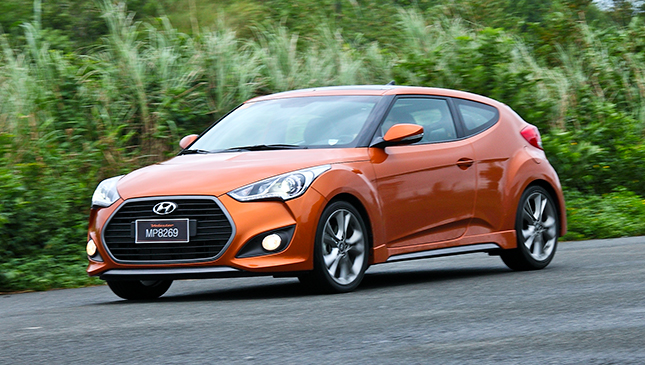 The Veloster has been around for a few years prior to its launch in the Philippine market. Why the delay? Chalk it down to our poor fuel quality. But the entry of Euro IV and now even Euro V fuels has allowed the Veloster to quietly sneak in and join the fray.
Propulsion comes from Hyundai's 1.6-liter direct-injected, all-aluminum gasoline engine netting 204hp and 265Nm. The motor drives the front wheels via a seven-speed dual-clutch transmission.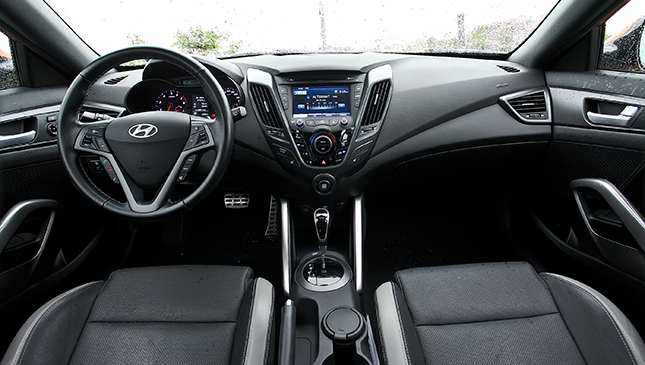 Inside, you get a steering wheel that adjusts for tilt and reach, and a generously bolstered seat. Combined, these yield a very good driving position. The organ-type throttle pedal makes modulating speed easier, given that the transmission can feel jerky when you're driving for a long time in heavy traffic.
ADVERTISEMENT - CONTINUE READING BELOW ↓
Cabin space is adequate and far better than in the CR-Z, and the trunk is likewise deceptively huge. You can easily carry two pieces of check-in baggage and a few smaller items in the back despite the sloping, quasi-fastback rear hatch. The cleverly hidden third door provides added practicality, because rear passengers can jump in without retracting the front seats all the way forward. And the backseat is far more substantial versus the CR-Z's—it actually fits people.
On the highway, the Veloster is king: It accelerates very quickly, putting you in danger of getting a speeding ticket with absolute ease. High-speed NVH isolation is also good, with wind and tire noise being low. The brakes match the engine; they're slightly over-assisted, but they have excellent modulation such that you can meter out stopping power without any sudden jerky motions.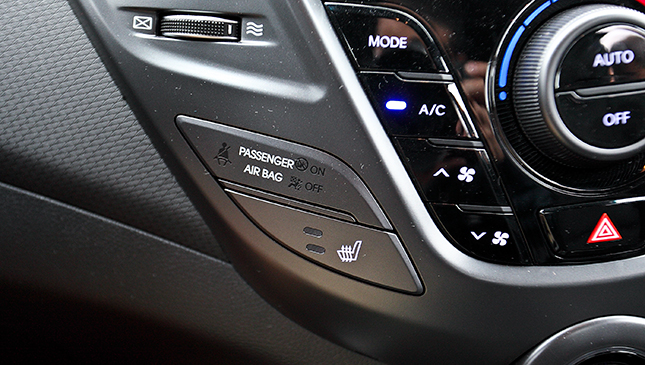 But the Veloster is let down by a couple of things. First, the interior is horribly plasticky. The dashboard is well-designed and features some stylish contrast thanks to the silver plastic inlays set against the black surface. Touch it, though, and it just feels...well, cheap. But for a vehicle with a small footprint to offer this much space and performance at just P1.548 million, compromises had to be made.
The second issue is the front suspension. On imperfect roads, the front end skips, hops and scrabbles for grip like a bloodhound on the prowl. Torque steer owing to the fat torque band just means that making smooth progress on typical provincial roads is even more difficult. Slightly firmer damping and more suspension travel will help greatly and give a more relaxed drive when you're not in a manic mood.
The Veloster muscles its way to cover great distances at fast speeds. It forces the road to submit to it—and on occasion, you have to submit to it as well. But some keen drivers like cars that are playful and a handful, so this Hyundai has its place.
SPECS: Hyundai Veloster Turbo 1.6 GLS DCT
Price: P1,548,000
Engine: 1.6-liter DOHC I4
Power: 204hp @ 6,000rpm
Torque: 265Nm @ 1,750-4,500
Transmission: 7-speed dual-clutch
Layout: FWD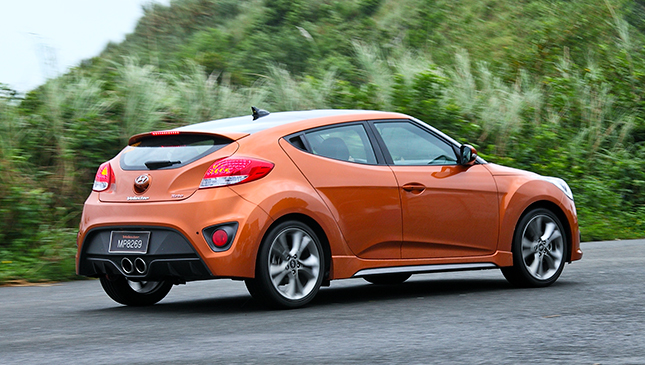 ADVERTISEMENT - CONTINUE READING BELOW ↓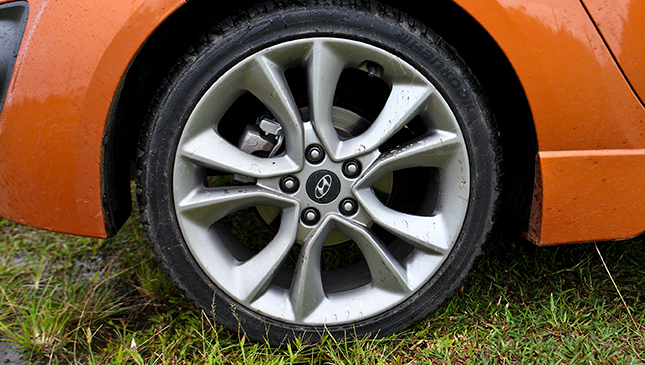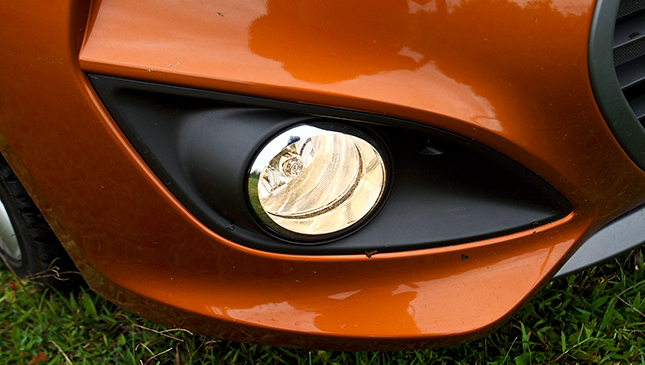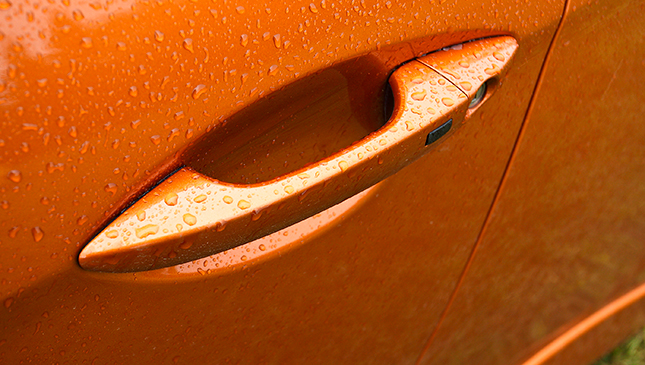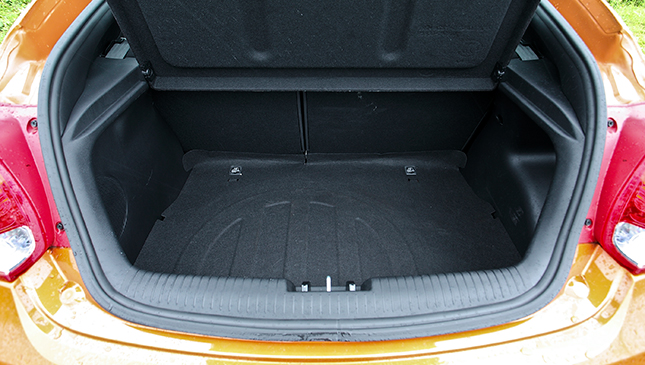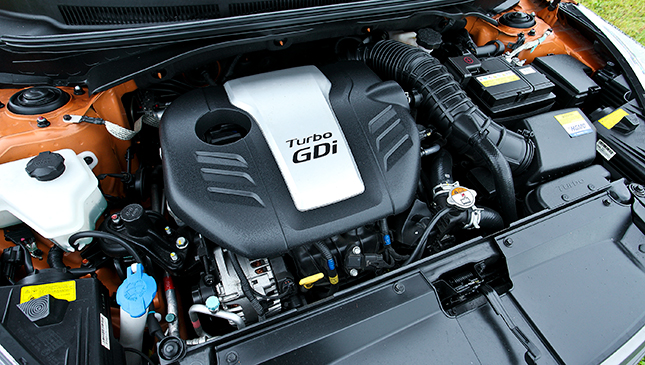 ADVERTISEMENT - CONTINUE READING BELOW ↓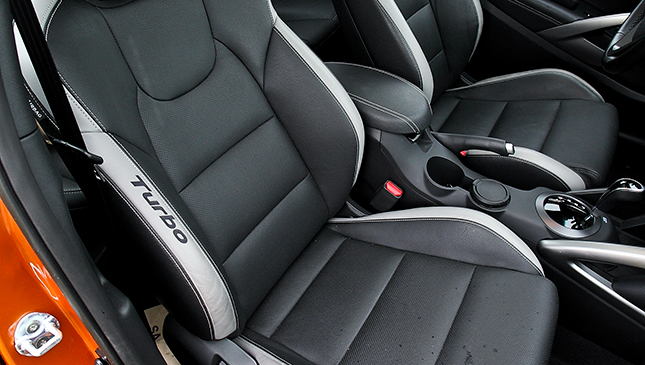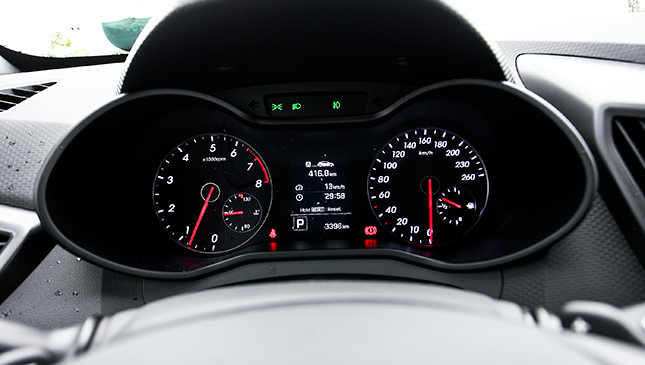 UP NEXT: The Verdict
[previous|page|next]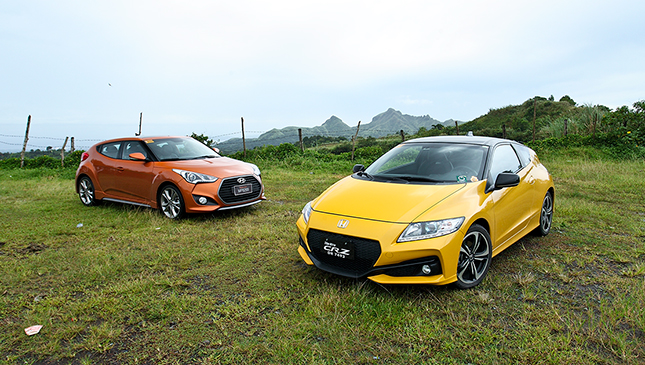 I spend more time with the Veloster than with the CR-Z for this Big Test because the former is a new car to me. It's truly fast and fun, and if you like muscling and hustling cars, the Hyundai is great. Some of its problems can be cured by the aftermarket, and because the engine is turbocharged, you can easily extract even more power from it if you are so inclined. I really thought this would be the clear winner, based on its output, not to mention better space.
But the older you get, the more you appreciate the finer, more sedate things in life. And the CR-Z gives you just that. Controversial UFC fighter and all-around bad boy (not to mention loudmouth) Conor McGregor says that precision beats power and timing beats speed. This is golden in this Big Test.
While the Veloster plays the numbers game much better, the CR-Z has the advantage where it counts, particularly when you factor in long-term ownership. It gives you a more delicate and satisfying driving experience thanks to precision and accuracy, and a far better cabin within a stylish exterior. Sure, the Veloster has more power, is roomier, and offers more practicality and versatility than the CR-Z. But it lacks the poise and polish of the Honda.
ADVERTISEMENT - CONTINUE READING BELOW ↓
Ironically, Honda recently announced the end of production for the CR-Z. A fitting swan song, then, for this one-of-a-kind car. Much like the Veloster, the CR-Z is an acquired taste. But never doubt its actual ability to cover long distances (the more twisty the road gets, the better) at a rapid pace even when you have a companion and luggage in tow.