Over the years, the local automotive industry has become increasingly stacked with value-for-money compact crossovers, and the arrival of these budget SUVs is a trend we can safely assume won't be dying down anytime soon.
Frankly, however, the segment feels a bit too crowded at times. So, when we were recently faced with the task of picking two compact crossovers to pit against each other for a Big Test, we did things a bit differently: We went upmarket.
We hand-picked two compact five-seaters whose prices hover just under the P2-million mark, instead of the usual sub-P1.5-million options we've grown so accustomed to these days. To be exact, we chose two Japanese AWD crossovers: the Subaru XV and the Mazda CX-30.
For this test, Top Gear PH assistant news editor Drei Laurel and editorial assistant Leandre Grecia spent a few days each with both cars. At the end of the week, both drivers scored both cars in four different categories to see which one is the better pick. If you want to find out more, then read on.
Styling
Continue reading below ↓
Recommended Videos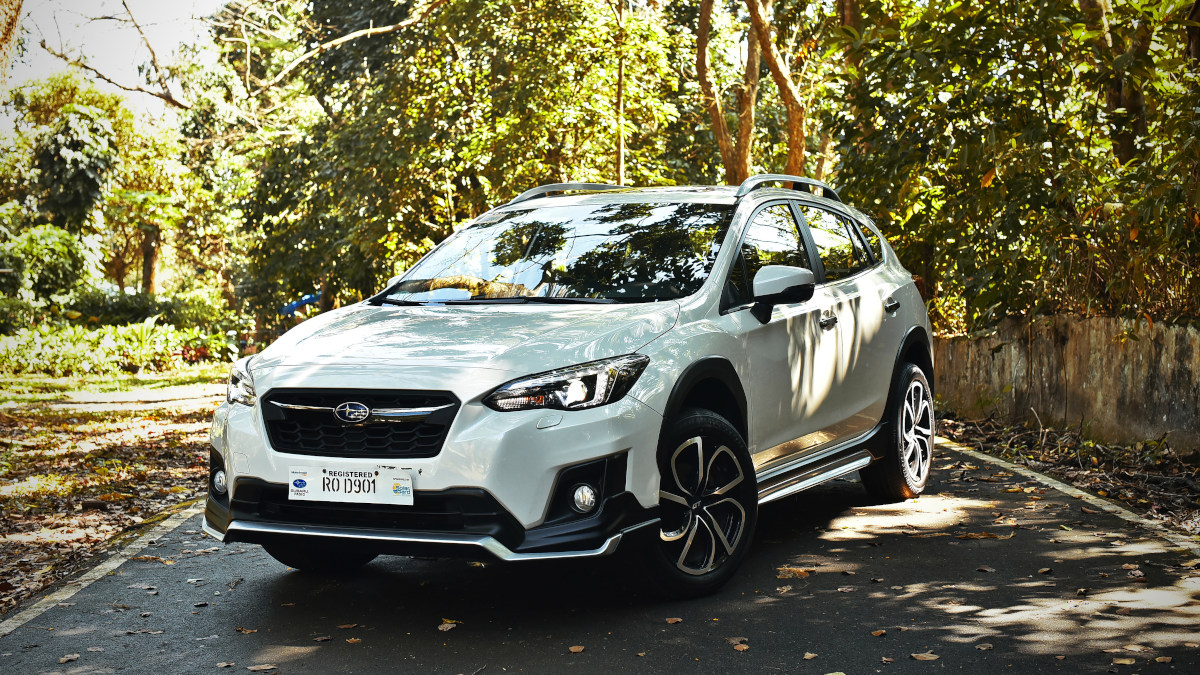 Drei: I'm going to have to go with the Mazda on this one. Both vehicles look good, and I have to say their styles really aren't that comparable. But for just a smidge under P2 million? I'm going to be looking for a level of class and elegance considerably above the standard crossover. It's a matter of personel preference, though: Is classy your thing? Then the Mazda is a no-brainer. Prefer playful? Then perhaps you'll lean more toward the Subie.
Leandre: I've always been a fan of the XV. It's got a sleek overall physique, and the added bits on this GT Edition variant give it an even more macho look. The CX-30, however, just feels like it's in a league of its own in terms of styling, at least in my eyes. It doesn't have a strong, rugged appeal like the XV, but its design is more elegant and sophisticated. Yes, I like how both of them look, but in the end, I'm more drawn to the CX-30.
| | | |
| --- | --- | --- |
| STYLING | Subaru XV | Mazda CX-30 |
| Drei | 4 | 5 |
| Leandre | 4 | 5 |
| Total | 8 | 10 |
Interior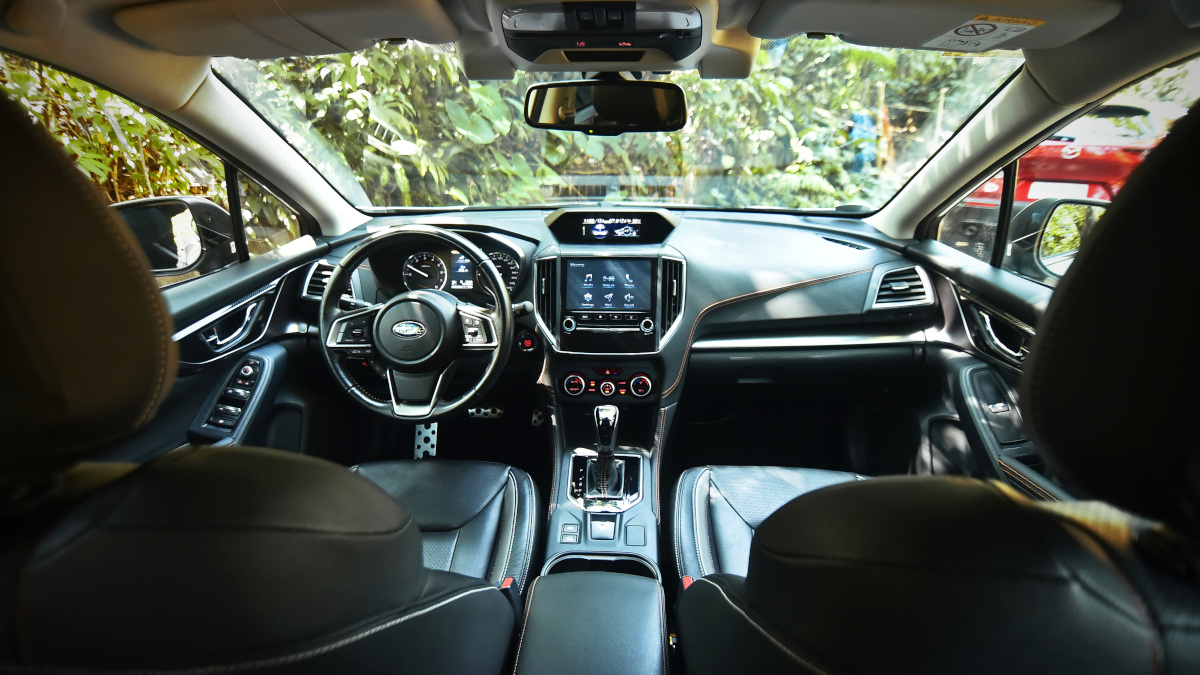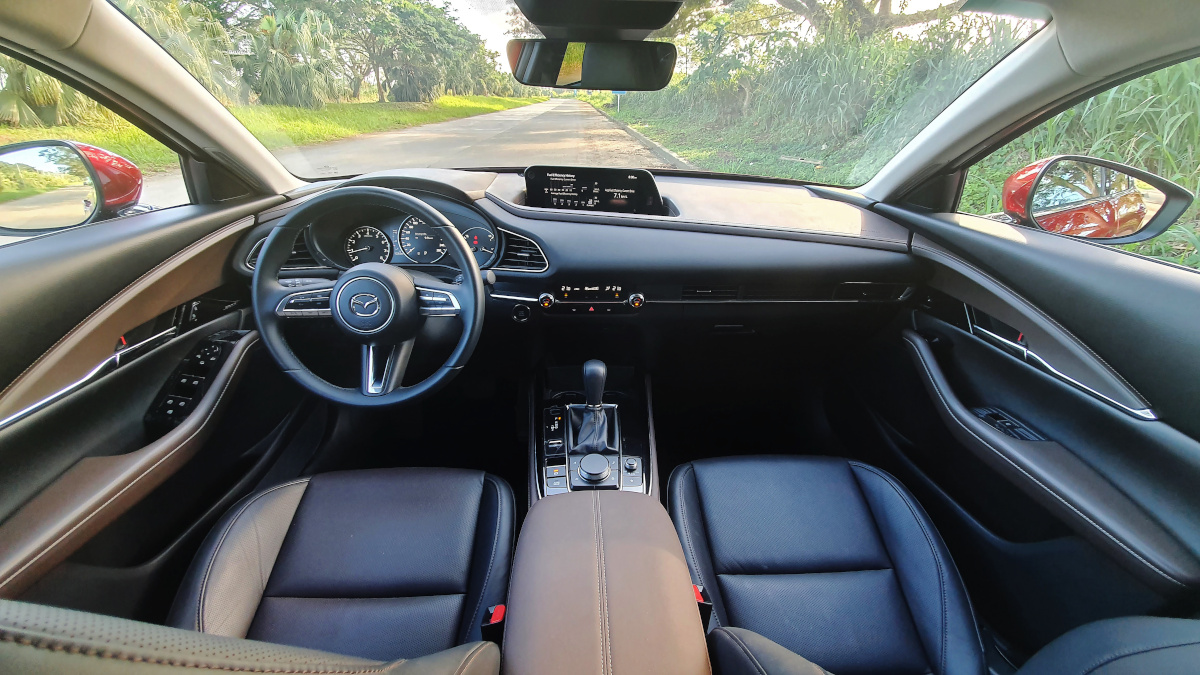 Drei: This was a lot tougher than I thought it would be. I was in possession of the CX-30 first, and I figured it would be the sure-fire winner as soon as I sat in the driver's seat. Soft-touch materials, aluminum trim, the elegant flow of the dashboard—Mazda gave this thing the works. I've driven the XV before, and what surrounded me in the Mazda was simply a cut above what I experienced in the Subie. Thing is, the relatively cramped space in the CX-30 became incredibly apparent as soon as I entered the XV, and room is a big deal for me.
It's close, but I'm still choosing the Mazda here for the same reason I mentioned in the styling portion of this Big Test—I expect a lot of polish at this price range, and the Mazda just delivers so much more in terms of refinement.
Leandre: It's a mixed bag when we start talking interior. On the one hand, you've got the Mazda's leather-clad cabin that's arguably one of the most refined in its segment. Unfortunately, it's probably also one of the most cramped spaces you'll see in a compact crossover. It's almost as cramped as the Ford EcoSport's cabin, and that says a lot given the latter's physical dimensions.
On the other, you have the Subie's sporty interior that's easily not as striking as the CX-30's, but it does have a ton more headroom and legroom. You won't have problems fitting five people in here, but don't even think about it if you're driving the CX-30. All that being said, I'd still take the CX-30 over the XV. 'Roomy' isn't exactly something I'd be looking for if I were to buy a five-seat crossover at this price point. The classy look just does it for me.
| | | |
| --- | --- | --- |
| INTERIOR | Subaru XV | Mazda CX-30 |
| Drei | 4 | 5 |
| Leandre | 4 | 5 |
| Total | 8 | 10 |
Engine performance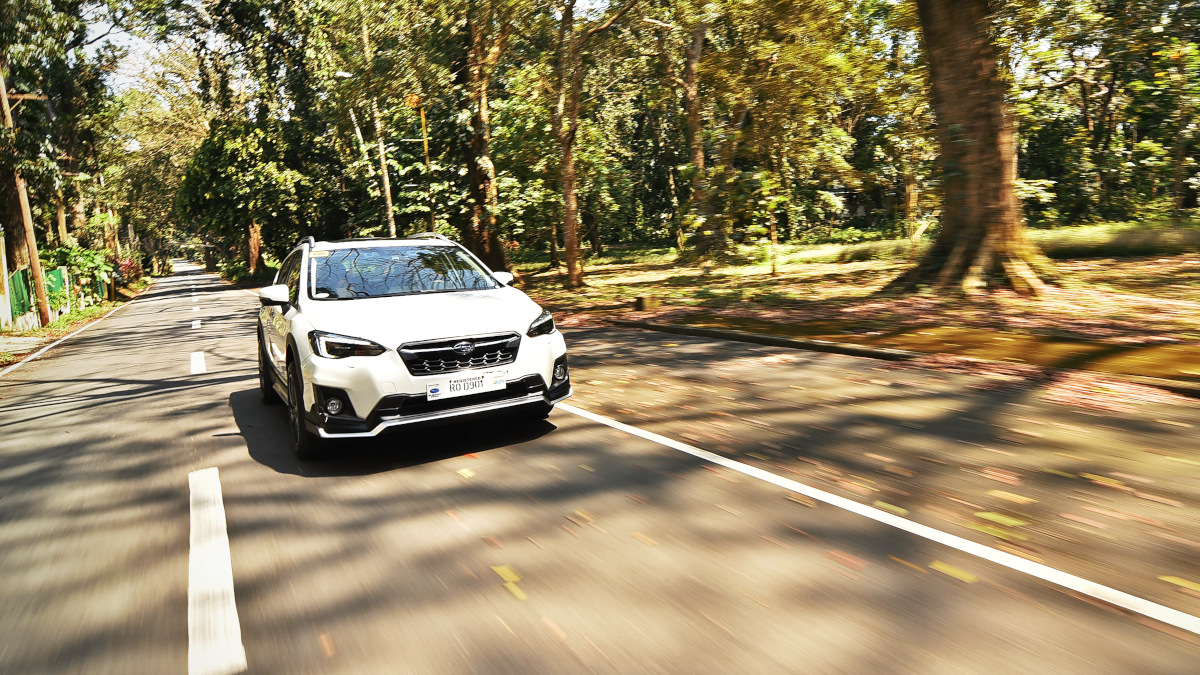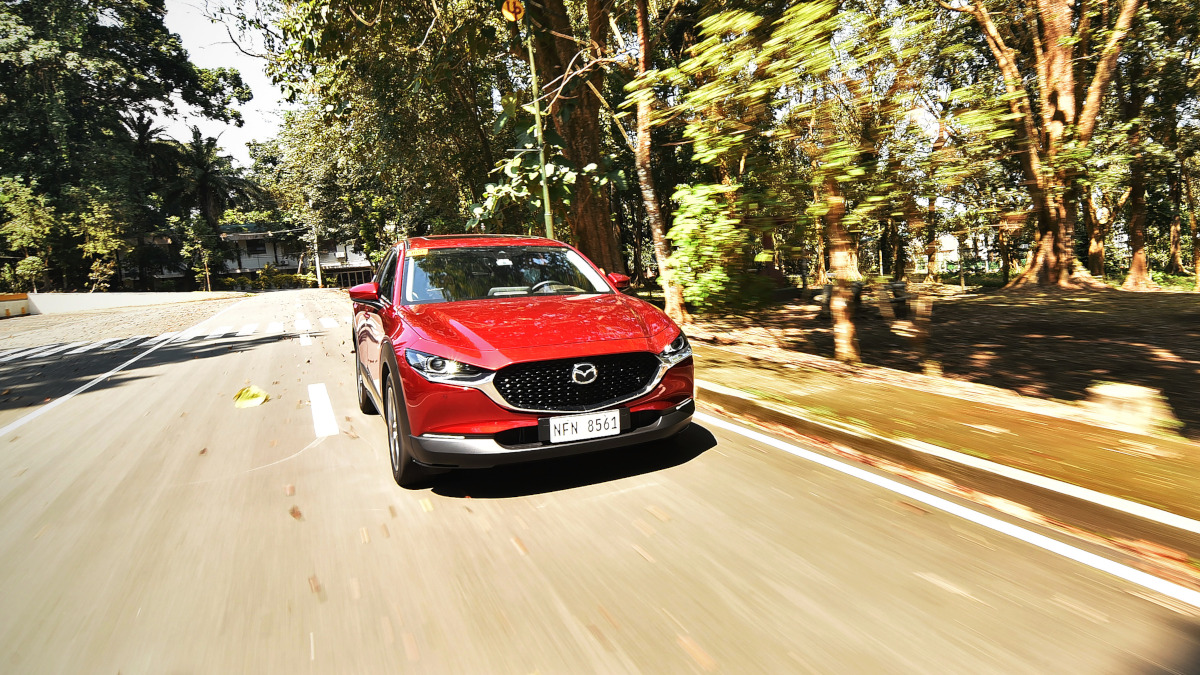 Drei: Both vehicles get 2.0-liter gasoline engines that send power to all four wheels, with the Mazda putting out 153hp and 200Nm of torque compared to the XV's 154hp and 196Nm. Pretty similar stuff, but the XV feels ever so slightly faster off the line. The CX-30, however, gets a six-speed automatic while the XV uses a continuously variable transmission. Both feature great throttle response , can get up to speed on a whim, and come with paddle shifters, which is nice if you're looking for more engagement during drives.
Leandre: There are basically identical engines here. Both have 2.0-liter naturally aspirated gasoline powerplants, only the CX-30's produces 1hp less and 4Nm more than that of the XV. Both have more than enough oomph whether for uphill climbs or quick overtakes, and both are also very fuel-efficient setups. I found that the CX-30's powertrain performed ever so slightly better, though.
To be fair, the CX-30 is a bit lighter than the XV, so that may have been a factor during my test. But the Sport mode available kept me at high revs when I needed it, and the paddle shifters at my disposal were also a dream to use, especially on the highway. Maybe a quarter-mile sprint in the future would change my mind, but for now, I'm sticking with the Mazda.
| | | |
| --- | --- | --- |
| ENGINE PERFORMANCE | Subaru XV | Mazda CX-30 |
| Drei | 5 | 4 |
| Leandre | 4 | 5 |
| Total | 9 | 9 |
Ride and handling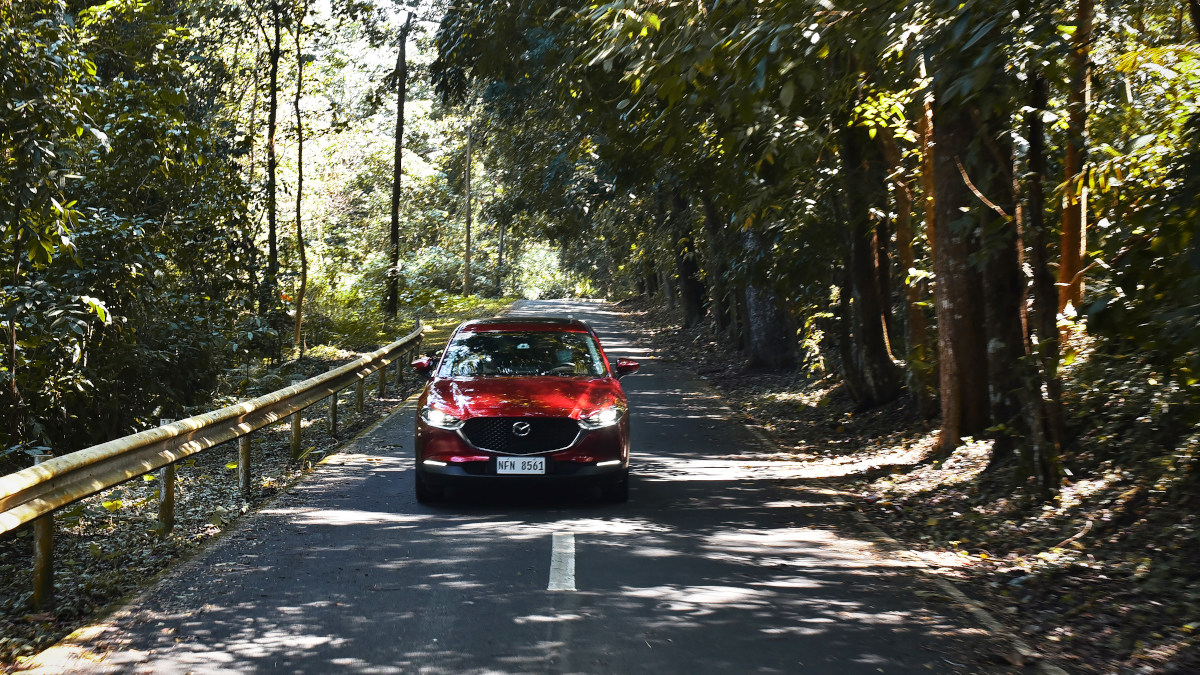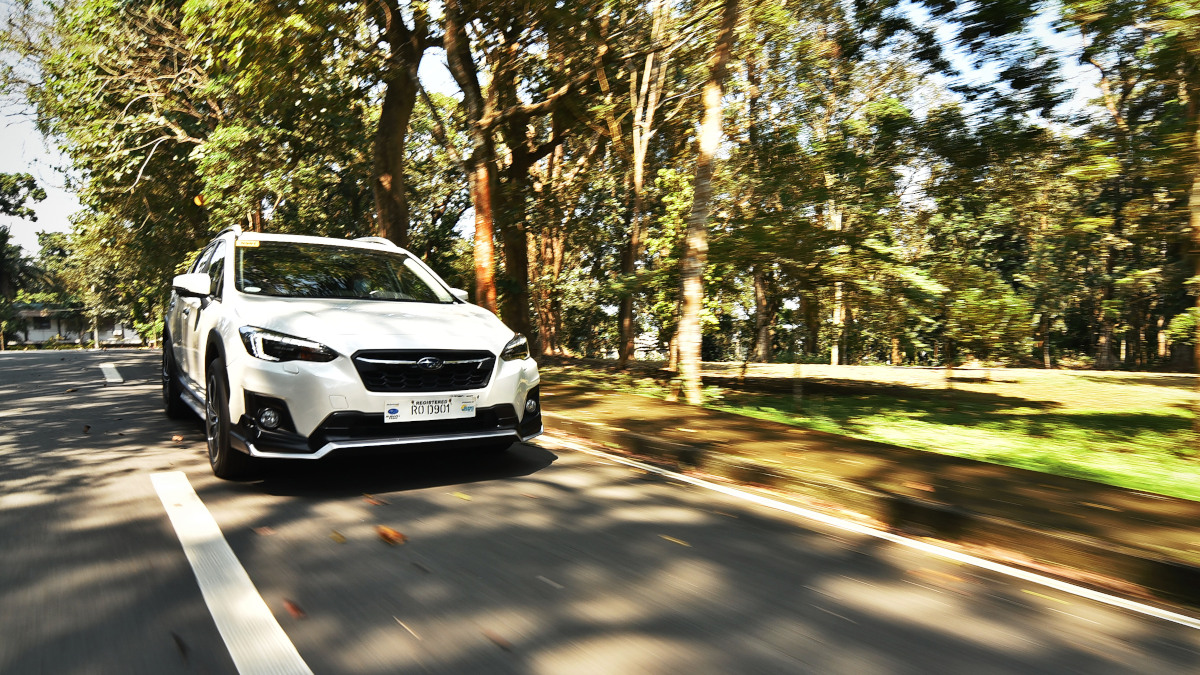 Drei: There's very little to complain about with both cars when it comes to this department. Both are a joy to drive, with nicely weighted feel and nimble driving dynamics. Each model also comes with an advantage over its counterpart.
The CX-30, for example, features noticeably better NVH levels and feels more planted around corners. The XV, meanwhile, does a better job at canceling out more sizeable road imperfections. I'm going to have to end this in a tie.
Leandre: As with the interior, this one's a mixed bag. The XV is more comfortable especially on bumpy roads, but the CX-30 has a better feel to it when you're behind the wheel. Both vehicles block out road noise quite well, and both also tackle twisties with ease thanks to their AWD systems. But again, I'll have to hand the win to the CX-30 this time because it just feels more relaxed and planted through tight corners. You'll really feel that jinba ittai philosophy come into play when you get to spend some time with this Mazda.

| | | |
| --- | --- | --- |
| RIDE AND HANDLING | Subaru XV | Mazda CX-30 |
| Drei | 5 | 5 |
| Leandre | 4 | 5 |
| Total | 9 | 10 |
Extra features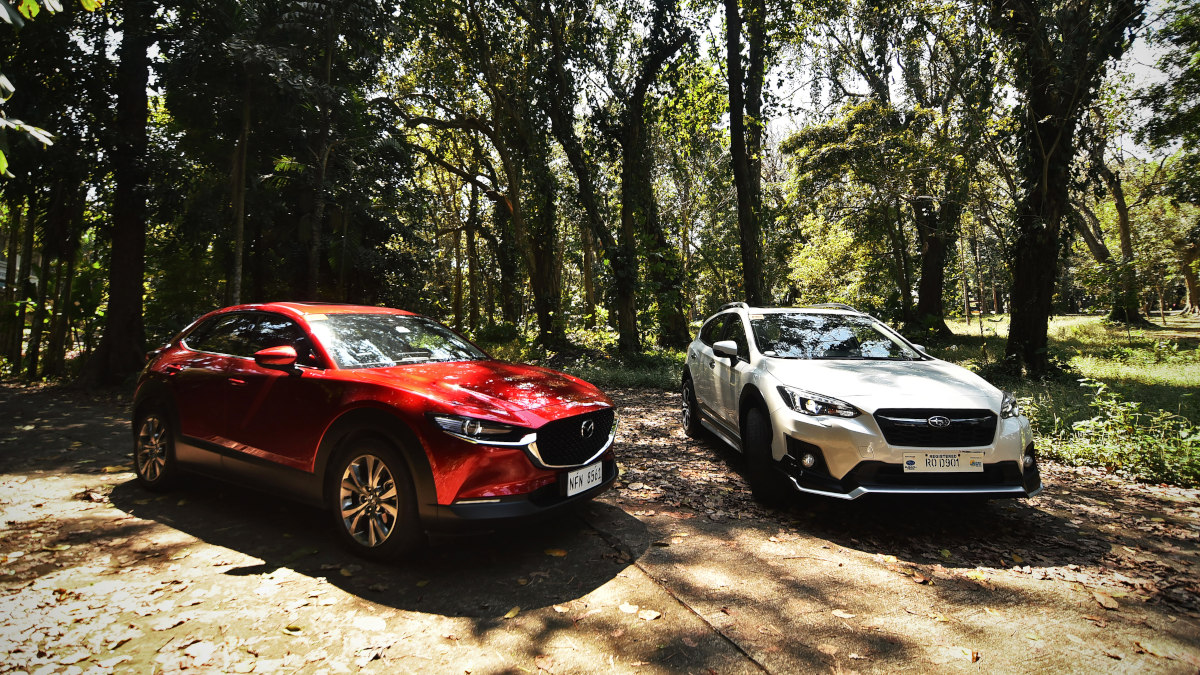 Drei: If we're counting extras, this one easily goes to the CX-30. The Mazda's infotainment setup is clearer and more intuitive than Subaru's. Other advantages it has over its rival include an automated tailgate, rear A/C vents, and a neat head-up display. This isn't to say the Subaru is lacking, though, as it covers everything you'd expect in a modern crossover. Both also get a host of advanced safety features like rear cross-traffic alert and lane-departure warning, though only the XV comes with automated emergency braking.
Leandre: The XV has the whole EyeSight package and all that, but the CX-30 takes the cake when it comes to added toys. Besides, both have a host of safety and driver-assist features, anyway, but the Mazda has a better infotainment system with a more impressive Bose speaker setup, a power liftgate, and an incredibly nifty head-up display.
Verdict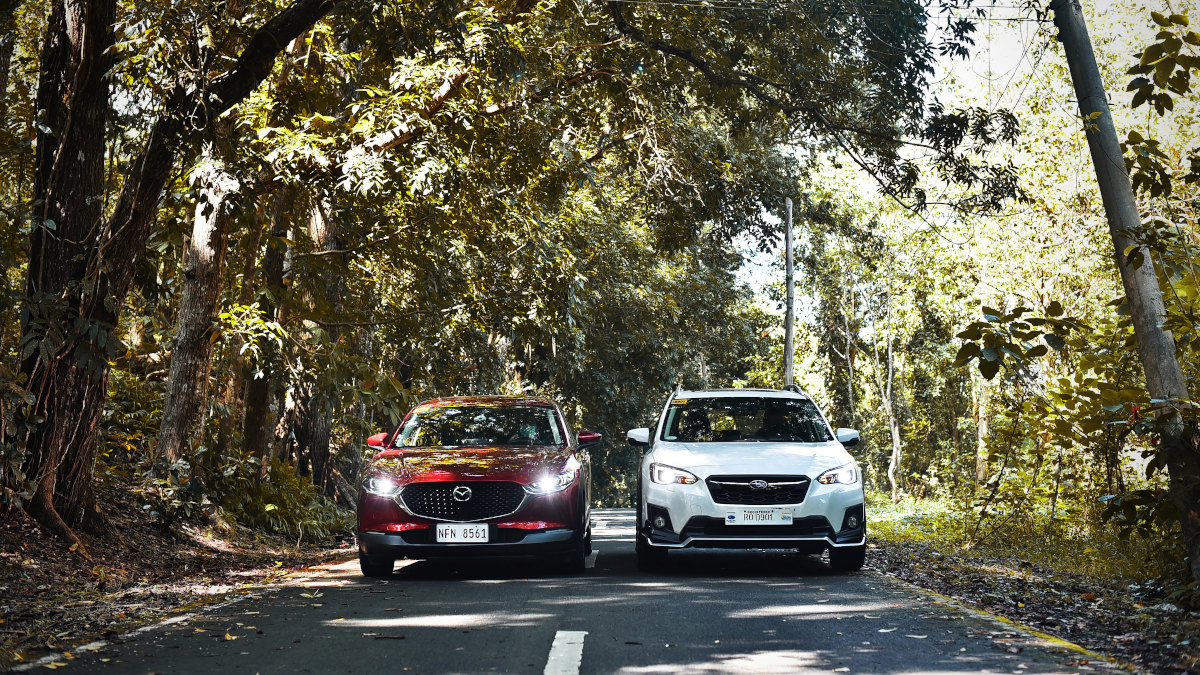 The two seem fairly similar on paper, and the small point difference here in this test is sheer proof. However, the CX-30 just brings slightly more to the table than the XV does, which is why it comes out as the better car in this comparo.
Now, if you're stuck choosing between these two crossovers, you still have to take into consideration all the pros and cons we've mentioned here. The result of this Big Test isn't the be-all-end-all basis for you car buyers, because it's still hard to go wrong with either of these two. At the end of the day, it all boils down to what fits both your needs and preferences better.
| | | |
| --- | --- | --- |
| VERDICT | Subaru XV | Mazda CX-30 |
| Styling | 8 | 10 |
| Interior | 8 | 10 |
| Engine performance | 9 | 9 |
| Ride and handling | 10 | 10 |
| Extra features | 8 | 10 |
| Total | 43 | 49 |
SPECS: 2021 Subaru XV 2.0i-S EyeSight GT Edition
Price: P1,988,000
Engine: 2.0-liter gasoline I4
Power: 154hp @ 6,000rpm
Torque: 196Nm @ 4,000rpm
Transmission: continuously variable
Drive layout: AWD
Seating: 5
SPECS: 2021 Mazda CX-30 2.0 AWD Sport AT
Price: P1,990,000
Engine: 2.0-liter gasoline I4
Power: 153hp @ 6,000rpm
Torque: 200Nm @ 4,000rpm
Transmission: 6-speed automatic
Drive layout: AWD
Seating: 5