Could the new Audi R8 be the last Audi R8?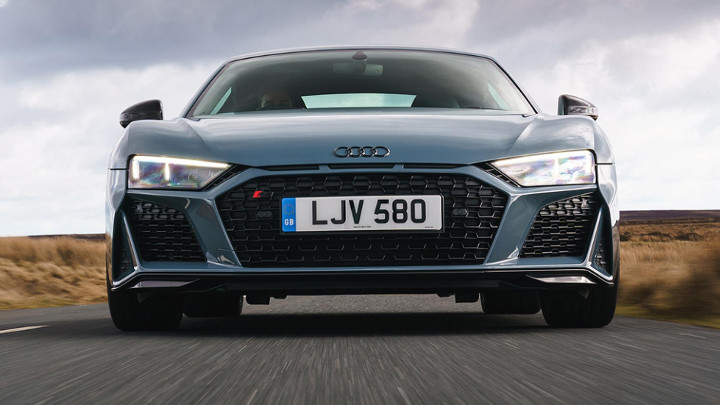 Pessimistic start, but fair point. Audi's supercar has an uncertain future, for sure. It's not as profitable as its Lamborghini cousin, the Huracan, because the Audi R8 wears a badge also fitted to diesel hatchbacks and some forgettable crossovers, so it can't be as expensive as the Lambo. Which uses plenty of the same bits 'n' pieces.
What's more, Audi is pushing an electric future: the e-tron family. It's already shown us a fabulous electric supercar concept, nudge-wink-hinting what a battery-powered Audi supercar could look like.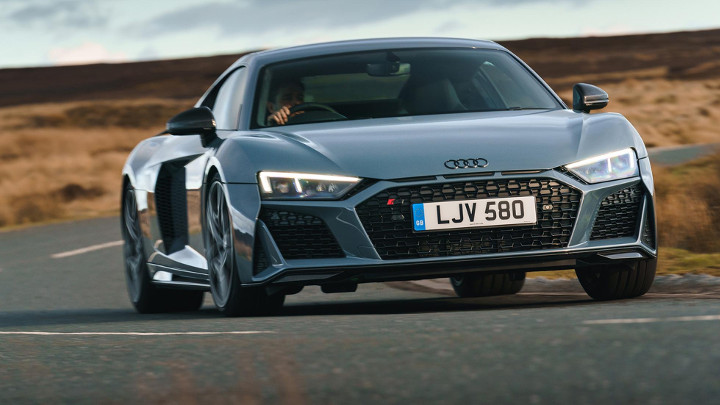 ADVERTISEMENT - CONTINUE READING BELOW ↓
And the company no longer competes at Le Mans, which the original R8 was built to celebrate over a decade ago. What to do with a low, loud, V10 dinosaur?
Celebrate it, that's what. Bloody well revel in it. This is the facelifted, tweaked Audi R8 Mk2.1. Coming soon to some subtle Tony Stark product placement near you, no doubt.
It looks more...plasticky.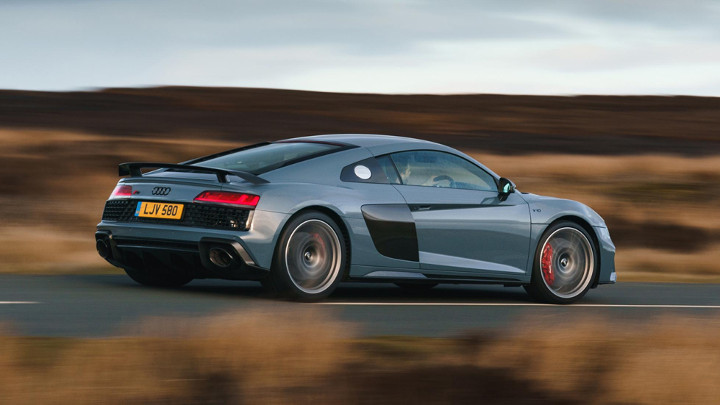 Yep, that's the facelift surgery. Evidently, Audi over-ordered on its infamous grilles last year, and needed to use up the leftovers before the accountants hit the roof. So, we've got a massive grille stretching right across the car's bum, and up front, the mouth is lower, wider, and more angular than before.
There are gills and slats, and every time you open up the hood to pop your shopping in the front cargo area, you'll spot that those three intakes under the badge—a retro nod to the Group B Sport Quattro—are fake. So are the intakes behind the fuel filler cap and the 'sideblade' sections.
ADVERTISEMENT - CONTINUE READING BELOW ↓
Recommended Videos
To distract you, the new exhaust pipes are massive.
What's an R8 V10 'Performance,' then?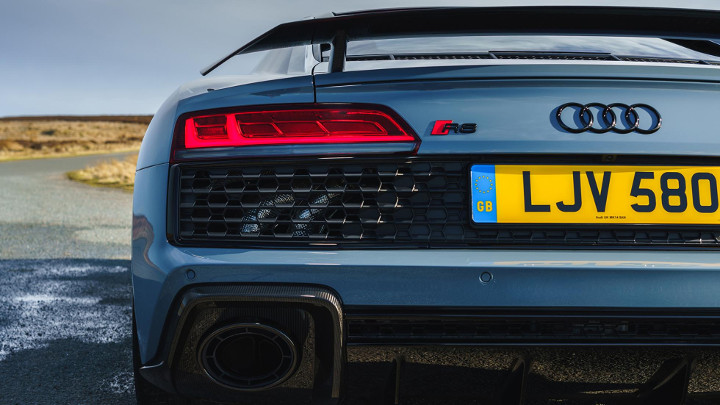 The faster one, formerly known as R8 V10 Plus. Power in all R8s is up for 2019, and in the Performance, you get 612hp, instead of 602hp in ye old R8 Plus, and 562hp in the standard R8 V10.
As a result, every version of the R8 has lopped 0.1sec off its 0-100kph sprint. In the Performance, that means 0-100kph in 3.1sec (and a bit quicker if you ignore Audi's deliberately conservative claims). Top speed is 330kph. You can have a faster supercar than this, but you don't need one.
Haven't got time to get the stopwatch out? Not to worry. If you see an R8 with the carbon rear wing, it's the Performance. The wing is "I'm richer than you" shorthand—the Performance sets you back a snip under £150,000 (P10.34 million), or £13,000 (P896,000) more than the standard R8.
ADVERTISEMENT - CONTINUE READING BELOW ↓
New name, new power, new plastic. Not much, is it?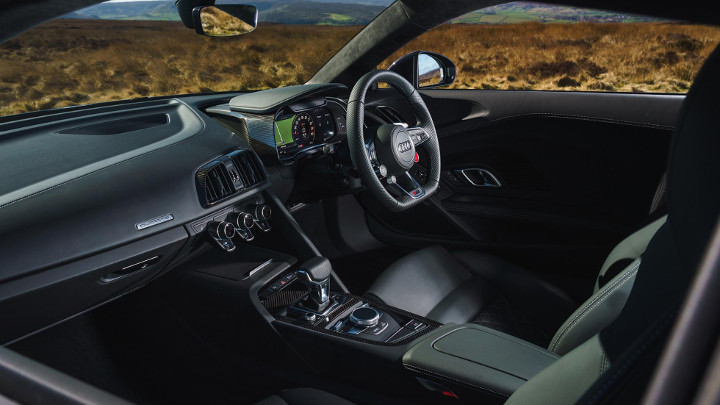 Not especially, and it's the same story inside—the interior hasn't changed a bit. So, it still feels like a big TT inside, which is actually about the highest compliment you could give any car's cabin. One screen in the driver's eyeline, stunning flashes of carbon and real aluminum, and sumptuous build quality.
The flaws have stuck around, too. The seats still don't hug you any more than your boss's A4's chairs, and every time you reach for the wireless phone charging pad, you skin your knuckles on the climate control toggles.
Stop nitpicking.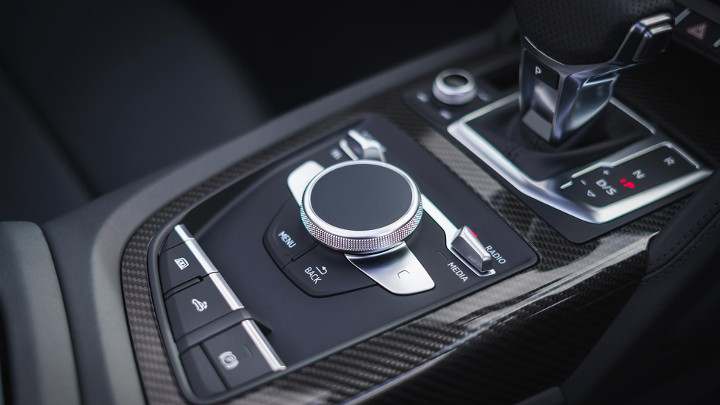 Sorry. That's always bothered me, though. Seriously, that cubbyhole behind the gear lever has teeth.
Anything else new and interesting?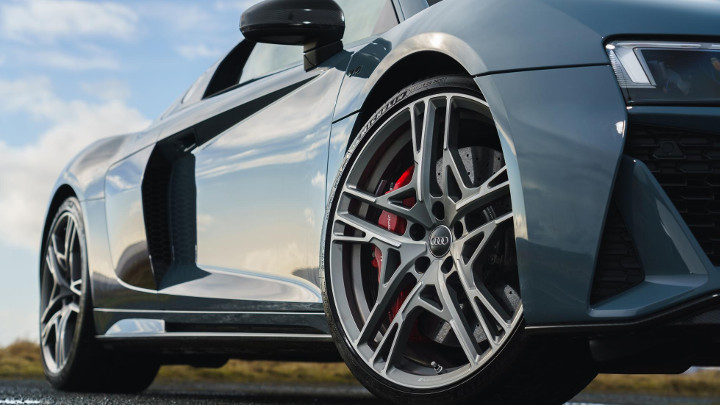 Audi has made detailed revisions to nerdy German things like suspension components and the optional Dynamic Steering, which varies how much steering angle you get depending on how fast you're going.
It's supposed to make the car more agile when you're misbehaving, and more relaxed when you aren't. Frankly, it's a lot more intuitive than it used to be, and if you really, really concentrate, turn down the radio, and properly pay attention, the steering is a mite more detailed than before. It's good for an R8, but not a patch on a McLaren's lively race-car feel.
ADVERTISEMENT - CONTINUE READING BELOW ↓
So what? This car's all about the engine, right?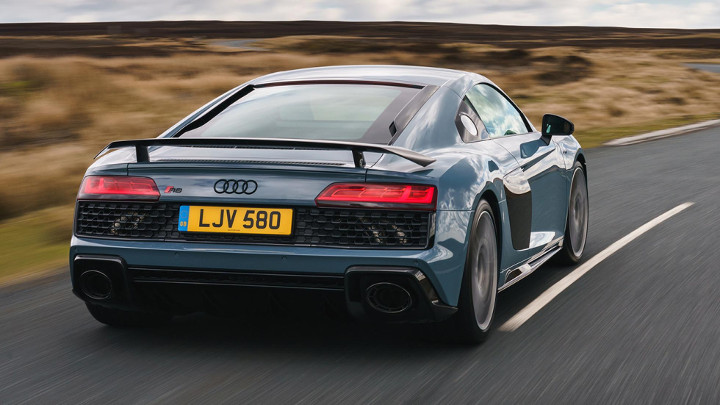 It is, and we're about to get to that, promise. Kind of a double-edged sword, that engine, because the V10 is so sparkling, so sonorous, so glitteringly, brilliantly spectacular, that it mildly exposes the rest of the R8. The steering, the magnetic damping, the carbon brakes...they're all fine, but Audi's never been able to raise their game to the level of one of the best engines on the planet.
Go on then, let's hear about this V10.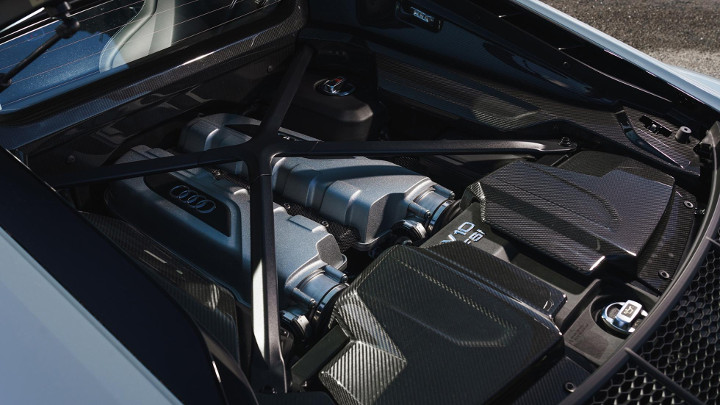 Be right back, just fetching my Big Book of Superlative Adjectives.
Now that the R8 is in the autumn of its life, it almost transcends being a supercar you judge rationally. Yes, you can pit it against a McLaren or a Porsche Turbo or a whatever sort of GT Mercedes-AMG has cooked up this week, and the R8 will win some, lose some. But really, this thing's just an engine appreciation vehicle now. It's a carnival float with a 5.2-liter naturally aspirated V10 taking center stage.
Do you notice the extra power?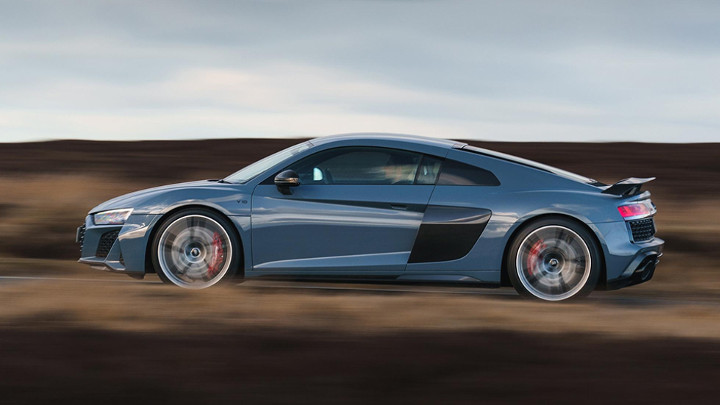 Another 10hp in a car that weighs 1,670kg? Nope. But you do appreciate its razor-sharpness, the appetite for revs, the noise builds and crescendos, brimming the cabin as it blares from the tailpipes. It's got real character and theater about it. Some engines make you swear, or puff your cheeks out when they give their all. The R8's V10 just makes you giggle.
ADVERTISEMENT - CONTINUE READING BELOW ↓
It's searingly fast. Properly, terrifyingly quick, in fact, but the flipside is you're only in the engine's glorious upper range for fleeting seconds, before things get very antisocial and irresponsibly illegal. You really might be better off in the standard R8 V10, luxuriating in that baleful howl for a few more precious tenths.
Ah yes, the noise. At least Audi has not fiddled with that.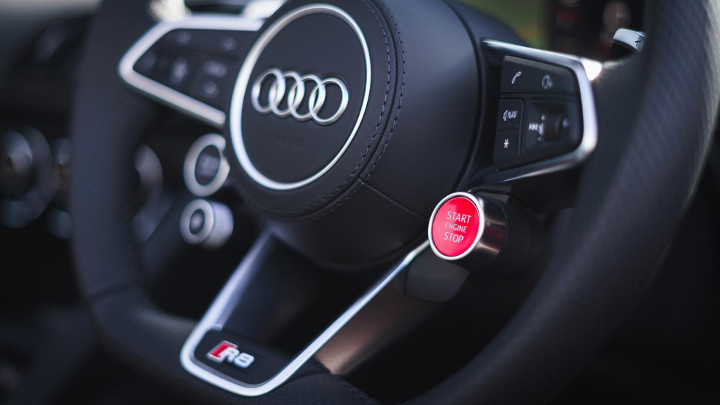 Not so fast. Thanks to new EU noise limits, the R8 no longer comes with a sports exhaust option. The exhaust button has gone AWOL from the steering wheel, and the system now plays it quiet until a valve opens once you've got your foot down.
I've got no issue with that. The car panders less to show-offs who want to pose about town giving supercars a bad name, but still sounds like Simba catching Nala in bed with Pumbaa when you're over the hills and far away.
We're going to miss this engine when it's gone, aren't we?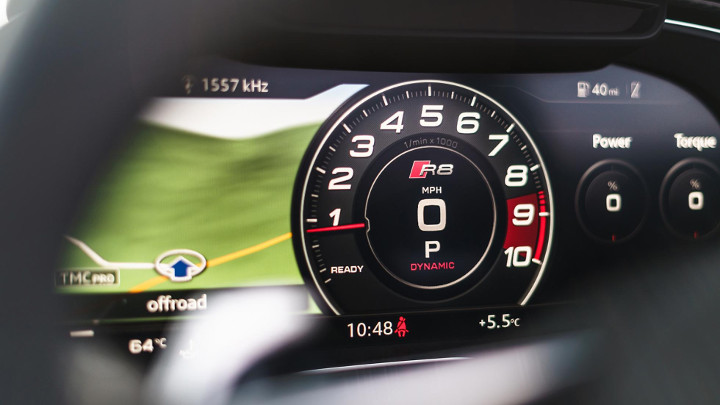 Just a smidge. It's ironic that this madman of a V10 lives in a supercar that's freakishly easy to drive and endlessly forgiving. Whatever Audi chooses to do with the R8 next, this car will be remembered as one of the company's all-time greats.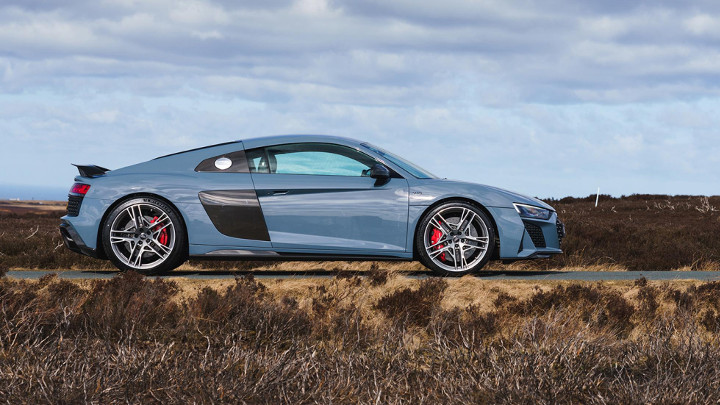 ADVERTISEMENT - CONTINUE READING BELOW ↓
NOTE: This article first appeared on TopGear.com. Minor edits have been made.