This is a convertible Ferrari Pista, which means it's the droptop version of the Pista Coupe, itself a limited-run, track-biased über-488—'Pista' literally translating as 'track.' Or 'dance floor' depending on who you talk to, but that's another story entirely.
Anyway, it's an origami-roof version of Top Gear's 'Supercar of the Year 2018,' and therefore the custodian of a great deal of weighty expectation, because no one really wants the Pista's sterling efforts chamfered soft by a weaker, poseur-oriented sibling. That's if you could accuse Ferrari's fastest-ever, most-powerful, and best-power-to-weighted convertible as not having enough bite to go with the racy aesthetic.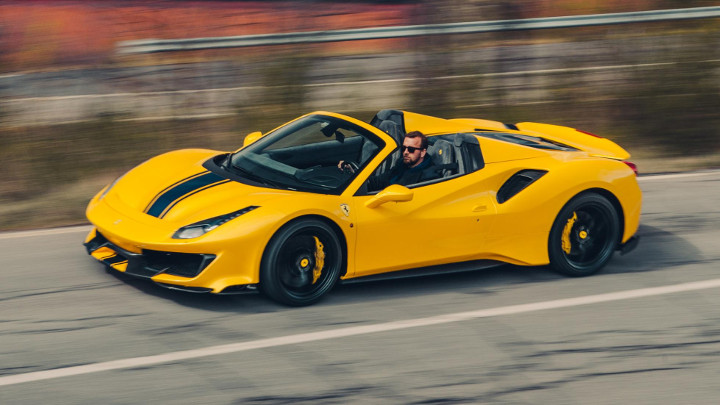 ADVERTISEMENT - CONTINUE READING BELOW ↓
Mind you, this one's not a surprise, and the basics of the non-Pista Ferrari 488 Spider we know to be excellent: a neat little Z-fold, two-panel hardtop that electrically stows behind the seats (roosting over the engine) in about 14sec, up to speeds of 56kph. It still feels pretty cozy in there—more like a lift-out roof panel than a full-on convertible—but there's nothing wrong with the way it operates.
Again, just like the standard 488 Spider, it looks excellent roof up or down, and darker-colored cars hide the roof split lines better than light-colored ones—and it doesn't really lose any of the Pista's 'whoa' factor when it turns up. Especially in yellow with a blue stripe.
Saying that, spec all the lightweight options including full carbon-fiber wheels, and the Spider weighs around 50kg more than the 'standard' Pista, which is anything but standard, and itself up to 90kg lighter than a normal 488 GTB. All the other metrics are the same—so it's got the same downforce and aero properties roof up, the same trick bits and carbon-fiber extremities.
ADVERTISEMENT - CONTINUE READING BELOW ↓
Recommended Videos
Similar story with the engine, which is the same as the Coupe's—a race-derived 3.9-liter twin-turbo V8 with 710hp and 769Nm, served up through a double-clutch 'box and a selection of horrendously complicated differentials-slash-electronic programs, capable of launching the car from 0-100kph in 2.85sec and on to a top speed of well over 322kph. I have no doubt it will hit these numbers.
ADVERTISEMENT - CONTINUE READING BELOW ↓
And just for reference, the Spider is indeed slower to 100kph than the Coupe, but if you can differentiate the 0.1sec difference when the Pista Spider launches and your face twangs back past your ears, you're a more sensitive human than me. Basically, it does everything a Pista does, but you always have the option of slinging back the roof and expanding your view/aural appreciation.
On the road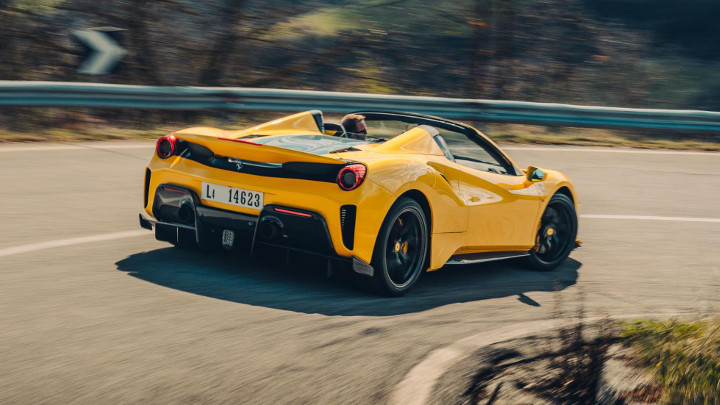 ADVERTISEMENT - CONTINUE READING BELOW ↓
Let's spoil the surprise—the Pista Spider goes as hard as the coupe, but you can hear it more clearly, and get a bit of a tan if it's sunny. Dynamically, there is a tiny, tiny difference, but it's not enough to inherently change the way the car behaves. Yes, it weighs a little bit more than the Coupe, and if you're on the right road, at a specific speed and have a Coupe to compare back to back, you might be able to figure out some minor correction of structural rigidity not found in the hardtop, but it's negligible.
So this one's purely really down to personal choice, or whether you think a hardtop track car is just that little bit purer of intention—which is absolutely valid. Just don't go thinking you'll outrun someone in a Pista Spider with a Coupe, because you...uh...won't. A lot of the impact comes from the engine, designed very specifically to mimic as much as possible the effects of a naturally aspirated motor.
ADVERTISEMENT - CONTINUE READING BELOW ↓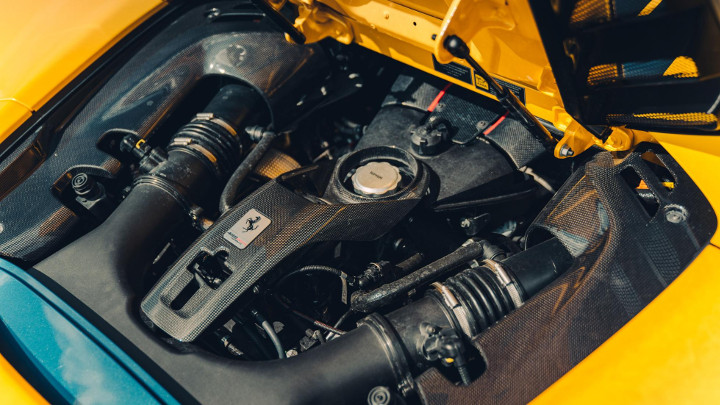 Except that nothing atmospheric builds a wall of torque like this, or manages the boost so that each gear grabs hold of the forward view and head-butts you through it. It's a monster. Each step on the Mannetino wheel-mounted switch brings a different character, faster shifting, harder edges. In Race mode, as that pedal drops and feeds digital amphetamine to the car's ECU, strange things happen. Yes, air and fuel combine with a spark to make good things happen, but time and space get twanged like a guitar string, the world gets stretched like chewing gum.
ADVERTISEMENT - CONTINUE READING BELOW ↓
And your face looks like someone punched you hard in the forehead. The violent analogies seem to be the most appropriate. There's wheelspin in third. And fourth if you're heavy-handed and on a slightly slick surface. It's street-fight-quick—brutal and disorientating.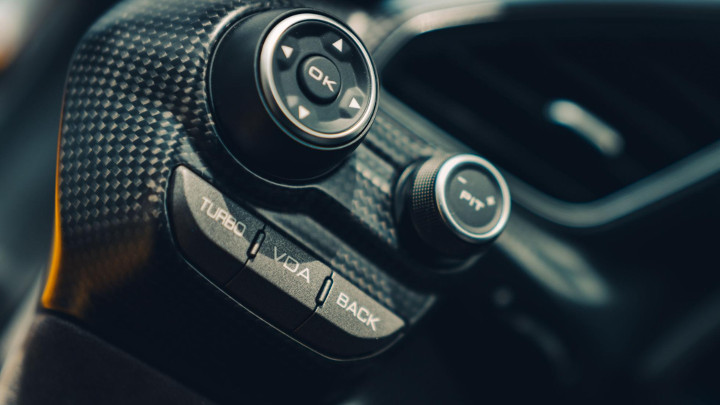 But the best thing is that the Pista isn't actually that much of a handful. I know this sounds counterintuitive, but getting to within 8/10ths of a Pista isn't actually that hard—the combination of E-diff, side-slip control, and all of Ferrari's various other mechanical magics make it fairly easy to drive hard. Not easy to get the absolute maximum out of, but definitely no harder to drive than the 488 GTB, and some way short of the holy-cow-I'm-going-to-die razor edge of something like an F12tdf.
ADVERTISEMENT - CONTINUE READING BELOW ↓
It's also interesting how natural all the tech feels. Once you start delving into the systems of the Pista, you realize there's a set of controls so massively complex, you have to sit down with expert instruction for several hours to prevent your brain from simply liquefying and dripping out of your ears. But on the road, it just feels...right.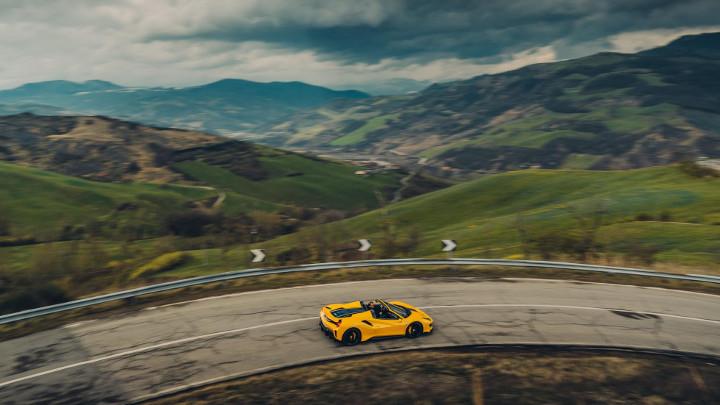 ADVERTISEMENT - CONTINUE READING BELOW ↓
In fact, there are situations where the Pista feels almost four-wheel-drive, dragging the front end around when you think it should wash wide, dealing with big bumps where you reckon it might just bounce. And the Spider does all of this with the exhaust howling harder than in the Coupe, and the more intimate feeling of hearing those shotgun gearshifts engaging. Dropping from, say, fifth to second down through the gears for a tight hairpin is one of life's great joys. Saying that, I probably need more hobbies.
There is a slight feeling that if you were searching for criticism, you could say that Ferrari has spent so much time trying to make a turbo engine sound and react like a naturally aspirated motor that it has failed to recognize that turbocharged cars are a 'performance sound' in themselves. For the hardcore track-biased cars, there would be very little wrong with having a waterfall of induction or an avian massacre of twittering wastegate. Or just a less 'managed' torque curve.
ADVERTISEMENT - CONTINUE READING BELOW ↓
Just let it be silly—forced induction isn't in some way inferior or embarrassing. But that's a small criticism.
On the inside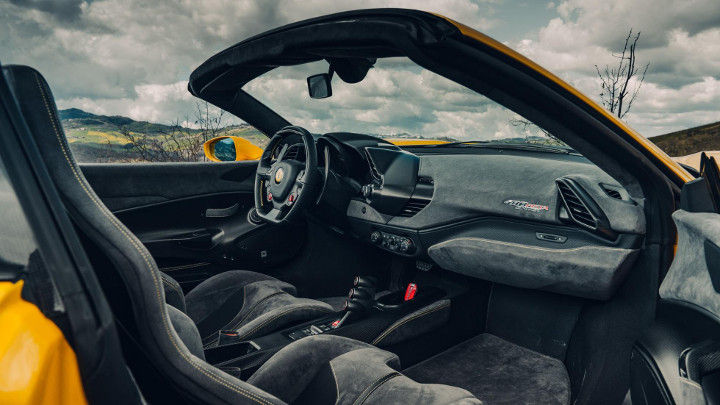 Inside, the Spider is no different to the Pista, so it's a slather of carbon, lots of switches, a pleasant and ergonomic enough place to be. The seats are excellent—you'll need those side-bolsters—and the roof is well enough insulated. It's not church quiet, but you wouldn't want it to be.
ADVERTISEMENT - CONTINUE READING BELOW ↓
True, with the aerodynamic 'S-Duct' cutting into the nose, there's not as much luggage space as in a GTB, and you lose the drama of seeing the engine bay in all its glory (the roof mechanism sits on top), but if you're going to have a car with this level of performance, you should expect some compromise. We loose-packed enough kit for a day out taking pictures, and it worked, so there's enough space for a weekend away and you wouldn't want to fill every orifice if you were on a track day, anyway.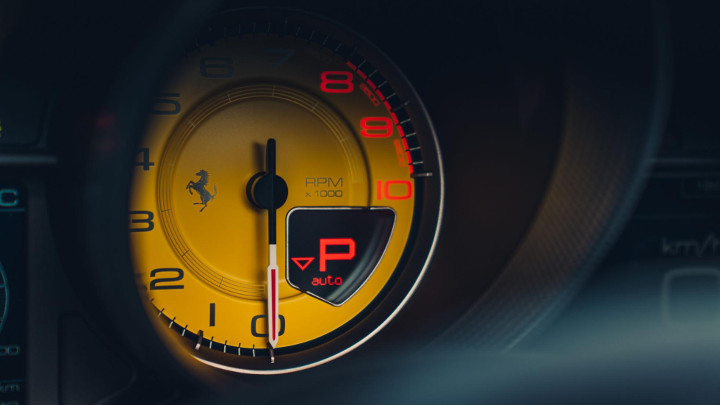 ADVERTISEMENT - CONTINUE READING BELOW ↓
There are a myriad of screens and temperature monitors—including one to tell you when you've warmed up the Michelin Pilot Cup2s to the consistency of Blu-Tack—plenty of things to fiddle with. It doesn't feel like a 'track special,' to be honest—certainly not in the same way as a caged Porsche GT3 RS or similar—but that in itself is probably appealing to a Ferrari owner. If you stuck this car on slicks and put some harnesses in it, you'd be looking at serious lap times, but it's probably happier out in the sunshine on a nice road laying waste to pretty much everything.
Verdict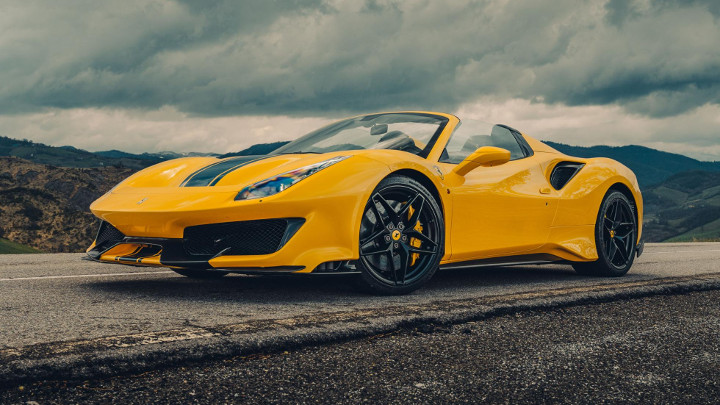 ADVERTISEMENT - CONTINUE READING BELOW ↓
They're all sold, so it's a safe bet that this is going to be a decent investment of a car. Though that would be a shame of the highest order—a vehicle this fun to drive deserves to be out and about, especially in Spider format. The best thing really is that there's plenty of drama mixed in with a sense that you can also schlep around town without feeling like too much of a track refugee.
The difference between a 488 GTB/Spider and a Pista variant is in the extremity rather than the grind—it's not a hard car to actually use. Ferrari makes a big deal of what they refer to as the 'F2D' metric, which translates as 'fun to drive.' It sounds like nonsense, but translates into a car that makes you laugh like a child. And that's what supercars should be about—a sense of wonder mixed with ability.
ADVERTISEMENT - CONTINUE READING BELOW ↓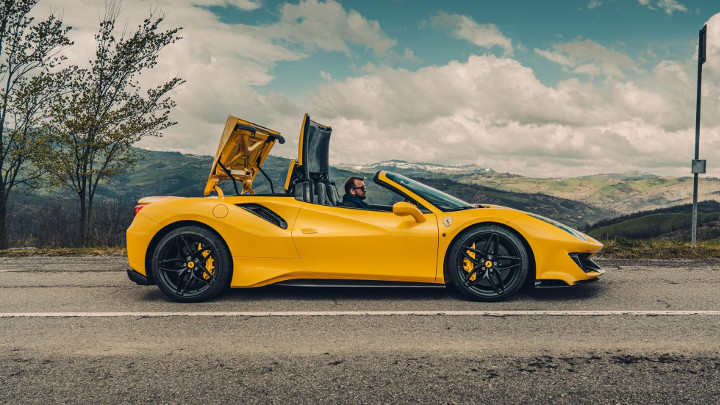 More theatrical than either a McLaren 720S Spider or a GT2/3 RS, more outright fun than a Lamborghini Performante Spider, the Ferrari 488 Pista Spider sits in a little niche of its own. Okay, so the whole slightly arrogant Ferrari pitch is a bit off-putting at times, but you just can't argue with the execution of the vehicle itself. I'm not a Ferrari devotee, but a blast in a Pista Spider on a sunny day on a good road will remind you what's good about life. It will satisfy a racer and a poser in equal measure, and delight pretty much everyone.
ADVERTISEMENT - CONTINUE READING BELOW ↓
The Spider loses very little dynamically when compared to the Pista Coupe, and gains quite a lot in terms of immersion in the wider experience. Convertibles—especially these neat little folding hardtops—don't feel very compromised. If you don't believe me, find a track, drop the top, and launch to 200kph in eight seconds dead, and drop through the gears into a tight set of corners. You'll be a convert in ten.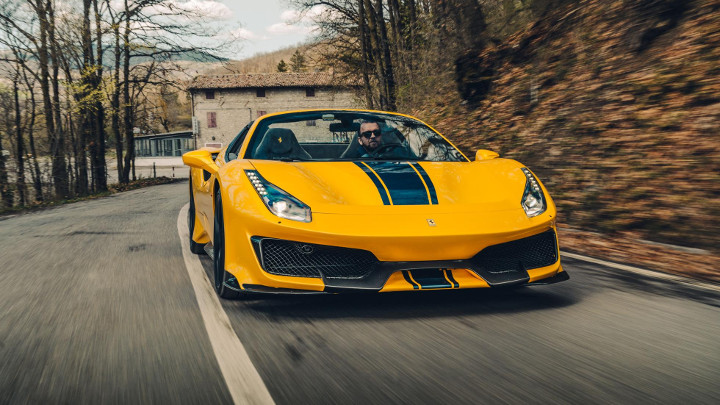 ADVERTISEMENT - CONTINUE READING BELOW ↓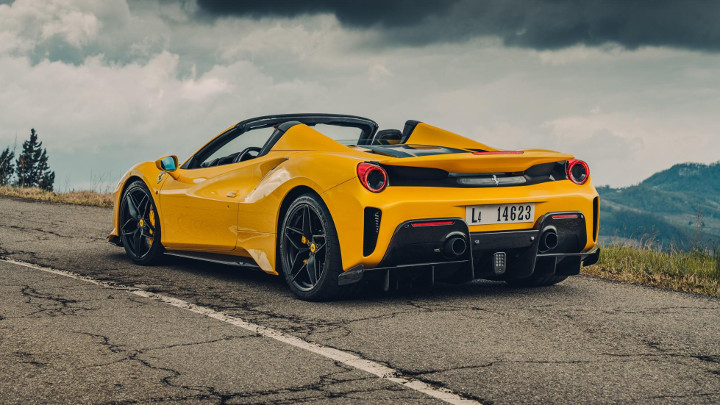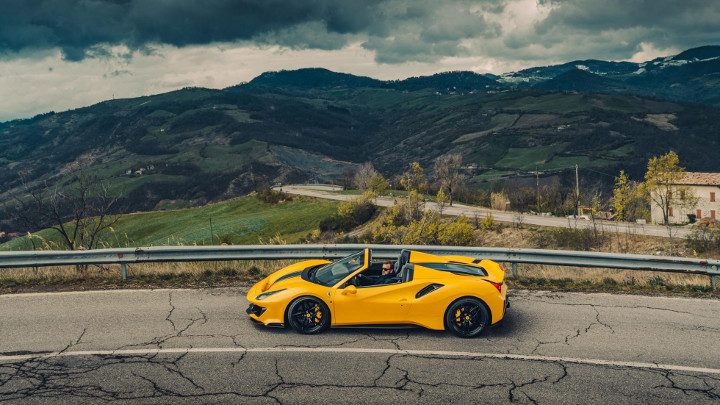 ADVERTISEMENT - CONTINUE READING BELOW ↓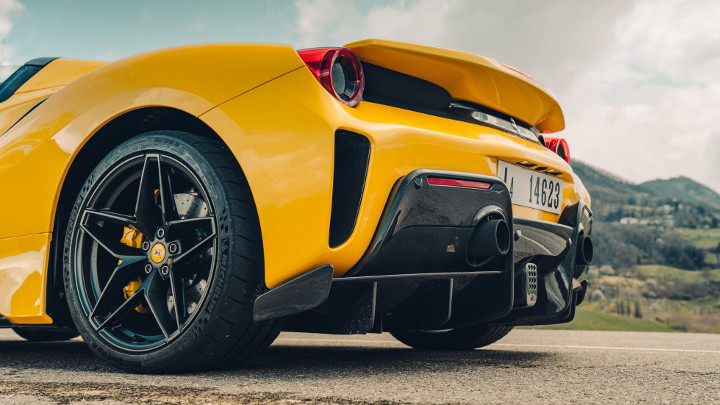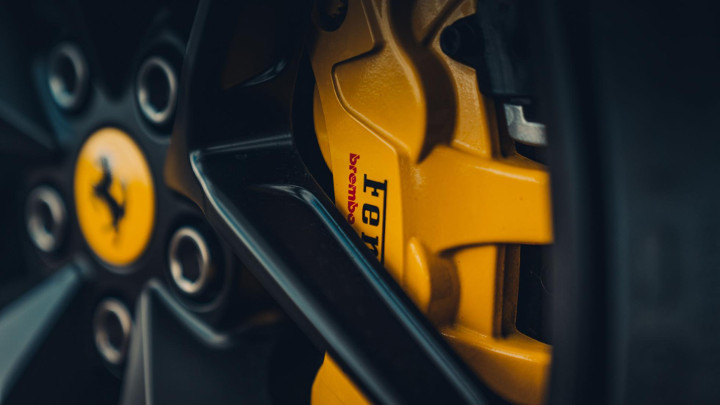 ADVERTISEMENT - CONTINUE READING BELOW ↓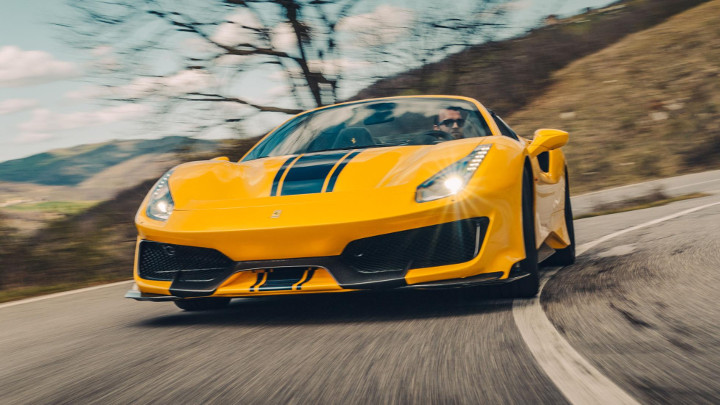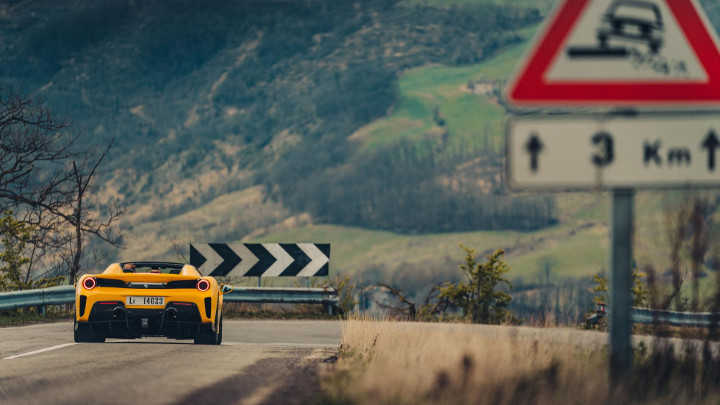 ADVERTISEMENT - CONTINUE READING BELOW ↓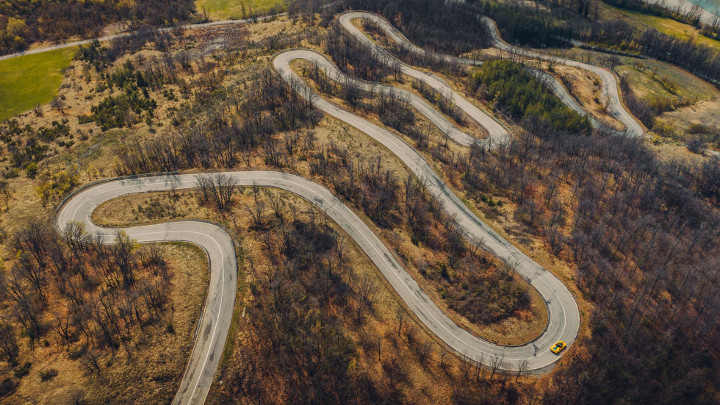 NOTE: This article first appeared on TopGear.com. Minor edits have been made.