What is it?
There has never, ever been a boring Lamborghini, but the original Huracan was arguably just too competent for its own good. In the realm of the super sports car, this might sound like heresy, but somewhere in the matrix between its all-wheel drive, inert steering, and admittedly wondrous 5.2-liter V10, it could feel a bit, well, Matrix-y. Synthetic.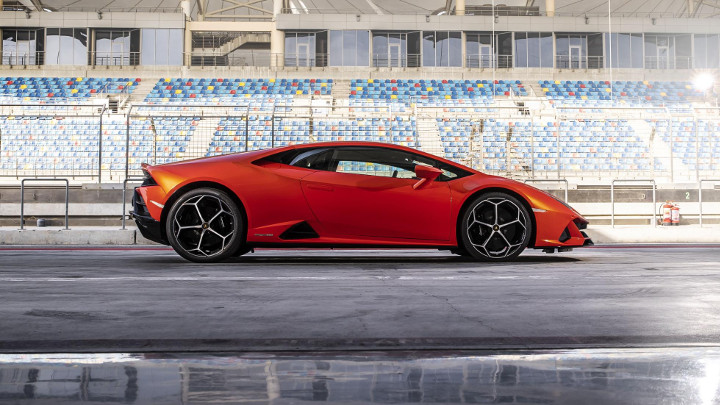 Cars like these always find extra levels during their lifespan, and sure enough the rear-drive Huracan and, most significantly, the Performante ramped things right up. Which probably explains why the latter is the jump-off point for the Huracan Evo, a logical move (if a little bit galling for anyone still waiting to take delivery of his Performante) as Lamborghini's biggest seller—more than 10,000 sold—squares up to its Ferrari and McLaren foes.
Four key pillars have been identified: vehicle dynamics, the engine, design and aerodynamics, and interior HMI. So that nat-asp V10 now produces 631hp at 8,000rpm and 599Nm of torque at 6,500rpm, for a power-to-weight ratio of 451hp per ton—good for a top speed of 323kph, and 0-100kph in 2.9sec.
Lamborghini claims seven times the aero efficiency of the outgoing car, thanks to a new front spoiler, diffuser, air curtain, and rear diffuser, a cleaner underbody, repositioned exhaust (now with titanium intake valves), and a ducktail spoiler.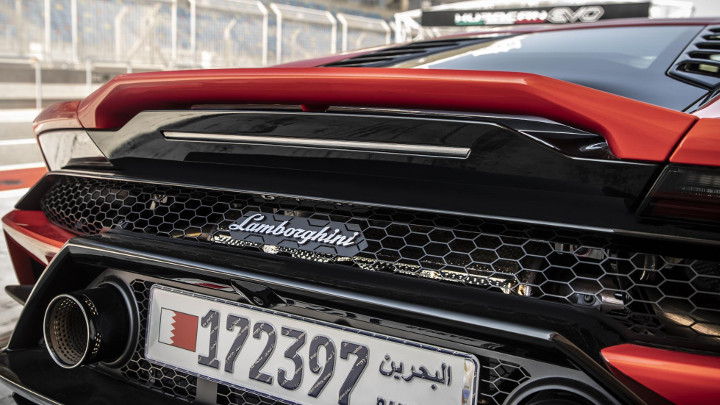 But focusing on that stuff is missing the bigger picture, which is that the Huracan Evo represents a philosophical step-change for the Italians by introducing Lamborghini Dinamica Veicolo Integrata (LDVI), a central supercomputer that corrals everything the Evo's chassis and powertrain has got while adding a predictive element, "redefining the segment parameters, while delivering the most responsive, sensory, and agile driving experience," according to the boss, Stefano Domenicali (a man who claims to be a "super, super average driver," coincidentally another reason why the Huracan Evo is meant to be as accessible as it is thrilling).
The question is, has Lamborghini put HAL from 2001: A Space Odyssey in charge, or has it figured out how to boss the software? "I'm sorry, Dave, I'm afraid I can't let you have your cake and eat it..." Yikes.
What is it like on the road?
First, a caveat: All driving impressions were gathered at the Bahrain International Circuit; we'll have to wait a bit before we get the Huracan Evo on the road. The upside is that this is one of Hermann Tilke's more satisfying 'new' circuits, with some very high-speed sections, elevation changes, and corners that hurt anything that can't manage weight transfer effectively.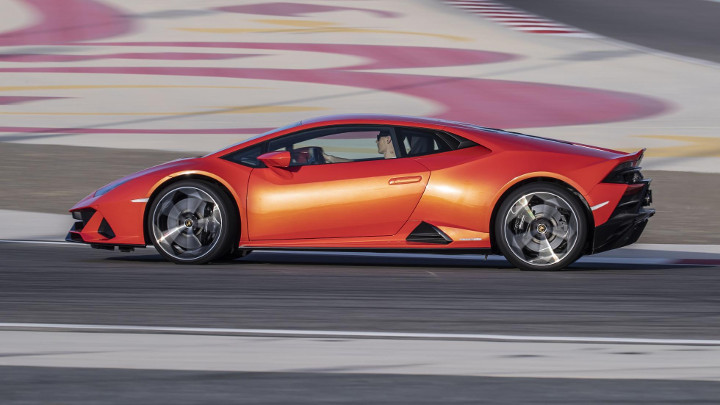 So how does the LDVI work? Well, in addition to HAL, there's a set of accelerators and gyroscope sensors positioned at the heart of the car's center of gravity, and it provides
real-time monitoring of lateral, longitudinal, and vertical loads, as well as body roll, pitch, and yaw. The suspension's magnetic damping is also part of the equation, as is traction control, the Evo's all-wheel drive, torque vectoring, Lamborghini's dynamic steering, and the active rear axle (borrowed from the Aventador).
There's a lot going on, a gazillion computations happening in 0.2 milliseconds all with the aim of making any beginner feel heroic, and a decent driver a superhero. Remember the time when these guys had trouble making the indicators work? It's not dissimilar to systems used by Ferrari and McLaren, although the predictive element is a spooky addition.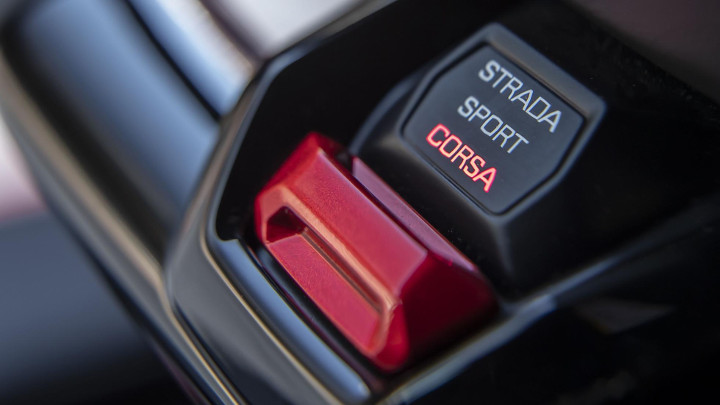 Lamborghini refers to this as 'feed forward' (rather than feedback, geddit?), altering the car's behavior according to which mode you're in: comfortable daily-driving Strada, shoutier Sport, and sharper track-day Pirelli-shredding Corsa. Sport also contains what to all intents and purposes is a drift mode, but Lamborghini refuses to call it that on the grounds that its owners like the idea of being the masters of their own destiny. It certainly works, and the Huracan Evo lets you exit corners with the sort of deft dab of oppo that pro drivers routinely deliver, before riding out the curbs and maximizing traction. There's incredibly exact turn-in and almost zero understeer, while in fast, sweeping corners, you can only just feel the algorithms strutting their stuff.
Mostly, HAL and his minions are mercifully unobtrusive, and the slick software electronics and the car's enhanced aero properties combine to substantially broaden the Huracan's spectrum of possibilities (a nod here to Pirelli's super-sticky P Zero Corsa rubber). In fact, the engine now almost plays second fiddle to the chassis, an inversion you might not have expected.
It's mightier than ever, of course, the old-school heartbeat of an increasingly technofied Lamborghini experience, although the seven-speed dual-clutch 'box can't quite keep pace with it on the circuit, and the carbon-ceramic brakes—380mm up front, 356mm at the rear—aren't as resolutely feelsome as I'd like, and the car can move around a bit under really hard stopping. Work to be done here, I think. The steering could also do with a bit more heft, too, and lacks the absolute clarity that McLaren has made such a signature. But for a road car designed to be used daily, the Huracan Evo sure is one hell of a track machine.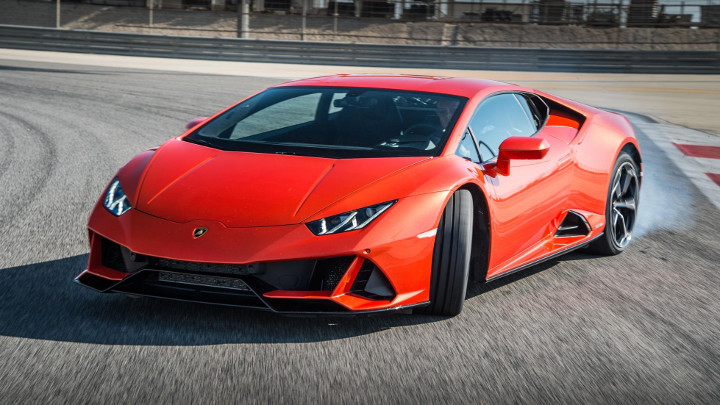 Basically, I'd expect this to be a devastating bit of kit even on the gnarliest back road, in Strada or Sport mode, at least. (NB: Apart from the stability control, everything else remains on duty when the ESC is switched off. But it can still get very lairy.)
On the inside
More integration. Lamborghini's brand reinvention aims to seduce new buyers (70% of Urus owners are conquest), while appealing to its surprisingly youthful customer base. Although there must surely be one definitive way of serving it all up, the Huracan Evo features the sort of striking cabin connectivity that makes the Murcielago, God rest its soul, look about as contemporary as Jacob Rees-Mogg.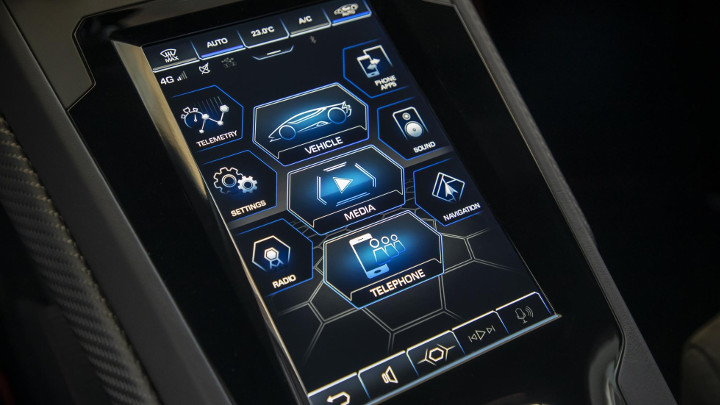 Star of the show is a new 8.4-inch capacitive touchscreen, which dominates the center console. It's preferable to the MMI in the Urus, with fantastic bespoke graphics, multi-finger gesture control (two swipes up or down for the volume), and a full readout for the LDVI. Head-up display isn't available because the extreme rake of the car's windshield doesn't allow it. Dual camera telemetry is an option, as are a seemingly endless array of interior materials and fabrics. The air vents and the doors can be finished in a carbon-composite look, or in Lamborghini's faintly creepy-sounding carbon skin. Although the car's visual reworking is nuanced, Lamborghini's head of design Mitja Borkert confirms that increasing the scope for personalization was part of the process: "Other carmakers are known for a single color," he says, "but Lamborghini is about every color." 
Including a new yellow-infused orange called Arancia Xanto. Which sounds like a character from the Marvel Cinematic Universe.
Owning
The Huracan Evo costs £206,000 (P14.2 million), and is liable to go deep into the P220,000 region (P15.2 million and above) the longer you linger in the Ad Personam bespoke department. Crucially, this moves it into Ferrari 488 GTB/McLaren 720S territory, which is a big ask. Fuel economy and emissions were still being confirmed at the time of writing, but neither will generate much in the way of letters home.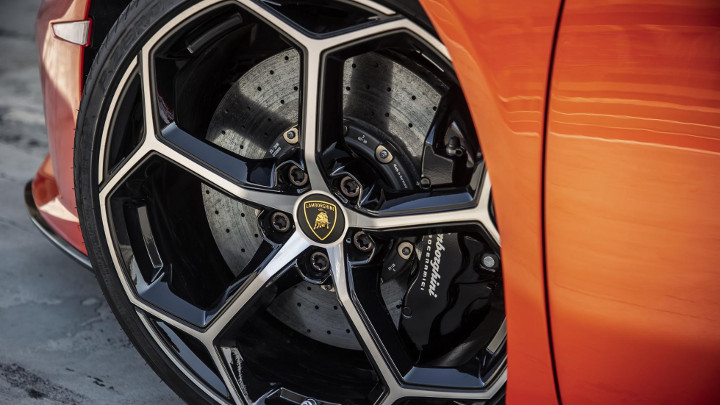 But who cares? Domenicali remains committed to exclusivity, and admits that in his three years in charge, part of his mission has been to make Lamborghini less polarizing. No longer the bad boys, then.
Final thoughts
"I'm a hardware engineer," Lamborghini's technical director Maurizio Reggiani says firmly. "Let me put it this way: The software is always the slave to the hardware." He and his team have pulled off a neat trick with the Huracan Evo: It's heaving with hot new tech, yet somehow feels more organic.
It's almost alarmingly easy to drive very quickly indeed, but it will happily trade blows with you if you want to go that way. Bringing your A-game no longer matters: You can bring whatever game you want, and the Huracan Evo will adjust accordingly. Lord knows where they'll go next, but for all that this car creeps toward AI, Lamborghini has remembered to keep the driver front and center.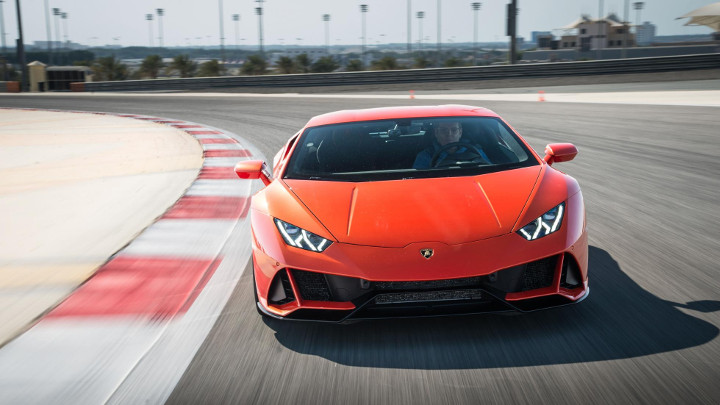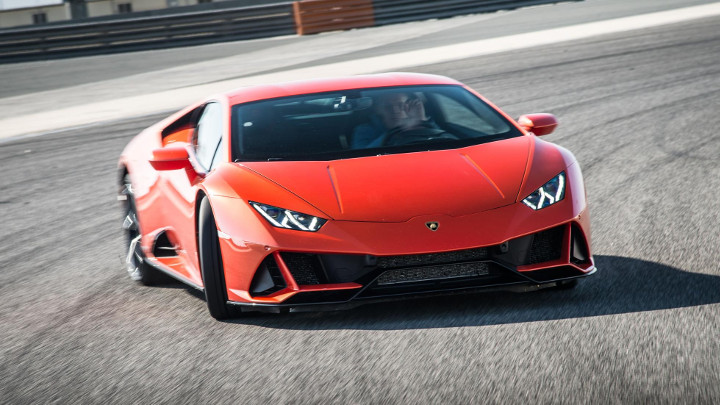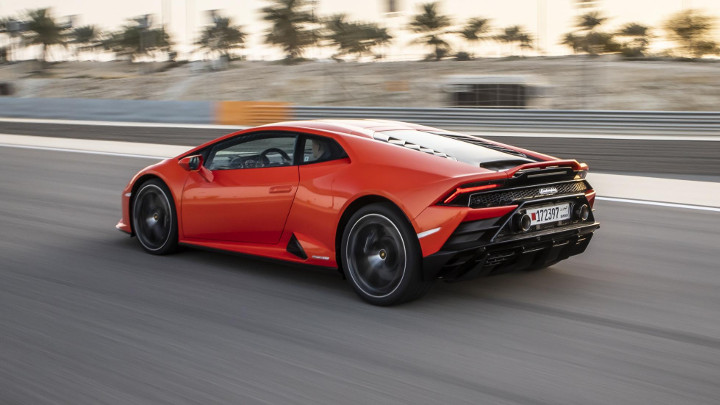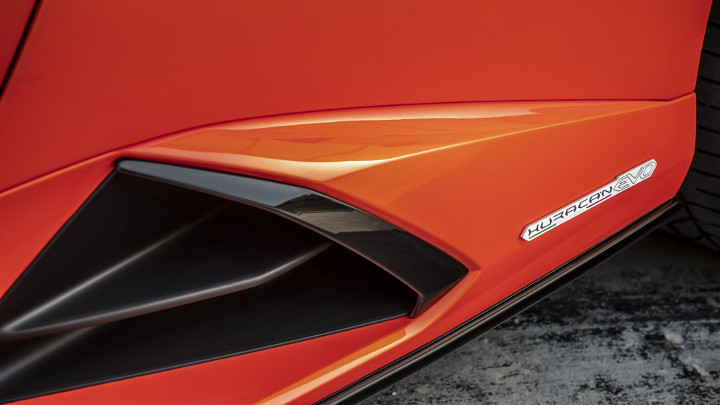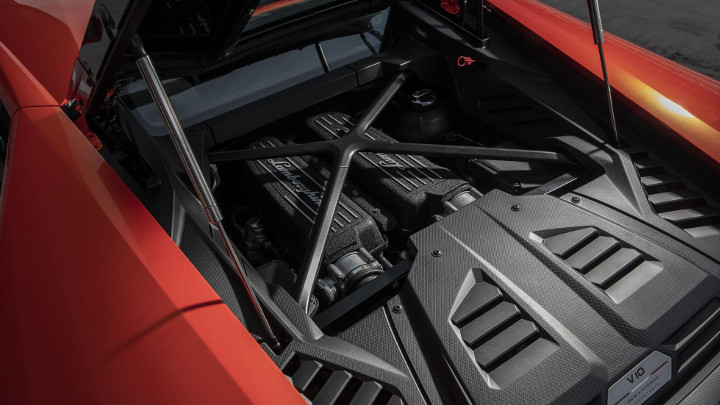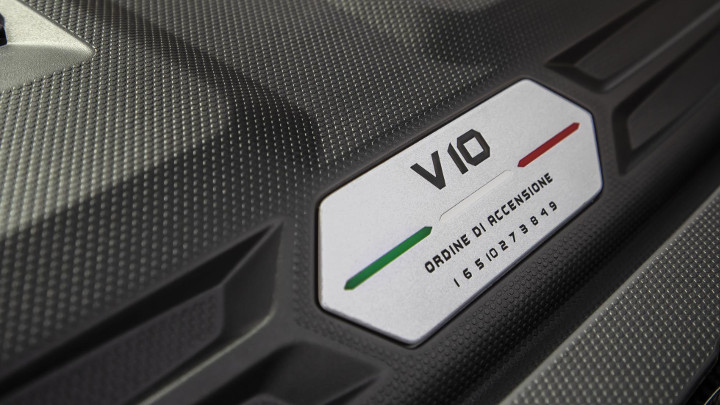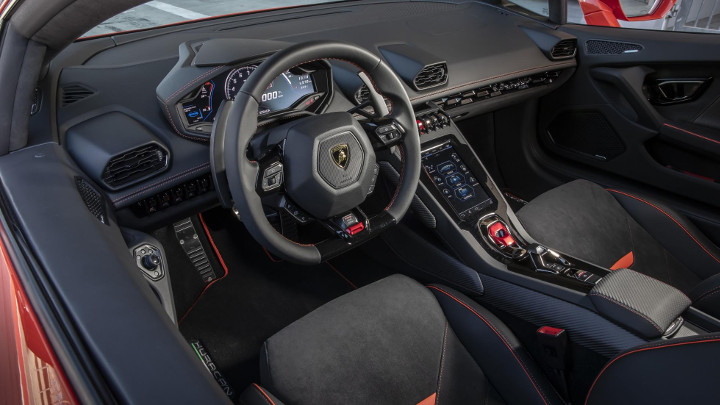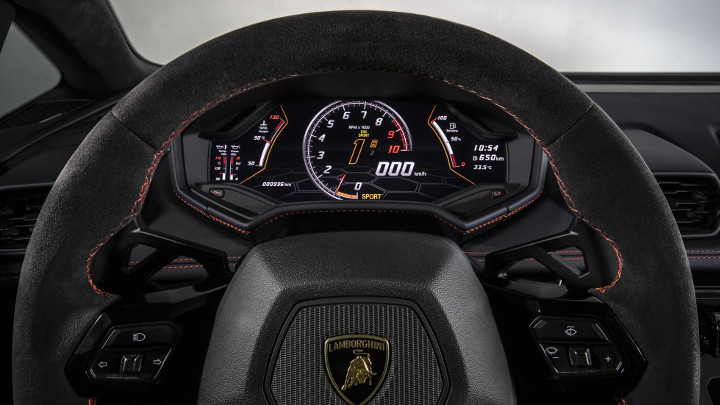 NOTE: This article first appeared on TopGear.com. Minor edits have been made.