It's a delightful nod to the past. The Spyder badge is famous in Porsche history, having being attached to some truly evocative road and race cars dating right back to the '50s, while the engine is a hark back a little more recently in time. A time when Porsche Boxsters came with lovely, rich, sonorous six-cylinder engines and not flat-fours devoid of soul.
Oddly enough, this isn't a Boxster. While it follows in the footsteps of two generations of Boxster Spyder, this one's been named 718 Spyder. It's a move that lacks logic—the 718 badge was brought back to Porsche's range in an attempt to attach some emotion to the four-cylinder switch, so making such a big deal of it on a flat-six-only car is curious. But let's just put it down to some marketing plan that our little brains will never understand and get on with digesting the spec of the car.
Because what a spec. The Spyder has gradually ramped up the aggression with each passing model. The first, launched in 2010, had a roof so delicate and flimsy that you couldn't drive the car at speed with the fabric in place. The second was introduced in 2015 alongside the first Cayman GT4, and while they shared an engine, the Spyder's was detuned by 10hp and its suspension setup came from the softer, less-track-focused Boxster GTS. A more substantial (though still fiddly to operate) roof could at least cope with the top speed that time around, though.
Continue reading below ↓
Recommended Videos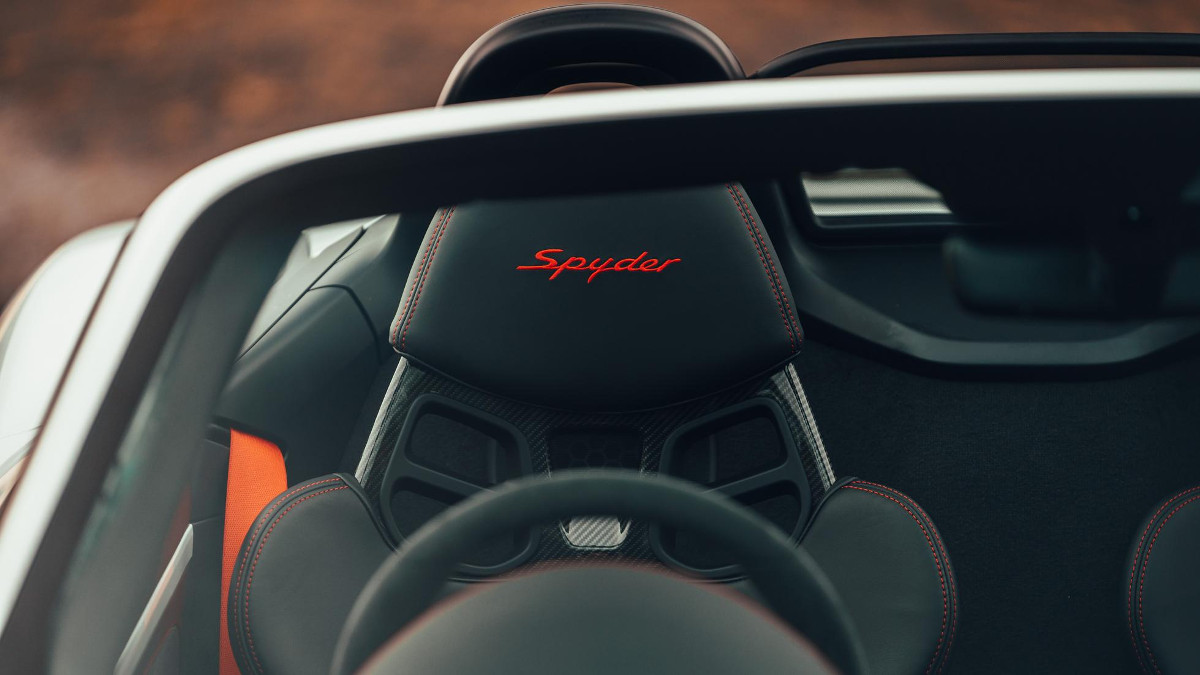 And now we get to 2019, the renamed 718 Spyder, and a car that's basically a more voluptuous, convertible version of the 718 Cayman GT4 (yep, they kept the Cayman bit in its name). So, its 4.0-liter flat-six puts out the same 414hp, the suspension is just as hardcore and identically set up to its coupe sibling, and there's even a rear diffuser that does proper, actual downforce. The first Boxster to ever provide that.
While the engine might look—on paper—to have parachuted down from the Porsche 911 GT3 and Speedster, it's actually a modified version of the 3.0-liter twin-turbo in the very latest 'normal' 911s. The turbos have been binned, its capacity bored out, and there's even been some cylinder deactivation worked in. It operates solely through a six-speed manual gearbox.
This is a different kind of engine for a Porsche Motorsport special—anyone who's experienced the joyfully unfinessed low-speed manners of something like a 911 R will feel like they're stepping into an S-Class here. It's smooth, polite, and utterly professional. Its redline sits at 8,000rpm.
It's quick—0-100kph in 4.4sec, 301kph top speed—but actually no quicker than regular Boxsters thanks to the Spyder actually weighing more, at 1,495kg. That's despite its much simpler roof mechanism.
It's electric for the first few seconds of its operation, but once the huge rear panel has clunked up, you have to walk around the back of the car, hoik it up, then manhandle the fabric roof up and down before clunking the panel back into place. It sounds involved, but it's reasonably simple, though naturally, all has to be done at a complete standstill. Should you encounter light rainfall, you might be inclined to just ramp the heating up and stoop a little lower in the cabin.
On the road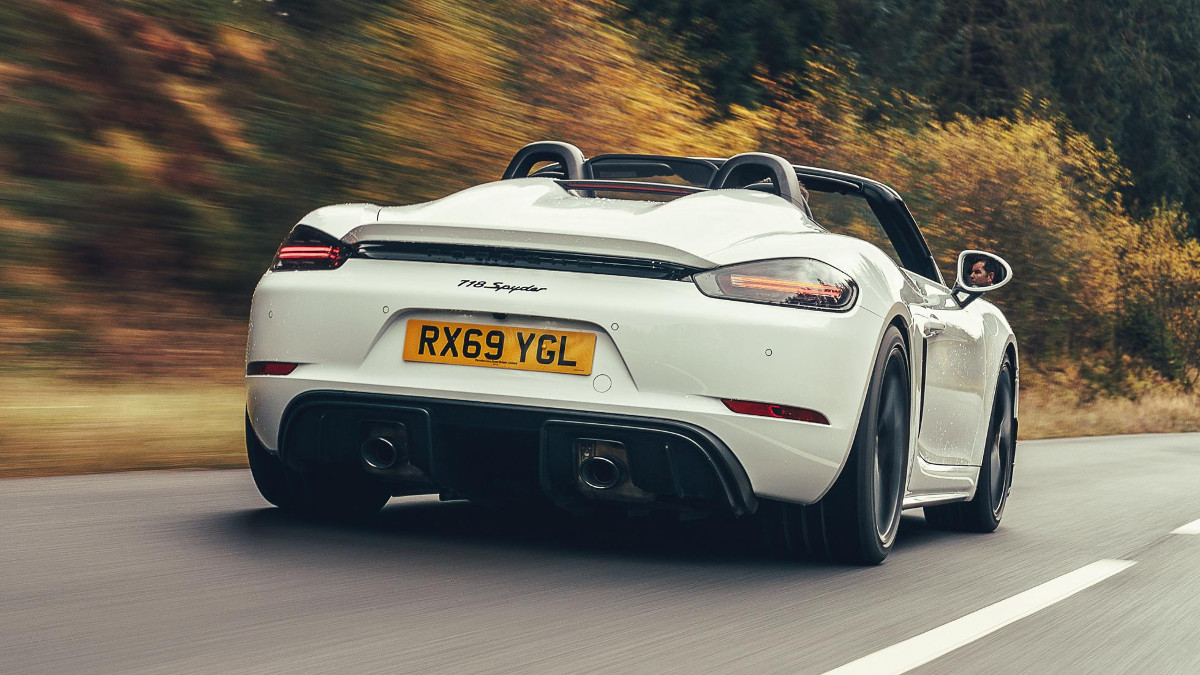 Going through the evolution of the Boxster Spyder was key, because what we've ended up with here is a tangibly different car to its forebears. Porsche still describes it as the road-biased car to complement the track-oriented Cayman GT4, but never have the two felt closer.
Older Spyders had more modest suspension, less grip, and a fluid, accessible feeling on the road. They were fun, easygoing, and just a bit less laser-focused on outright cornering speed than a GT4. Not so much here. This is much harder and grittier than previous Spyders, with notably less delicacy to the way it goes about its business.
But there's a nice incongruity to seeing such a beautiful shape draped across such a resolute chassis. There's actual downforce from its diffuser, for crying out loud. And complaining that a car drives 'too much like a Cayman GT4' is rather like accusing a meal of tasting 'too much like medium-rare steak.' It's obviously a deeply talented thing.
Everything we know and love about Porsche Motorsport products, and their sublime tactility, is here. The supremely slick gear change, which has benefited here from a shorter throw. The steering, which is borderline magical for an electronic setup. The deliciously progressive brake pedal, so good as standard that you can do without the optional carbon-ceramics. The Spyder treatment sees nearly everything wrapped in alcantara, too, so its controls all feel magnificent even before you've properly used them.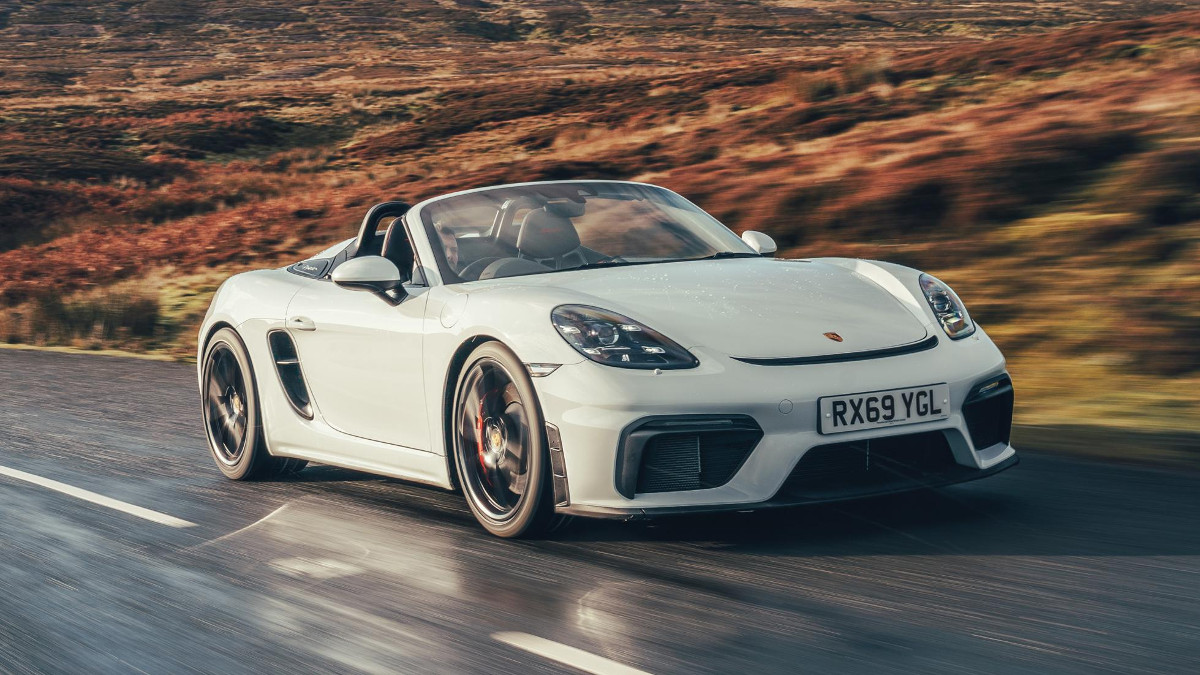 The engine is definitely down on character compared to both GT3-level Porsches and the old Spyder. Its best noises are approaching its 8,000rpm limit, but in the middle of the rev range where you'll spend most of your time (second gear stretches past 125kph, after all), it doesn't sound or feel quite as delightful as before. It feels more like an old Boxster GTS used to. Still pretty effing good, just not superlatively so.
Those pesky emissions regulations are sucking the fun out of our favorite sports cars, and this is one that's tangibly suffered, at least from inside the cabin. Shortly after we drove the 718 Spyder, we followed it down the road with someone else at the wheel, and can confirm that other road users will still get a 'Le Mans at 3am' vibe when this engine is punching through the air on a cold, misty day. Phew.
The net result of all of the above is a car that makes you grit your teeth rather than grin like an idiot—a slightly key change over the previous Spydter, which didn't encourage your utmost commitment every time you drove it. This one kind of demands it. It exhibits a focus, precision, and firmness that's absent in all other Boxster-shaped things. It makes their gear changes feel slack, their steering vague, and their brakes soft. Which, if you've ever driven a something like a Boxster T in isolation, would seem like an absolutely ludicrous bunch of accusations.
On the inside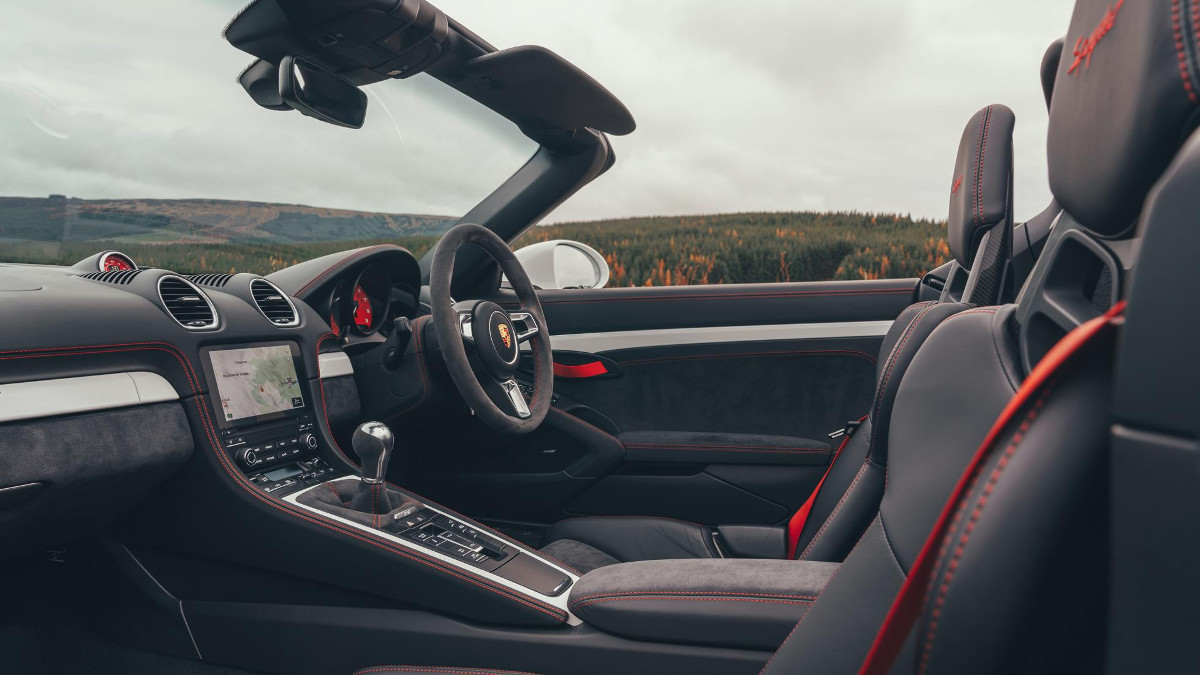 Of course it's brilliant in here. Porsche nails ergonomics in its sports cars, and being a model of a slightly older generation—the Boxster this is based upon dates back to 2012—the dials are analog, too. We love the manual gearbox, so of course we love a set of instruments that have avoided going digital.
Alcantara is wrapped around the whole steering wheel as standard, which is something not every carmaker actually understands the importance of when setting a race-car-for-the-road vibe. You can have a fire extinguisher in the passenger footwell if you really want to take that feeling to its extreme.
While the last two Spyders were lightweight specials that binned the aircon and the stereo (unless you asked your dealer to pop them back in), this one has a full suite of everyday stuff that—in truth—will probably make you drive the car more. Proper climate control sits alongside the PCM media system, one that'll display its own satnav or connect to Apple CarPlay while playing sound through a six-speaker audio system.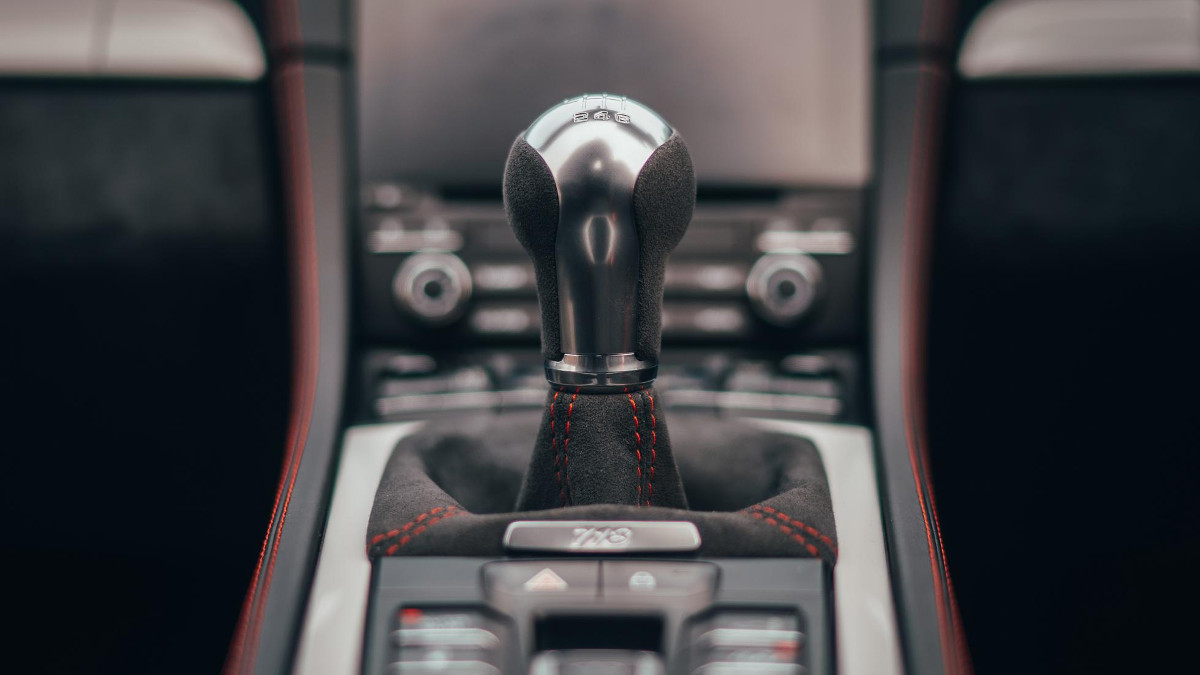 There are luggage compartments front and rear, so it's no less practical than a regular Boxster—which is to say it's a very usable sports car if you only need two seats—while those seats are electrically adjusted as standard, but can be optionally switched to full, carbon-backed buckets
Three cheers for Porsche's delightfully over-engineered cupholders, too. They've been a mainstay in the carmaker's sports cars for well over a decade, but the 992-gen 911 has ditched them, suggesting the next, electric-only Boxster and Cayman will, too. We'll mourn their passing—they're wonderfully damped and expertly constructed, and have a little illustration on their neat 'n' tidy cover that appears to display a small cocktail. Yeah, the Germans know how to party.
Final thoughts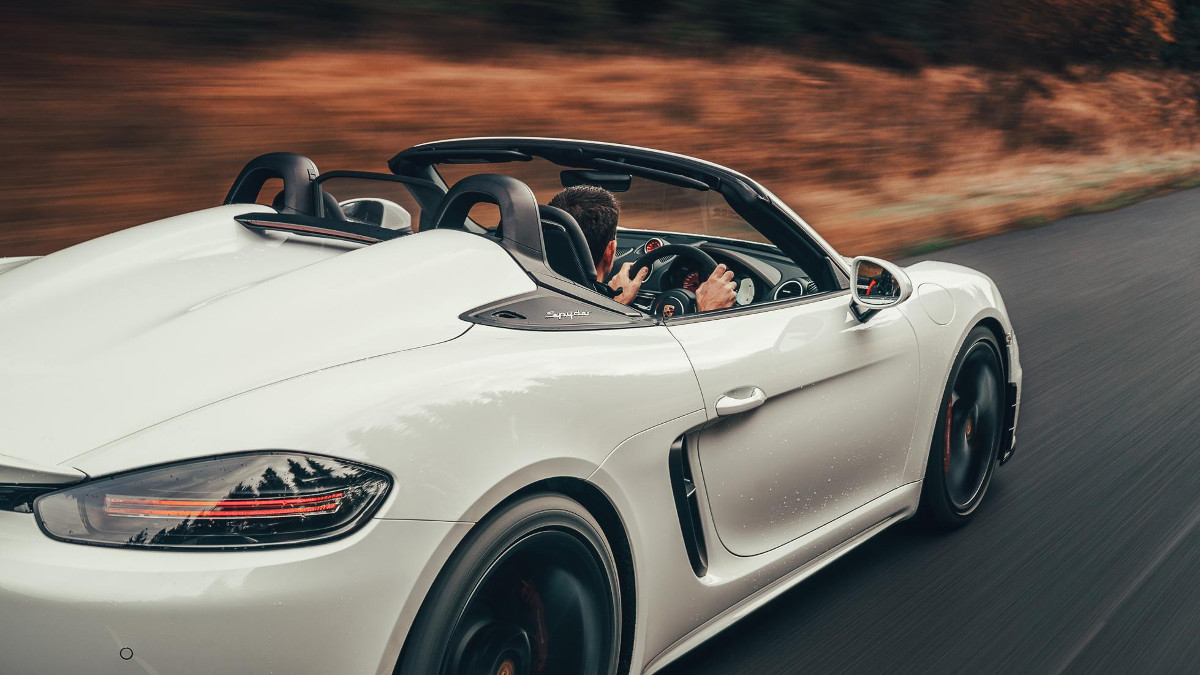 The 718 Spyder is a curiously hard car to assess. On the one hand, it's among the most focused roadsters on sale—a track special hidden under a stylish cloak and a car of such rare nous that its asking price seems like a bargain. But on the other, the Spyder has lost a bit of its character: The Cayman GT4's more fun, outgoing sibling has suddenly swotted up and become equally as studious.
In other words, it's objectively brilliant, but subjectively a little more difficult to pin down. If you haven't much experience of Porsche Motorsport models, you won't know the little drivetrain flourishes it misses out on, while if you've an array of GT3s or GT4s in your ownership history, then you might just appreciate being able to buy something equally hardcore but with a more beautiful shape atop its chassis.
All told, it's an end-of-an-era car and we'll be dewy-eyed when it's gone. We've not seen a mid-engined Porsche roadster with a flat-six for a while now, and with the next Boxster going electric, we likely never will again. Buy a 718 Spyder and there's very little chance you'll regret it.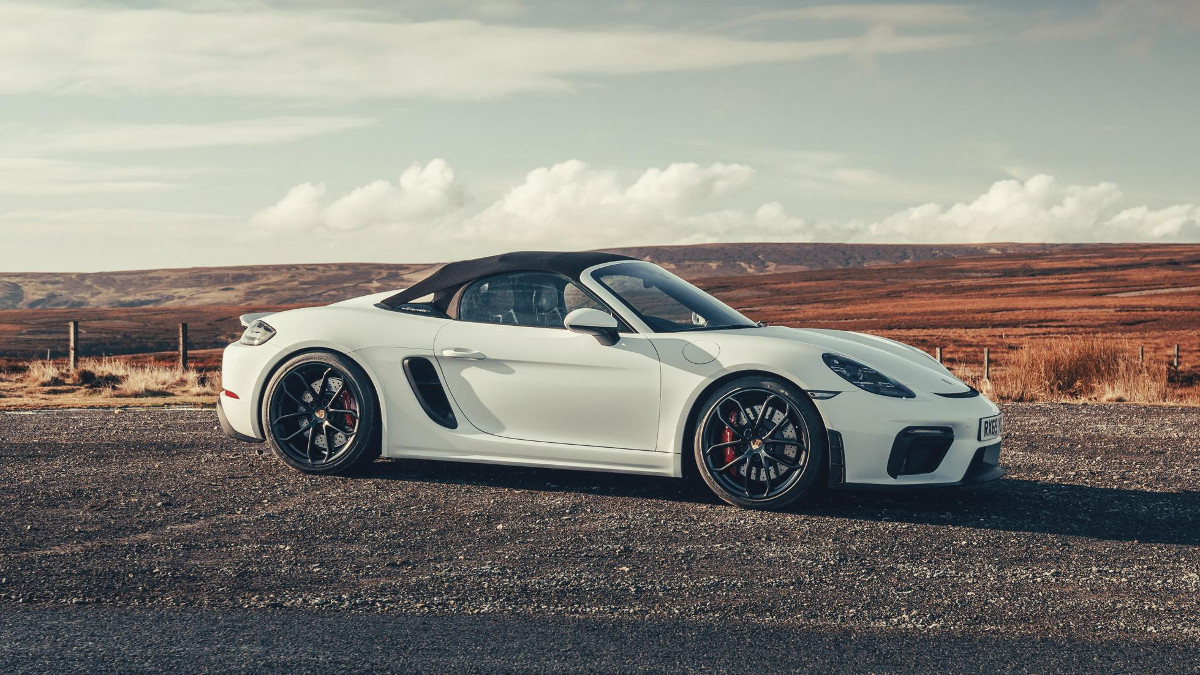 NOTE: This article first appeared on TopGear.com. Minor edits have been made.