A very conventional Audi—that's probably the first thing to note about the e-tron. This is an electric car that doesn't seek to blur boundaries or act radical, but simply persuade regular SUV buyers to make the jump. Audi refers to this as 'concept clarity.'
The Tesla Model X deliberately looks and feels different, while the Jaguar I-Pace is a mix of SUV, hatch, crossover and coupe, both pitched that way to make an impact and try to pull in buyers from all over. Both need growth. But Audi, defending huge sales volumes, has created a car people will recognize, understand.
Although it's similarly sized to the Q7, underneath, the e-tron bears little resemblance to its stablemate. It isn't ground-up new, but the MLB Evo platform has been heavily adapted to underpin both this and the forthcoming e-tron Sportback. There's an electric motor on each axle, the rear slightly more powerful than the front for all-wheel drive when required.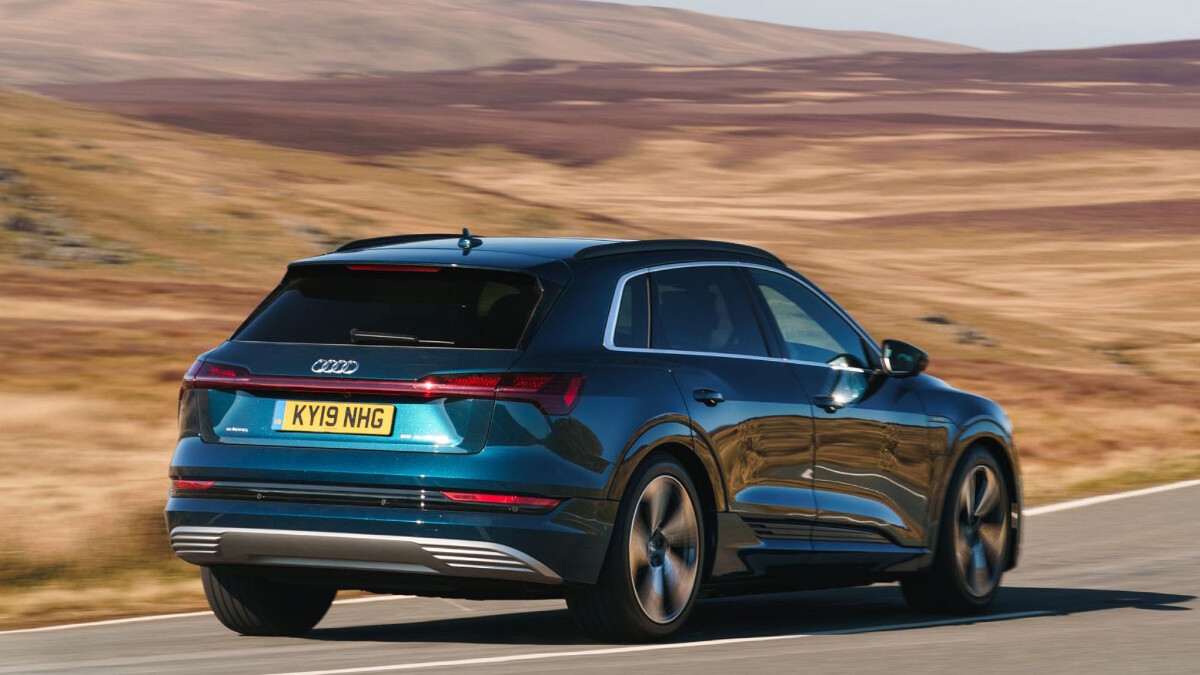 ADVERTISEMENT - CONTINUE READING BELOW ↓
Further electric platforms are in the pipeline at Audi. The forthcoming e-tron GT is based on Porsche's Taycan, while further down the line, Audi and Porsche are working jointly on an all-new electric platform known as PPE. That will form the base for the VW Group's larger cars (possibly including Bentley), while VW's own MEB platform will feature for its ID models.
Enough industry chat. The e-tron comes in several flavors. The e-tron 55 (402hp, up to 405km of range) came first. Now there's a cheaper e-tron 50 with less power and a smaller battery (309hp, up to 314km of range), as well as a tri-motor e-tron S (496hp, 359km of range).
The e-tron seats five (there's no seven-seat option), and has a large 605-liter cargo area. Key equipment includes adaptive air suspension, LED headlights, 360-degree cameras, keyless entry, and charging points on both sides of the vehicle. Side cameras instead of mirrors are an option—though the Honda e and the Lexus ES both offer camera mirrors, the e-tron got there first.
On the road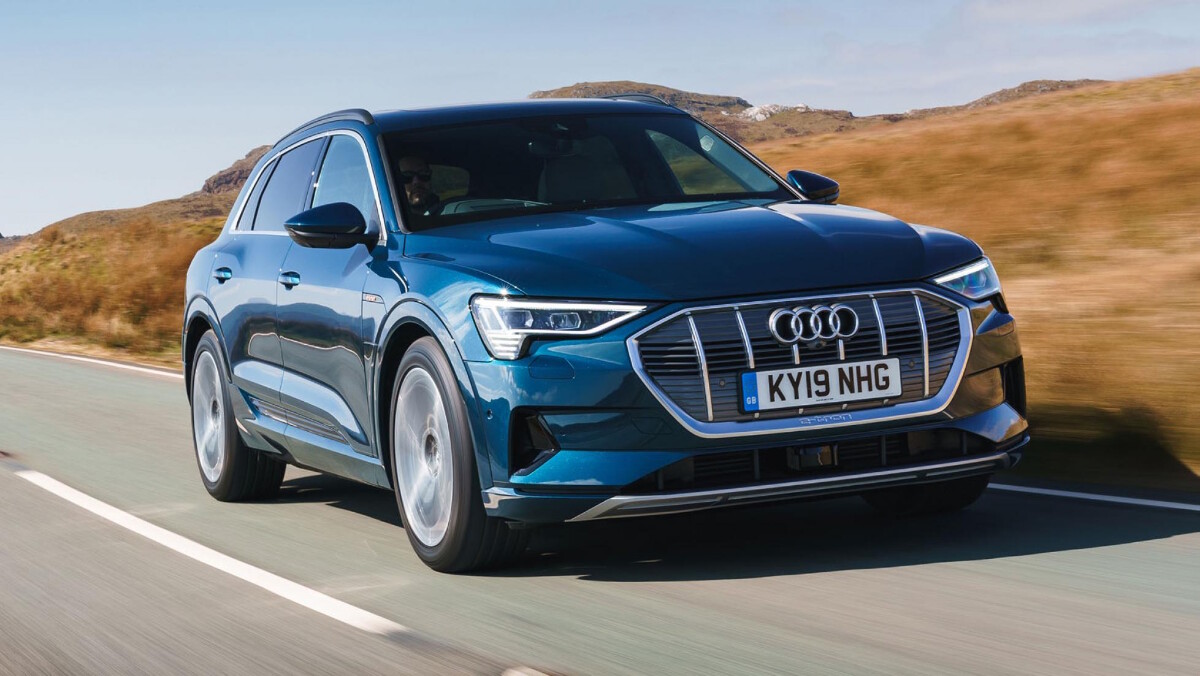 As electric cars gain momentum, they're becoming more straightforward to drive. So, no strange drive modes in the Audi, nothing we're unfamiliar with from its regular internal combustion models. The most complex thing about the e-tron is its new gear lever, which pivots from under its central housing, swinging over a small arc back into Drive or forward into Reverse. You operate it with your thumb and get used to it in seconds.
And the rest of the e-tron. It's a car, just quieter and smoother. There are selectable driving modes from Off-Road to Efficient to Dynamic, and the only pointers are these: In battery-saving Efficient, the throttle response pulling out of junctions is way too sluggish, leaving you vulnerable to approaching traffic. In Dynamic, the ride is perhaps a fraction more vivid than you want and in off-road the air suspension rises by 35mm for useful extra clearance.
But you leave it in default Auto for 90% of the time, maybe using one of the others via the buttons on the center console if you're in a field or on a B-road or feeling worthy.
Because the e-tron is based on an adapted platform, it's a heavy car. Very heavy. The 50 weighs 2,370kg, and the 55, a whopping 2,490kg. That's over 300kg more than an I-Pace, and 150kg up on the massive Tesla Model X.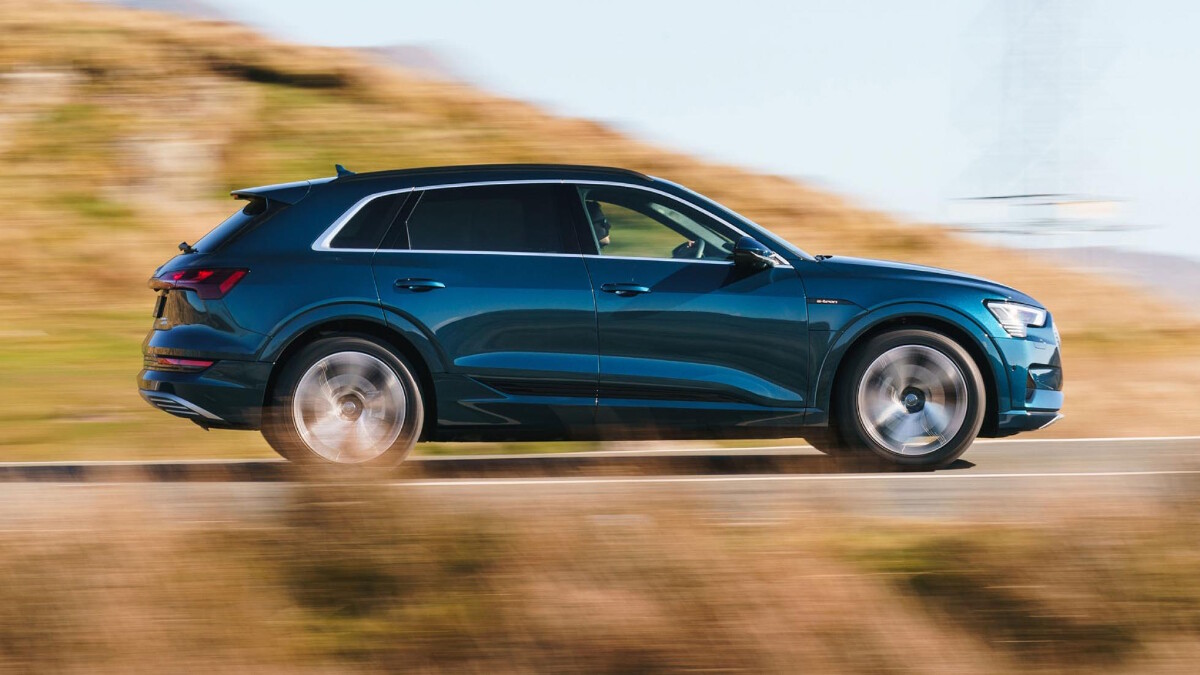 ADVERTISEMENT - CONTINUE READING BELOW ↓
The I-Pace is much zestier to drive, the Model X speedier. Not that the e-tron feels heavy. Even without the clever 48V electronics that underpin the Audi SQ7 and the Bentley Bentayga, it doesn't roll much or heave around corners. The benefits of a low center of gravity. It controls its weight well, grips, and changes direction more tenaciously than expected. More tenaciously than most regular SUVs. The rear motor is more powerful, torque split roughly 40:60.
The ride is smooth, aided by tires that aren't too aggressively low-profile—255/50 R20s. Also available are 22-inchers and they look great, but they knacker range. An e-tron 55 'Vorsprung,' with its 22-inch rims, claims 30km less range than an e-tron 55 'Sport' on 20-inchers.
The electric motors are sprightly enough to mask the weight. Both the 50 and the 55 feel alert off the line and have a reasonable snap of acceleration even at highway speeds. But they're not fast. Not by electric standards. Audi claims 0-100kph in 5.7sec for the 55 and 6.8sec for the 50.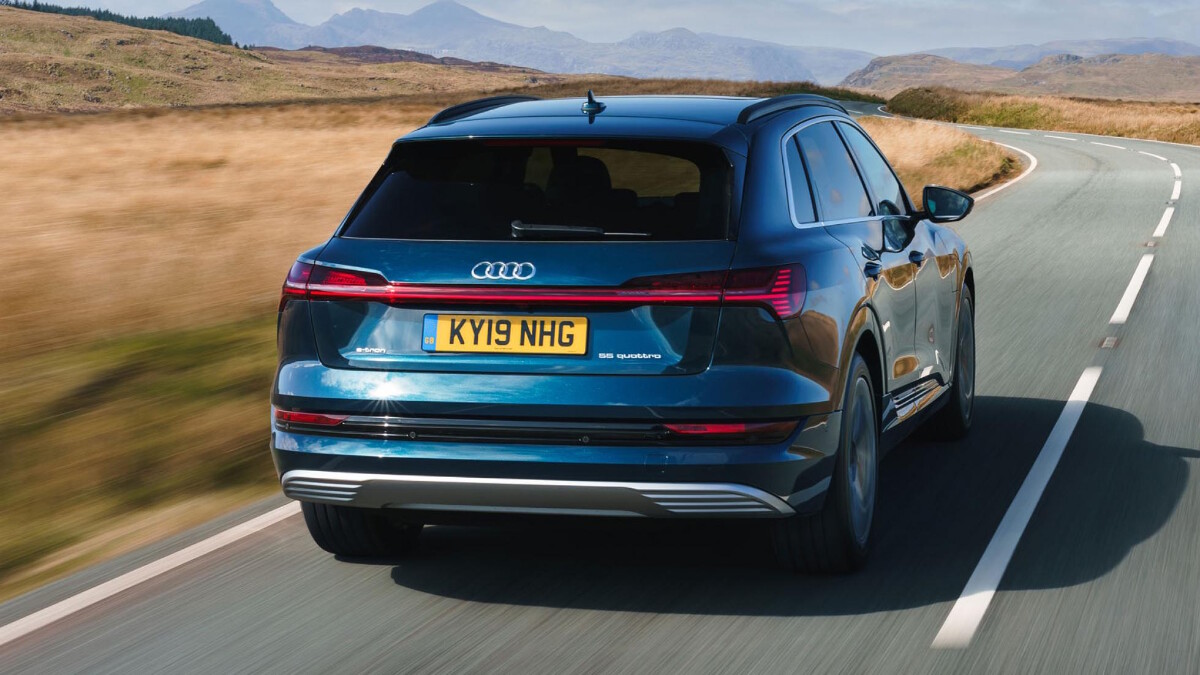 Top speed is limited to 200kph in the 55 and 190kph for the 50. We asked the Autobahn-obsessed Germans whether this was an issue. Not when they realized how much a higher top speed would reduce the range, apparently. They went on to mention that the shift to electric might move the conversation away from high top speeds. Interesting.
So, the e-tron grips well and is comfortable, the controls (with the exception of step-off in Efficient mode) have been calibrated very well indeed so input matches response. But it's not a communicator. Nothing through the steering, nothing through the brakes, except a realization that such weight takes an extra ounce or two of pedal pressure when you're coming to a stop.
Below 0.3g of retardation (it's more than you think), the braking is done electrically through the motors, the recuperated energy fed back into the battery. Only beyond that point are the hydraulic discs pressed into service. You don't notice the handover.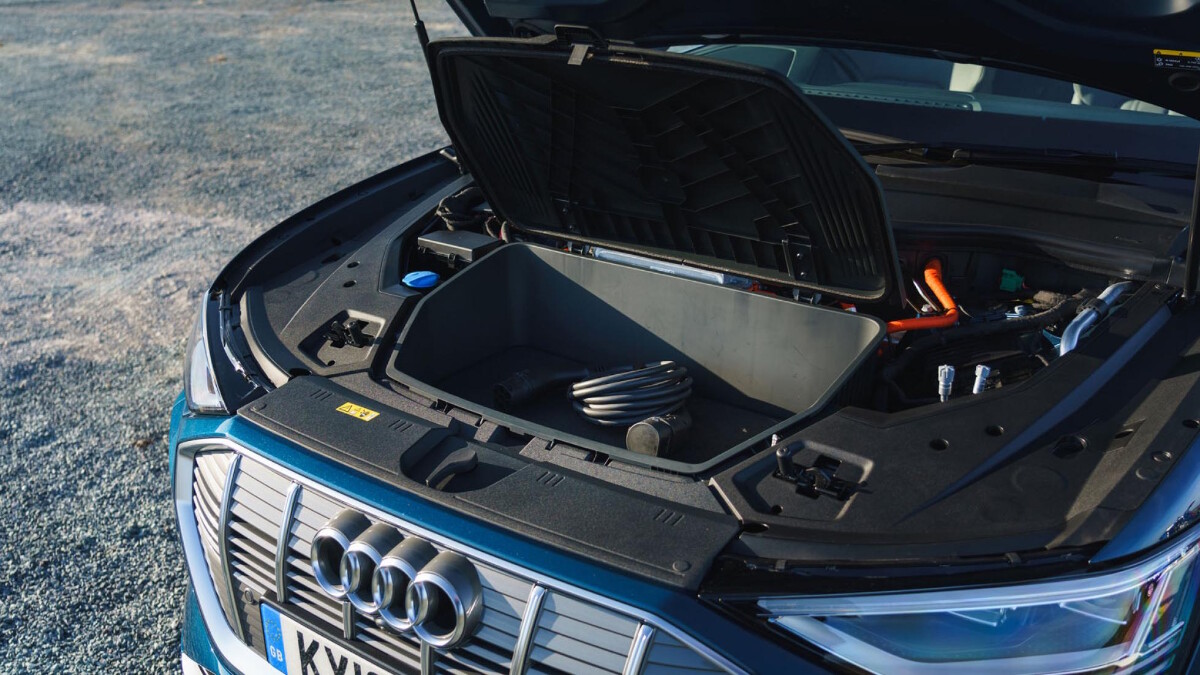 ADVERTISEMENT - CONTINUE READING BELOW ↓
Paddles behind the steering wheel allow you to increase the recuperation through three levels, but activate the auto mode and the system is clever enough to see cars ahead of you, or know a roundabout is approaching, and gently start the slowing for you. It works but feels a bit odd in practice—we kept it in manual mode, that way you know exactly how much the car is going to slow when you take your foot off the throttle.
The refinement is uncanny. Especially if you go for the camera door mirrors, which reduce overall width by 150mm and almost totally eliminate wind noise. You notice a trace from the base of the windscreen and A and B-pillars, but not for long.
On the inside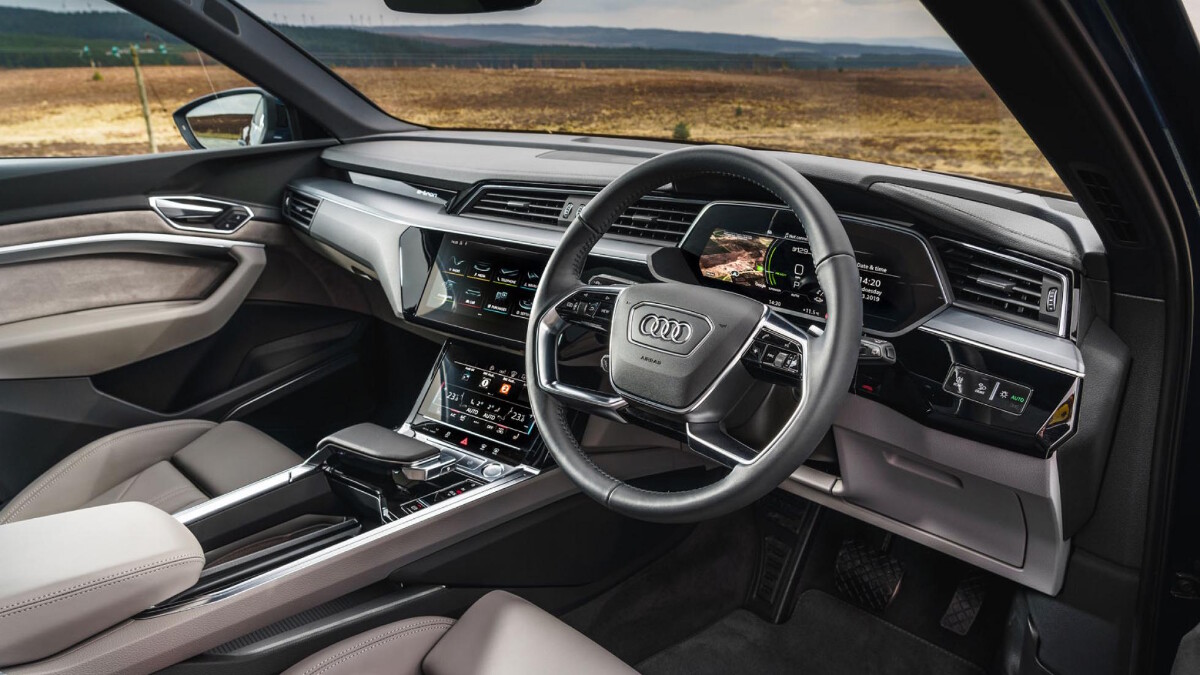 Imagine a Q7, then make the cabin design a notch more futuristic and knock back the practicality a degree. The cargo area has a very high load sill, and the angled D-pillars cut into space. You'll need an athletic dog to make it up there and it'll have to watch headroom once it's loaded.
There's also a frunk. It's shallow, but a good place for charging cables so they don't clutter up the regular trunk. Meanwhile, the middle-seat occupant in the back (only a five-seater, remember) has little legroom. The floor might be flat, but the center console that runs between the front seats protrudes back far enough to clout unwary shins. Flanking seats are...fine. Not generous by class standards, merely acceptable.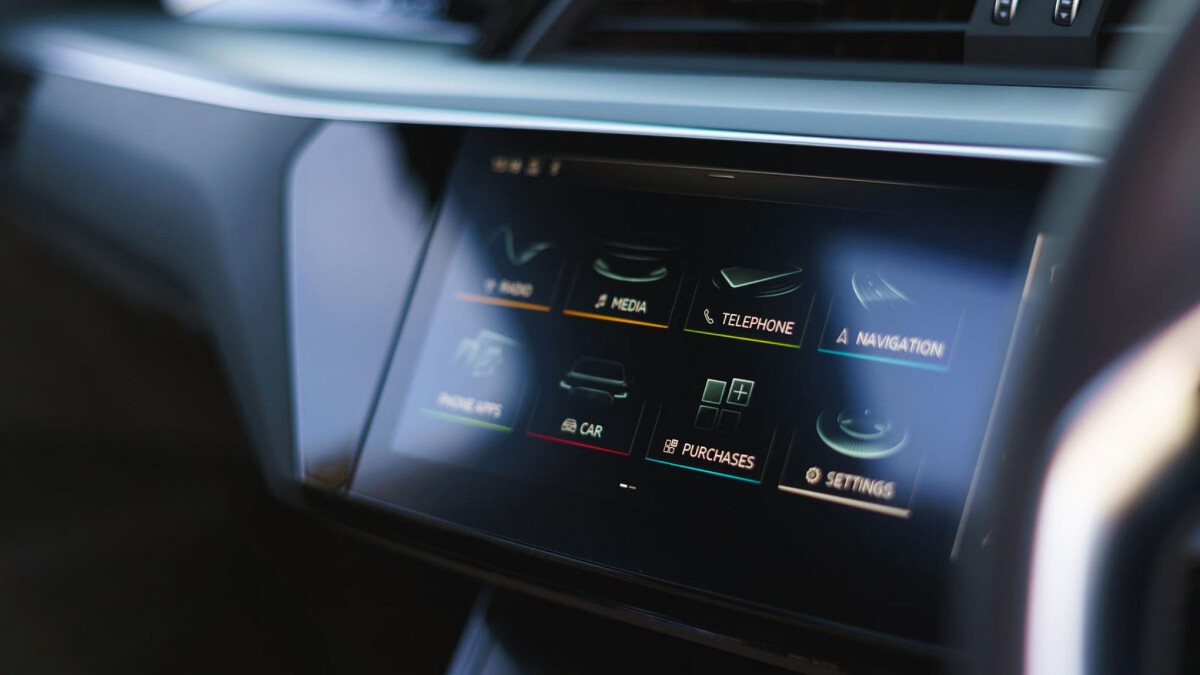 There are up to five screens up front. Two in the center console, and another for Audi's peerless Virtual Cockpit instrument cluster are standard. The two on the doors either side aren't. These are the screens for the side view cameras. They're not perfect—in fact, the diminutive Honda e does camera mirrors miles better. Think about how much you move your head to alter your angle of view when joining a highway. You can't do that here. You get used to the positioning of the screens (could be a gnats higher, ideally), can adjust the brightness, angle of view and grateful that they cut aero drag and you don't need to look around bulky mirrors any more, but the angle of view is narrow, and in strong sun, they struggle. Just don't spec them.
ADVERTISEMENT - CONTINUE READING BELOW ↓
The driving position is great, seat comfort is superb, and quality is irreproachable. It's an Audi, it's what they do. You will be spending a lot of time interacting with screens. The menu system is logical; at no stage does the e-tron bombard you with electric graphs, charts and data. Quite hard to find it, actually, and those that like to geek out on that sort of thing are going to be disappointed. It's short on detail.
Final thoughts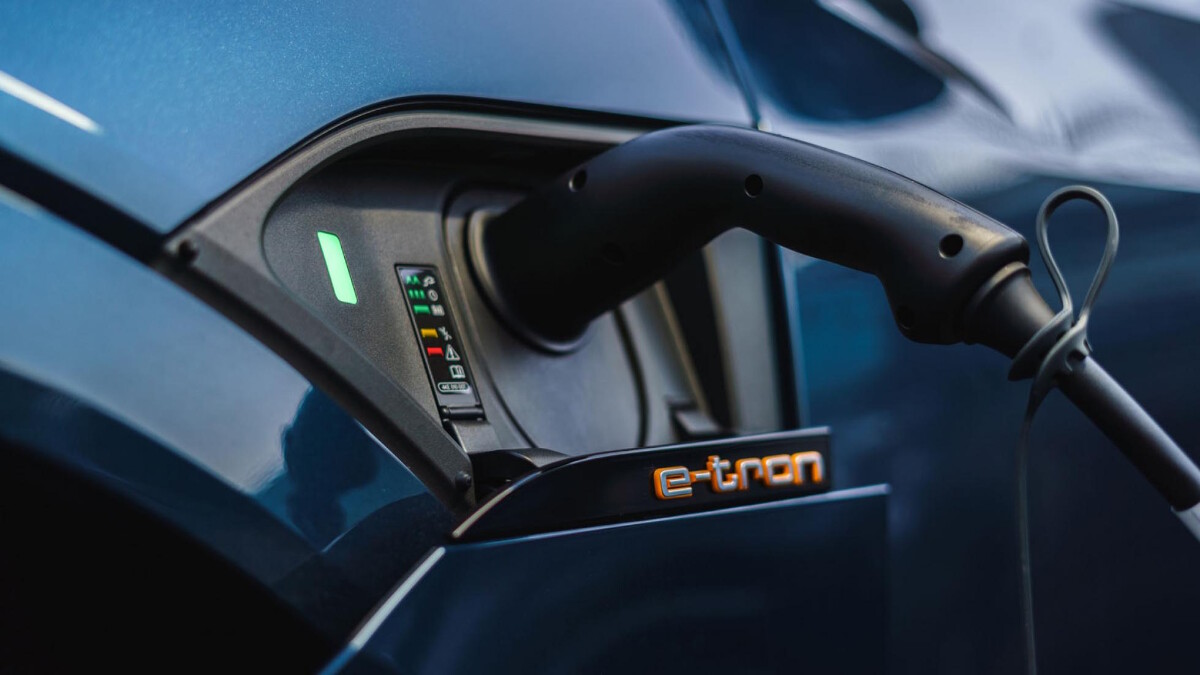 The family SUV, made electric. The Audi e-tron may be unimaginative, it may not stand out from the crowd, but that's the point. This is a key part of the electric-car tipping point, aimed at drawing in those who want an electric car, but don't want it to weird them out. This applies to the vast majority of buyers out there, and the e-tron, although pricier than an equivalent diesel SUV, is likely to find many eager homes.
It's an easily understood, very well-executed, and reassuringly well-built and developed car. An Audi, in other words. It would be good if it was lighter and went further between charges, and we're yet to be convinced about the benefits of the camera side mirrors, but if you're looking to set a tentative foot into the future, this is the safest stepping stone yet.
NOTE: This article first appeared on TopGear.com. Minor edits have been made.