The Audi RS3 used to be a missed opportunity. A classy, good-looking hatchback that'd had a rally car-aping five-cylinder engine shoehorned ahead of the driver, but without much sense of humor sprinkled in. It was almightily quick, but just a bit of a blunt instrument once the novelty of its gargling noise and whiplash-inducing acceleration had worn thin.
This latest generation is different, though. There's a trunk on the back for starters, with a four-door RS3 Sedan joining the five-door Sportback in the range. It's also greener than before. If you spec it in the wonderful Viper Green above, that is.
More important, there's been some fiddling with the oily bits beneath. The outgoing RS3 wasn't a bad car, it's just one whose dynamics have never been as lively or exciting as its howling five-cylinder turbo engine might lead you to expect. In a world of drifting Ford Focus RSs and mad-as-a-badger Honda Civic Type Rs, it just wasn't fun enough to compete.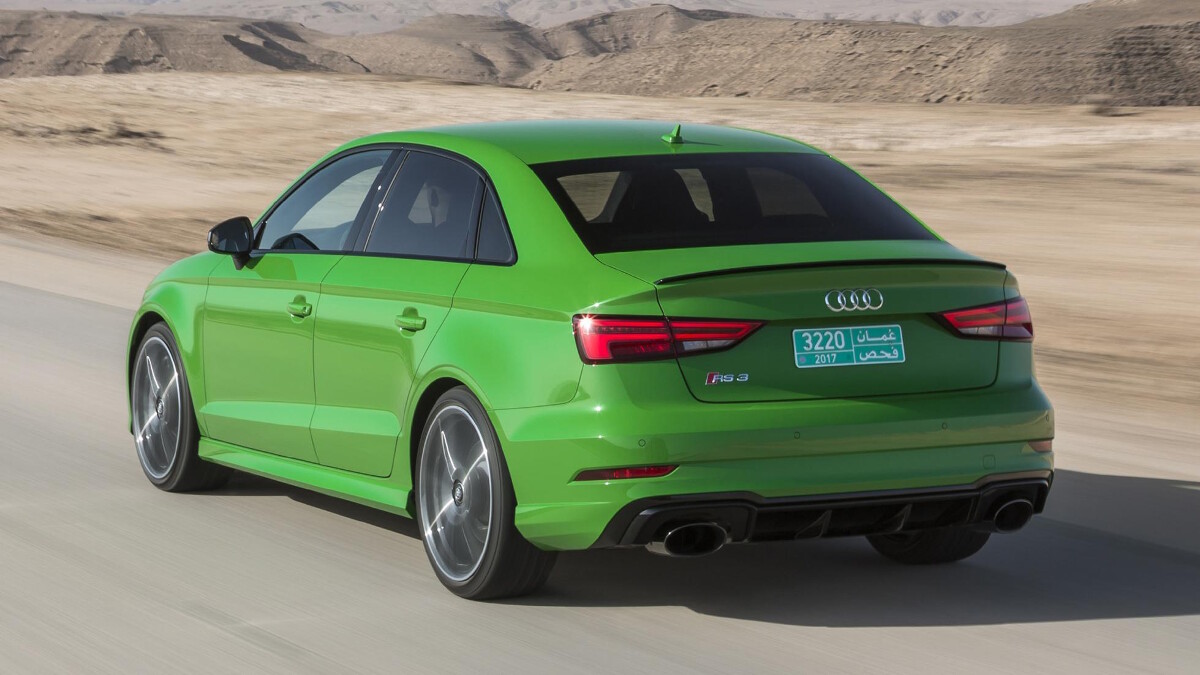 ADVERTISEMENT - CONTINUE READING BELOW ↓
The same Quattro four-wheel-drive system is fitted, but it comes with new software. So while the RS3 could send 100% of its power to the rear axle before this mid-life update, it never felt as aggressively set up as you might hope. In its new guise, the system never has a standard power split. Audi's engineers say the ratio between front and rear axles constantly varies, to match both grip levels beneath and driver input inside.
There's more power, too. The 2.5-liter five-cylinder engine produces a nice round 400PS, or 395hp, which is up 33hp on before. Additionally, the engine is 26kg lighter (thanks to an aluminum crankcase and magnesium oil pan, if you want to geek out).
That might not sound like much, but from a single component, it's impressive. And crucially, it's weight that's been taken away from an important part of the car—the front end that was rather too keen to push on in corners, rather than turn incisively into them.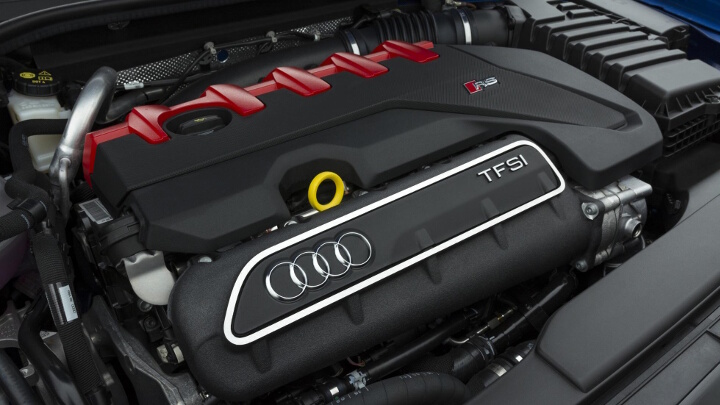 ADVERTISEMENT - CONTINUE READING BELOW ↓
Recommended Videos
The top speed is 155mph, but Audi will lift this to 280kph with the right options box ticking. And that's still limited. For a car this size, it's frankly bonkers. Its 0-100kph sprint also lives in a more serious part of the market. Audi quotes 4.1sec—0.2sec quicker than the old RS3—and we suspect it'll dip below that easily. With the seven-speed S Tronic automatic gearbox linked to a launch control system, it's all dangerously attainable, too.
Sensible numbers—on the new-fangled WLTP system—are 12.63km/L and 216g/km of CO2 emissions. Prices start at a whisker over £46,000 (P3.08 million) for the Sportback, with the Sedan commanding another £1,000 (P67,000).
On the road
The promise shown by the RS3's slinkier sibling—the TT RS—has been delivered upon with a car that's notably livelier than before. Though still rather hunkered-down and serious without provocation.
ADVERTISEMENT - CONTINUE READING BELOW ↓
In fast, sweeping corners it grips like you wouldn't believe. And you will be taking those corners quickly: the pace from its engine is just bombastic, right from 2,500rpm to its 7,000rpm redline. Predictably, with five cylinders, it sounds excellent. But it sweeps so quickly through its rev range, I'm not sure you ever fully get time to savor the noise.
And the RS3 makes up for it in slower, tighter corners, where it feels adjustable and up on its toes in a way it simply hasn't before. It's still not got the most alert of front ends, but the way power is flung to the back to counteract that is far more assertive than before. In short, you'll get a real tangible hint the rear's moving—drive this thing in the wet or on a low-grip surface and it exhibits a mischievous side we've not yet seen in an RS3.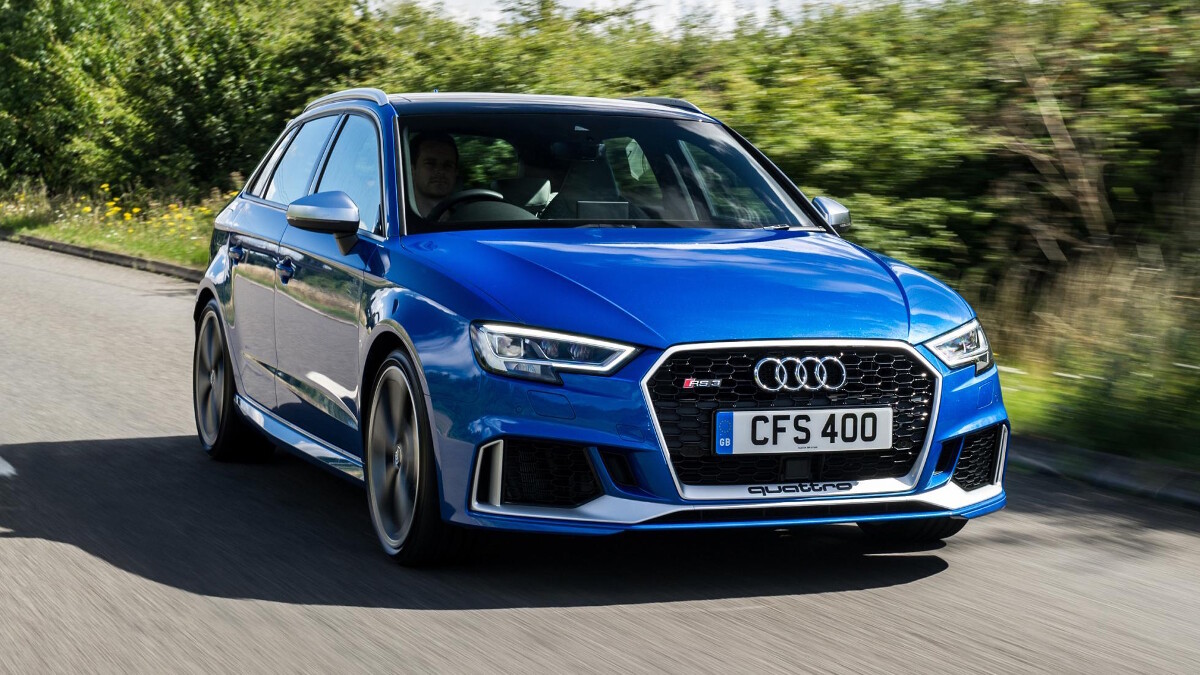 It also feels right with a paddleshift transmission as standard; I'm a firm believer a hot hatch should have a manual, but three pedals and a stick in here would just feel like an inconvenience when the rest of the spec sheet is so senior. The shifts are super quick up and down the gearbox, though there's little aural drama on downshifts, even with the optional sports exhaust.
The big caveat to the whole thing is just how sodding firm it is. The Drive Mode button cycles you through Comfort, Normal and Sport modes, but this is a STIFF car in all of them. Comfort has just about enough compliance for most bumpy backroads, but this isn't a car that breathes with a road like a sublimely set-up Renault Sport. It thumps thuggishly about the place.
On the inside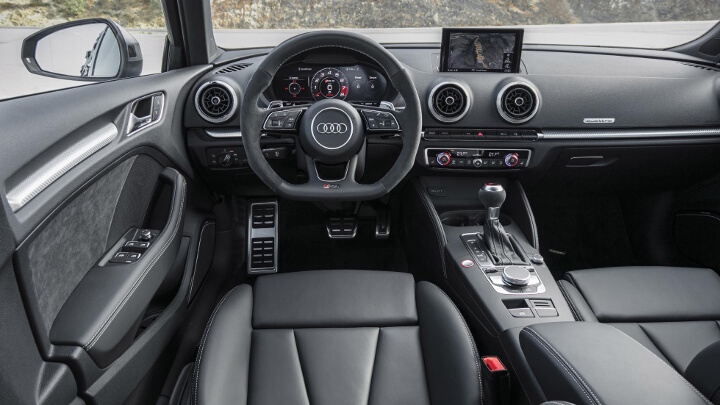 ADVERTISEMENT - CONTINUE READING BELOW ↓
Inside, it's as glorious as all Audi RS models. The seats are plush and finely stitched, there's Alcantara in the correct places (nine and three on the steering wheel, and on the gear knob) and Audi's Virtual Cockpit gives you a nice central rev counter, which lights up in a way that mimics racecar shift lights as you howl toward the redline. Perhaps that's a gimmick, but it's a fun one.
There's also copious nice bits you can fit in here, including all the active safety, crash avoidance stuff we now expect in premium cars, even if speccing it is not as cool or desirable as adding carbon ceramic brakes. Yes, supercar brakes on a small sedan…
Final thoughts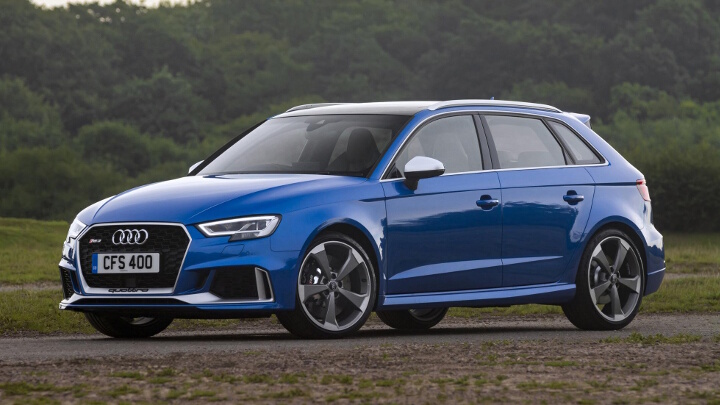 Your big choice is to go Sedan or Sportback. We'd argue the former looks better and recalls broad-shouldered Audi RS4s of old. It weighs 5kg more and comes with less luggage space, but otherwise they're identical, and Audi tells us suspension changes between the two have only been to account for the effects of different weight distribution.
Then it's a case of choosing between a standard RS3 or the four-grand-pricier Sport Edition (how do they come up with their names) which brings lots of black styling details, a new 19in alloy wheel design, sportier sports seats (see, earning its name) and a naughtier exhaust system.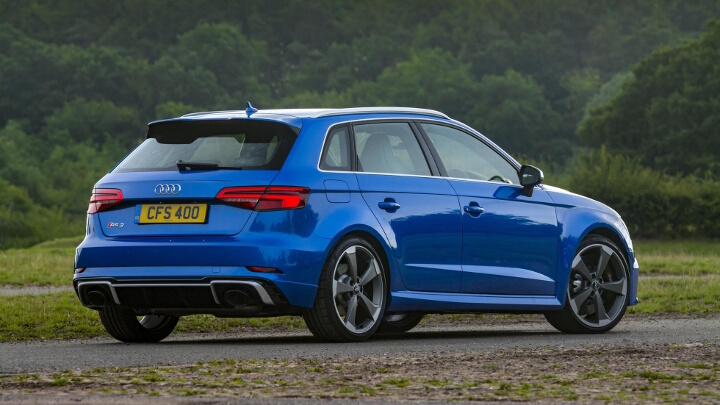 This is a hot hatch (or small sedan car) with a 280kph top speed and which has carbon ceramic brakes on its option list. It's madness. Yet the end result is too classy and day-to-day useable to feel as crackpot as all that suggests.
Given the rather senior price, that's a jolly good thing. But I suspect as a one-car-fits-all solution, this would be a fine one. Especially now it's got a sense of humor as standard. Just mind how uncompromising that ride quality is…
ADVERTISEMENT - CONTINUE READING BELOW ↓
NOTE: This article first appeared on TopGear.com. Minor edits have been made.