It's the Bentley Bentayga, take two. What you see here is a heavy facelift of an SUV launched in late 2015, but with over 1,000 new components. It's a biggie.
Visually, in particular. While the overall shape is the same as before, the details have been fiddled with in some areas and overhauled in others, the new lights (front and rear) most noticeable. Where the Bentayga launched with a passing resemblance to a Continental GT, its midlife update has seen it don the head- and taillights of its coupe cousin with much less subtlety.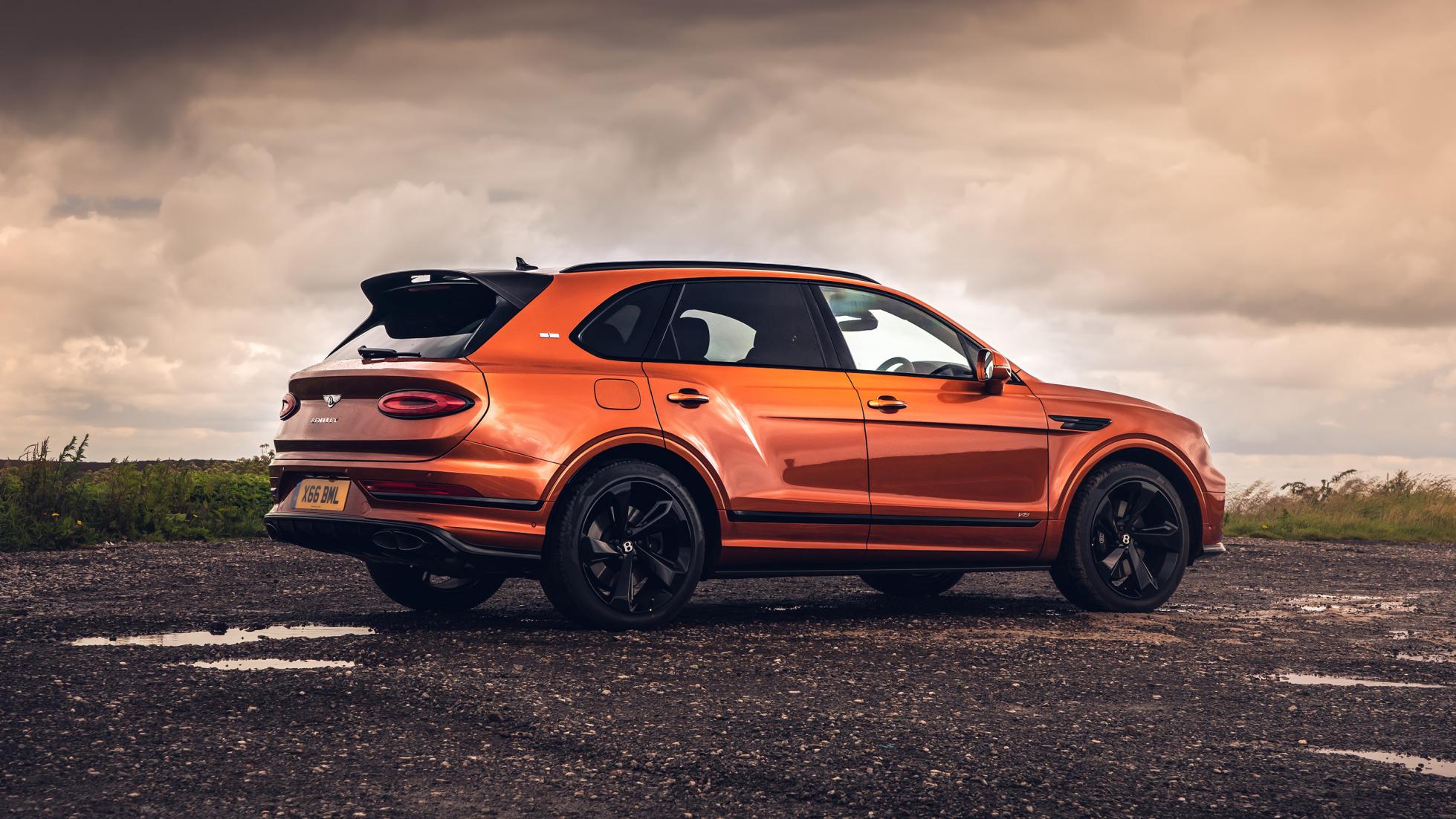 Some will see it as a rightful aesthetic confidence for such a broad-shouldered car; others may recall the Porsche Cayenne's clumsy application of 911 design elements in its first, early-2000s generation. The Top Gear team—rarely arbiters of taste—are split in two.
Continue reading below ↓
Recommended Videos
Once you've moved past the lights, there are neater touches. A 20mm increase in the rear track improves the Bentayga's stance while neatening its handling, there's a new 22-inch alloy wheel design, and those spangly new headlights use cut crystal to make them sparkle even when they're not lit. When they are, their intensity changes with the speed you're driving to avoid dazzling other road users.
It's a deeply important car, too, and not just for the couple of thousand people its manufacture employs in northwest England (at a torrid time for the industry). It made up almost half of Bentley's sales in 2019, while 70% of Bentayga buyers are new to the marque. And, we'd imagine, a lot younger than the Bentley norm.
In fact, sales continued to rise during the Bentayga's fourth year on the market: With roughly 4,000 sold a year, it accounts for over a third of the 'luxury SUV' sector that's just welcomed the Aston Martin DBX into its fold.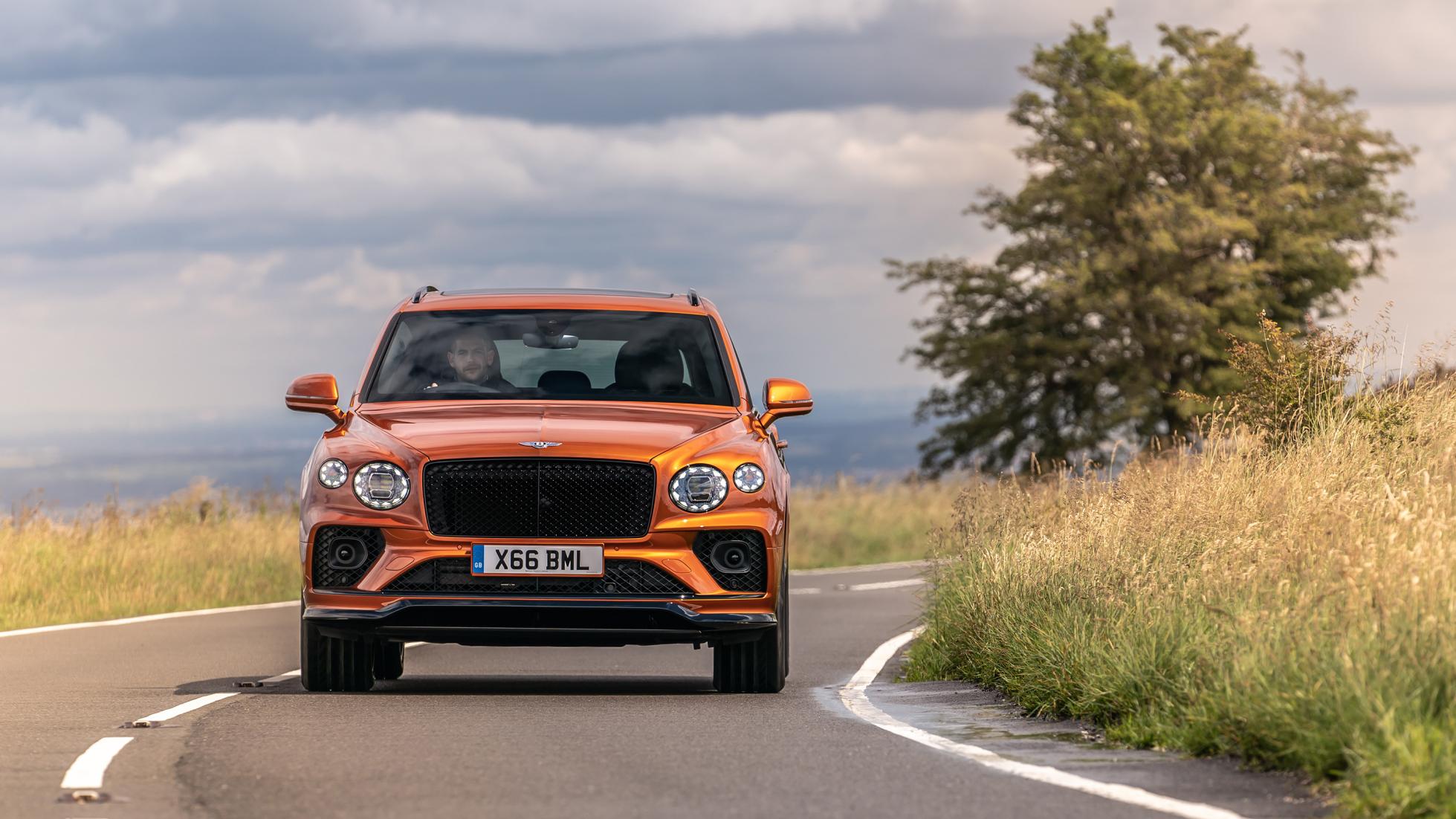 The 'luxury' half of its equation is more pertinent than ever now that the Mulsanne is dead, too. Suddenly, the Bentayga and the Flying Spur have an extra job on their hands, together attempting to fill the literally large void the venerable old limo leaves behind.
Thus the Bentayga has had a proper smarten-up inside, and its rear quarters are larger and more relaxing if you plump for the especially posh four-seater. That said, five- and seven-seat versions remain on the options list. Yep, a seven-seat Bentley. Rugby practice one-upmanship gets no bolder.
On the road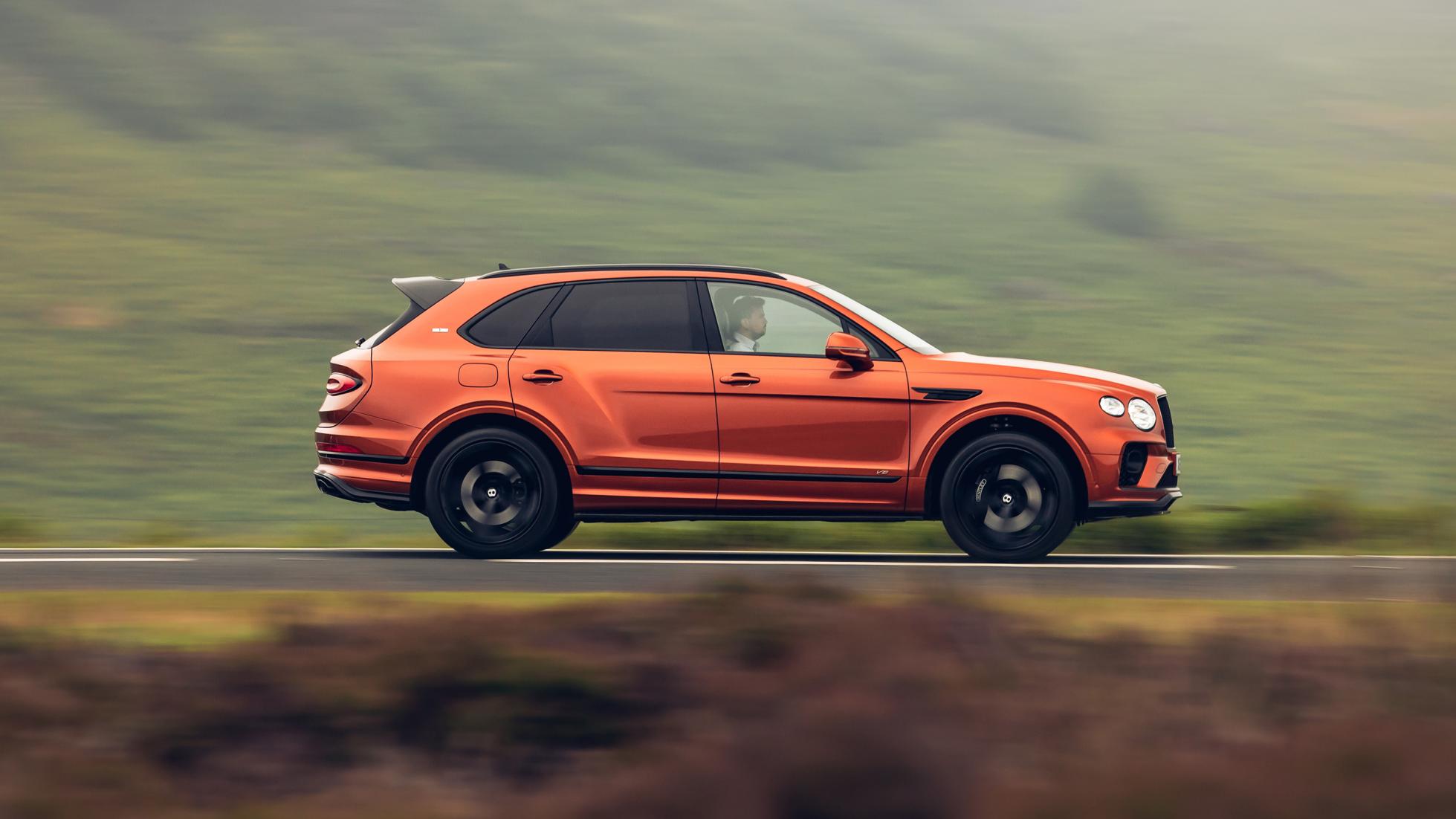 The updated car launches with just the one engine—a 542hp 4.0-liter twin-turbo V8—but in the near future, there'll be a Bentayga Hybrid if you have a conscience, and a W12-powered Bentayga Speed if you don't. The diesel has been completely axed.
If the outgoing car is anything to go by, we suspect the V8 will remain the pick of the bunch even when those other options arrive. This is a behemoth, so saving a little weight in the nose makes a difference, even if it's less tangible here than in the fine new Continental GT.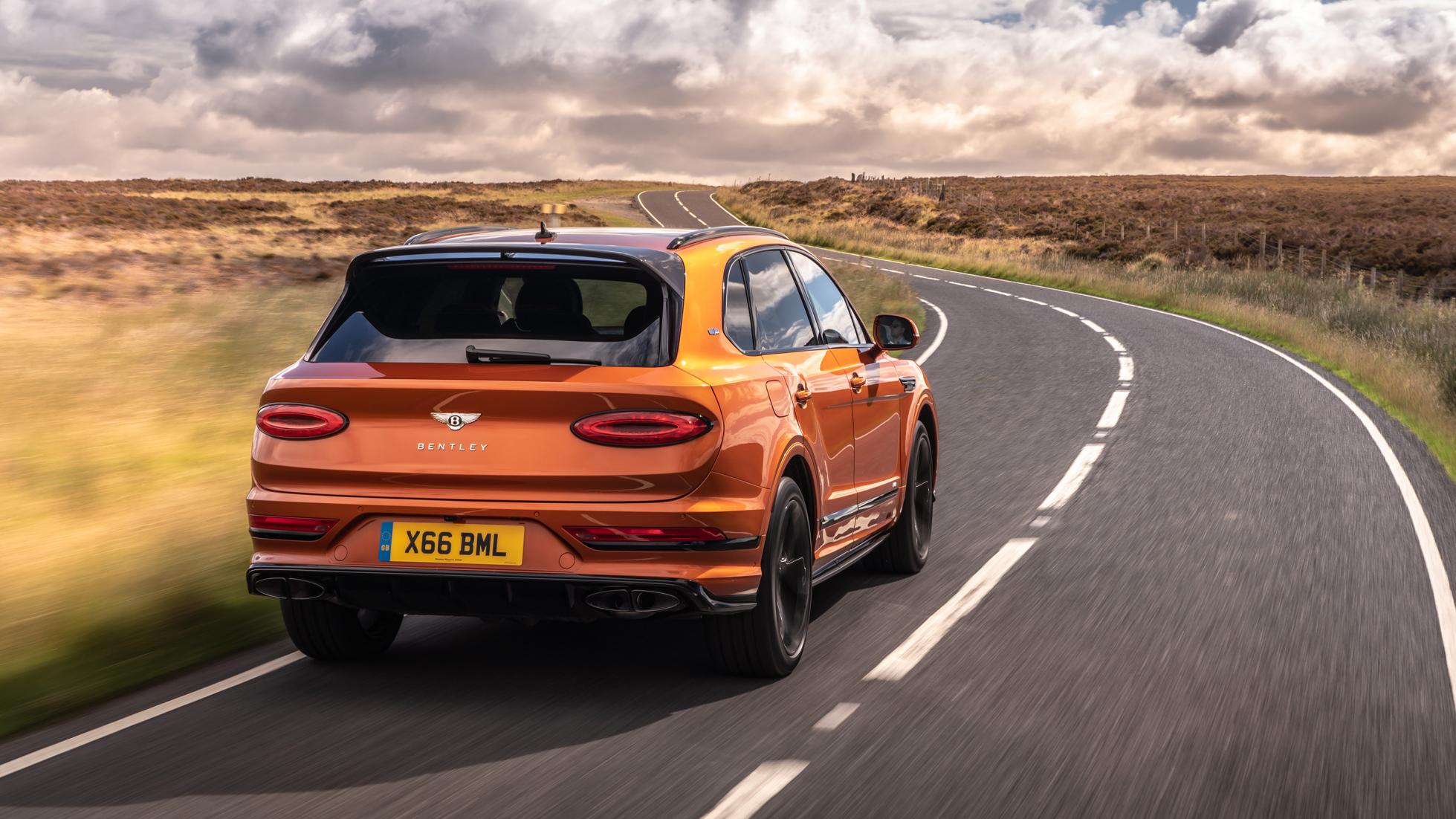 Mind you, the Bentayga remains absurdly neat to drive given its five-meter-by-two-meter size and 2.4-ton curb weight. The extra width in its rear track has sharpened up the steering a bit and reduced another ounce of effort from its already relaxed driver. Choose to travel at a sedate pace and it's so easygoing, the handful of semi-autonomous driver aids feel utterly superfluous.
Up your speed and things don't get much tougher, unless you've turned onto your favorite stretch of back road and suddenly discovered it feels half as wide as usual. With the help of a deeply clever 48V anti-roll suspension system—as deployed on the quick Audi Q7s the Bentayga bears relation to—the chassis acts like one if not half its size, then maybe two-thirds.
It can be genuinely good fun: The way the rear of the car hunkers right down under hard acceleration, or when you aggressively chase the throttle right on the exit of a corner, can be laugh-out-loud hilarious. Perhaps enough to shatter any grumpy petrolhead predispositions about how 'Premier League training ground' the Bentayga looks when you first clap eyes on it.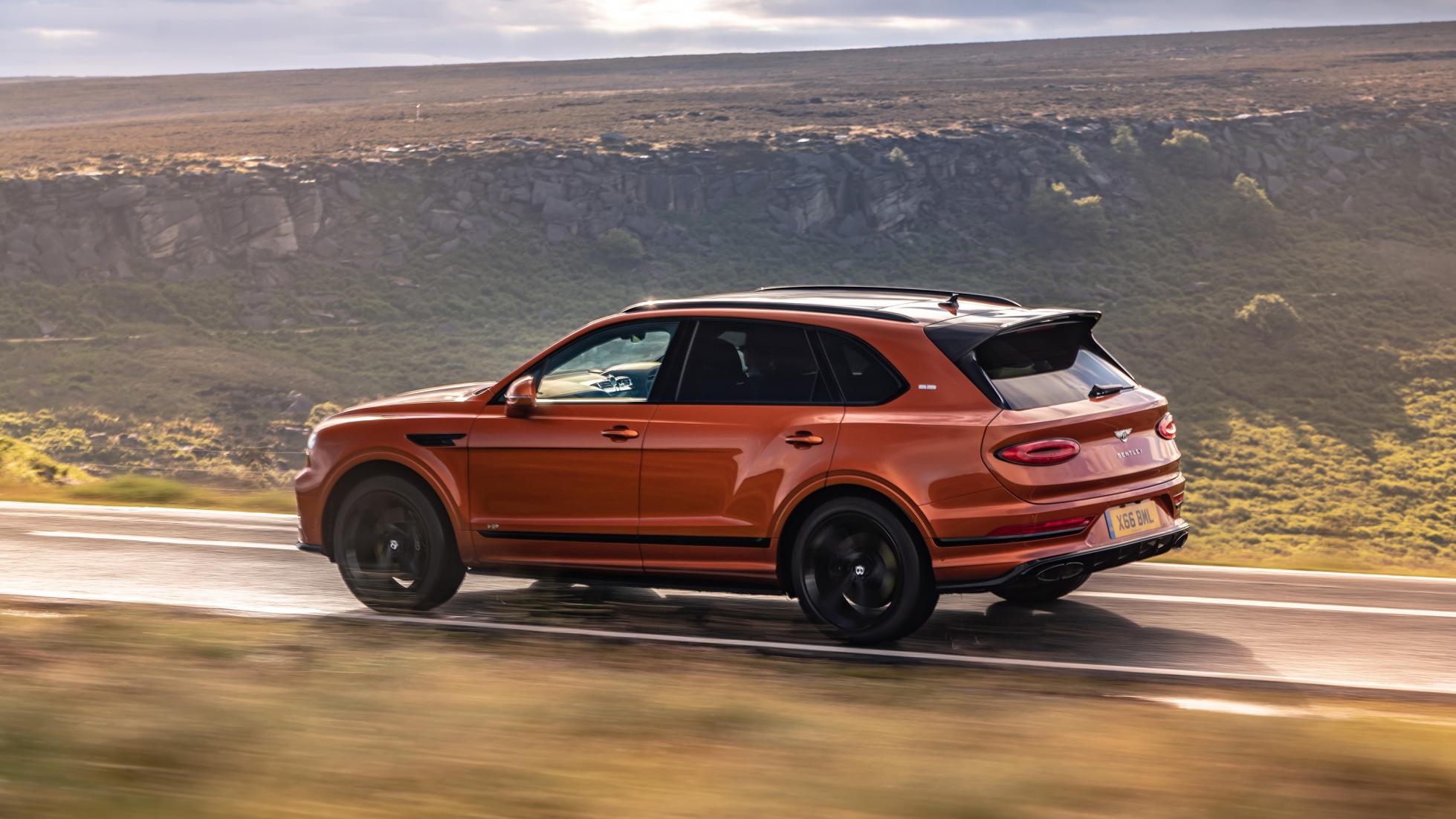 In truth, if any car is made for the incongruous, profit-embiggening switch to SUVs, it's a Bentley. Already knowingly hefty—with few sops to lightweighting or litheness in the company's sedans and coupes—the Bentayga really does just drive like a taller Bentley, and thus ought to be vastly less upsetting to the purists than a Lamborghini Urus or Ferrari's upcoming 'FUV.'
And its manners are impeccable when you're not being an imbecile, its cabin as quiet and cocooned as a Flying Spur's, with that extra bit of visibility. Sure, the Bentayga is ginormous in size, but you can have a bit more confidence as to where you place it than in a Bentley limo. If that's even a concern to you, of course. If it's more likely to be a worry for your driving staff, then we'd better head inside...
On the inside
...where, as mentioned, you've a choice of four, five or seven seats. You'll likely have the ultra-plush four-seater if you're being chauffeured around, in which case you'll be enjoying an extra 10cm of legroom compared with the old Bentayga.
If you're sat up front, though, things have improved even more markedly, even if the changes are all—once again—largely in the details. Bentaygas have never felt quite as special as a Continental or a Flying Spur inside, with more VW Group-familiar displays and switchgear, even if the materials and presentation have generally been befitting of a £150,000-plus (over P9.61 million) purchase. There's less awareness of the inevitable parts sharing here, even if the 'rotating Toblerone' entertainment screen of lither Bentleys is missing. If you're switching into this from a Mulsanne, it can't help but feel less special.
The tech has all taken a step up, at least. Apple CarPlay is now wireless, Android Auto makes its debut, and there seems to be USB-C port embedded in every surface you look at. Which means updating your charging cable if you use a slightly older phone, but then you're a Bentley owner. You probably don't.
Oh, and if you stick your phone on the inductive charging plinth, it's surrounded by a signal booster. The Conti GT that formerly lived in the Top Gear Garage had an interior so well-cocooned, it occasionally prompted an involuntary digital detox each time you drove it. One we might actually miss when all our WhatsApp groups are pinging away with endless GIFs inside one of these.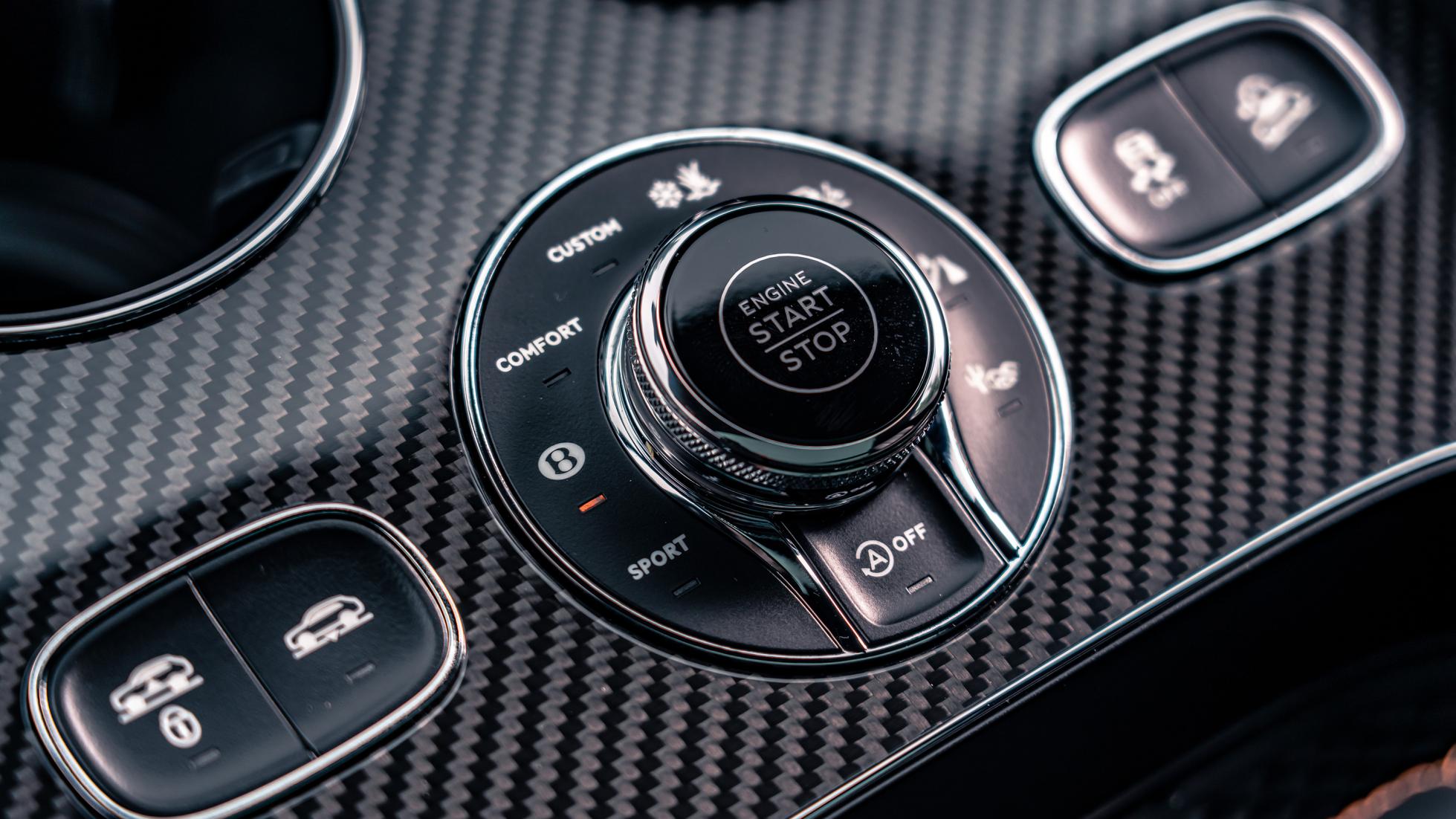 Other tweaks? Fully-digital dials with classier map displays than in an equivalent Audi, a newly smooth steering wheel with the stitching moved from the outside of the rim (so as not to irritate your finely moisturized fingers), a more artistic central air vent (which ionizes the air it pumps out), and a new remote control for rear passengers to control their own seats and climate, possessing as much processing power from a home PC of a decade ago.
You'll lose days perusing all the wood, leather, trim, and stitching options inside, while you've a choice of two audio system: the standard 590W, 12-speaker setup, or the Naim option with 1,780W and 20 speakers. Yikes.
Final thoughts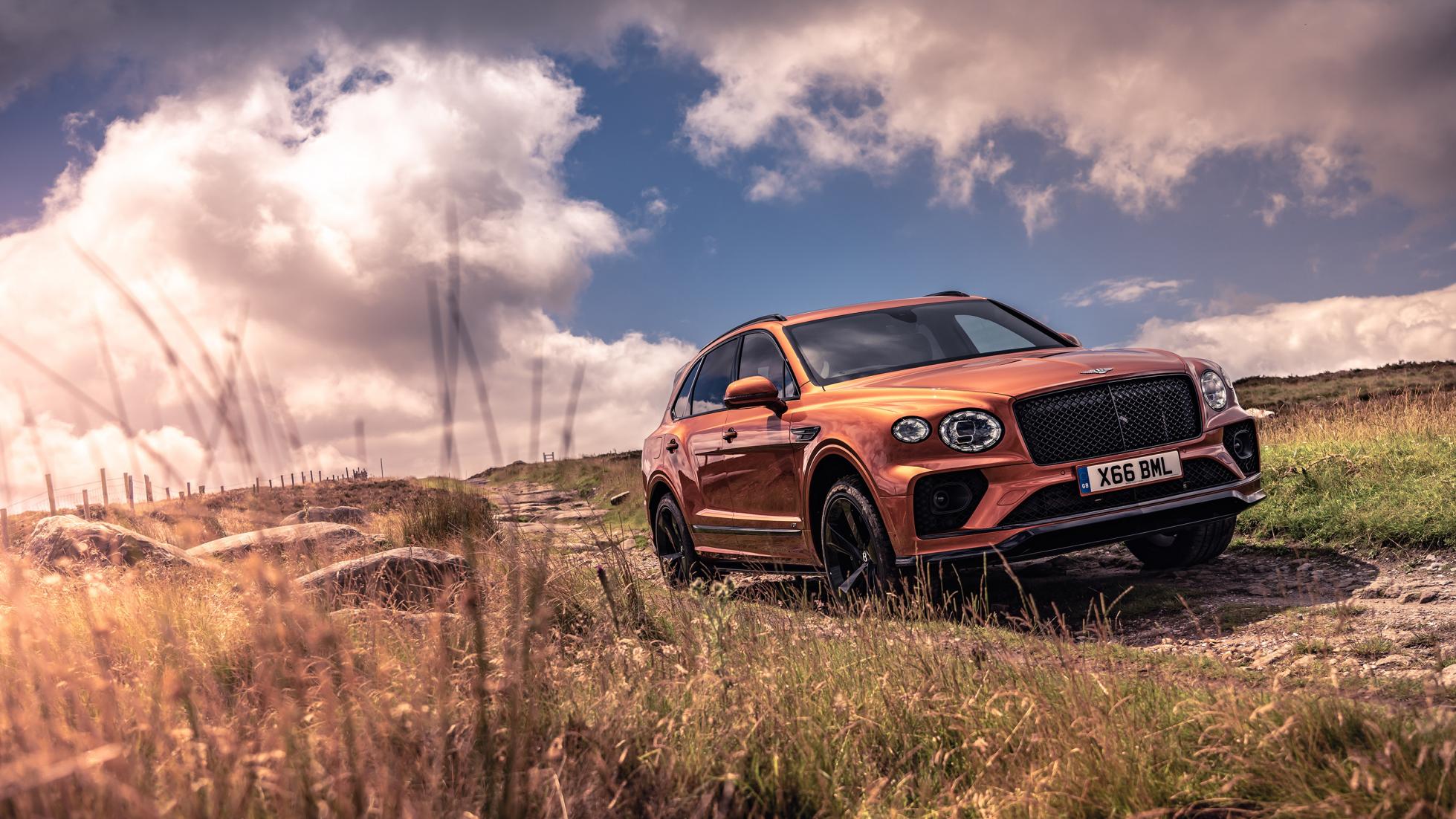 Quite often, our reviews of big, posh SUVs—especially the quick ones—involve us having to leave our reservations about the sheer point of these things at the door. The Bentayga battered them out of us before we even got the chance. It's a force of nature, but an annoyingly irresistible one, helped by just how long, wide, and heavy Bentleys are in the first place.
The metaphorical step from Porsche's core to an SUV—a 911 to a Cayenne—is a rather big one. But moving from a Flying Spur to a Bentayga currently puts you in a shorter, lighter vehicle. This really does drive like a Bentley, whether you're experiencing that process in the front or the back seats. Where you also won't see its new taillights.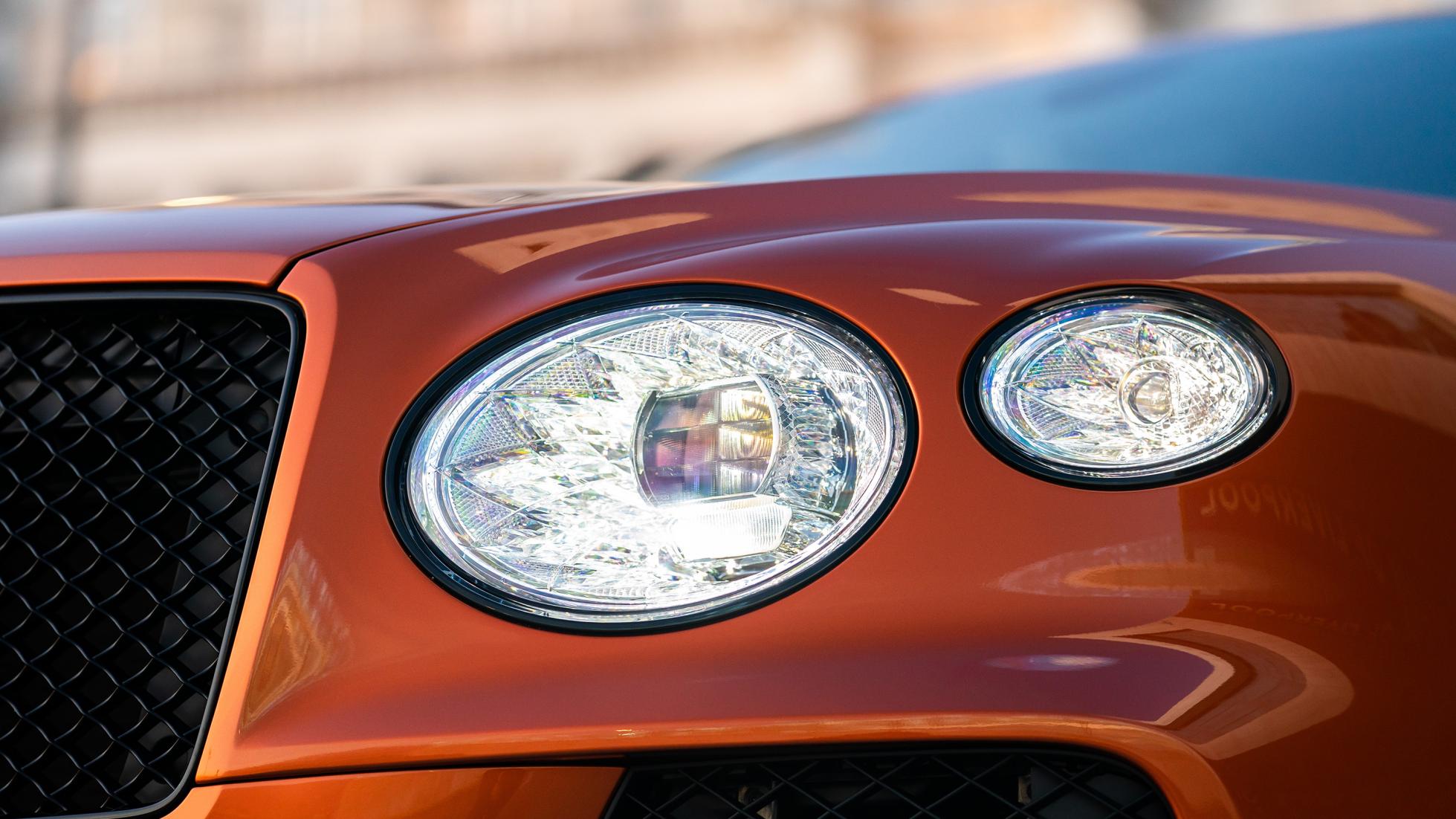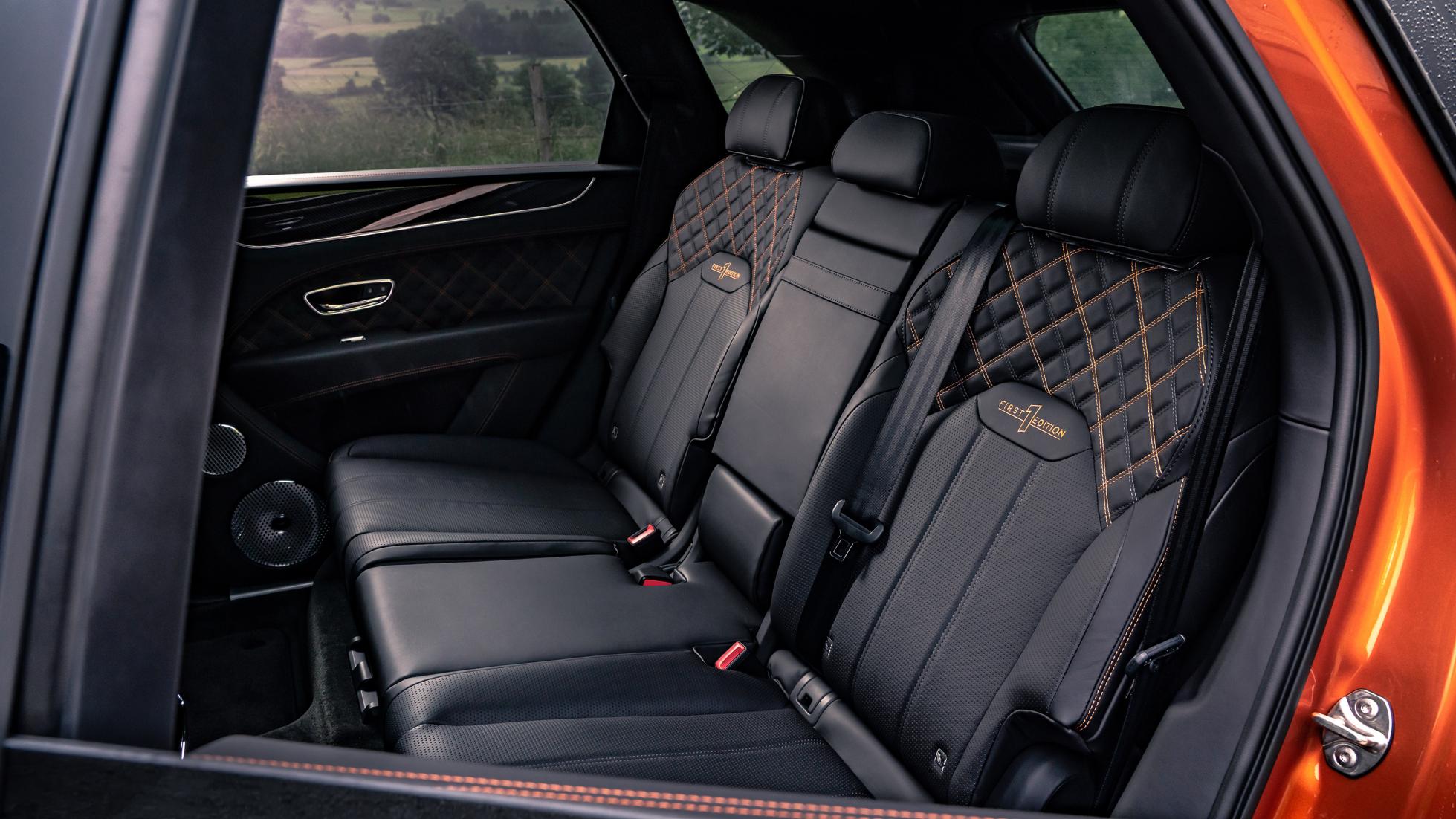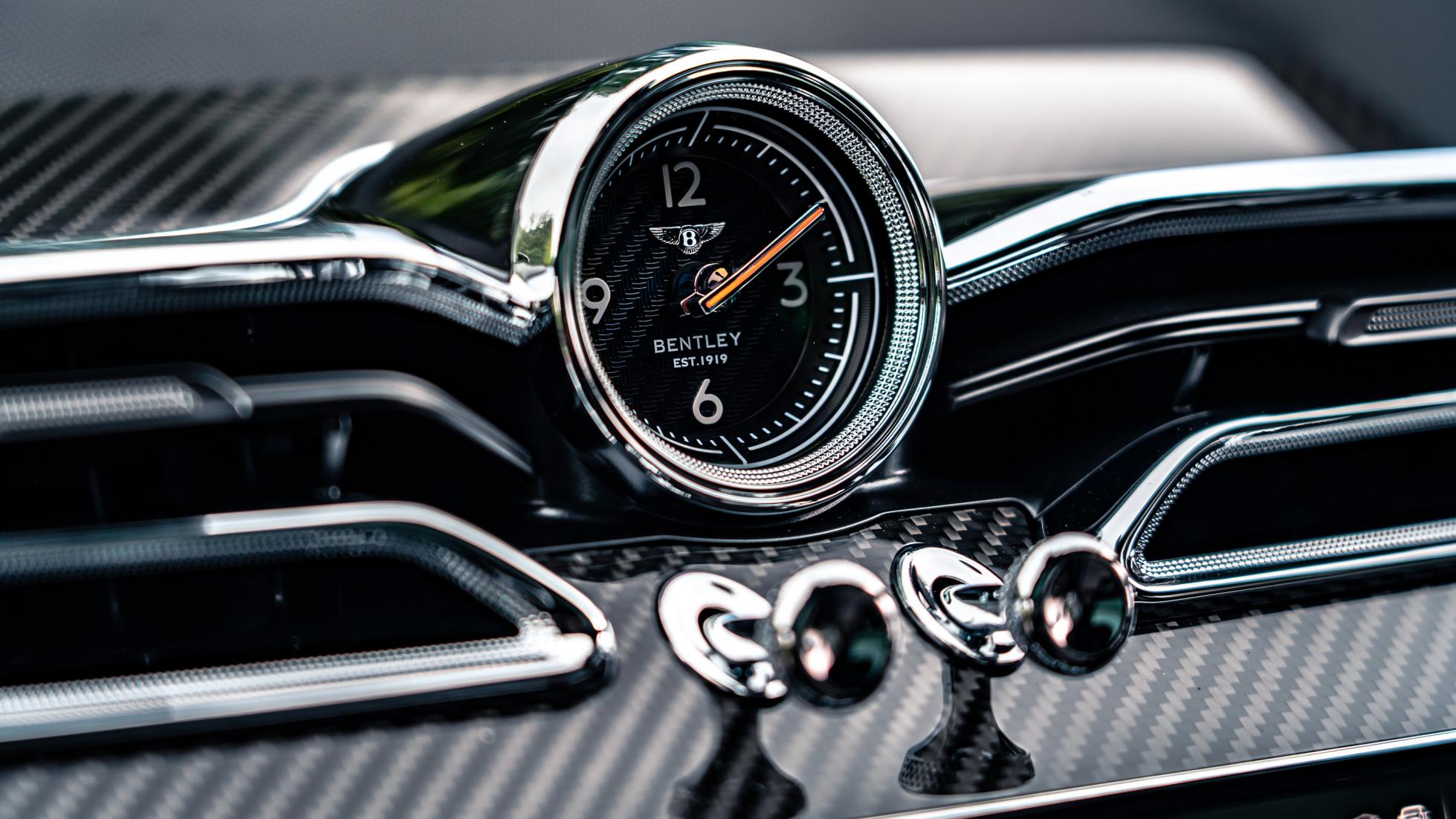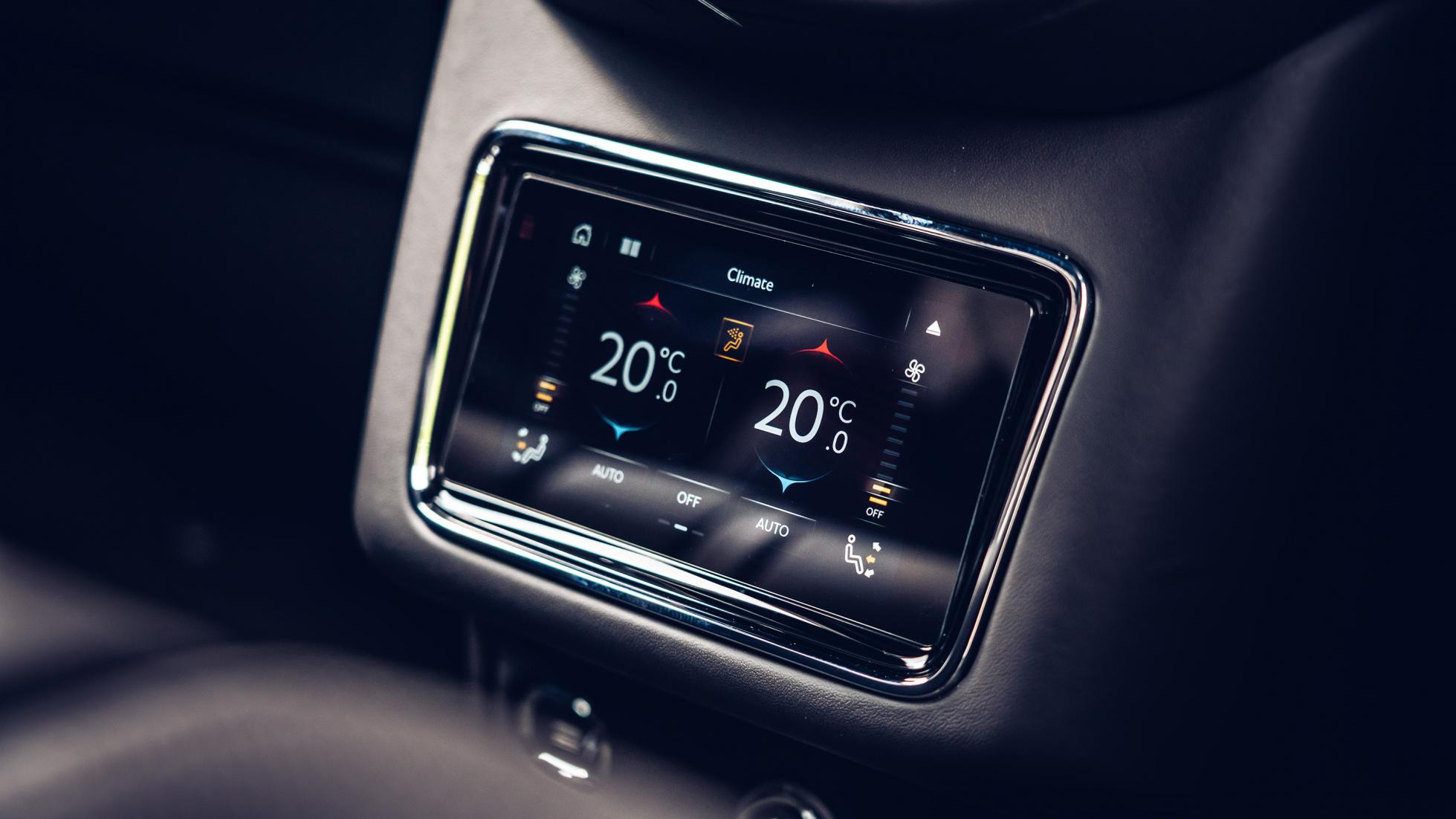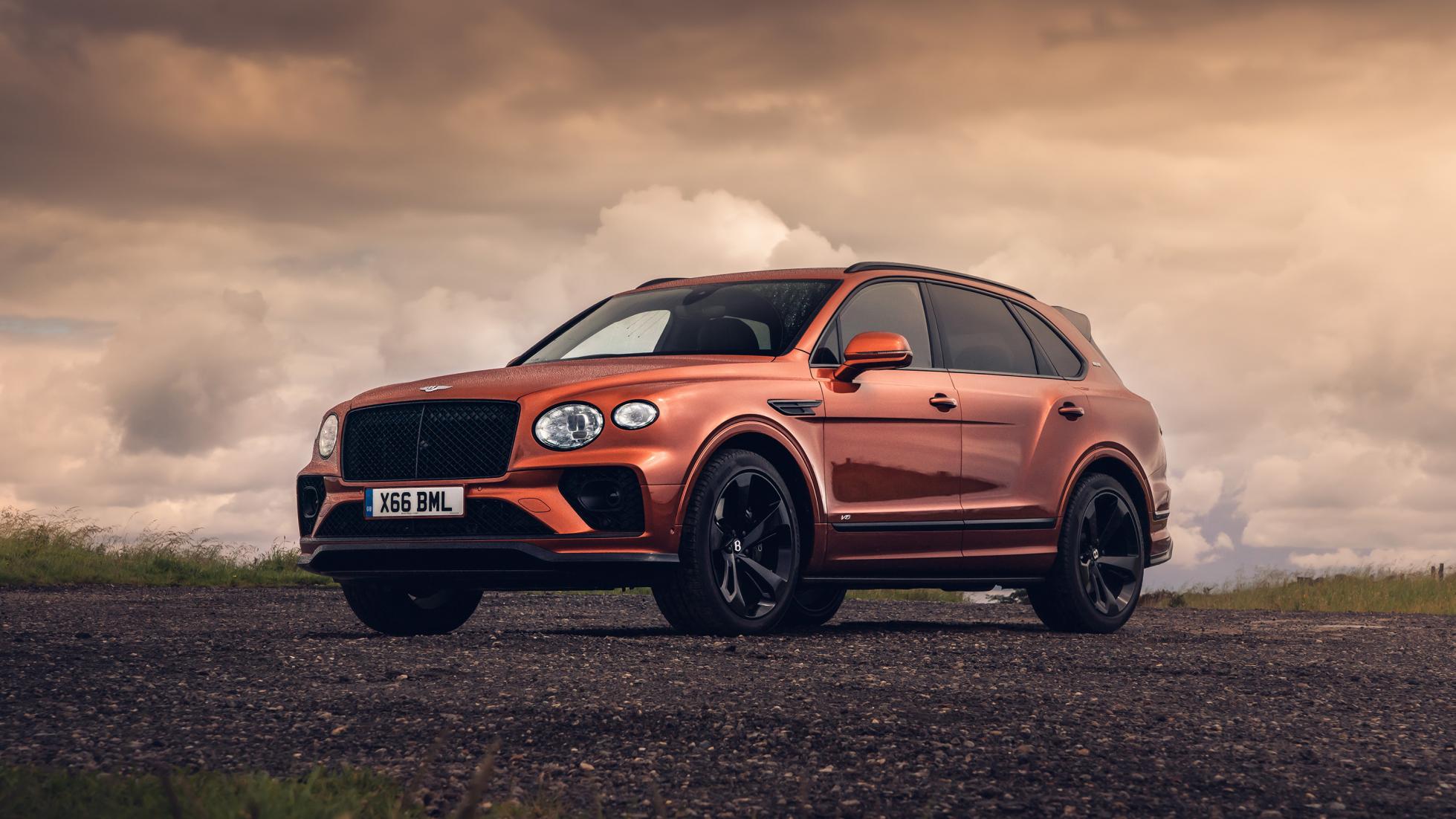 NOTE: This article first appeared on TopGear.com. Minor edits have been made.