This is big. It's the BMW M4, and after six years on sale, it feels like a staple of the performance-car world. But rewind back to 2014 and the people were not happy. The BMW M3, one of the benchmarks in the entire automotive sphere—one by which every sports sedan and coupe was measured against—had gone sedan-only. The two-door M3 had been renamed M4 in line with the new BMW 4-Series range, somewhat tangling the roots that led all the way back to the mighty E30 M3 homologation special.
That wasn't all: For the first time, the M3 (and its newly branded M4 sibling) were turbocharged. Now, to the untrained eye, this is no biggie. 'Turbo' is a synonym for 'faster,' after all, and just about everything else wearing an M badge already had turbos six years ago. Even the glorious little 1-Series M Coupe that was destined for the hall of fame in which it now sits.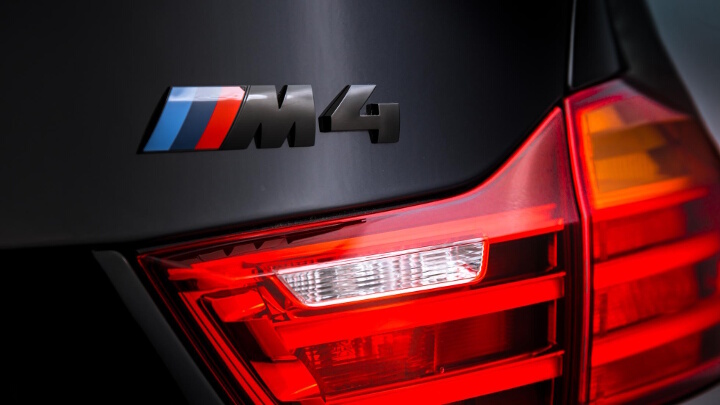 Continue reading below ↓
Recommended Videos
But this felt different. Not least because the M3 coupe superseded by this M4 had a whopping great naturally aspirated V8—one that revved with the intensity of a food blender, but made the harmonious sound one normally associates with cars produced in northern Italy.
The new engine in question has proved to be a belter, though. It doesn't sound as good as before—nothing with two fewer cylinders and two extra turbos ever could—but it has its own snarling aggression that never lets you forget you're in something serious, even when pootling through town at crawling pace.
Power output from its 3.0-liter turbocharged straight-six varies depending on the spec of M4 we're talking. The base car produces 424hp, while the Competition Package ups this to 444hp. The hard-core CS possesses 454hp, and the even harder-cored, ultra-rare M4 GTS (with two seats and a rollcage) boasts 493hp.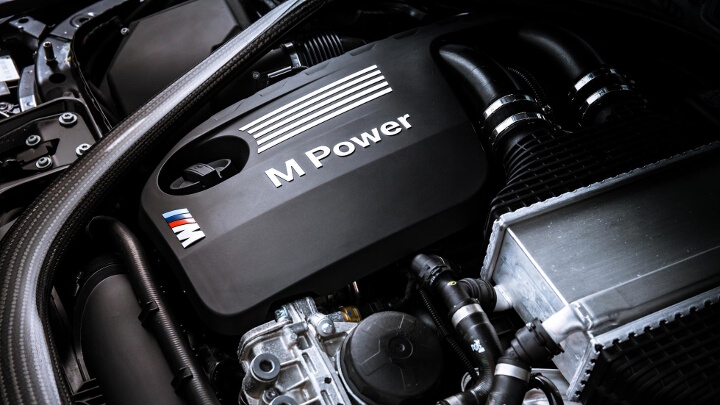 The differences between the four of them run far deeper than some engine tuning, though. The base M4—particularly early on its life—was known for being a spiky, occasionally spiteful little bugger, a car that threw its turbocharged torque at the rear axle with far less tact than any M3 ever did. Perhaps our curmudgeonly complaints upon the car's rebadging were justified: It had lost its sparkle.
Well, a few tweaks sorted that. Initially via the Competition spec, then with a midlife update, later M4s are notably nicer to drive. Exactly how nice, you're about to find out...
On the road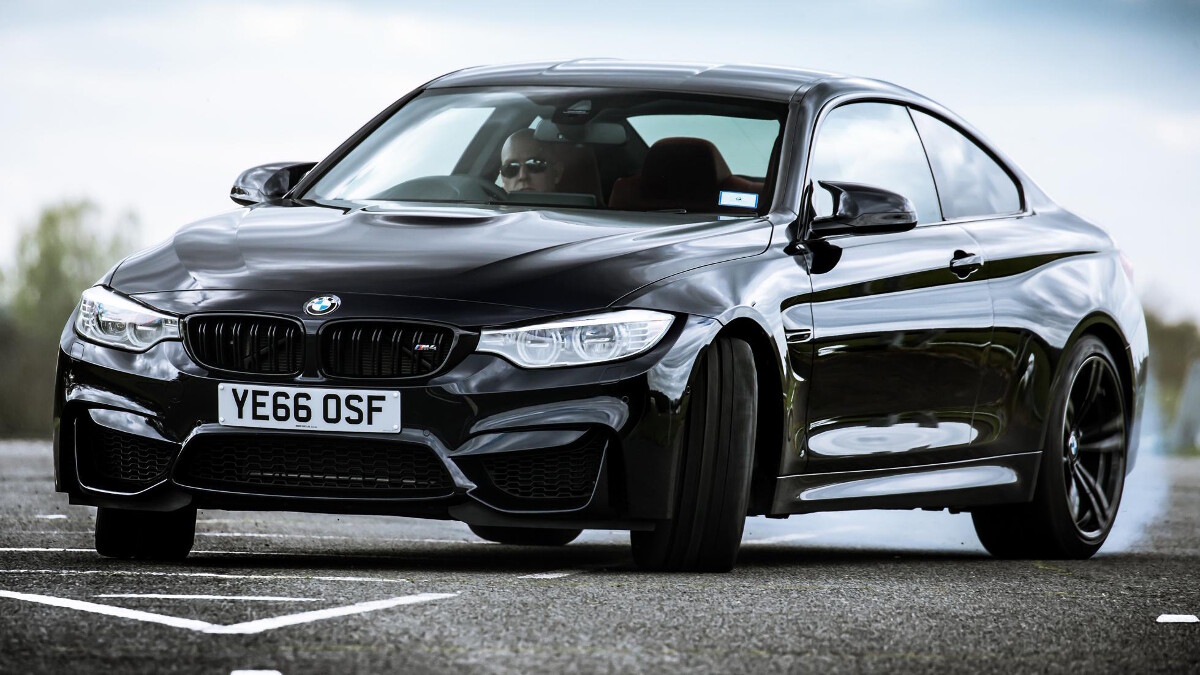 Nicer the M4 may be nowadays, but there's still a tangible malevolence to its chassis when the roads are less than bone-dry. Six years on, with a bit of context, it's a malevolence that's actually become quite exciting. Especially in context of rivals as dopey and blunt as an Audi RS5.
This is a car that works best with your utmost attention and as much commitment as you dare throw at it. It'll take you to your destination with little fuss if you tread lightly on the throttle and never overlap your steering and acceleration. But learn its ways—and increase your confidence—and it's a truly bewitching thing to spend time with.
The trick, with some inevitability, is to buy the most expensive one you can. The Competition is a considerably more likeable car than a standard M4, justifying its £3,000 (around P198,700) price premium with ease. That buys you another 20hp, new springs, dampers, and anti-roll bars. Also, the driving modes on the adaptive suspension have been reconfigured.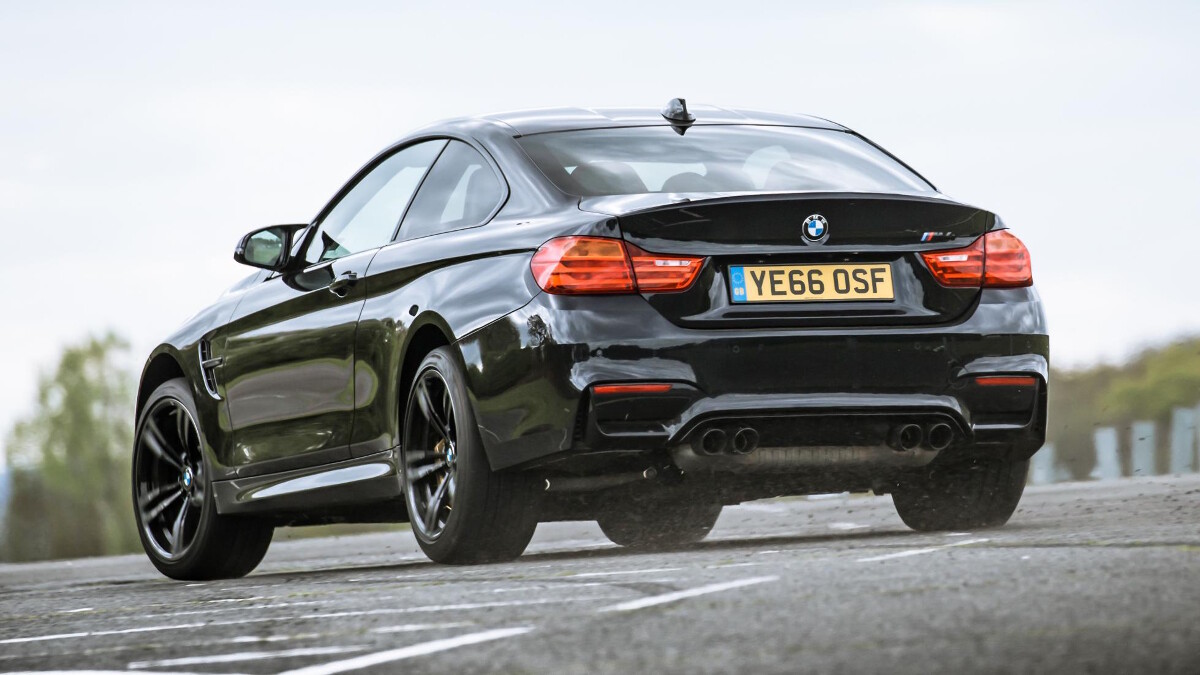 On top of that, the rear differential settings have been changed, so now, instead of trying to splay sideways when you accelerate out of a corner, the car just hooks up and drives. It's not only faster and more engaging, it also has a considerably lower fear factor. Visually, you get more black: The badge, exhaust tips, grille, and 20-inch wheels all darkened, so while the car is less menacing to drive, it's actually a bit snarlier on the surface.
And what of the CS, which adds another £24,000, (around P1.59 million) for what appears to be an M4 Competition with another 10hp, stickier Michelin tires, and less interior trim? Spend even a modicum of time with it and you'll reckon it worth the premium. Its nods to stripped-out track specials all feel superficial when there's a pair of seats in the back and a dashboard chockful of multimedia and climate controls up front, but a smothering of alcantara and some fabric door pulls do lend just about anything a plausible racetrack refugee vibe.
The CS is an example of a track-minded special being a much better and more approachable road car than the base variant, rather than being spikier and scarier. It's a tangibly more athletic car than standard—there's practically no body roll, yet it sends more information through its seat and steering wheel. Its extra focus leads to a more communicative car, which breeds more bravado from its driver, who in turn works the car harder and has more fun. It's a virtuous circle.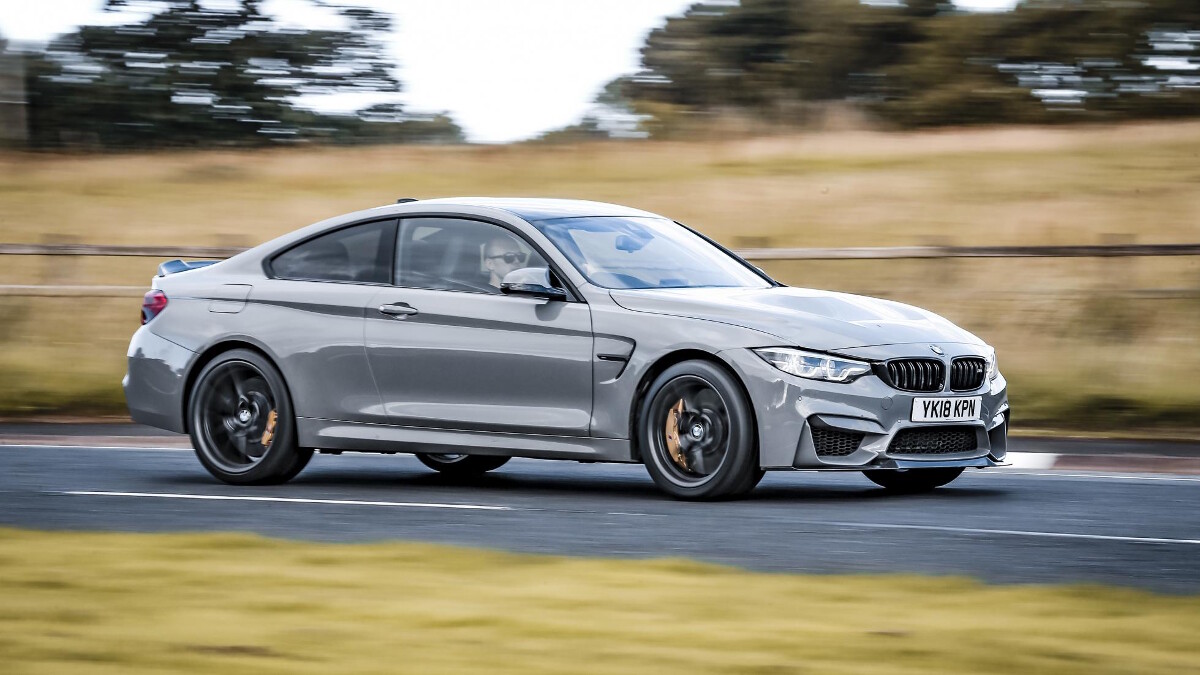 It really is the sweet spot of the range when you consider the 700-off M4 GTS costs an additional £30,000 (around P1.99 million) still. Mighty as it is, the GTS simply doesn't feel as special as the glorious V8-powered M3 GTS of old, and has never quite satisfied us as much. Probably still a decent collector's item, though.
We need to touch on gearboxes quickly. The M4 comes as standard with a six-speed manual; a seven-speed paddle-shift DCT is an option only on the CS and the GTS. Much as we're luddites who love anything with three pedals (not to mention the message its maker sends out by staying manual), this is a car whose spikes of torque and intrinsic aggression will probably make you wish for both hands glued to the wheel as much as possible. So, we'll hand in our Petrolhead Membership Club cards at the door and spec DCT on ours. Sorry.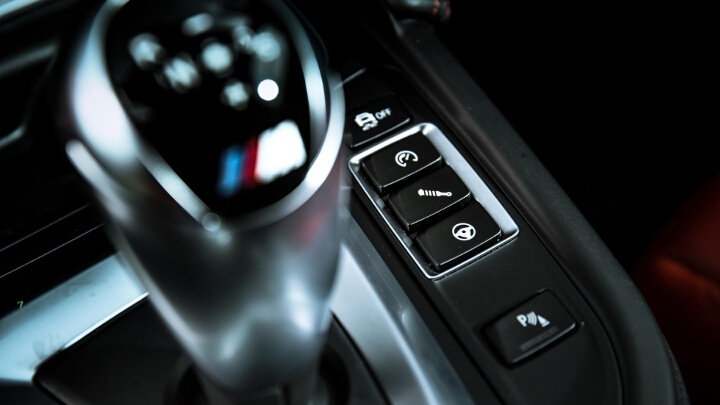 We'll buy back some cred by eschewing the Convertible version, though, available on standard and Competition specs. This is a performance car. Intentionally buying a 220kg-heavier version is wrong on every level possible. Ignore it.
And if you're wondering whether the M4 coupe feels any different to an M3 sedan, BMW has set the two cars up to drive identically. So, while the suspension settings do differ fractionally, it's only to take account of the M3's extra mass. The track widths are identical—the M4's boosted 40mm from its base car, the M3's a delicious 80mm.
On the inside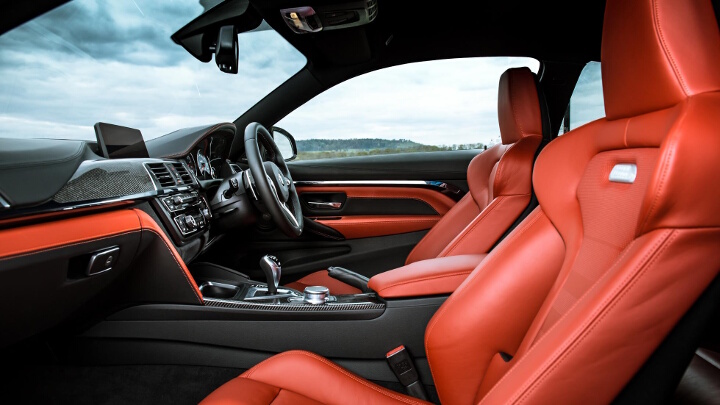 As a six-year-old car, the interior isn't full of big flashy screens. Quite refreshing in 2020, when a pair of round analog dials feel rarer, cooler, and more satisfying than ever. Especially given M Division's deeply pleasing illuminated rev limit that moves upward as the engine warms up.
It also means buttons for all the major controls, and thus no averting your eyes from the road ahead if you need to adjust the aircon or volume on the move. Which, in an M4, is very welcome indeed.
The wing-back seats hug tightly but accommodate most sizes, there's plenty of natural visibility (and a plethora of sensors and cameras to lend a hand) and everything is laid out with the ergonomic sense we know and love from BMW, but with flashes of carbon, Alcantara and M tricolors to liven it all up.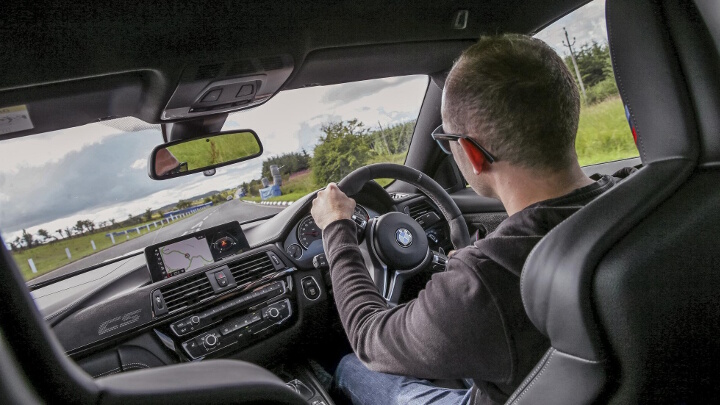 Tech addicts might feel like they're missing out—especially with such poor smartphone connectivity—but everyone else will likely sit and savor a car interior that's angled toward its driver and not the numerous phones or tablets they might want to plug in. And iDrive is probably at its most intuitive in here, anyway.
Perhaps the best example of the M4's interior usability is how easily you juggle between the Comfort, Sport, and Sport Plus modes of its engine, suspension, and steering. Each one has its own physical button, so mishmashing your favorite settings is as simple as toggling through each one as you see fit. Even on the move if you wish, as pockmarked urban street makes way for delightful open road and you want the car to quickly tense up. We can only hope the next M3 and M4 keep such important controls so simple, too.
Final thoughts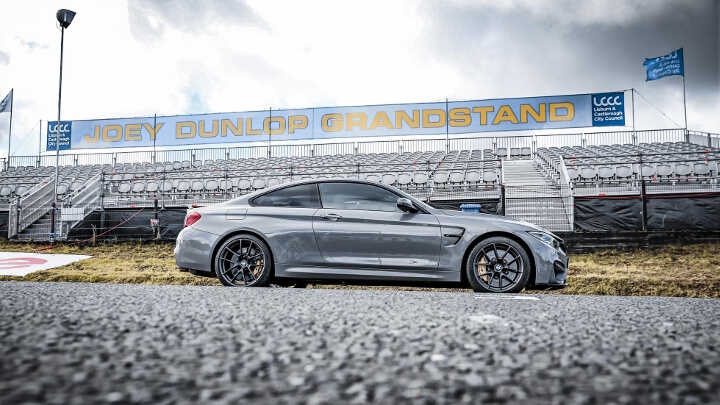 This verdict got a lot easier as the M4 aged and improved its manners. In the early days, the car's score could fluctuate depending on how many times it'd tried to maim you on the way into work. Now, this is simply a great performance car that (mostly) sings to its driver's tune.
And hey, we love a bit of aggression, especially when some of the M4's key rivals (*cough* Audi RS5) muddle their priority between on-paper stats and real-world fun, and assume throwing lots of unflappable speed and unbreakable traction at something will punt it to the top of the class.
The M4 isn't flawless, but nor is it ever unexciting. It's quite different to the M3s that went before it, but crucially, it's no less memorable.
NOTE: This article first appeared on TopGear.com. Minor edits have been made.