'Restomod' is probably the word that describes this best, but maybe that hints at west-coast customization, which this emphatically isn't. So, let's start with the bare facts.
In 1963, Jaguar built 12 lightweight E-Types, intending them for racing. They were lighter and more powerful than standard, but they never matched the success of the C-Type and the D-Type on track. Fast-forward 50 years and in 2014, Jaguar built another six, utilizing previously unused chassis numbers. Those are continuation cars. This is something different.
Maybe you've heard of Eagle before. Based in Southern England, it's a Jaguar E-Type specialist with a difference. Although it started out in 1984, restoring, servicing, and maintaining cars, in 1991, it went further and began to re-engineer models itself—its own take on what an E-Type could be. Eventually, this took the company another step, recreating historic models but with new bodies. We've featured them before: the Speedster, the Low Drag GT, the Spyder GT and now this, the Lightweight GT.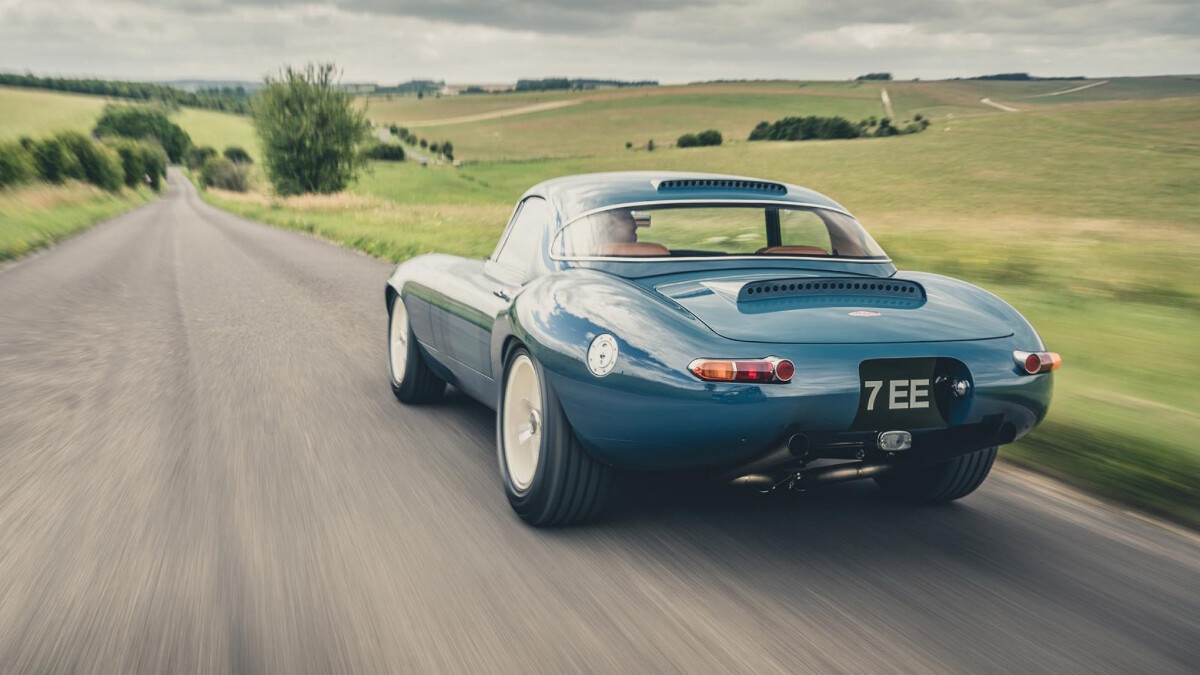 Continue reading below ↓
Recommended Videos
In total, the firm has made around 60 cars over the last 30 years: 50 faithfully recreated E-Types and, over the last decade or so, a mere 12 rebodied specials. Not because of lack of demand: After Eagle was featured on the Top Gear TV show, the waiting list hit seven years. Maximum production is four cars a year, and each takes around 8,000 man hours to create, with 2,500 hours alone going into the handcrafted aluminum bodywork, 400 hours going into the interior trim, and 120 hours needed to build and test the engine.
This new Lightweight GT follows Jaguar's original recipe—but takes it further. Rather than the original 3.8-liter 300hp straight-six, this uses a bored-out 4.7-liter engine with 380hp and a five-speed manual, rather than the original's four.
But you can't see the value of the car in the spec sheet. Everything, everywhere you look, is bespoke. The engine's triple Weber carburetors suck air in through a carbon-fiber intake and 3D-printed housing, and exhale it through an F1-grade Inconel manifold of staggering beauty, before the gases pass out of a titanium exhaust.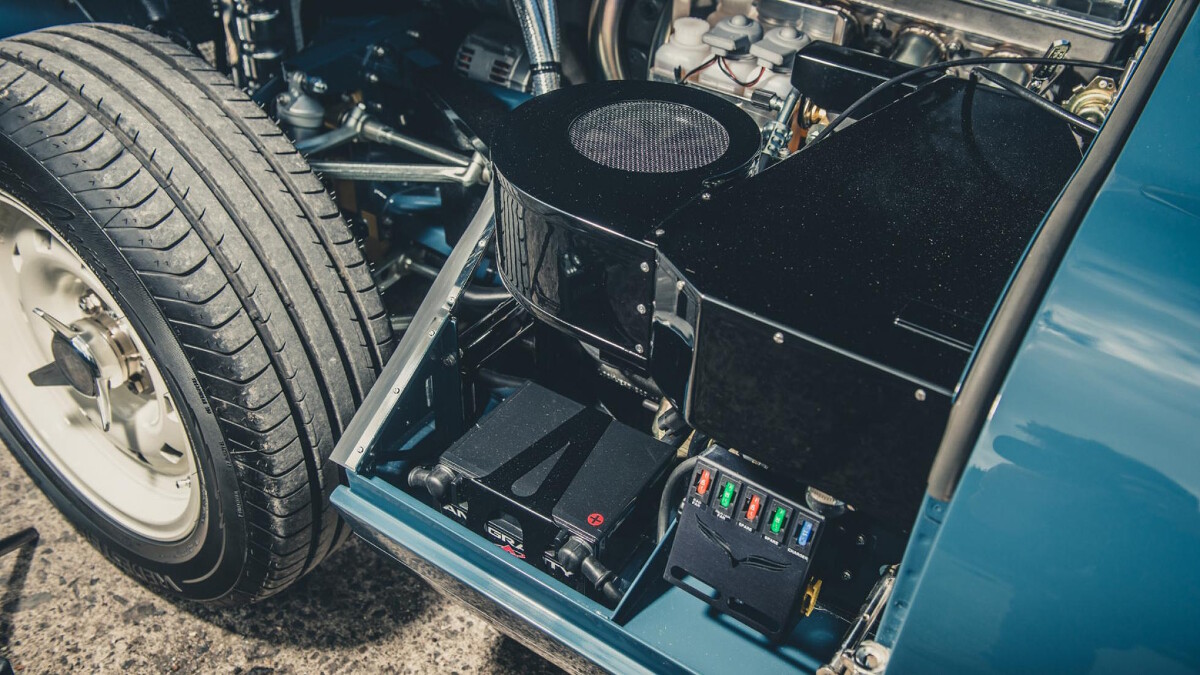 Eagle has then taken the lightweight ethos and really run with it. To the nth degree. The wheels may have a classic '60s look, but they're fabricated from magnesium (around 25% lighter than the equivalent part in aluminum). So, too, are a host of parts you'll never see: the sump, the diff casing, the gearbox, the bell housing and more. This is an astonishing amount of effort to go to—way more than any modern carmaker goes to when doing lightweight versions of its latest supercar. They might save up to 100kg. Eagle's Lightweight GT weighs over 200kg less, with an all-up weight of just 1,017kg.
Underneath, about a third remains of the original donor car. In the case of this particular example, that was a 1963 roadster. The monocoque chassis mostly survives, but stiffened to beyond original Lightweight levels. There are double wishbones at the front, and at the back is the same independent setup E-Types have always had. There are Öhlins adjustable dampers all round, and the option to have different gear ratios or run the car with fuel injection instead of carburetors. You tell Eagle what you want, and (as long as it agrees) it'll make things happen. These folks are guardians of the E-Type. Taste, heritage, and originality are everything.
The cost? Around £800,000 (P49.8 million), including the donor car. Think of it as commissioning a work of art, or investing in a family heirloom more than buying a car. Does that sound like a stretch? Just stand back, look at it, and tell us we're wrong.
On the road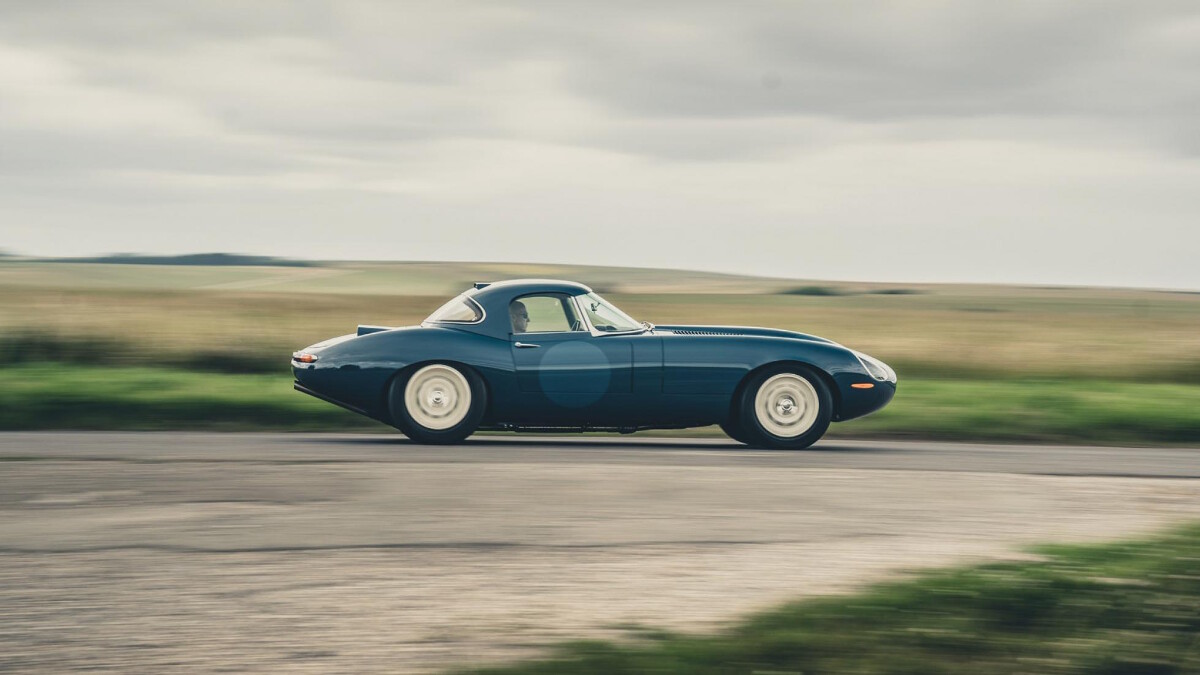 Are we losing the spirit of driving? Here's a car that makes you think we might well be getting it wrong. Imagine a car so addictive in its manners and behavior that all you want to do is drive. Imagine a car that sings, not just from its rasping engine, but from every component.
Modern supercars aren't like this. You digest them in chunks. A couple of minutes of sweaty insanity, then you back off and have a word with yourself. End result: Car and driver are often only communicating properly in short bursts. But halve the power, halve the weight, remove the complication, and let the mechanics reveal themselves instead of being cloaked behind electronics, and you have a very different, much richer, and more involving experience.
You twist the key in the dash center and thumb the starter button. It catches immediately and instantly fulfills all your fantasies about being sat on the start line at the Goodwood Revival. The clutch operates beautifully, the gearbox snicks gracefully into first, and with no apparent effort, you're off.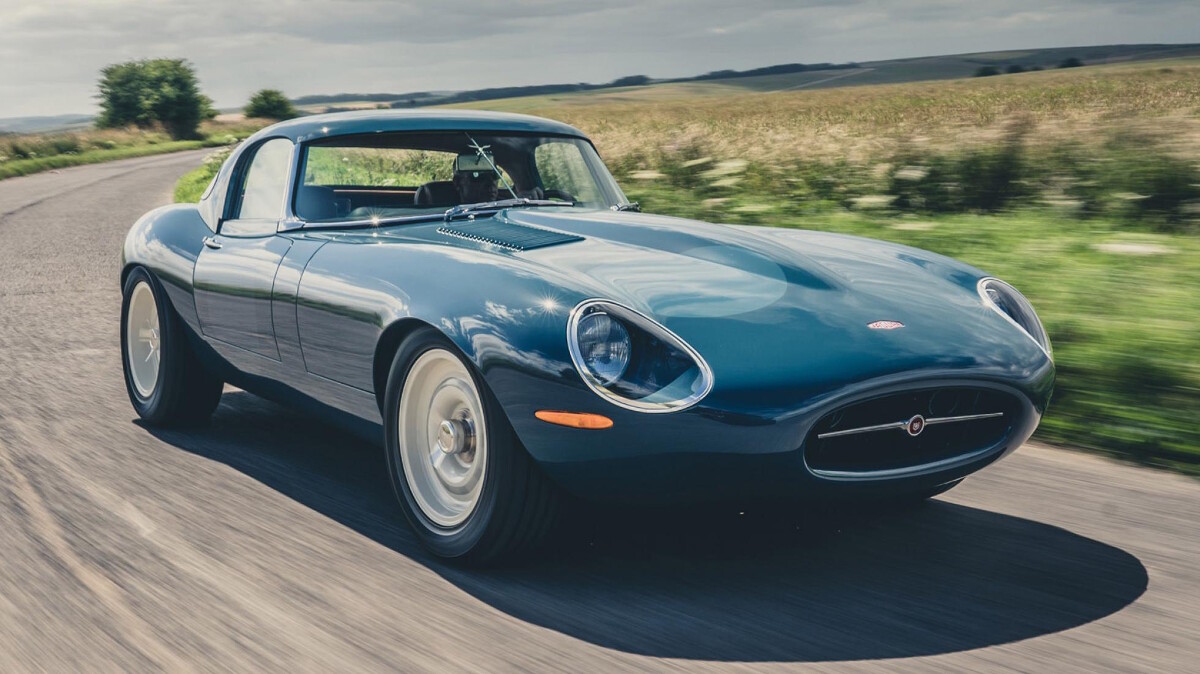 And it's this economy of movement, this perfectly judged response that tells you...well, tells you you're not actually in an original E-Type. There's no play in the steering and no creaks from the cabin, the gearbox isn't a maze of blind alleys, the engine doesn't balk low down. These are not flukes. They're the result of years and years of knowledge carefully, diligently, applied—the craftsmanship that goes into the bodywork is mirrored in the way the Eagle is set up to drive.
The 4.7-liter straight-six breathes through triple Weber 45 carburetors. Eagle says they're a pain to set up and can be temperamental. They've found the balance, no question. Zero hesitation or stuttering low down, and then this rich, immediate torque delivery and glorious accompanying music as the revs rise. It's muscular, torquey in a way only a beefy, naturally aspirated engine pushing 'not much' can be. Then at 3,500rpm, it really comes on cam, the rasping intensifies, the Lightweight GT kicks again, and you're off on your way to the 5,800rpm limiter. And you get there fast.
You get everywhere fast—much quicker than anyone who clocks a vintage E-Type would ever expect. It's not a car you want to test the 0-100kph of, but with a power-to-weight ratio of around 380hp/ton, it's fast in a way proper modern stuff is fast. Even with a manual gear change. No ABS or traction control to save you if you get it wrong, but at no stage will you be worried about that because you get such communication and confidence from the car.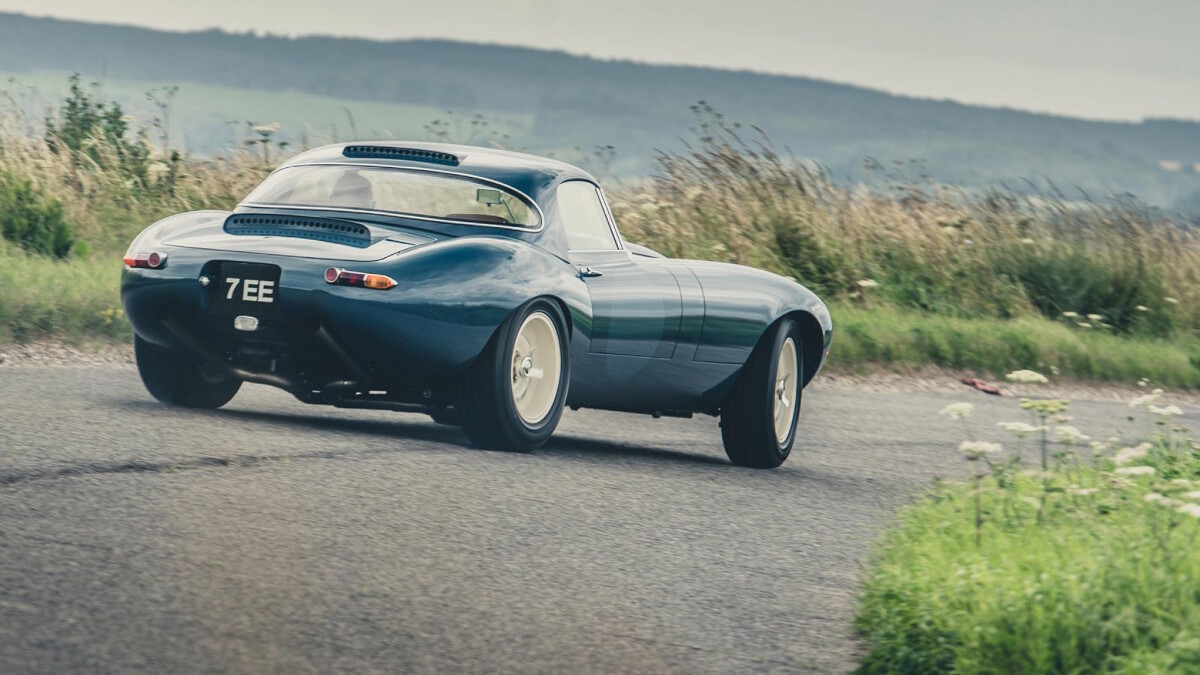 Despite Eagle's modifications (chiefly larger box sections in the sills), there's a bit of shiver through the chassis, but it never rattles the steering column or throws the car off line. Instead, you turn in, you need more lock than you would in a modern car, and the steering wheel rim is bigger, but you steer it lightly, with your fingertips, and it responds accordingly. Hands and wheel set up a dialogue.
You do the same with the chassis balance. It doesn't roll much, but the high-profile tires (205/60 R16 and 235/60 R16) have that bit of squidge to let you know which end is working hardest. The Öhlins dampers are adjustable and, if it were me, I'd be tempted to back them off a little, just introduce a hint more roll and pliancy. But then the Lightweight GT is a racer, and if you approach it from that angle, you realize the setup not only suits it, but is also very forgiving and benign. You don't slide £800,000 one-off restomods around without being extremely confident in the car's behavior.
Grip is just outmatched by power, but it's so beautifully delivered and controllable that you find yourself not wanting to stop driving. Diving into corners, letting the Lightweight squat, getting on the power, feeling the weight transfer backwards and the rear tires maybe squirm a little as the 4.7-liter mill howls again.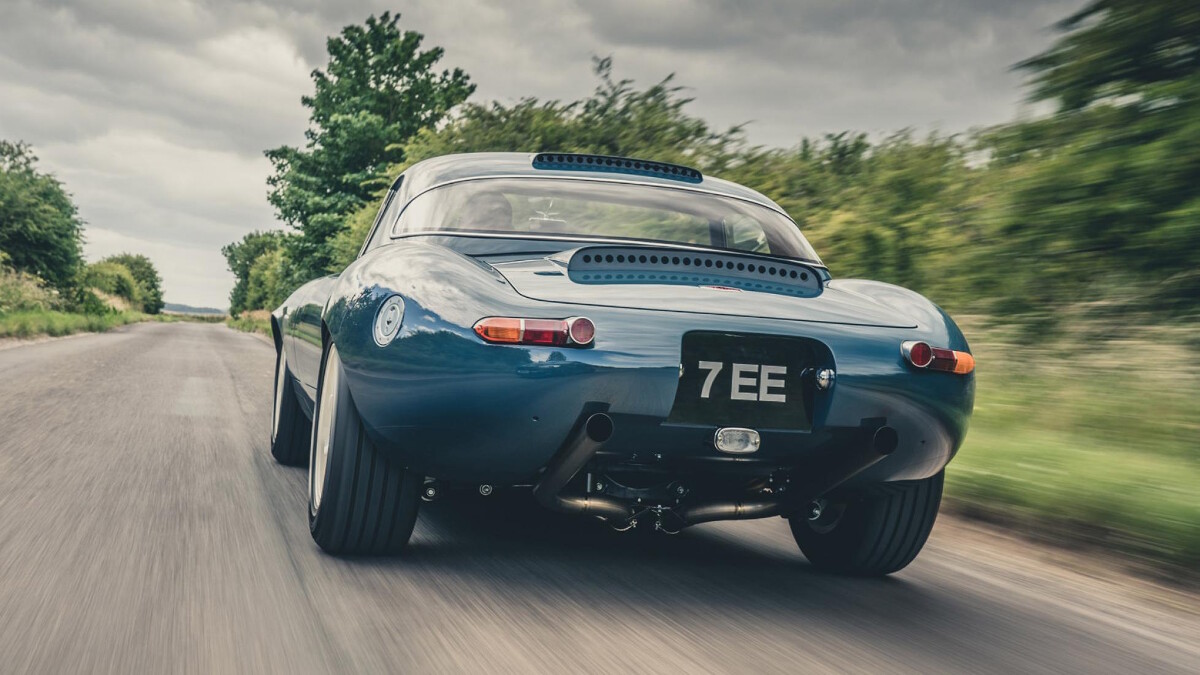 It's an addiction—the addiction of lightweight and precision engineering. Because all the while you're driving, you're also thinking about the componentry underneath, the cylinders thrashing up and down, the magnesium diff casing, the Inconel exhaust glowing hot. This knowledge enriches the experience, introduces a desire not to go fast, but just to operate it well, feel the shifter click softly into the next gear, the engine come on cam.
If I've got a criticism of this one, it's that the gearing is too long, the engine just dropping out of the powerband between gears. It's no biggie, and it's just how the owner wants it set up—and it does mean it pulls less than 2,000rpm at 110kph, making it surprisingly capable for long drives. You can have it with a retro hi-fi, and you'll be able to listen to it, because it's much quieter inside than out.
Out, especially when you lift off the throttle, is raucous. The Lightweight GT is narrow on the road and that long hood isn't as intimidating as you expect, nor does it feel like you're perched on the back axle. Strong brakes, too. They're lovely to operate, natch. The biggest compliment I can pay is it drives like you'd imagine a classic to drive in your wildest dreams.
On the inside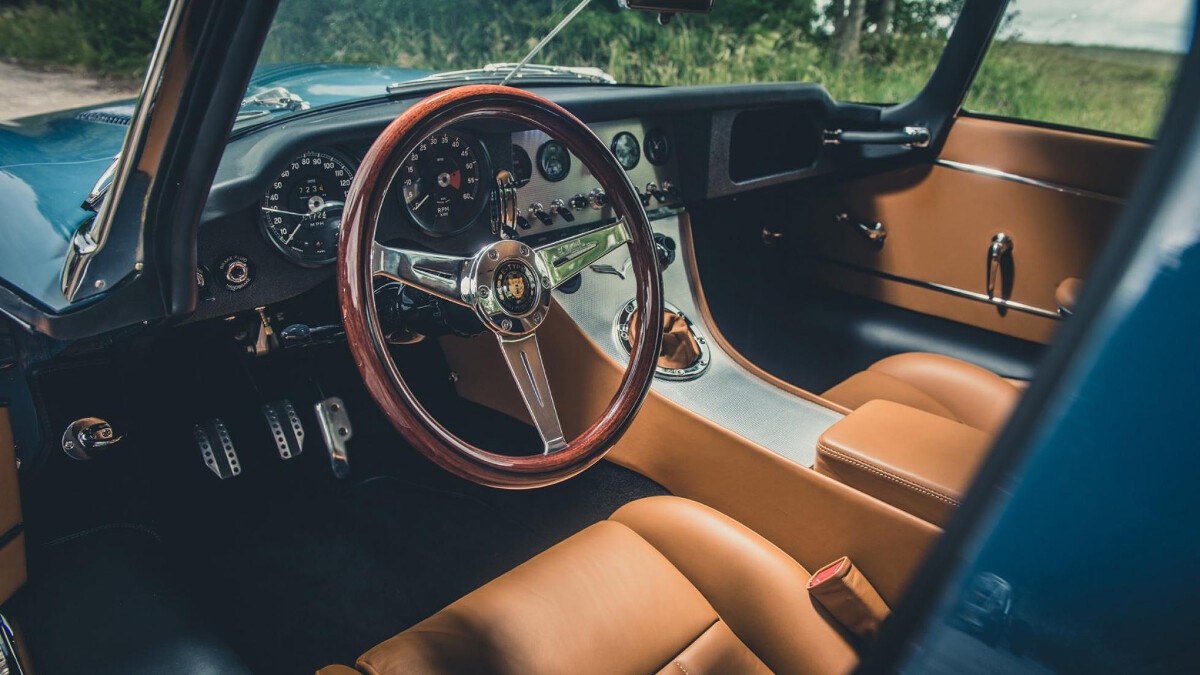 Open one of the doors. Note how perfectly they open, how light they are in your hand, but how solidly they close. This really isn't easy to achieve—it's the reason many small car companies have doorless cars. Door open, you absorb the leather. It's more than just observing it—there's a warmth and depth to the color that seems to give it an inner glow of health. The cows come from Florida, apparently. It's wrong to say it looks like new—no E-Type ever left the factory looking this good, this fresh and energetic, this well-finished.
Eagle drops the floorpan, moves the pedal box and the rear bulkhead to liberate more space in the famously cramped cabin. You slide down and in. The door aperture is small, but you don't feel hunched inside. Instead, you feel at ease, well-supported in Eagle's own seats, eyes casting ahead admiring the instruments, the view out over the long hood. You automatically want to touch and feel everything, because you just know the action of the toggle switches and window winders will be perfect.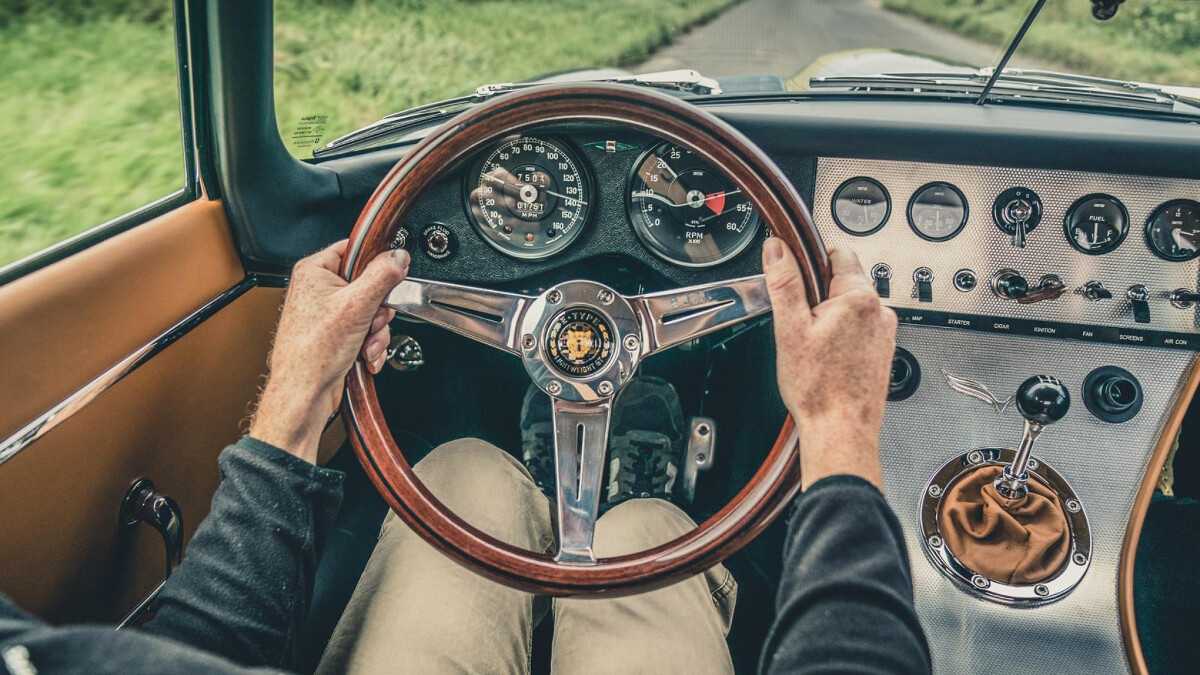 Two things jar. The stippled aluminum console is period-correct, but I'm not a fan (apparently, it's also a bugger to make, aluminum rolled under huge pressure by a holey-roller), and the small air vents work beautifully, but they look more like the overhead vents on an Airbus. Of course, there are other options provided Eagle agrees and they're in keeping—buyers requests have been known to be turned down.
There's space behind the seats for stowage, and the trunk—although oddly shaped as it also houses the fuel tank—is big. Further practicality: Thin pillars and a low rear deck mean you can see out easily, and although it's not particularly designed to, with machined brackets holding it in place, the roof can be removed. You could—and absolutely should—use this for weekends away. For long-range road trips. Because things look so much better when viewed from the cabin of a Lightweight GT.
It's an heirloom, really. Such is the staggering personalization and effort that goes into the creation of a Lightweight GT, so this is not a car you'll be wanting to move on after a couple of years to make a profit and create room for something else. If it is, you've missed the point and, to be frank, Eagle should have weeded you out sooner. It's a long-term investment, with future values guaranteed by the length of the waiting list and the tiny build numbers. Eagle's reputation is well-deserved.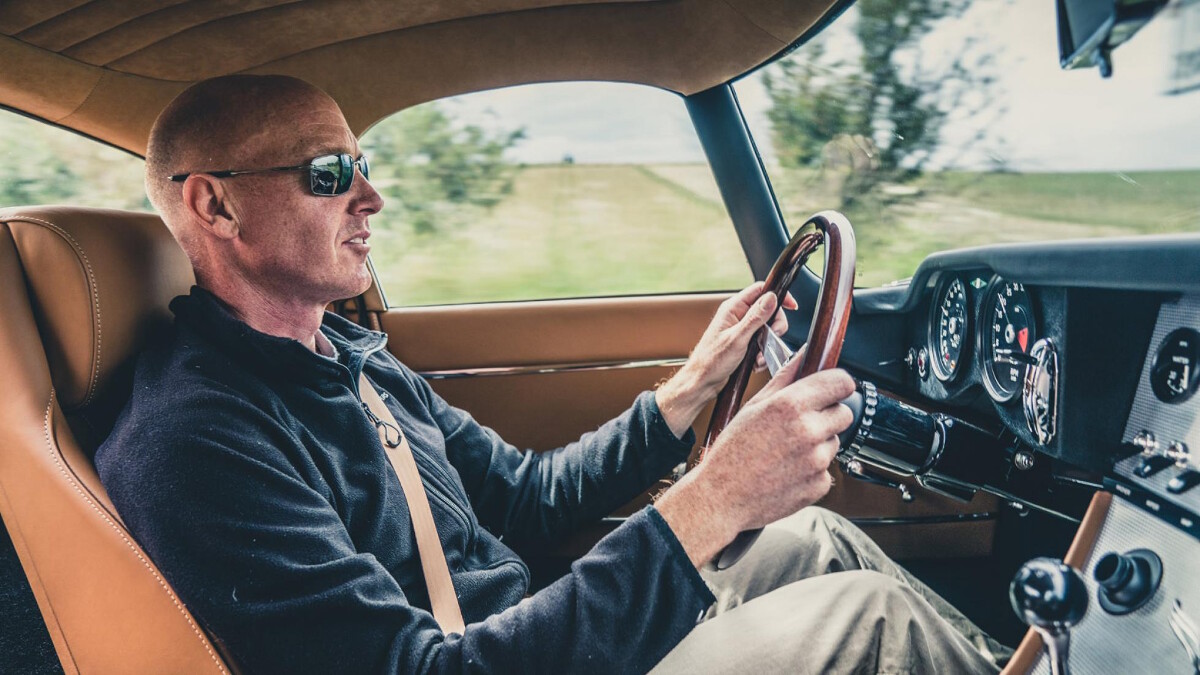 But nor should it be a garage queen. It might be a classic, but much of the unsung work Eagle does is focused on making its cars friendly, usable, and reliable. So, they always start, the engines don't run out of tune, gasoline doesn't leak from perished seals, the clutch doesn't jerk, and the brakes don't give you half a second's terror before anything happens. They just work, and they work beautifully. Don't worry about the fuel economy—just know that when you do stop, you won't have fuel splashing all over your shoes.
This usability breeds satisfaction every bit as much as the intoxicating driving experience. Knowing you have a classic that won't let you down, that has been built to your exact requirements with a level of personalization that's one step beyond your wildest dreams...well, that's got to feel good, hasn't it? And what is this car, this investment for, if not to make you happy?
Final thoughts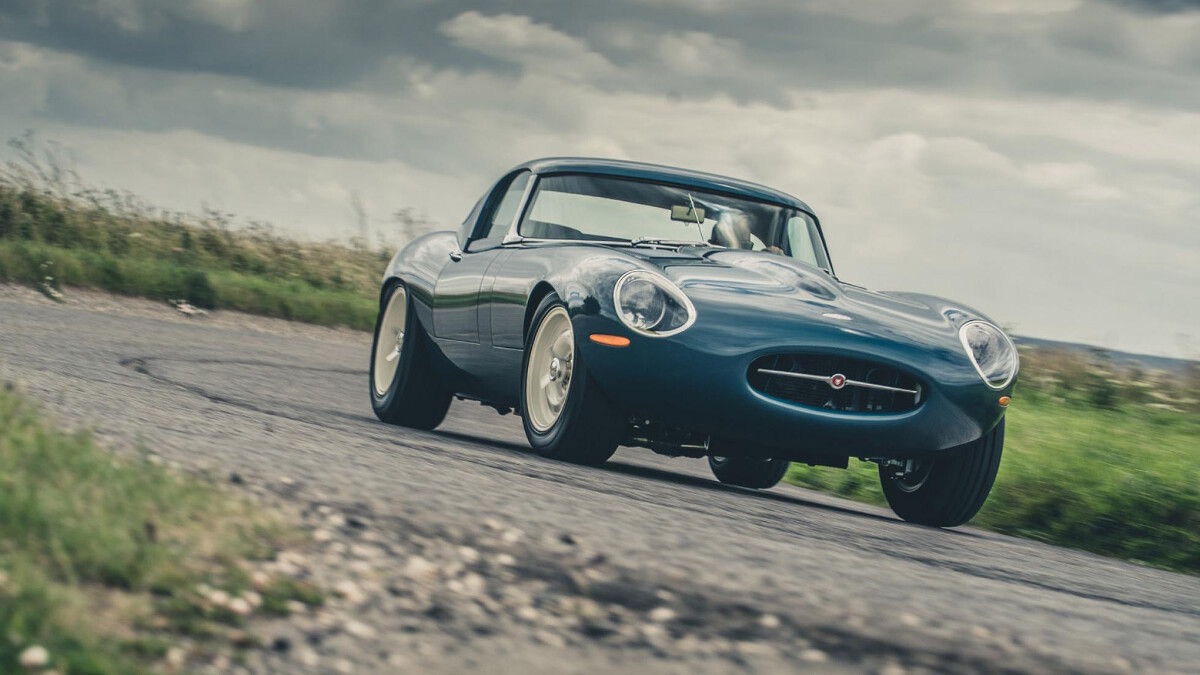 It costs £800,000 and it takes 8,000 hours to build. On a simple cost/time analysis, the Eagle Lightweight GT stacks up incredibly well. One hundred pounds an hour? That makes it far better value than a Ford Fiesta. Viewed another way, it's also significantly cheaper (and doubtless better to drive) than an original Jaguar Lightweight GT.
But a cost justification isn't the way to treat this car. You're buying something far more valuable: You're buying masterful craftsmanship, beautiful components operating beautifully inside a beautiful body.
It may not have the historic importance of an original, but if that doesn't matter to you—and nor does the modern hypercar trend for outright speed and brand image—then I struggle to think of a more enjoyable car to drive or own than this. It's sublime, a rolling sculpture with stunning road manners and chassis dexterity. It's evocative of its era and stays with you for a very long time afterwards. Only available to the vanishingly few, of course, but you'd love to be one of them.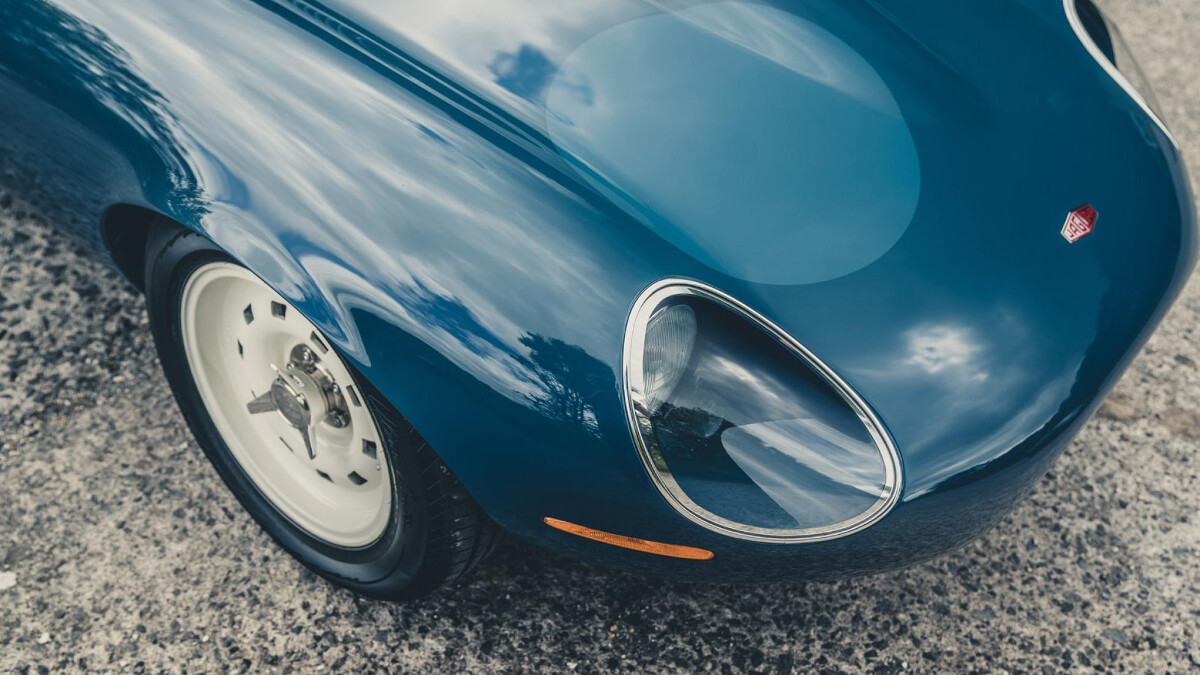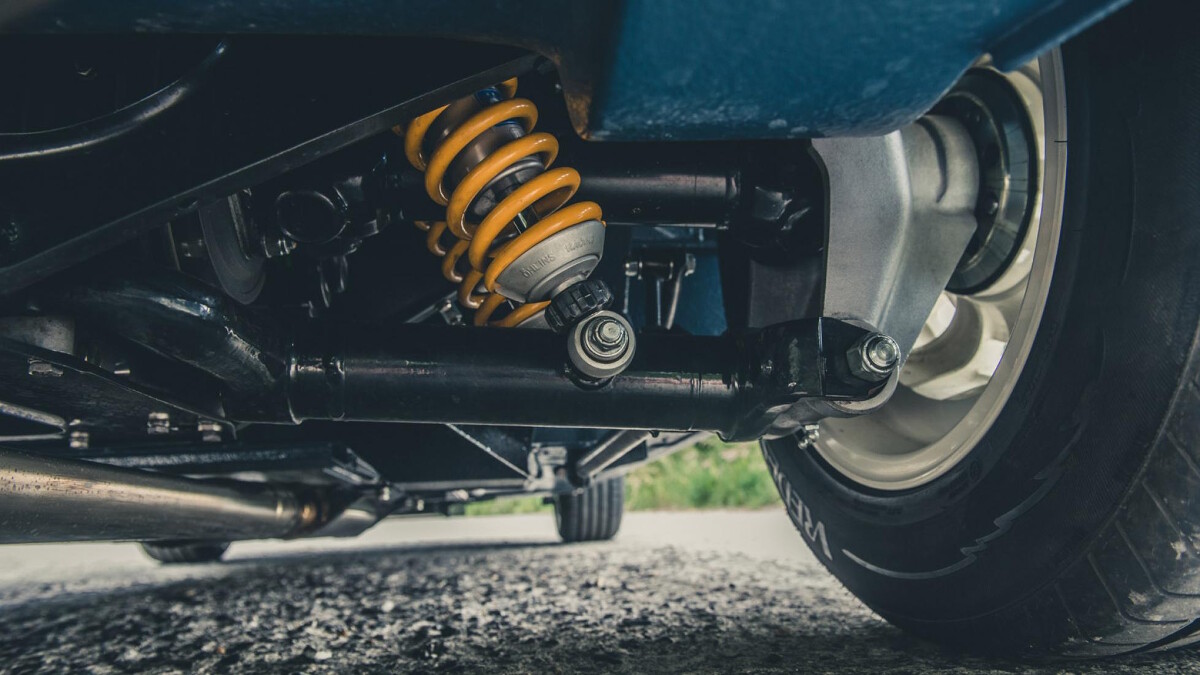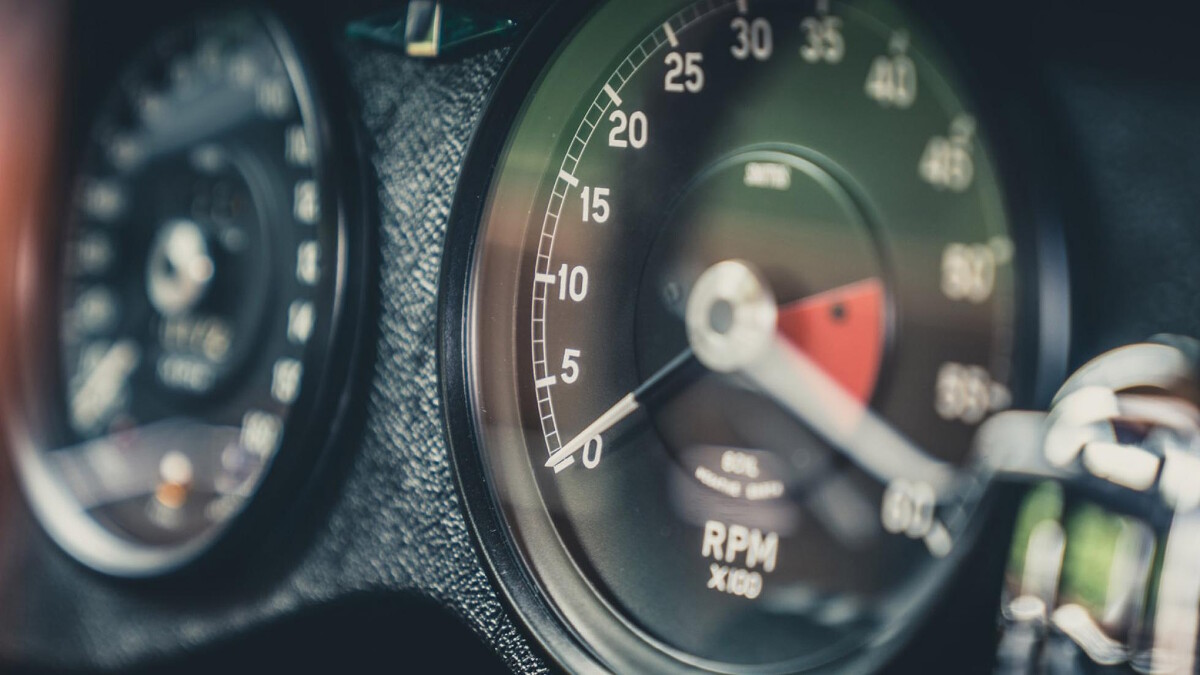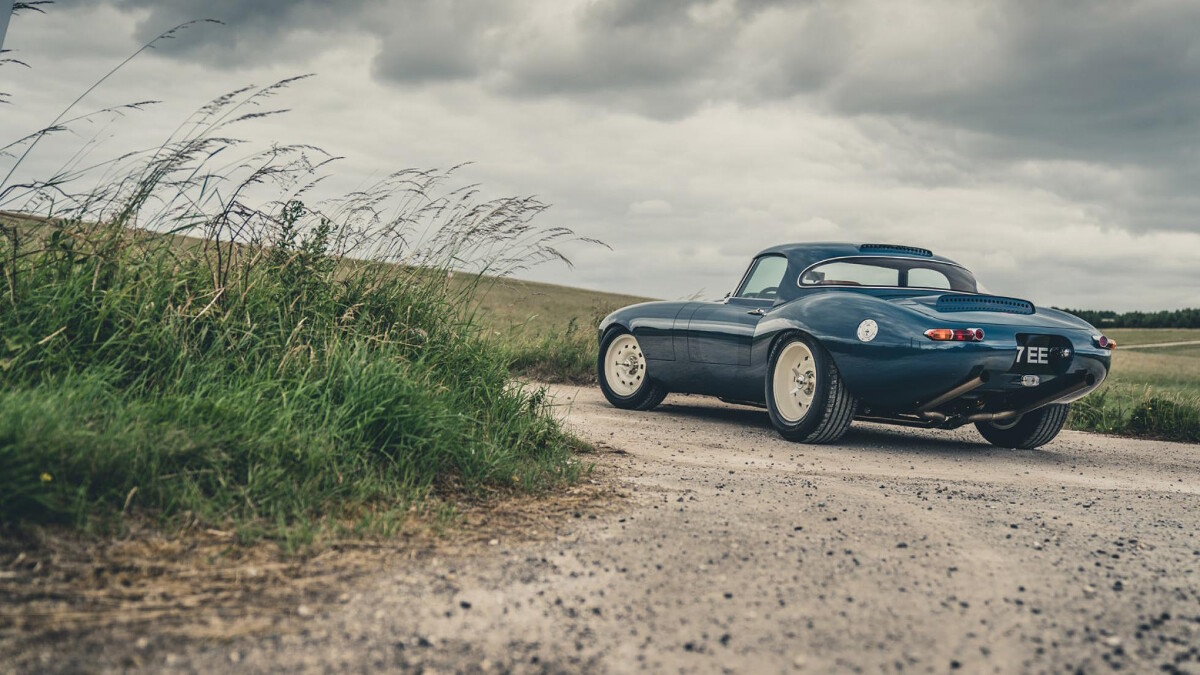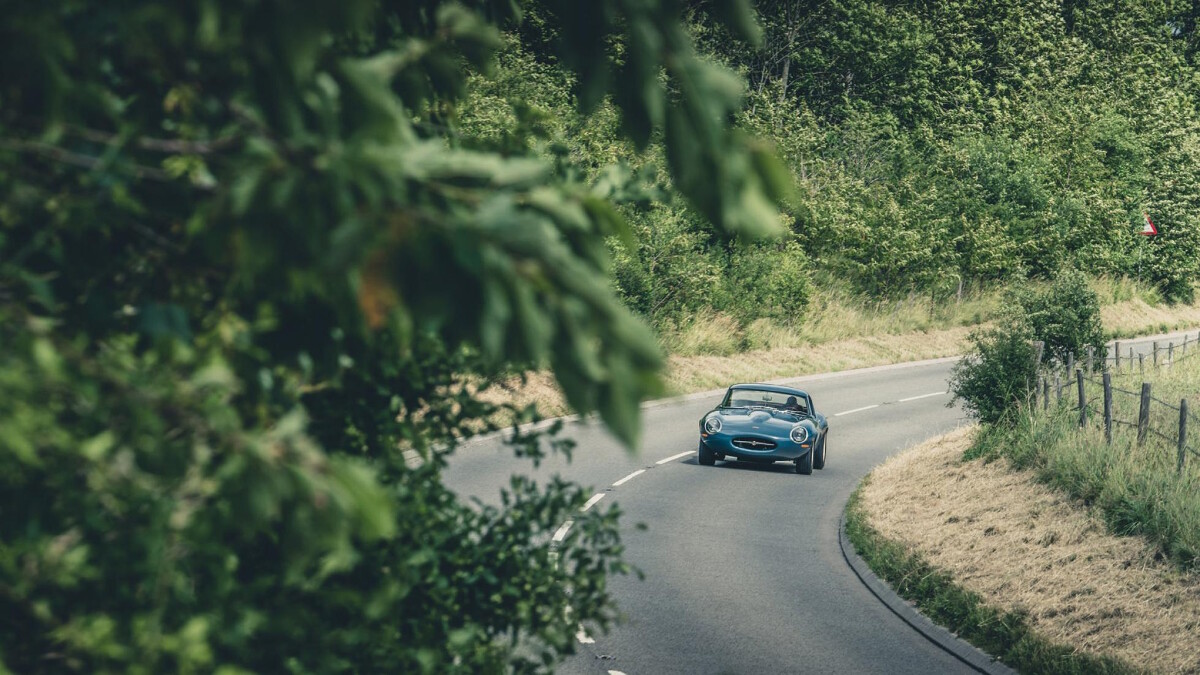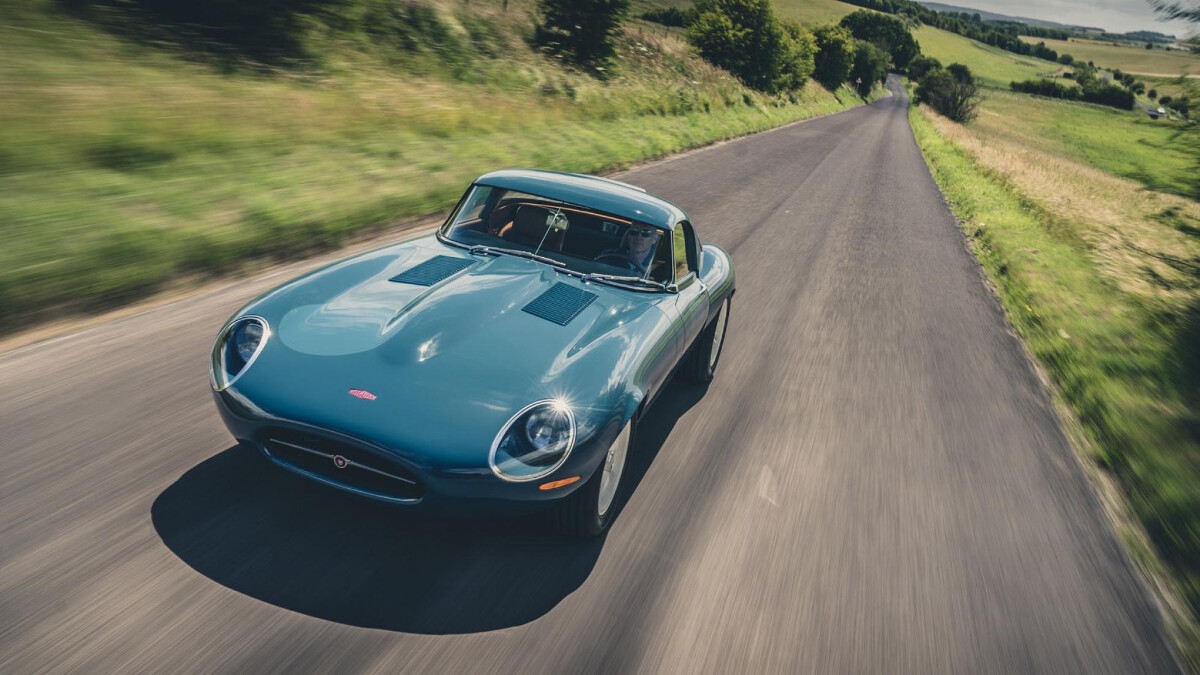 NOTE: This article first appeared on TopGear.com. Minor edits have been made.